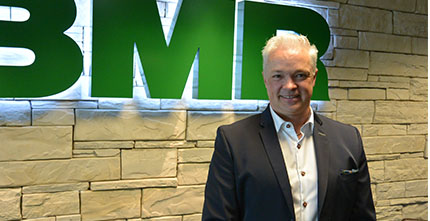 BOUCHERVILLE, Que. ― Groupe BMR is back in the Ontario market.
The buying group and wholesaler is actively developing business outside its home province of Quebec, and Ontario is squarely in its sights. That includes a person working with the Ontario dealers, Gilles Parenteau, BMR business development advisor.
The group exited Ontario and pulled back on expansion efforts after it was acquired outright by La Coop fédérée at the beginning of 2015. Now, as the group seeks to build a strong presence in this new market, it's embracing a number of dimensions of dealers' needs. "One is certainly to emphasize the independent dealer's value of success," says Pierre Nolet, VP of business development for the company.
"BMR dealers are independent entrepreneurs and cooperatives that have freely chosen to associate themselves with BMR Group. Their expertise in hardware and building materials, coupled with their in-depth knowledge of their respective markets, allows them to offer consumers and contractors highly personalized service."
BMR says the convergence of product, innovation, and service is already driving BMR's growth in Ontario. Currently, the group has a network of 325 independent home renovation centres and hardware stores in Quebec, Ontario, and the Maritime Provinces.