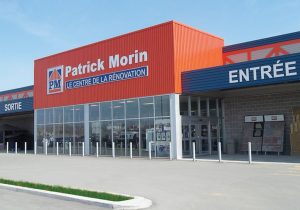 Home Hardware has brought the independent chain, Patrick Morin, into its fold. The acquisition was made in partnership with Groupe Turcotte, a group of seven Home Hardware stores led by Louis Turcotte, with partners Daniel Gervais and Pierre Beauchamp.
The deal involves all 21 Patrick Morin stores and a distribution centre. Established in 1960, the family-owned business employs more than 1,700 and operates throughout the province. The Patrick Morin stores will be led by Louis Turcotte and continue to operate under the existing Patrick Morin banner and branding.
Groupe Turcotte has Home Hardware stores in Marieville, Blainville, Pointe-aux-Trembles, Montreal, Laval, and Saint-Lin-Laurentides, Que.; and Stittsville, Ont.
"We recognize that Quebec is a unique market and we believe that partnering with such a strong, made-in-Quebec brand will continue to give us a competitive edge as we work with Groupe Turcotte and the Patrick Morin team to strengthen our merchandise programs," said Kevin Macnab, president and CEO of Home Hardware Stores, in a release.
(More on the takeover of Patrick Morin in Monday's mind-boggling edition of our weekly Hardlines newsletter. Don't miss out on the full story. Get a four-week trial on us by clicking here!)