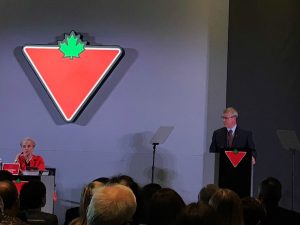 TORONTO — Canadian Tire used its annual general meeting at the Four Seasons hotel in Toronto yesterday as an opportunity to make several announcements about the company.
Addressing the crowd of shareholders, proxies, and employees, Maureen Sabia, chairman of the board, attributed Canadian Tire's successful year to CEO Stephen Wetmore. "I would be remiss if I didn't single out our CEO Stephen Wetmore for his efforts," Sabia said. She then announced that Wetmore had signed another three-year commitment, which began this year.
In addition to Wetmore's commitment, Sabia also announced the company's acquisition of Helly Hansen, the outdoor apparel brand and the launch of Triangle Rewards program.
Wetmore then took his opportunity to address the crowd. He described the Triangle program as "the most important announcement we have made since I joined the company."
In terms of Canadian Tire Retail, the home delivery pilot the company was testing in the Ottawa area will be expanded to all across the country later this year. All of these announcements, Wetmore said, are in line with the company's goal to become the number-one retail brand in Canada by 2022.