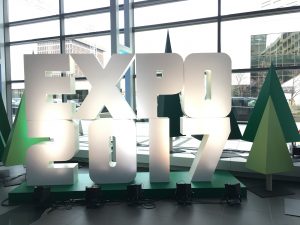 QUEBEC CITY — Delegates from nearly 350 stores and 300 exhibitors are in Quebec City this week  for Groupe BMR's annual trade show.
Marking its 50th anniversary, the show's theme was Expo 67, referencing the international exposition that took place in Montreal the same year BMR was founded. The show, which is widely recognized by vendors for its lively atmosphere and the thought and creativity put into the décor, was packed on day one with dealers eager to make purchases.
The company's commitment to its independent dealers was on display. One new feature this year was a dealer services desk on the show floor where retailers could go and ask questions or have any concerns addressed.