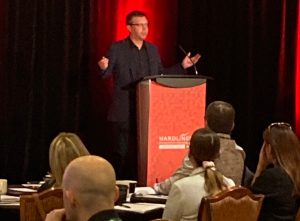 The 25th Hardlines Conference concluded on Wednesday morning in Niagara-on-the-Lake, Ont. The audience was a mix of in-person attendees and virtual delegates as the conference hosted its first-ever hybrid event.
Rob Faries, an Ace owner in northern Ontario, talked about the specific challenges and opportunities facing northern and indigenous independent dealers. He has three stores on the edge of James Bay in the far north.
Peavey Industries CEO and president Doug Anderson (shown here) gave an overview of the evolution of the Peavey Mart, Ace, MainStreet Hardware, and TSC brands. Kevin Macnab, CEO and president of Home Hardware Stores Ltd., closed the conference with a virtual presence. He spoke about the company's growth in Quebec and its renewed efforts to form a "strategic" relationship with suppliers.
The 26th Hardlines Conference is scheduled for Oct. 18 and 19, 2022.