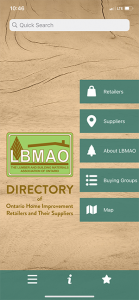 The Lumber and Building Materials Association of Ontario (LBMAO) has introduced an app to replace the association's annual printed directory. The directory provides listings of its retailer members alphabetically and by region. It also provides information on member suppliers and their products. Now, all that information can be accessed digitally.
And, unlike the former printed directory, the app will be updated on an ongoing basis to reflect changes in membership.
The app is designed for mobile devices, so it cannot be downloaded onto your desktop computer. It can only be accessed by downloading it from Google Play or the App Store onto your phone or tablet.