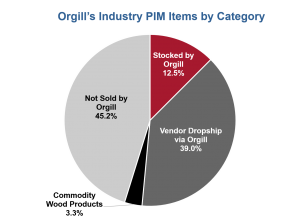 Orgill said this week that during Q4 the number of individual items within its shareable product information database grew to more than one million.
"Nearly a decade ago, we realized that independent retailers would need access to all of the product data, images, and information for the products they carry in order to populate their eCommerce engines," CEO and president Boyden Moore said in a release. "And if they were going to properly represent their store brands, this would also include products that Orgill may not supply."
Orgill houses the information in what is called a product information management (PIM) system. Referred to as the "Orgill Industry PIM," this software makes the data easily accessible to subscribing retailers.