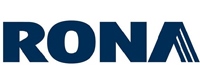 BOUCHERVILLE, Que. — RONA's newest independent affiliate dealer is the RONA Rockwood store in Teulon, Man. Marc and Lori Palsson, who also own the RONA dealer store in Gimli, acquired the store in December and are overhauling its inventory to offer an expanded selection to the community. Serving communities in and around Teulon since 1992, the 10,000-square-foot store features a 130,000-square-foot adjacent lumber yard. The store's conversion to the RONA banner will bring new product categories such as seasonal and home decor as well as a wider product assortment in current categories such as power tools, including the introduction of a selection of Craftsman products.
The second store is the Demers Shopping Centre in Debden, Sask., owned by Dan and Leah Demers, a third-generation family in the business. Currently a combined hardware and grocery store, the grocery business will be split off to a new location and the existing 10,000-square-foot space will be converted to hardware and building materials.
Both stores are planning to have grand openings in the spring.