April 1, 2013, Volume xix, #13
"Better a witty fool than a foolish wit."
— William Shakespeare (English poet and playwright, 1564-1616)
______________________________________________________________________
TIM-BR MART members find value in two shows
              TORONTO — The latest dealer show by TIM-BR MART put a lot of emphasis on new proprietary products—including an expanded range available under the Ace brand for TIM-BR MART dealers using the Ace brand. These included the full rollout of Ace's high-end paint brand, Clarke + Kensington (which, unlike other Ace products, is also available to all TIM-BR MART dealers), while a proprietary mid-range line of paint was also made available under the Blue Ribbon name (This brand was incorrectly identified in our last issue—Editor). And based on demand from dealers, the group is expanding its housewares offering, under the "La Maison" brand.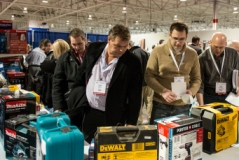 Along with about 400 "hot buys" and a full complement of services available from TIM-BR MART for its dealers, the event presented a full, professional package for its members.

Like all shows in this industry, it must contend with the challenge of getting out dealers in numbers sufficient for the vendors exhibiting. At this point, TIM-BR MART remains committed to two separate shows. The TIM-BR MART show, which is heavier on building materials for its buying group members, will be held next year much earlier than in the past, on February 22. The Chalifour Show, which focuses more on hardware and appeals to a wide range of independents across all banners, will be held again in Montreal, this year from October 3-4.

According to Randy Martin, VP of merchandise for Chalifour Canada, despite the possible synergies derived from combining a hardware show with one that puts more emphasis on LBM, the two events do focus on different customer bases. "The TIM-BR MART members get great value from the two shows," he says.
back to top
______________________________________________________________________
______________________________________________________________________
Home Depot is a "good partner" says its chief merchant
TORONTO — "We love exclusive products." Jeff Kinnaird, Home Depot Canada's vice president of merchandising, spoke last week to a roomful of hardlines vendors and the message he delivered was loud and clear: his company is looking for new and innovative products that will create excitement for customers. He was speaking at a breakfast seminar of the Canadian Hardware and Housewares Manufacturers Association.

Kinnaird said, "Product is becoming the hero at Home Depot Canada again." New products that bring innovation, quality, and value are creating excitement among staff and customers alike. And the retailer, he says, wants to prove to vendors that it is a "good partner" for launching new products on behalf of its vendors.

The company is willing to do a product test on a limited basis, and "we can do a full rollout within weeks," he added. As examples of vendors with whom Home Depot has successfully partnered, Kinnaird cited Ridgid and Ryobi, both of which provide proprietary or exclusive brands for Home Depot.

Kinnaird brought up value and the issue of cross-border pricing. "Help us," he said to the audience, "to drive costs out of home improvement retailing in Canada so we can be better priced in a global market."
back to top

______________________________________________________________________ 

Myths debunked at e-Retailing Conference

TORONTO — Last week, the first-ever Hardlines Canadian e-Retailing Conference delved into the benefits of e-commerce and the challenges and opportunities it presents for bricks-and-mortar stores.

The event, which drew vendors and retailers alike from Canada's home improvement industry, struck a balance between new and established online marketplaces. Robert Scott, partner at PwC, shared the results of a new study by his company that examines multi-channel marketing worldwide. While Canada is among the top users of the internet, he pointed out that use of mobile devices is much higher in China. There, many people don't even have computers and rely on their hand-held devices for internet access.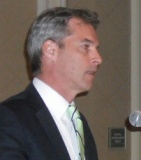 And even though Canadians are inveterate browsers, they don't shop online as much as other countries. Scott said that could be due to a number of factors. "Canadians like stores. And we have cars. Going to stores is easy, for the most part, with parking." He added that Canadians still enjoy "the traditional shopping experience."

On the other hand, he said Canadians don't yet have the online opportunities available in other countries. "I don't believe the Canadian shopper has been as well served as in other countries."

(If you missed the Hardlines e-Retailing Conference, worry not! You can purchase the full half-day conference on video plus the PowerPoints of the speakers by clicking here.)
back to top

______________________________________________________________________ 

Big buyer turnout expected at National Hardware Show

NORWALK, CN — From the Home Shopping Network to Home Depot, a wide range of buyers from across the retail and distribution spectrum plan to attend the 2013 National Hardware Show, which will be held May 7-9 at the Las Vegas Convention Center.

According to NHS, major hardlines distributors, including representatives from Ace Hardware Corp., Do it Best Corp., Orgill, True Value Co. and Home Hardware Company Ltd., are expected to attend the show. On the retail side, the presence of independent retailers from around the world also continues to grow.

Online heavyweights like Amazon and eBay, as well as non-traditional specialty retailers like SkyMall and QVC, plan to attend, while some of the less traditional buy-side attendees plan to be on hand, as well. Cabela's, Tuesday Morning, Marmaxx, Sam's Club, Costco, and BJ's Wholesale Club will be walking the aisles alongside general merchandisers like Walmart and Sears, and grocers like Price Chopper.

"It's great to have so many attendees from both within and outside the home improvement sector attending the National Hardware Show," says Sonya Ruff Jarvis, vice president of attendee programs for the National Hardware Show.

(Click here for more information on the National Hardware Show.)

______________________________________________________________________

RDTS grand winner at Dunamis Gala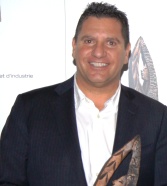 LAVAL, QC, March 28th, 2013 – RDTS merchandising society was awarded as "Service Company of the Year" at the 32nd edition of the Dunamis Gala. The event was presented by the Chambre de commerce et d'industrie de Laval at the Château Royal and awards the talent and creativity of entrepreneurs who invest in Quebec and forge the economic profile of the city. Robert Di Tomasso, president and founder of RDTS, accepted the award.

Besides that award, RDTS was also one of the nominees in the "Innovation" category for its unique merchandising program, "Imagine."

In recent years, RDTS has entirely reviewed its business model and its services to differentiate itself from the competition. The company has acquired new tools and resources, and implemented new protocols to offer support to its clients, which are mostly retail chains and national suppliers of consumer goods, in order to increase their sales. The team has now set foot in Europe by developing business partnerships in France and Italy, with other business opportunities being negotiated worldwide.
back to top

______________________________________________________________________


Classified Ads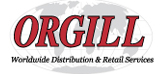 SALES REPRESENTATIVE POSITIONS
Orgill, Inc., in business for 165 years and the leading independent hardlines distributor in North America is seeking Sales Representatives for the following territories:
Alberta
Ontario
Quebec
Saskatchewan/Manitoba
RESPONSIBILITIES:
Identify, qualify, and develop prospective customers
Increase market share with existing customers
Analyze each customer's needs and address them by offering Orgill's products and solutions
QUALIFICATIONS:
3 + years of sales experience with proven track record of success in the hardware/lumber/building materials industry
In-depth, current hardlines product knowledge
Experience with multi sku assortment and Plan-o-Gram selling
Proficient user of email, internet and Microsoft Office computer applications
Willing to travel; valid driver's license; good driving record
Eligible to legally work in Canada
WE OFFER:
Competitive compensation and reimbursement for travel expenses.
We welcome your interest in our company. Our employees are critical to the achievement of our mission to "Help Our Customers be Successful."

TO APPLY:
Please submit resume, and salary history to: orgillcareers@orgillmail.com
______________________________________________________________________

Business Development Manager – Newfoundland / Labrador Region
Castle Building Centres Group is an industry leader among Buying Groups in the Lumber and Building Materials segment in Canada. We are currently seeking to add a position in the Atlantic region.

You are a highly motivated individual with strong relationship and communication skills that can manage and develop our future growth in the Newfoundland & Labrador markets. This position requires an individual who is familiar with the Lumber and Building Supply industry, willing to travel, accustomed to working remote from Head Office and currently residing within the province of Newfoundland.

Reporting to the Atlantic Business Development Manager, you welcome the opportunity to work with a dynamic group of independent LBM dealers while planning and executing our future growth initiatives. Providing continual communication to our Members while understanding their needs is fundamental to your success. Sound computer and presentation skills; combined with good administrative qualities are imperative.

Castle Building Centres Group offers a comprehensive compensation package including full benefits.

All submissions will be treated with complete confidentiality. Please forward your resume in confidence to:
Yvonne Patton
Castle Building Centres Group Ltd.
100 Milverton Drive, Suite 400
Mississauga, Ontario
L5R-4H1
E-mail: ypatton@castle.ca

______________________________________________________________________

National Account Manager
Summary: responsible for developing and guiding the implementation of the account specific business plan; achieving account profitability and sales targets; serving as the primary account contact; providing account leadership. This individual will also be responsible for increased distribution of key brand and private label items.
Key Responsibilities:
Develop account strategies in accordance with overall business strategy
Develop account goals and business plan with customer
Conduct regular reviews of business performance, promotion strategies, planograms
Partnering with the marketing department in promotional development
Forecast, budget and track account revenues and cost
Participate in the development and implementation of account's financial support program, business building program and support logistics on supply chain programs
Education and Experience
Bachelor's degree in marketing or business related field.
5-8 years of sales and/or marketing experience
Experience managing national retail customers (HQ level preferred)
Demonstrated skills in achieving sales, profitability, and budget goals
Ability to effectively implement sales and marketing strategies
Ability to effectively monitor category performance versus plan and communicate accordingly
Ability to understand trade spending effectiveness (efficiency of promotional activity is preferred)
Demonstrated commitment to building strong business relationships with customer
Ability to effectively communicate with senior leaders internally and with customer
Key Competencies
judgment
decision-making
strong presentation and communications skills – verbal & written
strong leadership skills
planning and organizing
problem analysis, problem solving and critical thinking skills
motivating staff
communication
coaching and development
high energy
self-starter
teamwork
flexible
Qualified candidates may submit their résumé, cover letter and salary requirements to kammi.parker@positecgroup.com.
Positec Tool Corporation is an Equal Employment Opportunity Employer

______________________________________________________________________
ONTARIO ACCOUNTS MANAGER:
A major North American building materials manufacturer located in Mississauga, Ontario is seeking an Accounts Manager with regional account experience for the Ontario building materials/hardware/paint industry.

The Company requires an Account Manager who will detail the day-to-day sales with national and regional key contacts in Ontario. Reports directly to General Manager.
Competitive Salary + Bonus, vehicle & benefit package.

KEY QUALIFICATIONS:
POST SECONDARY BUSINESS DEGREE/DIPLOMA
3 YEARS + OF REGIONAL ACCOUNT SALES EXPERIENCE IN THE BUILDING MATERIALS/HARDWARE INDUSTRY
PROVEN TRACK RECORD WITH DEMONSTRATABLE ACCOMPLISHMENTS
EXPERIENCE WITH MULTI SKU PROGRAM ASSORTMENT, PLAN-O-GRAM SELLING; IN-STORE AND TRADE SHOW PK
ABILITY TO TRAVEL
PROFICIENCY WITH MICROSOFT OFFICE APPLICATIONS
SPECIFIC DUTIES will include:
development of relationships with key retailer personnel merchants and buyers
filed analysis, recommendations, competitive and market activity reporting
Assist in corporate projects including but not limited to new product launch, pricing and training programs
Key account and local account management
Self-driven, competitive and success oriented
Please submit resume, to include Salary Expectations via email to: sales@ghinternational.ca
ONLY CANDIDATES OF INTEREST WILL BE CONTACTED

______________________________________________________________________

Regional Account Manager - Henkel - Lepage Adhesives
We have an exciting role as a Regional Account Manager to manage our Quebec and Maritimes home improvement retail customers. This position is responsible for the management of Customer Relationships, as well as generating revenue and maintaining profits as it relates to the territory. Responsibilities may also include management responsibilities for internal sales support functions.
Essential Responsibilities:
Responsible for driving additional revenues and profits at the dealer base
Responsible for the annual territory business plan through the utilization of Category Management, Promotional Planning, Financial Analysis and Program Planning
In accordance with Henkel's goals and objectives and in tandem with the Director of Sales, Trade Marketing and Product Managers, annually develop product placement and promotional strategies for the assigned accounts in the territory
Increase distribution of core Henkel branded products via a placement in both current and new retail locations
Consistently review with Customer Care, Logistics, Marketing, Finance and other internal parties, the necessary requirements needed in serving key account customers
Position Requirements:
Post-secondary education, BA in business strongly preferred
Three or more years Regional and/or National Account Manager experience
Must be competent in the verbal/written use of the French and English languages
Proficiency with Microsoft Word, Excel, PowerPoint required
Must be able to work from candidate's home office
______________________________________________________________________
Resumés
Award-winning sales professional skilled in relationship-building in order to continually enlarge sales territories view this

resumé

Persuasive, conscientious and intuitive sales professional who acts as the champion for the customer view this

resumé

Professional with over 25 years of experience in Sales, Marketing, Merchandising and Administration

view this

resumé

Marketing professional with over 10 years experience looking to secure a new full-time position.

view this

resumé

A Sales Professional with over twenty years of experience.view this

resumé

Experienced District Manager with a proven track record with several national chains. view this

resumé