April 12, 2010, Volume xvi, #15
""Reckless words pierce like a sword, but the tongue
of the wise brings healing." —Proverbs (12:18).
Canadian Tire to strengthen brand, customer experience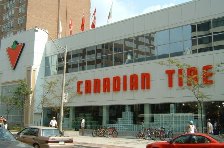 TORONTO — Canadian Tire Corp. has unveiled a strategy to generate growth over the next 3-5 years. It wants to do it "by focusing on its core retail business, exceeding customer expectations and driving efficiencies across the business." The retail division will grow through its existing stores, rather than adding new stores, with a focus on its "Smart" store concept, and to a lesser degree, its "Small" store format. The target is 3%-5% top line growth per year.

"The strength of our core brand is at the heart of all of our growth strategies," all centred on the Canadian Tire retail business, said Stephen Wetmore, Canadian Tire president and CEO, in a release.

Canadian Tire claims it is the market leader in 17 of its 20 top selling categories. And it's continuing to increase its focus on categories such as backyard and exercise, pet care and household consumables.
back to top

TSC to open franchise store in Barrie
LONDON , Ont. — Late in 2008, TSC, the farm and hardware chain, launched a franchise program for independent dealers under the "TSC Villager" banner. The program, announced at the 2008 Hardlines Conference by Greg Hicks, COO of TSC, was inaugurated with the acquisition of a former Country Depot in Milton, Ont. That store became a lab for the new program.

Judging by the latest additions to the Villager banner, the experiment was a success. TSC later purchased a Country Depot store in Kingston, Ont., and then another in Orillia, Ont.  Formerly part of the Simcoe District Co-op, the site is an important one for TSC because of its existing association with farm supply. "The deal closes on April 15 and we expect to be operating shortly thereafter as a TSC Villager store," says Hicks.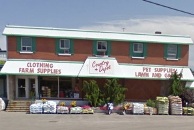 The latest addition to the Villager ranks will be a site in Barrie, Ont. Formerly a corporately owned Country Depot that had been shuttered for about a year, it will be owned and operated by a local entrepreneur.

"Barrie is also a market that we have coveted for quite some time. The Barrie market scores very well on our market assessment tool and fills a significant gap in our objective to penetrate the Ontario market with our brand," Hicks says. "Working with our TSC Villager dealer, we intend to take large positions in businesses like feed, fencing, work wear, animal and lawn and garden."

The Barrie store will open before the end of April.
back to top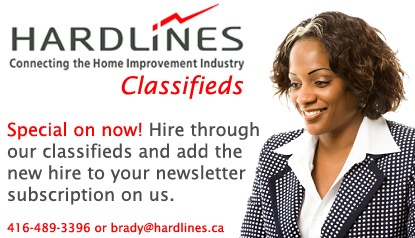 *Your company must have a current subscription
Click here or call 416-489-3396 to place a classified ad

Home Depot gauges Canadians' environmental efforts
TORONTO — Home Depot wants to know how aware Canadians are of their efforts to "go green," and then help them through their products and in-store service. According to the results of the company's second annual Canadian Green Home Index, it has its work cut out for it.

The Index, developed by Environics Research for Home Depot Canada, tracks Canadian attitudes and behaviours as a means to measure progress toward making households better for the environment. This year, it assigned Canadians a 56.6 out of 100 rating when it comes to environmental initiatives and actions taken at home. That's actually down 3.4 points from last year. Not only that, but fewer Canadians report they've taken actions to reduce their household impact on the environment — that marker is down nine points since 2009.

back to top

FCL's hardware business is growing
CALGARY — They may be farm co-ops, but their sales of hardware, household products and small appliances is huge, thanks to the sheer number of outlets operating as members of Federated Co-operatives Ltd. FCL has 270 retail co-ops, plus a number of non-members that use FCL as a key supplier, and fly the Valumaster banner.

These stores generate approximately $450 million in annual sales.

Rod Baergen is manager of the general merchandise division of FCL, which is one of five retail divisions within FCL. The others are food, petroleum, livestock and feed, and crop supplies.

In Baergen's operation, electrical, paint and plumbing constitute 60% of the business; farm and agro accounts for 15%;and household products, including housewares, small appliances, seasonal, gardening and camping products, make up another 20%.

"But our growth has been in our hardware and agro departments," says Baergen. Some housewares products are growing, too, he adds. "It's a matter of getting the product."

He admits that sales were off for hardware in 2009, but business is recovering now. "We're just looking to continue to grow our business."
back to top

Private label continues to grow for RONA
BOUCHERVILLE , Que. — Growth of private-label and proprietary products remains one of the cornerstones for RONA's strategic plan over the next 3-5 years. In fact, penetration by RONA's private-brand and controlled-label products increased from 17% at the beginning of 2009 to more than 19% by the end of the year.

RONA has been putting special emphasis on its high-end controlled-label Haussmann and Haussmann Xpert lines of tools, which were launched at last year's dealer market. The company continues to expand its eco-friendly cleaning and maintenance products, with the addition of some 40 new RONA ECO products in the past year.

Proprietary brands have expanded into the home décor side of the business, as well. Four new controlled labels — Facto, Uberhaus, Uberhaus Design and Uberhaus Pro — and four new product categories were launched at last fall's show.

Between now and 2011, the final year of the current strategic plan, RONA intends to push the penetration rate for its private-brand and controlled-label products from 19% to 24%.
back to top

Classifieds

DIRECTOR OF VENDOR RELATIONS, PURCHASING, EDMONTON, AB
 A leading distributor of building materials in Edmonton is seeking a Director of Vendor Relations/Purchasing responsible for overall company purchasing as well as maintaining and developing vendor relations. Knowledge and experience with buying groups is required.

MAJOR RESPONSIBILITIES:
Vendor Relations

Vendor relations on local level as well as national level with buying group
Participate and represent the company for vendor product negotiations with buying group
Negotiation/collection of vendor volume rebates

Purchasing

Direct and coordinate activities of purchasing and inventory control personnel  
Develop and implement purchasing policies and programs 
Analyze market information for commodities and other product categories 
Maximize margin for purchasing department and company 
KEY COMPETENCIES
Team builder/player
Ability to provide mentorship and leadership to team members and make key decisions.
Customer focus
Detail oriented, organized and disciplined, attention to accuracy
Ability to multi-task in a fast-paced environment
Excellent analytical ability
Willing to accept responsibility and advancement
Self starter - able to work with little supervision
KEY QUALIFICATIONS
Minimum 10 years experience in purchasing management/vendor relations
Knowledge and experience in the lumber/building materials commodity markets
Post secondary diploma or equivalent preferred
Proficient in Microsoft Office applications especially Microsoft Word and Excel programs
Please submit résumé via email to:
Black Eagle Executive Search
c/o Richard Simms at rsimms@blackeagle.ca

DEDICATED ACCOUNT EXECUTIVE
Reporting to the CEO, the Dedicated Account Executive will advance efforts and activities aimed at developing, maintaining and deepening relationships with new and existing Earth Innovations Inc. clients across North America, with a particular focus on the US market.
The primary sales focus will be on our flagship product and category leader ecoTRACTION, a volcanic mineral used for traction on icy winter sidewalks. It is already carried coast-to-coast in Canada in Home Depot, Canadian Tire, Home Hardware, Acklands-Grainger, and Unisource among others, and was featured on the CBC television show Dragons' Den in 2008 & 2009.
Duties and Responsibilities:
Develops new business in retail and industrial markets in Canada and the US
Manages the entire business development cycle
Develops and manages relationships with independent sales agencies
Leads a small internal team of Customer Service Representatives who assist with business development efforts
Responsible for quarterly forecasting, annual budget planning, channel marketing and promotional campaigns
Requirements:
• Minimum of ten (10) plus years of demonstrated sales success
• Proven experience in consumer and industrial markets in both Canada & US
• Successfully developed and managed 3rd-party sales agencies in Canada and the US
• Working knowledge of Salesforce is considered an asset
• Bilingualism (English and French) is considered an asset
Key Competencies:
• Driven and goal oriented
• Entrepreneurial spirit
• Loves a fast paced environment
• Strategic thinker
• Strong planning and organizational skills
Please send your resume to Heidi Hauver, Human Resources Coordinator, at heidi@ecotraction.com. Thank you.

BUSINESS DEVELOPMENT MANAGER
Prairie Region (Manitoba, Saskatchewan, Alberta)
 The Sexton Group, Canada's leading Buying Group for independent building material retailers is seeking a highly motivated, sales oriented and customer focused person to fill the position of BUSINESS DEVELOPMENT MANAGER for the Prairie Region. The successful applicant, reporting to the Vice President and General Manager will be responsible for developing and maintain positive working relationships with current and potential Sexton Group Members.

Key Responsibilities include:
Developing and implementing plans for increasing member purchases through the Sexton Group;
Targeting and aggressively pursuing new members; and
Providing excellent customer service and communication skills as you work with each of the Members to determine what their business needs are and help them understand the programs and services offered by Sexton Group.
We are looking for someone with a proven track record in sales, excellent customer follow-up skills and tenacity. The successful applicant will be able to develop and maintain effective relationships with current and future Sexton Group Members, has business acumen and is able to work independently in a team environment. If you are competitive, can be persuasive and prefer travelling to the customer rather than an office job, this position may be for you. We are looking for the right person to fill this position in Manitoba, Saskatchewan or Alberta.

The Sexton Group offers a competitive base salary along with a comprehensive benefit package that includes health, disability, dental, vision, life insurance, pension, car allowance and profit sharing for all employees.
Interested and qualified candidates are asked to submit their resumes to: Human Resources at korpan@kenroc.com .
Factory Sales Representative

"Well known leading USA manufacturer of paint rollers and paint sundries with D.C. in Toronto area seeks experienced independent factory sales representative to sell their products in Canada. Must have knowledge of the paint and hardware industries, and contacts with current buyers in those categories.

Candidate will possess minimum 5 years experience in the category selling to major chains and distributors".

Email detailed resume including other lines carried and references to brady@hardlines.ca with P.O. Box 12 in the subject line.
Resumés
National Field Sales Manager with twelve plus years in power tools and hardware sales/merchandising.

view this

resumé

Business Manager with U.S. & Canadian experience with retail & industrial customers seeks a new opportunity.

view this

resumé

An experienced merchandising executive possessing passion, vision, and a strategic approach to delivering bottom-line.

view this

resumé

Results oriented sales professional with a strong record of achievement in strategic and tactical roles. view this

resumé

Senior sales/marketing leader with experience in all classes of trade wishing new hardlines career. view this

resumé

Very Experienced Business Unit Manager, great passion for generating sales and building relastionships.view this

resumé

Worked through my career within the manfucaturer, wholesale and consumer goods industries. view this

resumé

Senior Sales Manager with vast experience in retail and wholesale sales growth in Canada. view this

resumé
Click here to post your resumé

Connect with us!