April 16, 2012, Volume xviii, #15
"Power is not revealed by striking hard or often, but by striking true."
―Honoré de Balzac (French novelist, 1799-1850)
______________________________________________________________________


______________________________________________________________________
Chalifour Canada finalizes London buying team
LONDON, ON — The rationalization of its hardware distribution business has been a key part of TIM-BR MARTS' recent corporate re-structuring. With the imminent closing of its Montreal buying office, Chalifour Canada has been beefing up its buying team and support staff at the DC here in London, including several new appointments:

Vince Morency has assumed the position of category manager for tools and hardware. Matthew Strong-Clarke is now category manager for electrical. Sylvia Magnotta has joined the team as category manager for paint and décor. Carissa Moser has been appointed junior category manager. She will be managing automotive, holiday décor, and sporting goods. She will also work as a merchandising assistant with Magnotta in paint and décor.

In addition, some existing buyers have been promoted. Andrew Pantelides has been named senior category manager and is taking over the plumbing and HVAC categories. He was previously category manager for electrical. Phil Temple has been promoted to category manager for the seasonal category. Temple was formerly in the TIM-BR MARTS Calgary office as import buyer and logistics coordinator. Catherine Vaugh has been promoted to the position of junior category manager, managing housewares and household products. She was formerly an inventory planner. She will also be working as a merchandising assistant with Vince Morency in tools and hardware.
back to top



______________________________________________________________________
Home Hardware sponsorship gives business students a boost
BANFF, AB — Canada's longest-running student-organized business conference, the Rocky Mountain Business Seminar (RMBS), got a boost from Home Hardware Stores Limited recently. The Seminar series has a 46-year history of connecting speakers and business representatives from across North America with students pursuing a future in commerce.
Students won $500 scholarships from Home Hardware through the HARDLINES SIRE Program (from l-r): Aileena Minhas and Cindy Lee, University of Alberta; Dr. Paul McElhone of the University of Alberta's School of Retailing; Alix Kendall and Hailey Misanchuk, University of Manitoba; and Chris Menzies, University of Saskatchewan.
Home Hardware Stores Limited, a key sponsor of the Hardlines Studies in Retail Excellence (SIRE) Program, sponsored a luncheon event for approximately 130 student delegates from across Canada where Dr. Paul McElhone, executive director of the School of Retailing, gave an overview of the SIRE program. Home Hardware also provided five $500 prizes to cover the delegate fees of five student attendees, which were drawn randomly.

"The future of retail and the home improvement industry is with young people," said Paul Straus, President and CEO of Home Hardware Stores Limited. "Hardware and home improvement is one of the most dynamic retail sectors in this country today. At Home Hardware, we strongly believe in encouraging innovative minds at the university level to consider this field as a viable career option."

RMBS allows for education outside the classroom, giving students the chance to learn not only from today's experienced business leaders, but also through networking with peers from across North America. Corporate representatives are able to leverage their participation to recruit future business leaders from among the delegates and also have the opportunity to meet and learn from other business leaders.

The Studies in Retail Excellence Program was developed by HARDLINES in partnership with the University of Alberta to foster awareness and career opportunities in hardlines retailing at the university level.
back to top



_____________________________________________________________________
Wilson, Turgeon inducted to CHHMA Hall of Fame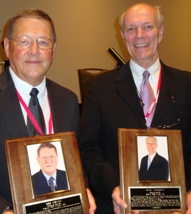 CHHMA Hall of Fame admits two more: Bill Wilson (l), former executive vice-president of D.H. Howden and currently Retail Advisor for NRHA Canada; and Marc Turgeon of SEB.
TORONTO — Besides being the Retail Advisor for NRHA Canada, Bill Wilson has more than 45 years' experience in hardlines retail, mainly at D.H. Howden (later Sodisco-Howden), and then TSC Stores.
Last week, he was one of two individuals who were inducted into the CHHMA's Industry Hall of Fame. He was joined by Marc Turgeon, the former president of Groupe SEB Canada Inc.

The Industry Hall of Fame was established in 1984 by the Canadian Hardware and Housewares Manufacturers Association to recognize the achievements of our industry's leaders and pioneers.
______________________________________________________________________
Canadian wins NRHA's Young Retailer award

INDIANAPOLIS, IN — Eight young home improvement retailers are being honoured for outstanding achievement as owners and managers of independently owned hardware and building supply stores in the United States and Canada. They are honourees in the 2012 Young Retailer of the Year program, now in its 16th year. The program was developed by the North American Retail Hardware Association to recognize outstanding performance and encourage talented young people to pursue a career in hardware retailing.

In the category over $2 million in sales, Tyler Knight, general manager, Knights' Home Building Centre, Meaford, ON, is the award winner. Knight, along with his cousins Scott and Kandace, are owners of this long-time family lumber operation in Central Ontario. But everything has changed at the store since they took over in 2006.  The young team quickly realized that the lumber and construction business was headed for tough times and they needed more of a retail focus. This strategy resulted in the construction of a larger store in late 2009, expanding to 14,000 square feet from the original store's 5,000-square-foot size. The new location was open for business by the following June.

The sales are now split 50% consumer, 45% contractor and 5% institutional, as opposed to 80% contractor and 20% consumer in the old operation.  When Home Depot opened close by, the store actually had record sales – and continues to grow. Knight is working hard to increase his institutional business and credits his store's success in large part to customer service.  
______________________________________________________________________
Castle takes over Marco Island for AGM
MARCO ISLAND, FL — More than 475 Castle members, supplier partners, staff, and their families (including more than 80 children) headed to the Hilton Marco Island Beach Resort for the buying group's 49th annual general meeting recently.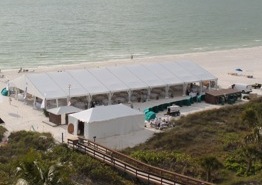 With more than 90 Castle locations and 60-plus individual supplier partners represented, Castle says this was one of its largest retreats ever. The week combined recreational events with educational programs and special guest speakers. The focal point of the week's activities was a 10,000-square-foot tent, which organizers claim was the largest ever erected on Marco Island beach.

Business sessions included guest speakers Neil Bearse, Queen's School of Business associate director of marketing; Dr. Peter Andersen, former chief economist with BMO Nesbitt Burns; and keynote speaker Arlene Dickinson of CBC's "The Dragons Den."

The 2013 AGM will be held at the Hotel del Coronado Resort in San Diego, CA.
______________________________________________________________________
Canuck among North America's retail "Top Guns"
DUNDAS, ON — The North American Retail Hardware Association has named four retailers this industry's "Top Guns" for 2011. The Top Guns program highlights independent home improvement retailers who are best-in-class and go above and beyond the retailing norm.

Ron Cicuttini, owner of three Home Hardware stores near Hamilton, ON, is the Top Gun from Canada. Not only has Cicuttini managed to grow his hardware operation from one unit to three locations, but he has also devoted significant time and energy to serving on the board of directors for his distributor, Home Hardware. This year, Cicuttini will be retiring from his position on Home Hardware's board after 17 years of service.
______________________________________________________________________
Appointments at North American Lumber reflect strategic growth
WINNIPEG ― North American Lumber is looking for ways to continue growing its presence in smaller communities throughout the Prairies. The TIM-BR MART dealer, which has 24 stores, has been updating those stores and tying them together with a new retail POS system. Reflecting these growth initiatives, the company has made some changes to its management.

Scott Andrus has assumed the newly created position of manager – corporate purchases. Working closely with the vice-president operations, Andrus will be responsible for the procurement of commodities, supplies, services, and equipment for the chain's Retail, Home Building, Concrete, and Truss divisions. His role will include building and maintaining strategic relationships with key suppliers.

"Scott has a proven track record in budgeting, tracking, and analyzing operating expenses and I believe his skill set will be a huge asset to us in this new position," says company president Martha Konantz.

Mark Kennedy has assumed the position of vice-president operations, responsible for overall sales and marketing for all of North American Lumber's divisions. He will seek out new business opportunities by growing existing store sales, developing strategic partnerships, and expanding into new markets. He will also be responsible for renovations to existing stores.

Kennedy will work closely with Andrus on product assortment, purchasing, and inventory management. He will also develop and promote staff training and build North American Lumber's brand identity through advertising and media.
_______________________________________________________________________
Resumés
Experienced District Manager with a proven track record with several national chains.

view this

resumé

A conscientious, highly motivated manager with a results-oriented track record in developing new business.

view this

resumé

An experienced merchandising executive possessing passion, vision, and a strategic approach to delivering bottom-line.

view this

resumé

Senior sales/marketing leader with experience in all classes of trade wishing new HARDLINES career. view this

resumé

Very Experienced Business Unit Manager, great passion for generating sales and building relastionships.view this

resumé

Worked through my career within the manfucaturer, wholesale and consumer goods industries. view this

resumé

Senior Sales Manager with vast experience in retail and wholesale sales growth in Canada. view this

resumé