April 19, 2010, Volume xvi, #16
"The trick is in what one emphasizes. We either make ourselves miserable,
or we make ourselves strong. The amount of work is the same."
—Carlos Castenada (Peruvian-born American author, 1925-1998)
Home Hardware builds momentum with new dealers
ST. JACOBS, Ont. — More than 1,050 Home Hardware stores represented at the company's Spring Market will welcome 12 new dealers who have joined Home Hardware since the beginning of the year. The Market is being held this week at the company's distribution centre here.

"Our company has experienced solid growth over the past two years despite the tough economic environment," said Paul Straus, Vice-President and CEO, Home Hardware Stores Limited. "We had 47 new stores join Home last year and we're very excited that these 12 new stores have joined the Home family so far this year. The Market is where they will see firsthand how Home dealers
draw strength from each other."

New stores that joined Home Hardware in the early part of 2010 are: Allen's Home Building Centre, Paisley, Ont.; Herlehy Home Building Centre, Westport, Ont.; Home Furniture Kingston, Kingston, ONT.; Maple Leaf HBC, Canning, N.S.; Northway Home Hardware, Inverary, Ont.; Pellerin Home Building Centre, Grande-Digue, N.B.; Quincaillerie Hogg in Nun's Island and Westmount, Que.; Shellbrook Home Hardware, Shellbrook, Sask; St. Martins Home Hardware, St.
Martins, N.B.; Tignish Co-Op HHBC, Tignish, P.E.I.; and Westport Home Hardware, Westport, Ont.
TIM-BR MART adds members in Atlantic and Ontario

CALGARY — TIM-BR MART, the giant LBM buying group, continues to add members with six new locations for representing both new and existing dealers across the country.

The father-and-daughter team of Don and Jillian Sexton run Hector Building Supplies in Stellarton and Pictou, N.S. This year, both stores will become fully branded TIM-BR MART locations.

Northeast Builders Ltd. in Durrell, Nfld., is owned by the Rogers family. It's been operating for 25 years, building homes and providing electrical contracting services for customers on New World Island in northern Newfoundland. Over the next few months, this new TIM-BR MART store will undergo extensive exterior and interior renovations and re-brand as "Northeast TIM-BR MART".

Another northern Newfoundland location, Burton's Hardware and Building Supplies Ltd. in Robert's Arm, has also joined TIM-BR MART. Owner Harold Burton wants to expand the business to offer more hardware, lumber and building materials.

Next month on May 15, Springmount TIM-BR MART in Owen Sound, Ont., will hold its grand opening. The brand new store will be run by new dealers, Dennis Hertz and his son Bryan. They'll offer homeowners, cottagers and contractors alike a full assortment of hardware and LBM products with a special focus on landscaping.

TIM-BR MARTS Ltd. represents more than 700 member locations across Canada, almost $2 billion in annual purchases and more than $3 billion in retail sales.
back to top

PARA Paints creates designer collection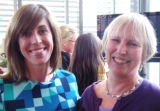 TORONTO — PARA Paints held a reception last week to launch a celebrity partnership with designer and TV personality Sarah Richardson (shown here (l) with Hardlines' very own Beverly Allen). This partnership ties in with a previously announced distribution that puts PARA Paints in all Lowe's Canada stores. Lowe's will carry PARA Ultra specialty finishes, PARA Lifestyles paint for consumer markets (a Lowe's exclusive), and the PARA Professional Precision line.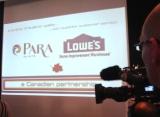 The "Sarah Richardson Designer Palette" is the first for the designer, known for her long-running program on HGTV, Sarah's House. Sarah's collection, featuring 75 colour chips accompanied by a trend brochure, will inspire as well as provide helpful tips on colour coordination for the consumer.

The launch was part of an overall re-positioning by PARA to capture a more design-minded, home enhancement customer, while playing on the company's 96-year Canadian heritage. "With the success of Canada at the Winter Olympics, it's in style to be Canadian," said Garry Belfall, senior brand manager, Para Paints, during the launch.
back to top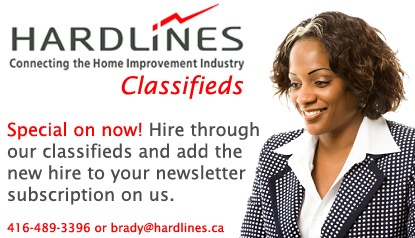 *Your company must have a current subscription
Click here or call 416-489-3396 to place a classified ad

RONA accelerates recruitment of independents
BOUCHERVILLE, Ont. — In 2009, RONA inc. was able to recruit 14 independent dealer-owners to join its ranks. Those dealers added more than $30 million in retail sales to RONA's network. The company is continuing its dealer development efforts this year, having completed 96 expansion and renovation projects totalling nearly $50 million in investments by the end of its first quarter.

RONA's dealer recruitment efforts were fortified with the appointment last year of Jean-Luc Meunier as Senior Vice-President, Affiliate Dealer-Owner Network Development. Meunier's team is in charge of recruitment and development of the affiliate dealer-owner network, and for providing support to existing dealers.

Meunier's strategy will include assisting existing dealers to expand their operations or invest in new stores. This will tie in with RONA's new succession planning program, which was introduced at the end 2009. This program is designed to facilitate store acquisitions by family members of independent dealer-owners, by RONA employees or by aspiring entrepreneurs from outside the company.

Recruitment efforts were stepped up in February of this year, with the launch of a nationwide campaign targeting hardware and building materials dealers with a view to acquiring their businesses or helping them develop their own succession plans based on RONA's new program.
Industry veteran pens hardware history
SPECIAL REPORT— "Surviving...In Spite of Everything: A Postwar History of the Hardware Industry," a book chronicling the postwar history of the hardware industry, is now available.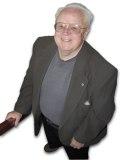 The book, by author Bob Vereen, traces the postwar history of the hardware industry in the United States and explains how and why independent retailers are surviving. It profiles many of the dedicated individuals who provided the leadership and innovation which made survival possible.
Vereen's book also discusses:
• the beginning of retail changes;
• the emergence of home centres and other big-boxes;
• the ever-changing merchandise mix;
• the changing role of wholesalers;
• the role of associations and trade magazines;
• the computer age; and
• influential individuals in the industry.
For more information on how to purchase the book, click here.
back to top

Classifieds

DIRECTOR OF VENDOR RELATIONS, PURCHASING, EDMONTON, AB
 A leading distributor of building materials in Edmonton is seeking a Director of Vendor Relations/Purchasing responsible for overall company purchasing as well as maintaining and developing vendor relations. Knowledge and experience with buying groups is required.

MAJOR RESPONSIBILITIES:
Vendor Relations

Vendor relations on local level as well as national level with buying group
Participate and represent the company for vendor product negotiations with buying group
Negotiation/collection of vendor volume rebates

Purchasing

Direct and coordinate activities of purchasing and inventory control personnel  
Develop and implement purchasing policies and programs 
Analyze market information for commodities and other product categories 
Maximize margin for purchasing department and compan
KEY COMPETENCIES
Team builder/player
Ability to provide mentorship and leadership to team members and make key decisions.
Customer focus
Detail oriented, organized and disciplined, attention to accuracy
Ability to multi-task in a fast-paced environment
Excellent analytical ability
Willing to accept responsibility and advancement
Self starter - able to work with little supervision
KEY QUALIFICATIONS
Minimum 10 years experience in purchasing management/vendor relations
Knowledge and experience in the lumber/building materials commodity markets
Post secondary diploma or equivalent preferred
Proficient in Microsoft Office applications especially Microsoft Word and Excel programs
Please submit résumé via email to:
Black Eagle Executive Search
c/o Richard Simms at rsimms@blackeagle.ca


DEDICATED ACCOUNT EXECUTIVE
Reporting to the CEO, the Dedicated Account Executive will advance efforts and activities aimed at developing, maintaining and deepening relationships with new and existing Earth Innovations Inc. clients across North America, with a particular focus on the US market.
The primary sales focus will be on our flagship product and category leader ecoTRACTION, a volcanic mineral used for traction on icy winter sidewalks. It is already carried coast-to-coast in Canada in Home Depot, Canadian Tire, Home Hardware, Acklands-Grainger, and Unisource among others, and was featured on the CBC television show Dragons' Den in 2008 & 2009.
Duties and Responsibilities:
Develops new business in retail and industrial markets in Canada and the US
Manages the entire business development cycle
Develops and manages relationships with independent sales agencies
Leads a small internal team of Customer Service Representatives who assist with business development efforts
Responsible for quarterly forecasting, annual budget planning, channel marketing and promotional campaigns
Requirements:
• Minimum of ten (10) plus years of demonstrated sales success
• Proven experience in consumer and industrial markets in both Canada & US
• Successfully developed and managed 3rd-party sales agencies in Canada and the US
• Working knowledge of Salesforce is considered an asset
• Bilingualism (English and French) is considered an asset
Key Competencies:
• Driven and goal oriented
• Entrepreneurial spirit
• Loves a fast paced environment
• Strategic thinker
• Strong planning and organizational skills
Please send your resume to Heidi Hauver, Human Resources Coordinator, at heidi@ecotraction.com. Thank you.

Please note that we are accepting applications until April 23rd 2010.
Factory Sales Representative

"Well known leading USA manufacturer of paint rollers and paint sundries with D.C. in Toronto area seeks experienced independent factory sales representative to sell their products in Canada. Must have knowledge of the paint and hardware industries, and contacts with current buyers in those categories.

Candidate will possess minimum 5 years experience in the category selling to major chains and distributors".

Email detailed resume including other lines carried and references to brady@hardlines.ca with P.O. Box 12 in the subject line.
Resumés
National Field Sales Manager with twelve plus years in power tools and hardware sales/merchandising.

view this

resumé

Business Manager with U.S. & Canadian experience with retail & industrial customers seeks a new opportunity.

view this

resumé

An experienced merchandising executive possessing passion, vision, and a strategic approach to delivering bottom-line.

view this

resumé

Results oriented sales professional with a strong record of achievement in strategic and tactical roles. view this

resumé

Senior sales/marketing leader with experience in all classes of trade wishing new hardlines career. view this

resumé

Very Experienced Business Unit Manager, great passion for generating sales and building relastionships.view this

resumé

Worked through my career within the manfucaturer, wholesale and consumer goods industries. view this

resumé

Senior Sales Manager with vast experience in retail and wholesale sales growth in Canada. view this

resumé
Click here to post your resumé

Connect with us!