April 22, 2013, Volume xix, #16
"You may have to fight a battle more than once to win it."
— Margaret Thatcher (first woman prime minister of Britain, 1925-2013)
______________________________________________________________________
Home Depot launches in-store pickup for online orders
                TORONTO — The Home Depot Canada is tying its online shopping with brick and mortar with the introduction of a program called "Buy Online, Pick Up In Store" (BOPIS). The service will be available immediately in all 180 Canadian stores.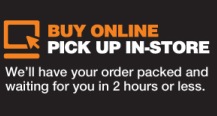 The service is designed to save on shipping charges while getting product to customers quickly. Home Depot is claiming the system will let staff prepare an order for pickup in two hours or less. Once in the store, customers can pick up their order at the customer service desk.

The program, which aggressively goes after the same-day delivery model of online giants like Amazon, does have some limits. BOPIS is only available on products that are in stock in its stores, not its online assortments. In addition, the program does not apply to the following: special orders, live goods, cut products, nuts and bolts, appliances, custom SKUs such as mixed paint, or one-day sales.
back to top
______________________________________________________________________
______________________________________________________________________
Home Hardware dealers upbeat at market despite late spring
 ST. JACOBS, ON — Home Hardware Stores Ltd. celebrated its 100th market last week, and dealers on hand for the event were generally upbeat, despite the late arrival of spring. Vendors at the show reported good traffic, especially on Sunday, which was the first day of the market. Even the last day, which reflected a slowdown in traffic typical of any show, still featured dealers who were interested in stopping to talk and learn more about products and  programs available at the market.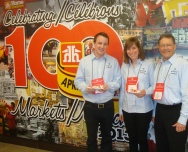 Shown (l-r): Brady Peever, circulation director for HARDLINES; Katherine Yager, office manager at HARDLINES; and Bill Wilson, retail advisor for NRHA Canada.
Part of the show's appeal for its dealers is the amount of training and education that takes place around the market. The day before the show is dedicated to a pre-market conference held at the Waterloo Inn in nearby Waterloo, ON, with multiple sessions happening concurrently throughout the day.

During the market itself, which takes place right in the company's St. Jacobs warehouse, a training room upstairs in the mezzanine offers hands-on sessions on topics ranging from the latest intranet innovations to online product knowledge training.
back to top

______________________________________________________________________ 

Lowe's partners with Jim Caruk for skills training program

  TORONTO — Lowe's Canada, together with celebrity contractor Jim Caruk, has launched Build-It-Yourself Learning Centres (BiY), a hands-on skills training program for home improvement enthusiasts.



BiY, which will be available at selected Lowe's stores in Southern Ontario throughout 2013, was founded by master contractor and HGTV expert Jim Caruk. The program emerged in response to fan feedback on the absence of specialized home improvement skills training options. Designed for both novice and seasoned enthusiasts, BiY delivers access to a wide variety of customized, hands-on workshops.

Owned and operated by Build-it-Yourself Learning Centres Inc. and supported by Lowe's Canada, the first location is at the Lowe's store in Vaughan, ON. The classroom space consists of workstations, a full range of tools, equipment, and presentation facilities. The workshops include Tiling Essentials, Plumbing Basics, Upholstery, Flooring, Interior Trim, Drywall, and Pro-Painting Techniques.

"We're delighted to welcome the BiY program to Lowe's," said Lowe's Canada president Sylvain Prud'homme in a release. "Their inclusive, hands-on approach to customer experience aligns powerfully with our own values, and with our commitment to one-on-one support for the home improvement goals of all Canadians." 9
back to top

______________________________________________________________________ 

Las Vegas show: opportunity for paint category

LAS VEGAS — The National Hardware Show is working hard to provide incentives for independent dealers to attend next month. Home improvement retailers who do a big business in paint and sundries will find that the show is collaborating with the Paint & Decorating Retailers Association. PDRA serves independent paint dealers and has worked with NHS to offer a range of products and workshops for their benefit.

The show also is also co-locating with the Lancaster buying show. Lancaster, a paint sundry distributor serving a broad range of independent retailers, will host its own show at the Las Vegas Hotel, which is connected to NHS at the Las Vegas Convention Centre. Lancaster carries brands such as Hyde Tools, Rust-Oleum, and Krylon.

Val-Test, a large U.S. paint distributor, is using the National Hardware Show as a buying event for its customers, offering show deals for retailers in the paint and sundries channel.

The show is also co-locating with the All-Industry Conference of the North American Retail Hardware Association. This event is free to all retailers and will feature a range of seminars to help them build their business.

(For more information on the National Hardware Show, click here.)

back to top

______________________________________________________________________

CHHMA names new chair, honours Hall of Famers at AGM

TORONTO — The Canadian Hardware and Housewares Manufacturers Association held its conference and AGM earlier this month. The morning started with a presentation by Craig Alexander, chief economist at TD Bank, and continued with presentations throughout the morning. Branding was the theme of the afternoon with a presentation by Richard Ettenson of Thunderbird School of Business, and Tony Chapman from Capital C.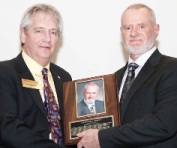 Shown (l-r): Vaughn Crofford, president of the CHHMA, with Hall of Fame inductee Louis-Marie Garant of Garant Industries.
David Simmons of Jarden Consumer Solutions stepped down as chairman  of the board. Mike Wilson of Recochem Inc. is the new chairman and Steve   Barker at Ipex HomeRite Products is first vice chair. Kris Ovstaas of Philips Lighting is treasurer.

 Over lunch, two long-time members of the industry, Jerry Cayne and Louis-Marie Garant, were inducted into the CHHMA Hall of Fame.
back to top

______________________________________________________________________

Acklands-Grainger adds 200,000 more products

TORONTO — Industrial, safety, and fastener products supplier Acklands-Grainger is expanding its online inventory and expects to add 200,000 new products over the next several months. With the expansion, the company will offer more than 300,000 products.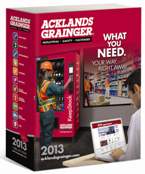 The company is a division of U.S. industrial supplier Grainger, which had $9 billion in sales last year. The Canadian arm is leveraging products available through its parent to provide even more products, aiming to become a one-stop destination and help its customers lower their sourcing costs.

Already, the number of products available online has doubled. The expansion crosses all of its product categories with an emphasis on safety, electrical, tools, material handling, plumbing, and HVAC. It is also putting a push on its private brands such as Westward, Profast'ners, Condor, and Tough Guy.

This product expansion complements the February launch of the industrial supplier's 2013 catalogue, which offers 116,000 products in 11 categories, and features 16,000 new items and 40 new suppliers.
back to top

______________________________________________________________________


Product Showcase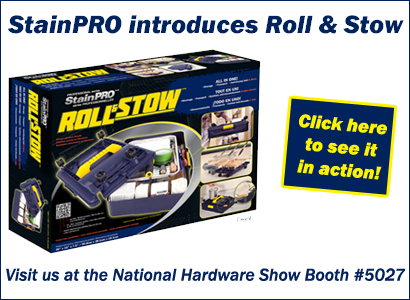 ______________________________________________________________________

Classified Ads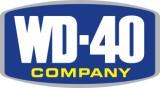 National Accounts Manager
WD-40 Company (Canada) Ltd. is seeking a National Accounts Manager based in Toronto to service National Accounts. The successful candidate will possess 5- 10 years experience in the Consumer Packaged Goods or Hard Goods industry. Must have experience calling on major retailers in mass and hardware channels and be proficient with Wal-Mart Retail Link. Automotive and industrial channel experience an asset. Strong organizational, communication and presentation skills. Strategic account planning, development and implementation. Ability to work both independently and as part of a team, be a self-starter. Highly proficient with Microsoft Office applications.

Candidate will be eligible for salary, bonus, company car, profit sharing and other company benefits. Please visit our website at www.wd40.com for more details.

If interested, please forward your resume only.

WD-40 Company (Canada) Ltd.
P.O. Box 220
Etobicoke, Ontario
M9C 4V3
Fax: (416) 622-8096
E-mail: dtasson@wd40.com

We thank all applicants, however only those selected for an interview will be contacted

______________________________________________________________________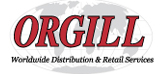 SALES REPRESENTATIVE POSITIONS
Orgill, Inc., in business for 165 years and the leading independent hardlines distributor in North America is seeking Sales Representatives for the following territories:
Alberta
Ontario
Quebec
Saskatchewan/Manitoba
RESPONSIBILITIES:
Identify, qualify, and develop prospective customers
Increase market share with existing customers
Analyze each customer's needs and address them by offering Orgill's products and solutions
QUALIFICATIONS:
3 + years of sales experience with proven track record of success in the hardware/lumber/building materials industry
In-depth, current hardlines product knowledge
Experience with multi sku assortment and Plan-o-Gram selling
Proficient user of email, internet and Microsoft Office computer applications
Willing to travel; valid driver's license; good driving record
Eligible to legally work in Canada
WE OFFER:
Competitive compensation and reimbursement for travel expenses.
We welcome your interest in our company. Our employees are critical to the achievement of our mission to "Help Our Customers be Successful."

TO APPLY:
Please submit resume, and salary history to: orgillcareers@orgillmail.com

______________________________________________________________________
Resumés
Award-winning sales professional skilled in relationship-building in order to continually enlarge sales territories view this

resumé

Professional with over 25 years of experience in Sales, Marketing, Merchandising and Administration

view this

resumé

Marketing professional with over 10 years experience looking to secure a new full-time position.

view this

resumé

A Sales Professional with over twenty years of experience.view this

resumé

Experienced District Manager with a proven track record with several national chains. view this

resumé