April 23, 2012, Volume xviii, #17
"Knowing is not enough; we must apply. Willing is not enough; we must do." ―Johann Wolfgang von Goethe (German poet and dramatist, 1749-1832)
______________________________________________________________________


______________________________________________________________________
TRU banner for farm featured at TruServ market
WINNIPEG — Dealers from across Central and Western Canada who attended TruServ's recent dealer market last week got updated on the latest products and programs from the hardware wholesaler. These included the newest iteration of its TRU banner – for farm and garden retailers, called TRU Country & Garden.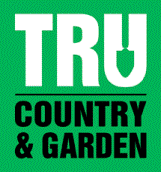 While TRU Hardware and TRU Building Centre have already been launched, the new banner is gaining traction with farm and hardware retailers. So far, 10 Country Depot stores have converted to TRU Country & Garden, says Lora Deighton, communications manager for TruServ Canada. (Originally to be called "Farm & Garden," Deighton admits the name was modified based on feedback from dealers themselves.)

The strong categories for this banner include pet supplies and workwear, as well as farm supplies, and lawn and garden.

Dealers were introduced to TRU's expanded web presence at the show, as well. Ongoing seminars gave the dealers first-hand training on how the new site works. Leveraging RONA technology (the parent company has recently overhauled its own website), the new TRU site includes a micro-site function that lets each dealer hook into the main site with its own "shadow" website. And there's no charge to the dealers themselves.

"We're making it as easy as possible, because some of our dealers are uncomfortable with technology, while others are asking about doing their own blogs, etc.," says Deighton. "So the program is flexible."

Another important program from RONA that's now available to TRU dealers is the RONA succession program, including its support and funding programs.
back to top



______________________________________________________________________
TIM-BR MARTS hosts young dealers
TORONTO — TIM-BR MARTS Ltd. gathered dealers from across the country for that buying group's second annual buying show earlier this month. But right before the big show, a small group of dealers gathered in a downtown hotel for a meeting of their own.

TIM-BR MARTS' first-ever Emerging Leaders Summit met under the aegis of the group's president and CEO, Tim Urquhart, at the uber-hip Thompson Hotel for a series of leadership seminars, team-building exercises, and networking opportunities.

The purpose of the group, which met for the first time, was to give the younger managers and owners within the national buying group a chance to get mentored and motivated by senior people within the organization, the industry, and other business sectors.

According to Urquhart, the participants, all 35 and under, got to share their experiences and concerns, while getting a taste of the country's largest city. This included an ice-breaking "amazing race" that took them to the top of Canada's tallest structure, the CN Tower.

"Our younger generation wants to grow with TIM-BR MART, and TIM-BR MART wants to support them in their development," said Urquhart. "These young leaders are the future of our group. This summit helped to provide the tools they will need to be successful independent entrepreneurs."

Urquhart says he will expand the program next time, to include more francophone participants, with the next summit in French at the Chalifour Expo in Montreal in October.
______________________________________________________________________
RONA shows appreciation for contractors

MISSISSAUGA, ON ― Buses brought Ontario contractors from as far away as Midland and Collingwood to RONA's contractor appreciation night at the International Centre last week. Organizers said they expected up to 2,000 trades to attend.

Dozens of exhibitors were on hand to share the latest product knowledge and innovations from their companies. Vendors in the booths were consistently upbeat about the attendance at the event, and said they welcomed a forum that let them talk directly to end users.

There was also a cash bar, lots of free food – and draws to win one of the four half-ton trucks RONA is giving away in this year's contractor event series. Sixteen shows in total are being held this spring across the country – three of them in Ontario (Belleville, Waterloo, and Mississauga).
back to top



______________________________________________________________________
PrimeSource becomes a key supplier to TIM-BR MARTS
VANCOUVER — PrimeSource Building Products Canada, the North American nails and fasteners supplier, is partnering as a key supplier for TIM-BR MARTS Ltd., the national buying group.

Long established south of the border, PrimeSource has expanded its footprint in Canada to provide distribution from coast to coast. "This part of our strategic growth plan enables PrimeSource to provide increased service levels to our growing customer base, and fulfills the need of just-in-time requirements for our customers," says Michael Gibson, regional vice-president, PrimeSource Canada.

PrimeSource will use the partnership to continue to gain exposure for its proprietary brands of Grip-Rite nails and Pro-Twist construction grade screws into the Canadian market place. "We have 70 years of fastener sales and service behind us in the United States, and we are looking forward to providing that proven expertise to the Canadian market and the TIM-BR-MART group in Canada," says Ken Fishbein, CEO of PrimeSource Building Products Inc.

TIM-BR MARTS represents more than $2 billion in purchases on behalf of more than 700 dealers across Canada.

PrimeSource has more than 40 North American distribution centres, including six in Canada, and more than 1,100 employees. It claims to be one of the largest distributors of building products in North America, and its lines include insulation, roofing, and steel reinforcing products.
______________________________________________________________________
Lowe's releases sales by category in its annual report
MOORESVILLE, NC — According to its annual report, one of Lowe's weakest categories last year was millwork, while building materials was its strongest.

Lowe's reported total sales were up 3% in 2011 and 2010.

Building materials sales were up 10%, the highest percentage growth across all categories; millwork sales were down 6%, the lowest percentage growth.

Categories that performed above 3% growth for Lowe's were lighting, building materials; paint; home fashion, storage and cleaning; rough plumbing; tools; and hardware. Categories performing below 3% were appliances, lawn and garden, lumber, flooring, seasonal living, millwork, fashion plumbing, nursery, cabinets-countertops, and other.
______________________________________________________________________
RONA supports reforestation of urban park
BOUCHERVILLE, QC — RONA inc. has announced a $100,000 commitment to reforest what will be Canada's first near-urban National Park, the Rouge Valley. The Rouge sits on the northeast edge of Toronto in Scarborough, and is a haven for all kinds of flora and fauna, right in the city.

RONA's project that supports reforestation in urban areas across Canada is the first initiative of RONA's new partnership with the David Suzuki Foundation. This partnership is a continuation of RONA's commitment to the sustainability of natural resources and of its leadership in sustainable development.

To support this program, RONA is also offering a special range of trees and shrubs grown to Ontario to encourage homeowners to "reforest" their own backyards.  They will be available April 29 in select RONA stores across Ontario.

"We have the responsibility to make smart choices that minimizes the impact on our environment," said Robert Dutton, RONA's president and CEO, in a release. "This partnership is part of our commitment to make sustainability core to our business."
______________________________________________________________________
Appointments at North American Lumber reflect strategic growth
WINNIPEG ― North American Lumber is looking for ways to continue growing its presence in smaller communities throughout the Prairies. The TIM-BR MART dealer, which has 24 stores, has been updating those stores and tying them together with a new retail POS system. Reflecting these growth initiatives, the company has made some changes to its management.

Scott Andrus has assumed the newly created position of manager – corporate purchases. Working closely with the vice-president operations, Andrus will be responsible for the procurement of commodities, supplies, services, and equipment for the chain's Retail, Home Building, Concrete, and Truss divisions. His role will include building and maintaining strategic relationships with key suppliers.

"Scott has a proven track record in budgeting, tracking, and analyzing operating expenses and I believe his skill set will be a huge asset to us in this new position," says company president Martha Konantz.

Mark Kennedy has assumed the position of vice-president operations, responsible for overall sales and marketing for all of North American Lumber's divisions. He will seek out new business opportunities by growing existing store sales, developing strategic partnerships, and expanding into new markets. He will also be responsible for renovations to existing stores.

Kennedy will work closely with Andrus on product assortment, purchasing, and inventory management. He will also develop and promote staff training and build North American Lumber's brand identity through advertising and media.
_____________________________________________________________________
Classifieds

ACQUISITIONS WANTED
Q.E.P. Co., Inc. (Roberts,Harris Wood, etc.) is seeking synergistic acquisitions in the flooring and hardware industry. Minimum sales of $10,000,000.  No retail.  Accessory products considered.
Please feel free to contact Lewis Gould, C.E.O. at Lewis_gould@qep.com or by fax, 561-994-1530.

______________________________________________________________________

Branch Manager - Halifax

Canada's largest building products distributor requires a
Branch Manager at its Halifax Branch.

COMPETENCIES:
MUST HAVE - Min 5 years building products industry exp.
MUST HAVE - 3 years industry management exp.
MUST HAVE - knowledge of distribution & sales of branch
Selling commodity/building products an asset
Excellent communication skills, professional appearance
Travel within territory, relationship building abilities
Computer literate & thrive in entrepreneurial environment
Key Responsibilities: Maintain/develop client base & generate new business; Ensure maximum sales revenues, meet & exceed sales target; Oversee all aspects of Branch operations within budget; Oversee maintenance of property, buildings & equipment

SUBMIT COVER LETTER, RESUME & SALARY EXPECTATION TO:
Email : hr@taigabuilding.com
Deadline: May 15, 2012
______________________________________________________________________


Resumés
NEW:

Fluently bilingual, highly motivated Business Development Professional with excellent strategic and operational capabilities.

view this

resumé

NEW: A Sales Professional with over twenty years of experience.view this

resumé

NEW:

Experienced District Manager with a proven track record with several national chains.

view this

resumé

A conscientious, highly motivated manager with a results-oriented track record in developing new business.

view this

resumé

An experienced merchandising executive possessing passion, vision, and a strategic approach to delivering bottom-line.

view this

resumé

Senior sales/marketing leader with experience in all classes of trade wishing new HARDLINES career. view this

resumé

Very Experienced Business Unit Manager, great passion for generating sales and building relastionships.view this

resumé

Worked through my career within the manfucaturer, wholesale and consumer goods industries. view this

resumé

Senior Sales Manager with vast experience in retail and wholesale sales growth in Canada. view this

resumé