April 26, 2010, Volume xvi, #17
"Winning is not a sometime thing; it's an all time thing. You don't win once in a while, you don't do things right once in a while, you do them right all the time. Winning is habit. Unfortunately, so is losing."
—Vince Lombardi (American football coach, 1913-1970)
Now President, Straus outlines vision for Home Hardware
ST. JACOBS, Ont. — An upbeat mood pervaded the latest dealer market held here last week for Home Hardware's dealers. The show, which played host to more than 10,000 dealers, their families, and the vendors who supply them, was newsworthy for the new programs and products developed by Home for its dealers. (More on those in upcoming issues! — Michael)


However, the biggest news at the market was the retirement of Home Hardware co-founder Walter Hachborn. The announcement, made at Home Hardware's annual shareholders' meeting last week, also introduced Paul Straus, Home Hardware's Vice-President and CEO, as President and CEO. Hachborn will remain on as President Emeritus.

In addition, Terry Davis, Home Hardware's Vice-President Administration and Strategic Planning, was appointed Executive Vice-President and COO.

In an exclusive interview with Straus at the dealer market, he shared some of his thoughts and vision for Home Hardware. He started by pointing out that 2009 was a strong year for his dealers, despite the downturn in the economy. In fact, retail sales by all dealers were down by only 1.4%, while the bottom-line increase to the co-op's surcharge adjustment profit-sharing allotment was up 9.47%. "We had the best results in the history of the company," he says.

The reasons, he says, were simple. "The independents all have skin in the game and they know their community. And they know how to adjust when things get tight." From head office, Home tried to help dealers stay focused on their business. "We were coaching our people to continue focusing on their customers."

The company also used the recession as a chance to step up advertising and promotion when other companies might have pulled back. Home's advertising budget was up 20% last year.

The company has also been positioning its dealers as destination shops for more upscale, design-minded products. Home's own paint brand, Beauti-Tone, gave a new look to its high-end label, "Designer Series". That positioning was backed by a series of paint seminars conducted for 720 staff across the country.

"There's more awareness of Beauti-Tone paint through the designer world," says Straus.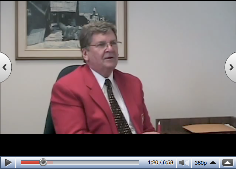 (To view a full interview with Paul Straus
on Hardlines TV, click here. —Michael)
back to top

TruServ cleans up books in 2009
WINNIPEG — On the heels of its latest dealer market here, TruServ Canada, the dealer-owned co-op corporation, reports that 2009 wasn't such a bad year after all.

According to Bill Morrison, President and CEO of TruServ Canada, the direction from the board has been to clean up its balance sheet. As a result, the company is working to manage its cash flow more efficiently and pay off debt — such as the investment in new computer systems introduced a year earlier — in anticipation of higher lending interest rates.

As a result, even though sales were down by an estimated $70 million to $600 million for all TruServ dealers, profits improved over 2008 by $500,000. That money gets turned back to the dealers themselves.

"The decline felt by the industry was also felt by TruServ," says Morrison, "mostly in Alberta and British Columbia. But those dealers were in a much better mood at last week's show," he adds.
back to top

RONA stops selling inefficient toilets
BOUCHERVILLE, Que. — RONA, the giant Canadian home improvement distributor and retailer, will stop selling conventional toilets with tanks over six litres in volume. The announcement, made on Earth Day (April 22), reflects RONA's recognition of the technological advances in low-flow toilets and a belief that tanks over six litres no longer represent an ecological option.

"According to Environment Canada, Canadians consume over 300 litres of potable water per day, nearly a third of which goes into toilets," said Normand Dumont, RONA's Executive Vice-President of Merchandising. "For RONA, ending sales of toilets over six litres is a way of supporting our customers in their efforts to adopt responsible practices for a sustainable community."

RONA is also encouraging consumers to further conserve water by using low-flow shower heads, aerated faucets and rainwater recovery systems.
back to top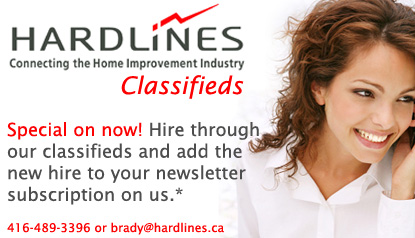 *Your company must have a current subscription
Click here or call 416-489-3396 to place a classified ad

Why Home Depot wants Canadians to go green
TORONTO — The recent release by Home Depot Canada of a "Green Index" gauging the environmental responsiveness of Canadians does more than just give the home improvement retailer another headline in the news.
"It goes beyond the Green Index," says Gino Digioacchino, Vice-President Merchandising for Home Depot Canada. It gives the retailer a way of measuring the concerns of its consumers against Home Depot's own environmental initiatives. "We're trying to understand where the Canadian consumer stands with the environment. It helps tell us how to understand the needs of consumers so we know what to do to educate those consumers — and our vendors."
A leadership role is what Digioacchino insists Home Depot take. He cites the company's move to ban synthetic pesticides in its stores. "That's a bold step and that's a leadership role."
He also believes that leadership means educating consumers. That education includes a number of programs that help promote Home Depot, but also build awareness of lifestyle choices among its customers. For example, The Home Depot Canada's annual Mow Down Pollution program is running all this week. Now in its 10th year, the program, a marketing partnership with Summerhill Impact, challenges consumers to bring in their gas-powered lawn and garden equipment to Home Depot stores and receive a rebate ranging from $10 to $100.
Environment Canada estimates that lawnmowers, leaf blowers and weed trimmers create about 9% of Canada's total mobile air emissions. Over the past nine years, Mow Down Pollution has recycled more than 34,000 gas lawnmowers and trimmers, preventing the release of more than 1,100 tonnes of greenhouse gas and smog-forming emissions.
Another promotion, "Go Low-Flow", is a program to reduce water use. "We sold more than 40,000 low-flow toilets in two days — vs. about 4,000 in a typical week — and we tie in vendors to the program that can provide solutions.
"We've saved a huge amount of water by converting people to low-flow."
back to top

Classifieds

DIRECTOR OF VENDOR RELATIONS, PURCHASING, EDMONTON, AB
 A leading distributor of building materials in Edmonton is seeking a Director of Vendor Relations/Purchasing responsible for overall company purchasing as well as maintaining and developing vendor relations. Knowledge and experience with buying groups is required.

MAJOR RESPONSIBILITIES:
Vendor Relations

Vendor relations on local level as well as national level with buying group
Participate and represent the company for vendor product negotiations with buying group
Negotiation/collection of vendor volume rebates

Purchasing

Direct and coordinate activities of purchasing and inventory control personnel  
Develop and implement purchasing policies and programs 
Analyze market information for commodities and other product categories 
Maximize margin for purchasing department and compan
KEY COMPETENCIES
Team builder/player
Ability to provide mentorship and leadership to team members and make key decisions.
Customer focus
Detail oriented, organized and disciplined, attention to accuracy
Ability to multi-task in a fast-paced environment
Excellent analytical ability
Willing to accept responsibility and advancement
Self starter - able to work with little supervision
KEY QUALIFICATIONS
Minimum 10 years experience in purchasing management/vendor relations
Knowledge and experience in the lumber/building materials commodity markets
Post secondary diploma or equivalent preferred
Proficient in Microsoft Office applications especially Microsoft Word and Excel programs
Please submit résumé via email to:
Black Eagle Executive Search
c/o Richard Simms at rsimms@blackeagle.ca


DEDICATED ACCOUNT EXECUTIVE
Reporting to the CEO, the Dedicated Account Executive will advance efforts and activities aimed at developing, maintaining and deepening relationships with new and existing Earth Innovations Inc. clients across North America, with a particular focus on the US market.
The primary sales focus will be on our flagship product and category leader ecoTRACTION, a volcanic mineral used for traction on icy winter sidewalks. It is already carried coast-to-coast in Canada in Home Depot, Canadian Tire, Home Hardware, Acklands-Grainger, and Unisource among others, and was featured on the CBC television show Dragons' Den in 2008 & 2009.
Duties and Responsibilities:
Develops new business in retail and industrial markets in Canada and the US
Manages the entire business development cycle
Develops and manages relationships with independent sales agencies
Leads a small internal team of Customer Service Representatives who assist with business development efforts
Responsible for quarterly forecasting, annual budget planning, channel marketing and promotional campaigns
Requirements:
• Minimum of ten (10) plus years of demonstrated sales success
• Proven experience in consumer and industrial markets in both Canada & US
• Successfully developed and managed 3rd-party sales agencies in Canada and the US
• Working knowledge of Salesforce is considered an asset
• Bilingualism (English and French) is considered an asset
Key Competencies:
• Driven and goal oriented
• Entrepreneurial spirit
• Loves a fast paced environment
• Strategic thinker
• Strong planning and organizational skills
Please send your resume to Heidi Hauver, Human Resources Coordinator, at heidi@ecotraction.com. Thank you.

Please note that we are accepting applications until April 23rd 2010.
Resumés
National Field Sales Manager with twelve plus years in power tools and hardware sales/merchandising.

view this

resumé

Business Manager with U.S. & Canadian experience with retail & industrial customers seeks a new opportunity.

view this

resumé

An experienced merchandising executive possessing passion, vision, and a strategic approach to delivering bottom-line.

view this

resumé

Results oriented sales professional with a strong record of achievement in strategic and tactical roles. view this

resumé

Senior sales/marketing leader with experience in all classes of trade wishing new hardlines career. view this

resumé

Very Experienced Business Unit Manager, great passion for generating sales and building relastionships.view this

resumé

Worked through my career within the manfucaturer, wholesale and consumer goods industries. view this

resumé

Senior Sales Manager with vast experience in retail and wholesale sales growth in Canada. view this

resumé
Click here to post your resumé

Connect with us!