April 29, 2013, Volume xix, #17
"To know what is right and not to do it is the worst cowardice."
— Confucius (Chinese teacher and philosopher, 551-479 BC )
______________________________________________________________________
Quebec association to launch its own show in 2014
                MONTREAL — The Quebec dealers' association, AQMAT, is going ahead with a trade show of its own. According to Richard Darveau, president of AQMAT, the event will be a show in the truest sense of the word, with the emphasis on showing off products and displaying new innovations.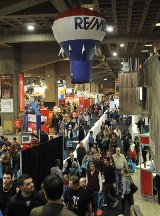 The new show will actually be situated inside Montreal's big home show, Le Salon national de l'habitation, which runs March 8-17 at Place Bonaventure. The AQMAT show, says Darveau, will be a trade show inside the consumer show in what he calls a "business zone."

"No pricing, no selling onsite. It's not a buying show. In fact, it's exactly the opposite of a buying show—it's a demonstration show. The wow effect is very, very important. The key word is 'spectacular'."

He further promises a special opening day event and lots of excitement around this show within a show.

Vendors who wish to participate will have to effectively audition for a booth. "They must present a scenario of what they will do in their space and we will select the most imaginative vendors for those spaces." The Salon draws about 150,000 visitors a year.

In addition, the show will be open to the public as well as dealers, something Darveau believes will be a great draw for prospective exhibitors. He says it will be a great opportunity for companies to show truly Canadian products. "Manufacturers want to show people why they should buy [domestic] products rather than go offshore."
back to top
______________________________________________________________________
______________________________________________________________________
RONA wraps up contractor show tour
  BOUCHERVILLE, QC — From January 29 to March 27, RONA made stops in 15 Canadian cities as part of its 2013 RONA Contractor Show Tour. The event was sponsored by Bosch, and in Quebec, it was organized in partnership with Réno-Dépôt, RONA's big-box chain in that province that caters to contractors.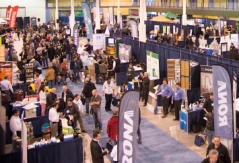 RONA used the tour to build on its relationships with the nation's contractors, while allowing them to network with RONA dealers and some of its preferred vendors, who presented new products and offered special deals.

Calling the 2013 tour "an overwhelming success," RONA says more than 5,550 contractors in total visited the shows.
back to top

______________________________________________________________________ 

Canadian Tire opens dealer show to public

  TORONTO —Canadian Tire's dealer convention and trade show, held two weekends ago, had a new twist: on the last day, the show opened its doors to the public. Called the Canadian Tire Home and Auto Show, it was a free, interactive event.

Consumers had a chance to try products first hand, and see celebrity appearances and demonstrations by chef Lynn Crawford, Dog Whisperer Cesar Millan, professional angler Bob Izumi, and Olympic athletes. Hockey fans could also get their photo taken with the Stanley Cup.

The street in front of the Metro Convention Centre, where the show was held, was closed off to feature sports demonstrations and clinics. NHL alumni Glenn Healy, Mike Palmateer, Nick Kypreos, Paul Coffey, Kris King, Jeff O'Neill, and Tom Fergus were all scheduled to attend.

back to top

______________________________________________________________________ 

B.C. LBM delegates visit Canton Fair

VANCOUVER — A group of West Coast suppliers and dealers has just returned from a trip to China, where delegates visited wood suppliers and  toured the Canton Fair. Organized by the Building Supply Industry Association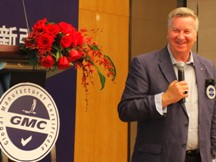 (BSIA) and its president, Thomas Foreman, the trip included a visit to the 113th Canton Building and Hardware Fair in Guangzhou, plus meetings with prospective manufacturers, suppliers, and investors co-ordinated by the B.C. Government and Canada Wood.

The first meeting was arranged by GMC, a leading B2B company, on April 14 in Guangzhou. It provided the delegation with detailed insight into the Chinese construction market and allowed them to discuss the Canadian market from their prospective. The meeting was attended by many Chinese companies interested in meeting and discussing opportunities between the two countries.

That was followed by a visit to the giant Canton Fair. Then the delegation traveled to Shanghai, visiting Canada Wood, a large floor manufacturing plant, and a vocational school training students in wood frame construction. Other meetings included a visit to the Shanghai Federation of Trade and Commerce and Board of Trade, and a tour of a home improvement big box.
back to top

______________________________________________________________________

RONA issues update on corporate sustainability

BOUCHERVILLE, QC — According to its 2012 Sustainability Report, RONA intends, by 2015, to reduce its house brand packaging by 10% and ensure that the majority of cardboard packaging contains 50% post-consumer recycled fibres or certified virgin fibres. The company has targets for other materials, as well: it aims to achieve 25% post-consumer recyclable material for certain types of plastics.

According to the report, since 2008, RONA's Wood Product Procurement Policy has made these achievements:
96.5% of softwood lumber and plywood available in corporate stores comes from certified forests;
44.2% of construction lumber available in corporate stores is certified (surpassing its target of 25% before the end of 2012);
44% of softwood lumber destined for sale is from Forest Stewardship Council (FSC) certified forests.
RONA remains committed to ongoing revision of its targets and to potentially including a wider variety of wood products.

In 2011, other objectives were added to its Wood Product Procurement Policy, including the promotion of a responsible use and procurement of paper. As a result, since 2012, 40% of the paper used by RONA contains 35% post-consumer recycled fibres. RONA's goal by 2014 is to reduce paper consumption corporately by 15% and further increase paper recovery.
back to top


______________________________________________________________________


Product Showcase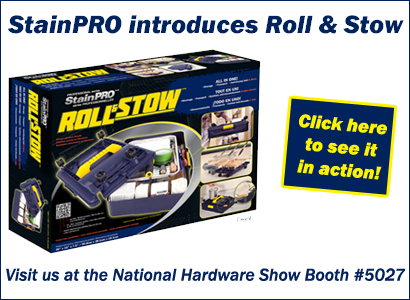 ______________________________________________________________________

Classified Ads

Sales Management Role – Montréal, Québec
PrimeSource Building Products, Inc. is the largest purveyor of fasteners in the world and one of the largest distributors of building materials. With 42 distribution centers throughout the U.S. and Canada, we're always looking for our next employee who will make a positive impact in this growing industry.

We currently have a great opportunity available for an experienced Bilingual Sales Manager at our Montréal location. The ideal candidate must have 3-5 years sales management experience and possess demonstrated skills in selling, teaching & managing a sales staff. Building materials industry experience is a must.

The job requires some travel within the distribution centre's trading area. Excellent communication and presentation skills are required. Must be a self-starter with an entrepreneurial nature who is willing to handle multiple projects and priorities.

If you are a proven leader who welcomes the opportunity to work in a challenging and financially rewarding environment, we want to meet you.

Qualified candidates may submit their résumé and cover letter to StrotjohannK@primesourcebp.com

ONLY CANDIDATES OF INTEREST WILL BE CONTACTED
Directeur  des ventes - Montréal, Québec
PrimeSource Building Products, Inc. est le plus grand fournisseur de fixations dans le monde et l'un des plus grands distributeurs de matériaux de construction. Avec 42 centres de distribution à travers les États-Unis et le Canada, nous sommes toujours à la recherche de notre prochain employé qui aura un impact positif dans cette industrie en expansion.

Nous avons actuellement une excellente opportunité disponible pour un directeur des ventes bilingue à notre succursale à Montréal. Le candidat idéal doit avoir 3-5 ans d'expérience en gestion des ventes et posséder des compétences démontrées dans les ventes, l'entrainement et la gestion de personnel de vente. L'expérience dans l'industrie des matériaux de construction est un pré-requis.

Le poste nécessite quelques déplacements à travers le territoire desservit par le centre de distribution. Excellentes aptitudes de communication et de présentation sont nécessaires. Doit être un personne autonome avec un esprit entrepreneurial qui est prêt à gérer plusieurs projets et priorités.

Si vous êtes un leader reconnu qui accueille l'opportunité de travailler dans un environnement stimulant et très attirante financièrement, nous voulons vous rencontrer.

Les candidats qualifiés peuvent soumettre leur curriculum vitae et lettre de motivation à StrotjohannK@primesourcebp.com

SEULS LES CANDIDATS d'intérêt sera CONTACTÉES
 
______________________________________________________________________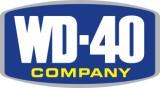 National Accounts Manager
WD-40 Company (Canada) Ltd. is seeking a National Accounts Manager based in Toronto to service National Accounts. The successful candidate will possess 5- 10 years experience in the Consumer Packaged Goods or Hard Goods industry. Must have experience calling on major retailers in mass and hardware channels and be proficient with Wal-Mart Retail Link. Automotive and industrial channel experience an asset. Strong organizational, communication and presentation skills. Strategic account planning, development and implementation. Ability to work both independently and as part of a team, be a self-starter. Highly proficient with Microsoft Office applications.

Candidate will be eligible for salary, bonus, company car, profit sharing and other company benefits. Please visit our website at www.wd40.com for more details.

If interested, please forward your resume only.

WD-40 Company (Canada) Ltd.
P.O. Box 220
Etobicoke, Ontario
M9C 4V3
Fax: (416) 622-8096
E-mail: dtasson@wd40.com

We thank all applicants, however only those selected for an interview will be contacted
 
______________________________________________________________________

Resumés
Award-winning sales professional skilled in relationship-building in order to continually enlarge sales territories view this

resumé

Professional with over 25 years of experience in Sales, Marketing, Merchandising and Administration

view this

resumé

Marketing professional with over 10 years experience looking to secure a new full-time position.

view this

resumé

A Sales Professional with over twenty years of experience.view this

resumé

Experienced District Manager with a proven track record with several national chains. view this

resumé