April 5, 2010, Volume xvi, #14
"If you want to encourage people to try a lot of stuff and keep what works,
then you have to remove penalties for honest mistakes."
—James C. Collins & Jerry I. Porras
(American business authors, from "Built to Last")

Home Depot prepares for new in-store service program
TORONTO — The announced creation of a new in-store service team within Home Depot Canada continues to create concern throughout the vendor community. But it's not a step the giant retailer has taken lightly — or made quickly.

The program, called MET, for "Merchandising Execution Team," will involve the recruitment of more than 1,000 people to work within a newly formed vendor services team under Joe Allen, who was promoted last month to

director, vendor services from his previous role as field merchandising for Eastern Canada. According to an internal memo from Gino DiGioacchino, vice-president merchandising for Home Depot Canada, the new team will be "an extension of the merchandising department, they will provide dedicated resources to our stores while playing a key role in driving in-store merchandising excellence for our division. A core leadership team [under Allen] will be assembled by April, beginning the development of the new vendor services team."

The program will be piloted in November or December of this year, reportedly beginning with electrical, lighting and seasonal, but Home Depot couldn't confirm which categories would get tested first. Following an undetermined trial period, the program will be rolled out to all stores — across all product categories — by the middle of 2011.

The MET program has already been tested and implemented in the U.S., "and it's a disaster," says one vendor who asked not to be named. It resulted, he says, in the vendors and their agencies effectively losing touch with their own products on the store shelves.

However, says DiGioacchino, the move to bring in-store service under Home Depot's aegis has to do with centralizing the servicing of the stores. Home Depot is also introducing technology that will let vendors have full access to, and be able to track, their products throughout the system. "They will get accountability," he stresses.

One of the things that hinders the current system, which leaves the service role in the hands of detailing or service companies, usually an outgrowth of existing manufacturers' rep agencies, is their reliance on store associates to physically move the product. "The new team," says DiGioacchino, "will be trained and certified to handle machinery in the stores, moving skids or palettes on lift trucks when needed." This, Digioacchino adds, is important to his own mantra of "speed to market." Home Depot calls this a "huge efficiency."

The vendors will still have an important role, he adds. Product knowledge, instructing associates about the products on the shelves, will still be their responsibility. However, keeping those shelves tidy and stocked won't be. Special projects, such as resets, will also remain the purview of the vendors. "Resets are only four times a year. This is about weekly service in the stores."
back to top

AFA realigns Atlantic operations
BOLTON , Ont. — AFA Forest Products Inc. has made a significant change to its organizational structure in the Atlantic region. Effective immediately, it will operate under four individual division managers, rather than a single divisional general manager.
| | | |
| --- | --- | --- |
| Division Manager | Location | Telephone |
| Dwight Fitzmorris | Dartmouth , N.S. | 902.434.8200 |
| John Ethelston | Moncton, N.B. | 506.857.9977 |
| Lewis Short | Mount Pearl, Nfld. | 709.368.6813 |
| Jim Stewart | Sydney, N.S. | 902.562.5596 |

This realignment, considered a key benchmark in the company's strategy, is one of several initiatives designed to accelerate AFA's corporate growth, improve service, provide velocity to new national product programs and expedite future location expansion. It follows on the heels of the departure of John Morrissey, who had been the general manager of Lighthouse since it was taken over by AFA (see next story for the update on Morrissey).

That takeover occurred in 2007, giving the building materials wholesaler a truly national presence. The acquisition shortly thereafter of Cape Breton Distributors enhanced the company's commodities shipments to Newfoundland and Labrador.

As of May 1, however, the Lighthouse division of AFA will no longer exist, and the entire group coast to coast will operate under AFA Forest Products, solidifying its position across Canada.



"There's a strategy where the company wanted to operate nationally, with division managers," says Andy Dolan, national sales & marketing manager, Allied Products. Each of the branches, he points out, were operating much like independent companies. "With all the acquisitions by AFA, we can now orchestrate national programs more effectively."

AFA has 12 building materials divisions across the country, plus a facility in Portland, Ore., and its Visulam melamine plant in Lachute, Que.
back to top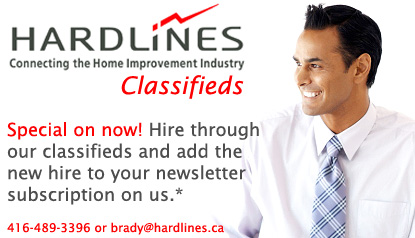 *Your company must have a current subscription
Click here or call 416-489-3396 to place a classified ad

Morrissey rejoins TIM-BR MART
John Morrissey has joined TIM-BR MARTS Ltd. in the newly created position of vice-president building materials. He'll be looking after the LBM programs nationally for the dealer-owned buying group, working out of TIM-BR MART's Halifax office. He reports directly to TIM-BR MART president and CEO Tim Urquhart.

Morrissey was most recently general manager – Atlantic Canada, for Lighthouse Lumber, a division of AFA Forest Products. He resigned last month (his last day was on Friday) to take the position with TIM-BR MART, where he'd worked before joining Lighthouse. "I'm moving back to the same desk I was in three years ago," says Morrissey. "I'm delighted to be back. It's like going home in a lot of ways."

Besides handling the group's building materials needs nationally, he'll look after the Atlantic region as well.

back to top

Home Hardware gets dealer intranet forum
TORONTO — Northcore Technologies Inc., an asset management technology provider, has completed the initial launch of an intranet for Home Hardware Stores Limited. The site features an online forum to connect the more than 1,000 Home Hardware stores and their key suppliers.

"Our objective is to make it more efficient for these dealers to purchase the products they need to operate their businesses," said Duncan Copeland, Northcore's CEO. "As an additional benefit, dealers can improve their working capital position by having a new channel to sell surplus or under-utilized assets and evaluate both new and used equipment in their ongoing purchasing decisions."

Home Hardware anticipates adding even more services, making the intranet site "a one-stop source" for the dealers' business needs, including computers, security systems, signage, store fixtures, racking, forklifts, vehicles, leasing programs and other related information and contacts.
back to top

Expanded strategy to lead RONA as economy recovers
BOUCHERVILLE , Que. — RONA has updated its 2008-2011 strategic plan, which aims to increase earnings per share by an average of 10% to 15% over the period. Coined the " New World" program, the plan calls for growth through an increase in its store base and through growth of its customer sector. The first part, increased points of sale, will continue through RONA's three established modes, i.e., store construction, development of the affiliate network, and strategic acquisitions.

The second part, which RONA calls "the customer growth vector," reflects the company's efforts to create organic growth — in other words, same-store growth. RONA's wants to increase its market share by more than 10%.

(RONA touts its share of the market against key competitors as 17.5%. Hardlines' own measure of the size of the industry includes related home enhancement sales by mass merchants, club stores and Canadian Tire, which puts RONA's market share at 15.5% in 2009.)

That customer growth will be stimulated, says the company, by a number of initiatives aimed at improving customer experience. These include new store concepts and new product categories, as well as new private-label and controlled-label products. RONA also promises to introduce new programs for improving customer loyalty, and to create new training programs for store employees.
back to top

Ace introduces Craftsman, Moore at market
NEW ORLEANS — A record number of retailers attended the Ace Hardware convention here recently, where they got their first good look at how the co-op is going to go to market with new programs like its alliances with Craftsman Tools and Benjamin Moore paints.

John Surane, vice-president of consumer marketing, said the promotion of the Benjamin Moore paint line would complement Ace's own brand of paint to help make Ace dealers "number one in paint." Surane also touted the co-op's new relationship with Craftsman Tools, as a way for Ace retailers to offer a multitude of new products to consumers.

Craftsman Tools had a large presence at the convention and showcased many of their products on the show floor. Ace retailers will begin selling tools and accessories bearing the Craftsman brand name this June. The line offered through Ace will include some 600 SKUs in categories such as mechanics' hand tools, tool storage, bench-top power tools, compressors and pneumatic tools.
back to top

Classifieds

BUSINESS DEVELOPMENT MANAGER
Prairie Region (Manitoba, Saskatchewan, Alberta)
 The Sexton Group, Canada's leading Buying Group for independent building material retailers is seeking a highly motivated, sales oriented and customer focused person to fill the position of BUSINESS DEVELOPMENT MANAGER for the Prairie Region. The successful applicant, reporting to the Vice President and General Manager will be responsible for developing and maintain positive working relationships with current and potential Sexton Group Members.

Key Responsibilities include:
Developing and implementing plans for increasing member purchases through the Sexton Group;
Targeting and aggressively pursuing new members; and
Providing excellent customer service and communication skills as you work with each of the Members to determine what their business needs are and help them understand the programs and services offered by Sexton Group.
We are looking for someone with a proven track record in sales, excellent customer follow-up skills and tenacity. The successful applicant will be able to develop and maintain effective relationships with current and future Sexton Group Members, has business acumen and is able to work independently in a team environment. If you are competitive, can be persuasive and prefer travelling to the customer rather than an office job, this position may be for you. We are looking for the right person to fill this position in Manitoba, Saskatchewan or Alberta.

The Sexton Group offers a competitive base salary along with a comprehensive benefit package that includes health, disability, dental, vision, life insurance, pension, car allowance and profit sharing for all employees.
Interested and qualified candidates are asked to submit their resumes to: Human Resources at korpan@kenroc.com .
Factory Sales Representative

"Well known leading USA manufacturer of paint rollers and paint sundries with D.C. in Toronto area seeks experienced independent factory sales representative to sell their products in Canada. Must have knowledge of the paint and hardware industries, and contacts with current buyers in those categories.

Candidate will possess minimum 5 years experience in the category selling to major chains and distributors".

Email detailed resume including other lines carried and references to brady@hardlines.ca with P.O. Box 12 in the subject line.
Resumés
National Field Sales Manager with twelve plus years in power tools and hardware sales/merchandising.

view this

resumé

Business Manager with U.S. & Canadian experience with retail & industrial customers seeks a new opportunity.

view this

resumé

An experienced merchandising executive possessing passion, vision, and a strategic approach to delivering bottom-line.

view this

resumé

Results oriented sales professional with a strong record of achievement in strategic and tactical roles. view this

resumé

Senior sales/marketing leader with experience in all classes of trade wishing new hardlines career. view this

resumé

Very Experienced Business Unit Manager, great passion for generating sales and building relastionships.view this

resumé

Worked through my career within the manfucaturer, wholesale and consumer goods industries. view this

resumé

Senior Sales Manager with vast experience in retail and wholesale sales growth in Canada. view this

resumé
Click here to post your resumé

Connect with us!