April 8, 2013, Volume xix, #14
"Praises from an enemy imply real merit."
—Thomas Fuller (English physician and writer, 1654-1734)
______________________________________________________________________
Digital catalogue, smaller stores part of Canadian Tire's strategy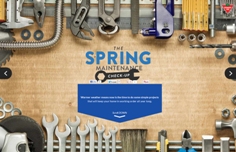 SPECIAL REPORT — Canadian Tire intends to bolster its bricks-and-mortar business in 2013 with the rollout of a new digital catalogue.

According to the latest Hardlines Executive Report, the key element of the digital launch has been the deployment of 7,000 in-store devices that will allow customers and staff alike to access the catalogue—anywhere, anytime.

Seen as a tool for increasing customers' access to information about Canadian Tire products, it will also provide a platform for online purchases. Canadian Tire stores will be used to fulfil these online orders.

Canadian Tire is also testing its new smaller "Express Store" format. At about 10,000 square feet, these outlets join a trend that has already been followed by the likes of Walmart, RONA, and Tesco.

(The 1Q Hardlines Executive Report is available now, with details of the results and strategic plans of Lowe's, RONA, Canadian Tire, and Home Depot. Click here to order now!)
back to top
______________________________________________________________________
______________________________________________________________________
Chalifour will relocate its Vancouver distribution centre
LONDON, ON — Chalifour Canada has announced it will relocate its Vancouver distribution centre to a modern industrial park in nearby Delta, BC. Construction is expected to be completed by mid-2014.

In a release issued today, Chalifour said the new DC will be in a state-of-the-art facility in the Tilbury Industrial Park, approximately 20 minutes from its current site in Surrey. It's being built to service Chalifour's growing dealer customer base, and to and get improved access for commercial trucking.

"The facility will be customized to meet the needs of our business, and we are working with a group of professionals to ensure that infrastructure will be in place to support our operations," says Bret Walters, general manager of Chalifour Canada.

Chalifour Canada Ltd., is part of the TIM-BR MART Group and serves i ndependent home improvement entrepreneurs in every province and territory. From five warehouses and offices in British Columbia, Ontario and Quebec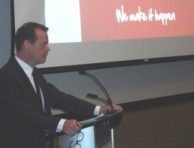 "We made a commitment to our dealers to maintain a strong presence on the West Coast, and our move to a new distribution centre reflects our ongoing efforts to improve workflow and streamline our business to be more responsive to the needs of our customers," adds Tim Urquhart, president and CEO of TIM-BR MART Group (shown here speaking recently at a CHHMA breakfast).
back to top

______________________________________________________________________ 

Hardware innovation showcased in Northern Spain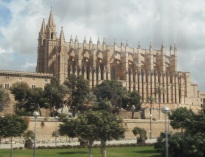 BILBAO, Spain — This city in Spain was the scene for a recent showcase of some of the country's finest hand tool and hardware makers—the combined  Ferroforma-Bricoforma show, held at the Bilbao Exhibition Centre March 12-15.

Despite a troubled economy in Spain that was exacerbated this year by poor weather throughout Western and Northern Europe, the show managed to attract 13,000 visitors. (Frankfurt airport was all but closed down by a snowstorm and driving winds, which held up many—including this editor—in their efforts to reach the show.)

 The show attracted the country's main purchasing groups, co-operatives, and superstores and drew buyers from 39 countries including Germany, Saudi Arabia, Algeria, France, the Netherlands, Iran, Israel, Italy, Nigeria, Poland, and the U.K. Visitors even came from as far away as Argentina, Brazil, and Chile, and a few Canadians, including this editor (you mentioned that already!), made the trek to Spain's Basque region to attend the show.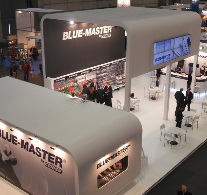 An important aspect of the show was its regional strength: the Basque region's strong tradition of hand tool makers and hardware makers, in an area which has been historically a centre for steel production that is internationally renowned, made for a strong local representation by companies that have managed to resist the draw of manufacturing to the Far East. Many of them have established themselves supplying the OEM markets and developing private-label products for well-known international brands. Elene Cepeda Arzuaga, of the Spanish Hand Tool Manufacturers Association, took HARDLINES to meet some of these companies on the show floor.

 For example, one supplier, Koldo Ribera, managing director of a hand tool company called Bianditz , proudly showed off his line of tube cutters, with a proprietary system of needle bearings on the rollers, "to convince our customers that we have extra features," he said. Despite the move of many companies to get their products offshore, he said his company has maintained a share of market "with quality. We can't," he admits, "compete on price." This attitude was echoed by many of the suppliers at the show, who have held firmly to a tradition of quality to maintain their niche.  

  One Canadian at the show, Sébastien Plourde, head of paint chemicals company Super Remover, found the journey worthwhile. "I managed to make some good contacts, pick up some new business, and even met a supplier on the way," he said.
back to top

______________________________________________________________________ 

How Home Depot Canada is investing in its business

TORONTO — Driving down costs at retail remains the mantra of Home Depot Canada, and it is investing in its business in specific ways to achieve those goals, says its top merchant.



Jeff Kinnaird, Home Depot Canada's vice president of merchandising, spoke recently at a breakfast seminar held by the Canadian Hardware and Housewares Manufacturers Association.

The first way, he said, was through online investment, and referred to the company's newly redeveloped website. "We're investing as an e-commerce retailer online." Initiatives in-store are being tested now that aim to keep the company ahead of the curve electronically. New hand-held devices, along with new kiosks right in the stores, will help customers shop online, then pick up their orders right in the store. "We're investing in wifi in our stores, Kinnaird said.

Second, the company is investing in the in-store experience. "We're opening up the front of the stores." Kinnaird added that Home Depot Canada is going through a comprehensive series of resets, "and these resets are performing three times better and more than our existing sets."

Finally, the company is investing heavily in its supply chain. Following the supply chain model of its parent company in the U.S., HDC is building two regional distribution centres. The first will open in Vaughan, ON, in March 2014. The second will open a year later in Calgary. "We're expanding the footprint of our supply chain by more than a million feet," Kinnaird said.
______________________________________________________________________
Companies are in hiring mode, poll reveals
OKLAHOMA CITY, OK — Almost 60% of companies polled recently indicate that they are hiring. The poll was conducted online by executive recruitment firm Wolf Gugler & Associates . With offices in both the U.S. and Canada, Gugler's survey asked the question, "What's your company's 2013 hiring outlook," of more than 200 companies on both sides of the border.

While the survey revealed that 10% of companies are "downsizing our workforce," 59% of the respondents indicated they are "hiring key people." Another 31% replied that they are "remaining status quo."

"This supports what we've seen so far in 2013," Gugler says. The poll was open to individuals throughout North America and as such isn't specific to either the U.S. or Canadian labour markets, he notes. But it does reinforce what has tended to be a mostly positive hiring outlook so far this year.

Gugler, who is one of a handful of executive recruitment professionals specializing in the hardware and home improvement industry, says most of his searches recently have been for additional people, rather than replacing underperformers. "In my 20-plus years in the talent management field, this is typical after the downturn bottoms out."

The industry's primary advertising vehicle, the Hardlines Classifieds Ads section, has seen a significant leap in usage in recent weeks, bearing out Gugler's observations about the upturn in the retail home improvement market. Retailers, wholesalers, and manufacturers are currently all running ads. (Click here to get info on running an ad of your own; scroll down see this week's amazing Classifieds!)
back to top

______________________________________________________________________


Classified Ads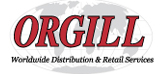 SALES REPRESENTATIVE POSITIONS
Orgill, Inc., in business for 165 years and the leading independent hardlines distributor in North America is seeking Sales Representatives for the following territories:
Alberta
Ontario
Quebec
Saskatchewan/Manitoba
RESPONSIBILITIES:
Identify, qualify, and develop prospective customers
Increase market share with existing customers
Analyze each customer's needs and address them by offering Orgill's products and solutions
QUALIFICATIONS:
3 + years of sales experience with proven track record of success in the hardware/lumber/building materials industry
In-depth, current hardlines product knowledge
Experience with multi sku assortment and Plan-o-Gram selling
Proficient user of email, internet and Microsoft Office computer applications
Willing to travel; valid driver's license; good driving record
Eligible to legally work in Canada
WE OFFER:
Competitive compensation and reimbursement for travel expenses.
We welcome your interest in our company. Our employees are critical to the achievement of our mission to "Help Our Customers be Successful."

TO APPLY:
Please submit resume, and salary history to: orgillcareers@orgillmail.com
______________________________________________________________________

Business Development Manager – Newfoundland / Labrador Region
Castle Building Centres Group is an industry leader among Buying Groups in the Lumber and Building Materials segment in Canada. We are currently seeking to add a position in the Atlantic region.

You are a highly motivated individual with strong relationship and communication skills that can manage and develop our future growth in the Newfoundland & Labrador markets. This position requires an individual who is familiar with the Lumber and Building Supply industry, willing to travel, accustomed to working remote from Head Office and currently residing within the province of Newfoundland.

Reporting to the Atlantic Business Development Manager, you welcome the opportunity to work with a dynamic group of independent LBM dealers while planning and executing our future growth initiatives. Providing continual communication to our Members while understanding their needs is fundamental to your success. Sound computer and presentation skills; combined with good administrative qualities are imperative.

Castle Building Centres Group offers a comprehensive compensation package including full benefits.

All submissions will be treated with complete confidentiality. Please forward your resume in confidence to:
Yvonne Patton
Castle Building Centres Group Ltd.
100 Milverton Drive, Suite 400
Mississauga, Ontario
L5R-4H1
E-mail: ypatton@castle.ca

______________________________________________________________________

National Account Manager
Summary: responsible for developing and guiding the implementation of the account specific business plan; achieving account profitability and sales targets; serving as the primary account contact; providing account leadership. This individual will also be responsible for increased distribution of key brand and private label items.
Key Responsibilities:
Develop account strategies in accordance with overall business strategy
Develop account goals and business plan with customer
Conduct regular reviews of business performance, promotion strategies, planograms
Partnering with the marketing department in promotional development
Forecast, budget and track account revenues and cost
Participate in the development and implementation of account's financial support program, business building program and support logistics on supply chain programs
Education and Experience
Bachelor's degree in marketing or business related field.
5-8 years of sales and/or marketing experience
Experience managing national retail customers (HQ level preferred)
Demonstrated skills in achieving sales, profitability, and budget goals
Ability to effectively implement sales and marketing strategies
Ability to effectively monitor category performance versus plan and communicate accordingly
Ability to understand trade spending effectiveness (efficiency of promotional activity is preferred)
Demonstrated commitment to building strong business relationships with customer
Ability to effectively communicate with senior leaders internally and with customer
Key Competencies
judgment
decision-making
strong presentation and communications skills – verbal & written
strong leadership skills
planning and organizing
problem analysis, problem solving and critical thinking skills
motivating staff
communication
coaching and development
high energy
self-starter
teamwork
flexible
Qualified candidates may submit their résumé, cover letter and salary requirements to kammi.parker@positecgroup.com.
Positec Tool Corporation is an Equal Employment Opportunity Employer

______________________________________________________________________
Resumés
Award-winning sales professional skilled in relationship-building in order to continually enlarge sales territories view this

resumé

Professional with over 25 years of experience in Sales, Marketing, Merchandising and Administration

view this

resumé

Marketing professional with over 10 years experience looking to secure a new full-time position.

view this

resumé

A Sales Professional with over twenty years of experience.view this

resumé

Experienced District Manager with a proven track record with several national chains. view this

resumé