April 9, 2012, Volume xviii, #15
"All happiness depends on a leisurely breakfast."
―John Gunther (American journalist, 1901-1970)
______________________________________________________________________


______________________________________________________________________
TIM-BR MARTS' re-org reflects full-service evolution
TORONTO — The realignment of TIM-BR MARTS' corporate structure (see last week's edition —your ever-helpful Editor) solidifies the buying group's relationship with its other businesses, in particular its hardware distribution company, Chalifour Canada, and its West-coast business, Chalifour Vancouver (formerly IRLY Distributors).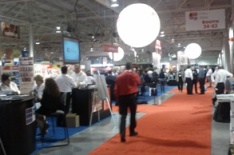 In fact, the group's latest dealer show, held here last week (where HARDLINES had a chance to talk with TIM-BR MARTS' management team) is a reflection of that re-org. That event, which drew about 500 dealers and their teams (EDITOR'S NOTE: Not 1,500 as we mistakenly wrote last week!) to see 233 hardlines and building materials vendors, was as much about buying as it was about sharing best practices.

"Dealers want to learn from each other", said Jon Irwin, newly promoted to the role of vice-president of retail services. "This venue gives them the opportunity to network and exchange ideas with other independent entrepreneurs."

TIM-BR MARTS' Chalifour business had a major presence at the show, while the group's Ace Hardware brand was represented by a number of private-label products. But front and centre on the show floor was the services area, reflecting the group's evolution into a full-service organization, with solid vertical integration. Called TIM-BR MART Essentials, this area featured everything from couriers and training to trucks and long-distance phone service. "It's all about providing more value to our dealers," said Randy Martin, Chalifour's vp merchandising.

Martin added that his company is evolving as a retail group, not just "a typical wholesaler. We need to keep our dealers competitive."
back to top



______________________________________________________________________
Chalifour restructures, expands reach in Eastern Canada
MONTREAL — With the pending closing of Chalifour's offices here at the end of this month, parent company TIM-BR MARTS Ltd. decided to move that buying function back into its warehouse in London, ON. None of the buyers here chose to make the move westward, and a new team has been recruited, including support staff. (We'll announce the new buyer lineup soon —Michael).

However, Chalifour will maintain a presence here, with a smaller office on the south shore, headed up by Daniel Rioux, with Eddie Durocher, who is in charge of the Ace business for Canada. Two other staff will round out this new office.

Chalifour is also beginning to ship some building materials from its Quebec distribution centre into Southern Quebec – and into the Maritimes.
back to top



_____________________________________________________________________
"Back-to-basics" repositioning reflected in UFA's 2011 year-end
CALGARY — After two years of losses, UFA Co-operative Limited announced a turnaround year – also reflected in the performance of its retail stores – that generated surplus earnings. Revenues for the co-op were $2.1 billion, up from $1.7 billion from the previous year, driven primarily by petroleum volume at UFA's 113 petroleum agencies, the largest cardlock network in Alberta.

UFA's AgriBusiness is represented by 35 bannered Farm & Ranch stores and a team supporting goods and services to agro professionals in Alberta. A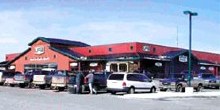 single building centre, Spruceland Lumber in Fort McMurray, is also part of this division, along with three bulk fertilizer plants. In its latest annual report, which was just released last week, UFA said 2011 "represented the first year in a three-year turn-around strategy for our AgriBusiness. With strong leadership and focused execution, the results in 2011 were very positive, with all financial metrics exceeding targets." It adds that the positive response to the changes at UFA has been reflected in sales results – and an increase in booking orders for this spring.

As a result of the earnings in 2011, UFA's board approved a patronage allocation of $7.0 million.
______________________________________________________________________
Alexandria Moulding buys Royal Woodworking
ALEXANDRIA, ON — Moulure Alexandria Moulding Inc., a manufacturer and distributor of mouldings and related millwork products, has acquired

Bradford, ON-based Royal Woodworking Co. Ltd., a family owned company founded in 1976 by the Rowe and Gerrits families that manufactures hardwood solid and custom mouldings, boards, and stair components.

"This partnership solidifies our hardwood supply and product offering," said André Cholette, president of Alexandria Moulding. "Royal has a strong specialized team and is a cultural fit. We will leverage each other's strengths to further enhance the value we bring to our customers."

Royal Woodworking will operate as a standalone business, while leveraging Alexandria's logistics and sales network to grow its geographical coverage. Donna Gerrits, Rick Gerrits, and Tom Hayes will join the Alexandria management team. One of the founding owners of Royal Woodworking, Frank Gerrits, has announced his intention to retire as planned.

Aurora Timberland Wholesale Hardwood Lumber Inc., an Ontario-based wholesale lumber distributor, is also part of the acquisition. Aurora Timberland will continue to operate as a standalone business with founder Ted Rowe staying on board. The Royal Wood Shop, a retail outlet owned by Frank Gerrits, is not a party to this transaction, and will continue to operate independently out of Aurora, ON.

"We have been business partners with Alexandria Moulding for over a decade," said Donna Gerrits, general manager of Royal Woodworking. "Through our discussions with Alexandria Moulding, we believe their values and approach to business match ours." She adds that the Royal business serves as a natural extension of Alexandria's business, offering "significant growth potential."

Integration of the two companies will take place over the upcoming months.
______________________________________________________________________
Independents, chains, and non-traditional retailers coming to Vegas
NORWALK, CN — The National Hardware Show is expected to play host to many of the industry's top retail and wholesale companies in Las Vegas next month.



From the home improvement industry's leading big boxes and independent retail powerhouses to distributors and specialty suppliers, thousands of attendees representing billions of dollars in annual sales will be on hand for the 2012 National Hardware Show, May 1-3 at the Las Vegas Convention Center.

Companies such as Home Depot, Lowe's, Marvin's Building Materials and Home Centers, Sears, Sherwin Williams, Westlake Hardware and are registered. In addition, buyers from Home Hardware, Canadian Tire, Ace Hardware, Distribution America, Do it Best, Orgill, PRO Group, and True Value have signed up to attend.

But the show is attracting non-traditional retailers, as well. In addition to the likes of Amazon, Costco, Meijer, Target, and Walmart, buyers are registered to attend from Big Lots, Organize.com, Pep Boys, Home Shopping Network, TJMAXX, Home Goods, Marshalls, Ross Stores, and Shop Rite.

"In addition to buyers from the home improvement space who attend the event, we now have more and more buyers from across the retail, distribution, and online spectrum who feel the show is a must-attend event for their buying teams," says Sonya Ruff Jarvis, the National Hardware Show's vice-president of attendee programs.
back to top




______________________________________________________________________
Classifieds
______________________________________________________________________

SENIOR NATIONAL ACCOUNTS MANAGER for GROUPE SEB CANADA INC.
TORONTO, ONTARIO
Groupe SEB is the global leader in Small Household Appliances with a number of leading brands including T-Fal, Moulinex, Krups, and Rowenta & All-Clad. The company is seeking a Senior National Accounts Manager who will provide leadership and strategic direction to increase revenue, drive strategy and execute sales initiatives to maximize Groupe SEB Canada's sales volumes and profitability. The Senior National Accounts Manager will lead all sales strategies specifically at Wal-Mart Canada and will manage a small portfolio of other accounts. Attractive compensation package including salary, performance bonus, and benefits. Position reports directly to the Commercial Sales Director for Canada.
 MAJOR RESPONSIBILITIES
Develop and maintain strong partner relationships at national account level with Wal-Mart Canada and designated other retail accounts
Capitalize on these relationships to achieve sales objectives, insure alignment with customer objectives, and develop action plans to drive POS revenues, profitability and inventory turns.
KEY COMPETENCIES
Leadership skills
Strategic thinker
Proven negotiation skills
Relationship building - strong communication skills in developing new and existing business opportunities.
Organizational and planning ability
 KEY QUALIFICATIONS
Post secondary business degree/diploma
7 - 10 years of senior national account sales/category management experience in housewares or related industries and/or fast moving consumer goods (FMCG) industries.
National account experience with Wal-Mart Canada required
Proven track record with demonstrable accomplishments.
Excellent analytical abilities
Proficient in Microsoft Office Applications including: Excel, Word and Power Point programs
Please submit résumé via email to:
Black Eagle Executive Search
c/o Richard Simms at rsimms@blackeagle.ca
Only candidates of interest will be contacted.
_______________________________________________________________________
Resumés
Experienced District Manager with a proven track record with several national chains.

view this

resumé

A conscientious, highly motivated manager with a results-oriented track record in developing new business.

view this

resumé

An experienced merchandising executive possessing passion, vision, and a strategic approach to delivering bottom-line.

view this

resumé

Senior sales/marketing leader with experience in all classes of trade wishing new HARDLINES career. view this

resumé

Very Experienced Business Unit Manager, great passion for generating sales and building relastionships.view this

resumé

Worked through my career within the manfucaturer, wholesale and consumer goods industries. view this

resumé

Senior Sales Manager with vast experience in retail and wholesale sales growth in Canada. view this

resumé