In This Issue:
"To be honest, as this world goes, / Is to be one man picked out of ten thousand." —William Shakespeare (British playwright and poet, 1564-1616, Hamlet, II. ii.)
Housing starts rebound in March
OTTAWA — Housing starts increased at last in March, by almost 14 percent, reports Canada Mortgage and Housing Corp. Urban starts were up nationally by a healthy 17 percent by a whopping 35 percent in Ontario alone.The seasonally adjusted annual rate of urban starts increased 17 percent to 127,900 units in March, with multiple starts up 28.3 percent. However, urban single starts inched up by only 1.3 percent in March. "Higher multiple starts in Ontario and Quebec were the main contributors to the rise in new construction activity in March," said Bob Dugan, chief economist at CMHC's Market Analysis Centre. March's seasonally adjusted annual rate of urban starts increased by 35 percent in Ontario and by 23.3 percent in Quebec. Urban starts declined by 17.3 percent in British Columbia, by 7.9 percent in Atlantic Canada, and by 7.5 percent in the Prairies. Rural starts were estimated at a seasonally adjusted annual rate of 26,800 units in March.

Top.
Quebecers' shopping intentions decline
MONTREAL — Last month, 74 percent of Quebec households reported that their financial situation has improved or remained stable over the last 12 months, down from 84 percent in March 2008. According to the latest survey of consumer confidence by the Retail Council of Quebec, the remaining 26 percent of households reported a deterioration in their financial situation. Among the reasons mentioned were the rise in the cost of living (43 percent), a deterioration in working conditions (21 percent), a drop in the value of their investments (18 percent vs. 3 percent in 2008) and job loss (14 percent).However, despite these deterrents, three-quarters of Quebec households remain relatively optimistic about their financial situation for the next 12 months, vs. 84 percent in 2008. On the other hand, 17 percent of households expect their financial situation to worsen, with the majority of them (49 percent vs. 69 percent in 2008) indicating an increase in the cost of living as the cause of this deterioration. The survey reveals that 24 percent (vs. 27 percent in 2008) of households plan to make a major purchase in the next 12 months, with automobiles once again topping the list, followed by household appliances, furniture, household articles, and computer equipment.
U.K. government, retailers band to curb theft
LONDON — As the economy in the U.K. continues to worsen, burglaries and domestic theft are getting worse, as well. So the home secretary has joined forces with DIY retailers B&Q and Focus to offer discount coupons to purchase door locks and alarms.As the economy sinks, thefts and burglaries are on the rise. Statistics show that domestic burglary increased by four percent in the last quarter, while fraud and forgery was up by 16 percent. The discount vouchers from B&Q and Focus will offer ten percent off a range of security products, going up to a 15 percent discount on purchases over £50. In addition, discount coupons worth 10 percent off will be issued by police to burglary victims.
Americans are doing it themselves again
SPECIAL REPORT — Americans are deciding to plow their own driveways, mow their own lawns and clean their own houses. Although this trend hurts some service companies, the DIY market looks like it will be one of the first markets to recover from the recession.Research firm Mintel International, which follows a narrow segment of the market ranging from tool rentals to building and decorating supplies, predicts the DIY market will make steady gains over the next two years, ultimately growing to a $15.1 billion market in 2013, representing 50 percent growth over a decade. Home Depot and Lowes Cos. Inc. have reported stronger sales on snow blowers this winter and sales of gardening and house cleaning products are expected to increase this year. "We sense that people kind of want to get their hands dirty," says Home Depot CFO Carol Tomé. "There's something to be said about playing in the dirt right now when you're feeling miserable about everything else."

National Director of Sales - USA
TASK DESCRIPTION
Position: National Director of Sales - USA
Supervisor: Vice-president Sales and Marketing Responsibilities : Developing and managing all Sales in United States
Identify opportunities and develop a plan of action for growth with the Home Centers, Distributors, Small chains and Pro Dealers in the USA market.
Identify and contact the key people or agents to perform our developing goals.
Manage the actual Menards account with stairparts and present new opportunities with other product categories to grow sales at Menards.
Understand our competition in each specific market with majors target customers. Perform price shop analysis and identify the actions required to maintain our competitiveness.
Coordination of sales projects with merchandising and marketing dept.
Attend sales meeting with major customers.
Perform global presentation and action plan for upcoming Product Line Reviews in targeted customers
Generate regular calls and follow-up to major accounts merchant
Please email your resume to gbousquet@colonialelegance.com

Sherwin-Williams Wood Care Group Canada is a leading manufacturer and marketer of the Minwax and Thompson's Waterseal Brands. We are located in Thornhill, ON, and are a division of our parent company Sherwin-Williams, Inc. We are searching for a talented, energetic individual with drive, passion, and a proven track record, to join our growing organization. Product Manager A strong strategic thinker with proven leadership abilities. You will work with our retail sales teams across Canada to build and execute strategic initiatives. You will be responsible for managing all marketing aspects of the Canadian Wood Care business. This includes the development & execution of segmented brand reviews, annual marketing plans, product positioning, advertising platform/package development, merchandising development, promotion and pricing. You will bring 5+ years branded marketing experience to this position. Your skillsets will include strong computer, analytical, project management and people leadership skills. You will bring a proven track record with a wide range of experiences and accomplishments. Must have an ability to think creatively and strategically. You must possess Management experience. Must possess strong financial management skills. Minimum education requirements include a Bachelor's Degree (MBA preferred). Please apply by submitting your CV to Glen Knowles at, glen.b.knowles@sherwin.com.
To place an ad in our classified section click here or call 416-489-3396
5 Most Recent Industry Resum

és
A creative, strategic thinking and results oriented Sales Professional.
Dynamic business development specialist seeking managment opportunity
Well-spoken, energetic, confident, and personable, the type of person on whom your customers and employees will rely.
A seasoned veteran with a wealth of experience, on the front lines of Retailing. Personable, energetic and dedicated to providing Exceptional Customer Service.
A sales leader experienced in coaching, managing and developing sales teams.
Know someone who is between jobs? We will send a complimentary subscription to anyone who is seeking a job. We also offer a free Online Resumé Service. Ask them to call or email us here at the World Headquarters. (And why not tell your HR department about this service!) Email Brady for more info. —Beverly
Sell your company - or buy one - with HARDLINES Classifieds! Do your executive search, find new lines or get new reps in the HARDLINES Marketplace. Only $2.75 per word for three weeks in the classifieds. To place your ad, call Brady Peever at 416-489-3396 or email: brady@hardlines.ca
To ensure you receive your HARDLINES newsletter each week, please add bev@HARDLINES.ca to your address book.

Did your email system make this newsletter unreadable? You can read it online instead. call us to find out how.

Publishing Details: HARDLINES is published weekly (except monthly in December and August) by HARDLINES Inc. 360 Dupont Street Toronto, Ontario, Canada M5R 1V 9 © 2009 by HARDLINES Inc. HARDLINES™ the electronic newsletter www.HARDLINES.ca ; Phone: 416.489.3396; Fax: 416.489.6154 Michael McLarney - Editor & President - mike@HARDLINES.ca Beverly Allen, Publisher - bev@HARDLINES.ca Brady Peever - Circulation Manager - brady@HARDLINES.ca Kathryn Crosthwait - Accounting - kath@HARDLINES.ca The HARDLINES "Fair Play" Policy:Reproduction in whole or in part is very uncool and strictly forbidden and really and truly against the law. So please, play fair! Call for information on multiple subscriptions or a site license for your company. We do want as many people as possible to read HARDLINES each week - but let us handle your internal routing from this end! Subscription:$299 (Canadian subscribers add $14.86 GST = $315.21 per year/ GST #13987 0398 RT).Secondary subscriptions at the same office are only $48.75 (Canadian subscribers add $2.44 GST = $51.19).Ask about our reduced rate for branch offices.You can pay online by VISA/MC/AMEX at our secure website or send us money. Please make cheque payable to HARDLINES.
NEWS IN BRIEF
TORONTO — Canadian Tire will reprise last year's "Buy a Bulb, Plant a Tree Campaign". From April 11 until May 8, customers who purchase a Blue Planet product will have a tree planted in their name, in partnership with Trees Ontario. The Blue Planet Program is expected to aid in the planting of 100,000 trees.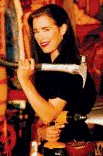 NEW YORK — Mag Ruffman, Canada's very own "Tool Girl" and long-time friend of the Hardlines family, is making her mark in the Big Apple, as New Yorkers become familiar with her take on home improvement products and the tools needed to install them. Check out her website and blog: toolgirl.com. OTTAWA — Lee Valley Tools Ltd., the retailer of high-quality wood-working and gardening hand tools, opens its newest retail store in Victoria, B.C., today. Located at 314 Wale Rd. in Colwood, the store's showroom will display woodworking tools, gardening hand tools and cabinet hardware, reflecting the range of products available in the Lee Valley catalogues. The family-owned business now has 14 retail outlets across Canada: Halifax, Ottawa, three in Toronto, Burlington, London, Winnipeg, Saskatoon, Edmonton, Calgary, Coquitlam, Vancouver, and Victoria. Find the company online at www.leevalley.com. ATLANTA — A Home Depot flooring merchant has been convicted of taking kickbacks from vendors between 2002 and 2007 and will go to prison for almost four years. Ronald K. Johnston's conviction comes one day after his co-conspirator, James P. Robinson, received a sentence of 63 months in prison. Both men were also ordered to pay restitution in the amounts of $1.8 million and $1.2 million respectively. Robinson also had to turn over two homes, $280,000 in cash, and two cars valued at $75,000. Their ringleader, Anthony M. Tesvich, will be sentenced in June. HOFFMAN ESTATES, Ill. — Kmart and Sears announced plans to update their websites. The companies said that updates will include a feature where shoppers can share product photos with their Facebook friends and browse both stores without having to click back and forth between separate sites. Other updates include express checkout and new navigation tools. BENTONVILLE, Ark. — Wal-Mart Stores reported March sales of $36.2 billion, down 1.9 percent from 36.9 billion a year earlier. International sales were down 14.8 percent, reflecting a 22.6 percent fluctuation in currency exchange rates. On a constant-currency basis, international sales would have been up 7.8 percent. Sales by Wal-Mart U.S. were up by 2.6 percent, while same-store sales were up 1.4 percent. Wal-Mart Canada suffered negative same-store sales. HOFFMAN ESTATES, Ill. — Sears Holdings, the parent company of retailers Sears and Kmart, has revealed that those stores will introduce a line of home décor, housewares and furnishings this fall branded "Country Living," after the shelter magazine of the same name. CHICAGO — Pottery Barn is responding to the economic downturn by offering products priced lower than its traditional high-end offerings. According to the Wall Street Journal, the company is going to adjust design and product quality to maintain margins. The retailer is also introducing a free design service in its stores. MISSISSAUGA , Ont. — Wal-Mart Canada office has implemented a zero waste program at its corporate offices here. The company has been buying up increasing amounts of zero-emission power through Bullfrog Power, a Canadian provider of low-impact renewable electricity. The giant retailer's home office zero-waste program focuses on waste reduction and waste diversion from landfill.
PEOPLE ON THE MOVE

Anne Larocque has been promoted to national account manager – consumer products at OSRAM Sylvania. Larocque assumes responsibility for the sales growth of the retail lighting market across Canada. Her account base includes DIY, grocery, and hardware retailers. She will also concentrate on developing new business opportunities within special retail markets. She was previously a team manager with OSRAM's

customer service organization … Luigi Leto has been named strategic marketing manager for consumer and automotive products. He assumes responsibility for overseeing all channel marketing strategies and activities for both the consumer products and automotive lighting sales channels. Previous to this appointment, Leto was manager of customer service for the company. Both individuals are based at OSRAM Sylvania's head office in Mississauga, Ont.To place a listing in our "People on the Move" section, please send me the information, including the person's name, title and contact email or phone number, if desired at mike@hardlines.ca. We reserve the right to edit items for length. —Michael  
DID YOU KNOW?
…that RONA has partnered with the Quebec television channel called "Les idées des ma maison". RONA has become a sponsor of a show called "Les idées de Martin", hosted by Québécois actor Martin Thibodeau. The program features original content produced by RONA. (Learn more about the buying groups, the big boxes, and the entire industry in our sister publication, Hardlines Quarterly Report —Michael)
ECONOMIC INDICATORS
 

The value of building permits fell 15.9 percent to $3.7 billion in February, mainly due to decreases from Ontario's non-residential sector. However residential permits nationally were down only 0.3 percent... more information at statcan.ca
NOTED...
The Canadian Hardware & Housewares Manufacturers Association (CHHMA) has announced the speakers for its Montréal, Que., Conference, April 27. Among the presenters, Phil Otto, president and CEO of Revolve, who will talk about the importance of the Ace brand for independents. Also set to speak will be Pascal Gauthier, economist for TD Bank Financial Group, with his outlook on the worldwide recession; and Marie Julie Bégin, director, membership services for Éco Entreprises Québec, who will discuss the status of packaging stewardship issues in Quebec. For more information, visit http://www.chhma.ca/ .
Hardlines Products
Hardlines Quarterly Report
Hardlines Retail Report
Hardlines Hot Product Showcase
Hardlines TV
Free daily news updates
Did you know you can have this newsletter sent to someone else in your office for only $4.06 a month per person?
Click the link below to spread the news to your whole office!