In This Issue
"A committee is a cul-de-sac down which ideas are lured and then quietly strangled." — Sir Barnett Cocks (1907-1989)
Lowe's offers commercial day, opens its garden centres
TORONTO — Lowe's is making an impact in Canada, at least in the media, with aggressive TV and radio advertising, including sponsoring stations that formerly had promo agreements with Home Depot Canada. But last week, it also held its first in-store promotion since its grand opening celebrations in December 2007 and early February 2008.Lowe's held a promotion for its commercial customers April 9-11, in all seven of its Canadian stores, situated in and around the Greater Toronto Area, from Brantford to Newmarket. Contractors and trades who received invitation cards by Canada Post were invited to the stores for coffee and snacks, as well as 10% off any purchases made during the three days. The promotion overlapped with a consumer promotion that began on Friday, April 11, and lasted through the weekend, to mark the opening of Lowe's garden centres.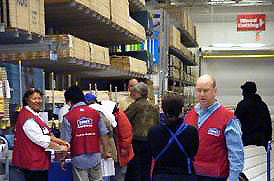 While attendance for the contractor promotion at Lowe's Castlefield store in Toronto's west end was sparsely attended during the early morning when HARDLINES dropped in, by mid-morning the parking lot began filling up, giving vendors on hand some bodies to talk to. Vendor partners included Owens Corning and Taiga.
Hardlines Conference will feature Ace, BMR, TSC and more
WORLD HEADQUARTERS —  How will the home improvement industry's top companies evolve in the face of a slowing retail market? The best way is just to ask them. That's why HARDLINES has invited another top-flight roster of North American experts to share their strategies for success at the next HARDLINES Conference, Oct. 23-24, 2008.Speakers confirmed so far are:
Ray Griffith, President and CEO of Ace Hardware Corp., Oak Brook, Illinois
Yves Gagnon, President and CEO of Groupe BMR, Longueuil, Quebec
Greg Hicks, CFO of TSC Stores, London, Ontario
Ian Gray, president and CEO of LBMX , London, Ontario
Anthony Stokan, Principal, Anthony Russell & Associates, Toronto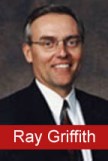 More than 175 retail and vendor executives are expected to participate in the HARDLINES Conference program, which will include a comprehensive series of interactive breakout sessions. This year, the Conference will host a very special Keynote Speaker at lunch on Oct. 23: Ray Civello, Founder and President of the Civello Salon Spa Group and Collega International, Distributor of Aveda Products. Delegates will learn how Aveda grew to be one of the most respected brands in North America, all the while maintaining a leadership role as a model for sustainable business practices.
Even though the National Hardware Show Canada has been discontinued, the Hardlines Conference will again partner with Hardware Merchandising's Outstanding Retailer Awards. These will be presented during the Industry Awards Gala on the evening of October 23. This year's Hardlines Conference will be held Oct. 23-24, 2008 at the Renaissance Toronto Airport Hotel and Conference Centre. For more info, call 416-489-3396 or visit hardlines.ca.
Orgill woos Canadian dealers in earnest at latest show
SPECIAL REPORT — Orgill, the US hardware and building supplies wholesaler, had its dealer show in Orlando recently, and it was, according to CEO Ron Beal, a record-breaking event. Beal says that a number of things about this latest show were different for Orgill. "One thing was that we had a number of very good Canadian dealers there."Canucks were indeed on hand, some which have been doing business with Orgill on a limited basis already, and many more "kicking tires" to determine the viability of Orgill as a new source of supply. They included independent Pro dealers and some representatives from the Castle buying group, as well as former Castle head Pro Wylie, who was there as an independent consultant. "This was a notch up for us, as we haven't historically focused on Canada," Beal says. Although Orgill serves dealers in more than 60 countries, " Canada has fallen between the cracks, somewhere between our domestic and our international businesses," he notes. "But we've redefined this, and maybe domestic for us really means North America, with Canada, the U.S. and Mexico all combined." Is Orgill content with picking up dealers one at a time, or does it seek some larger supply deal? "We're looking at all of our options," says Beal, "seeing if there's interest in our products and how we'll go to market." He sees Orgill as an alternative to some of the traditional full-line wholesale hardware distributors, of which CanWel Hardware is the most prominent. Orgill has been gradually expanding its distribution centres across the U.S., making it a truly national distributor there. Its latest expansion will be in the Pacific Northwest and in the Midwestern United States with two facilities that are expected to begin construction by fall 2008. These new DCs will give Orgill greater penetration of the U.S. — and closer proximity to the Canadian market.
Retailers roll out publications for spring
NATIONAL REPORT — Just two weeks after Canadian Tire announced it would discontinue its 80-year-old catalogue, two of its competitors have released print publications of their own.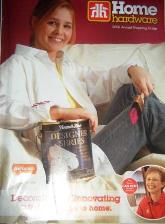 Home Hardware Stores released its "2008 Annual Shopping Guide", a 340-page catalogue filled with a range of products reflecting the 60,000-plus SKUs available through the Home Hardware distribution system. Home's paint division gets a big boost in this edition, with the cover devoted to the company's Beauti-Tone Designer Series paint line. Other product lines featured include upscale children's lawn furniture, brand-name kitchen appliances such as Betty Crocker and Delfino, and complete bathroom ensembles under the Flex brand. RONA, meanwhile, has just launched a consumer lifestyle magazine called Le magazine RONA, and less gracefully in English, "The Magazine RONA".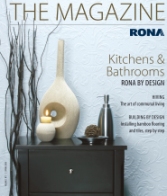 Amidst the 52-page publication's product ideas is an explanation of RONA's new project guide program, which dedicates a staff-member to a customer from beginning to end of the project. The magazine also showcases RONA's new ECO line of products Lowe's, in keeping with the official opening of its garden centres in Canada (see lead story, this issue–Editor), has released a 36-page flyer of its own. It features a range of patio furniture, gardening and landscape tools, and outdoor power equipment.
Home Depot Canada launches "big box" advertising
TORONTO — Home Depot Canada's spring campaign will focus on using a… wait for it… big orange box in its ads. According to Marketing magazine, the box actually talks to would-be customers about their home improvement needs. (Will Home Depot attempt to copyright orange-coloured boxes the way Wal-Mart attempted to take ownership of the ubiquitous happy face?–Editor).The campaign, developed by the Richards Group, a U.S. agency based in Dallas, is apparently designed to represent the full relationship Home Depot can offer its customers in terms of store and online support for project sales.
Classifieds
In-store Service and Representation Available

Over the last 33 years, our Agency has consulted with many manufacturers and importers in bringing their lines to market in Canada, while forging lasting relationships with our customers, distributors and principles. We have achieved unparalleled continuity in our marketplace; which has allowed our brand recognition to strengthen along with those brands recognizable at your local Home Improvement retailer. Our deep knowledge of Big Box will transform your business performance, driving aggressive growth while controlling bottom line expenses. Our limited line offering gives us the opportunity to give your product the attention it needs, --With measurable results! Contact us so that we may show you some of the extensive services we provide. To contact us reply to Barb Hills with P.O. box 362 in the subject line.
Product Manager (2)—GTA

Due to their growing list of successes, a well-established international company needs to add 2 marketing performers to their team. You'll manage and direct Canadian product marketing sales strategies for two premier product lines sold to mass merchants, home improvement and specialty retailers. Align functional experts in Engineering, Manufacturing, Development and Finance and interact closely with Sales, Graphics Design and the US team.

You can demonstrate successes in channel management, new product launches, speed-to-market turnaround and the ability to transform concepts into reality. Competitive salary, bonus, RSP. Toronto location. To explore this opportunity in complete confidence, please contact Wolf Gugler, quoting PM-GTA. Email: wolf@wolfgugler.com. Phone: 888-848-3006.
Review this and other opportunities at www.wolfgugler.com. Need to discuss your corporate recruitment needs? We'll be attending the National Hardware Show in Las Vegas…call to book a confidential appointment.
DIRECTOR, NATIONAL DEALER DEVELOPMENT
Home Hardware Stores Limited, Canada's largest independent hardware, lumber and building materials, and furniture retailer with more than 1,000 stores across Canada under the Home Hardware, Home Building Centre, Home Hardware Building Centre, and Home Furniture banners, with annual retail sales of $4.8 billion, is seeking an individual for the role of Director, National Dealer Development.
MAJOR TASKS AND LEVEL ACCOUNTABILITY
Reporting to the Vice-President, Operations, the successful candidate will be responsible for the implementation of Home Hardware's strategic growth plan, as well as, the recruitment and membership application.
A strong understanding of the Canadian Home Improvement Market is required, along with at least five years experience in sales force management.
SPECIFIC RESPONSIBILITIES
Establish and manage Home's Dealer Development organization.

Provide ongoing coaching and support to Dealer Development Managers to help them achieve growth targets.

Recruit and present Home Hardware to prospective new Dealers.

Maintain understanding of the market and develop strategies that will maximize Home's growth.
Manage the recruitment and membership application process.
IDEAL CANDIDATE
Results oriented individual with a strong understanding of retail operations and the strategy needed to succeed in a highly competitive market.

Strong leadership capabilities, including coaching, training and development of talent.

Ability to interpret financial statements and present budgets.

Excellent communication, oral and written, with strong planning, organizational and presentation skills.

Computer literate with strong knowledge of MS Office.

Strong negotiating and budget management skills.

Experience recruiting new members.

Must be able to multitask and complete priorities effectively.

Preference to a bilingual candidate.
This position includes extensive travel.
We offer a competitive salary and great working conditions. If you are interested in becoming part of Home Hardware, please forward your resume, quoting Director, National Dealer Development #1247, by Friday, April 4, 2008 to:
Human Resources Department
Home Hardware Stores Limited
34 Henry St. W. , St. Jacobs, ON N0B 2N0
E-mail: hr@homehardware.ca (Microsoft Products Only)
Fax: 519-664-4711
Sell your company - or buy one - with HARDLINES Classifieds! Do your executive search, find new lines or get new reps in the HARDLINES Marketplace. Only $2.75 per word for three weeks in the classifieds. To place your ad, call Brady Peever at 416-489-3396 or email: brady@hardlines.ca
To ensure you receive your HARDLINES newsletter each week, please add admin@HARDLINES.ca to your address book.

Did your email system make this newsletter unreadable? You can read it online instead . Publishing Details:

HARDLINES is published weekly (except monthly in December and August) by HARDLINES Inc. 360 Dupont Street Toronto, Ontario, Canada M5R 1V9

© 2008 by HARDLINES Inc. HARDLINES™ the electronic newsletter www.HARDLINES.ca ; Phone: 416.489.3396; Fax: 416.489.6154

Michael McLarney - President - mike@HARDLINES.ca Beverly Allen, Publisher - bev@HARDLINES.ca Brady Peever - Circulation Manager - brady@HARDLINES.ca Barb Hills - Sales Manager - barb@HARDLINES.ca

The HARDLINES "Fair Play" Policy:

Reproduction in whole or in part is very uncool and strictly forbidden and really and truly against the law. So please, play fair!

Call for information on multiple subscriptions or a site license for your company. We do want as many people as possible to read HARDLINES each week - but let us handle your internal routing from this end! Subscription:

$285 (Canadian subscribers add $14.25 GST = $299.25 per year/ GST #13987 0398 RT).

Secondary subscriptions at the same office are only $46 (Canadian subscribers add $2.30 GST = $48.30).

Ask about our reduced rate for branch offices.

You can pay online by VISA/MC/AMEX at our secure website or send us money. Please make cheque payable to HARDLINES.
COMPANIES IN THE NEWS
MONTREAL — MAAX, the kitchen and bath products company, once a shining Canadian success story, is now burdened with debt and in search of a new owner. The company, which was taken private four years ago by new owners, is hoping the founding Poulin family will decide to re-invest.EIGHTY-FOUR, PA — Only a month after it consolidated nine stores and truss facilities in six states into other locations, 84 Lumber has said it would close another 30 stores in markets that were either unprofitable or where the housing slump has hit hardest. Since April 2006, the pro dealer has closed 118 branches, according to Industrial Distribution. ATLANTA — Home Depot is going to centralize its personnel management from the store level to a district level, cutting up to 1,000 HR jobs in the process. It will also hire about 200 people to staff a central human resources service center that will take the bulk of personnel's concerns by telephone. NEW YORK — Net sales for Wal-Mart Stores in March rose to $36.97 billion from $34.26 billion a year earlier. Same-store sales for U.S. outlets increased by 0.7% in March, which fell below predictions by Wall Street analysts. ISSAQUAH , WA — Costco Wholesale Corp. has reported net sales for March of $6.57 billion, an increase of 11% over $5.93 billion during the same period last year. Year-to-date net sales reached $41.34 billion, up 12% from $36.96 billion during the similar 31-week period last year. Same-store sales for March and for the year to date were both up 7%. CHICAGO — W. W. Grainger, Inc. has engaged Wachovia Capital Markets, LLC to syndicate a four-year term loan of up to $500 million. The final amount of the loan will depend on financial market conditions. Proceeds are expected to be used primarily to pay off short-term debt. The loan is expected to close May 1, 2008. NEW YORK — Linen 'n Things, the home furnishings chain, is reportedly considering Chapter 11 proceedings. Apollo Management, the holding company that took the specialty retailer private in 2005 after paying $1.5 billion, says it will develop a plan to pay off creditors before initiating bankruptcy proceedings.
People on the Move
Woodland TIM-BR MART recognized excellence in customer service and going "above and beyond" when the dealer awarded Dwayne Hagel of Guardian Building Products with its "Outstanding Sales Representative" award for 2007. "We know the success of our business relies on positive relationship with our vendors," says Woodland TIM-BR MART general manager Greg Bartolotta. Hagel, he adds, "exemplifies excellence in customer service. He has been recognized for superseding the expectations of criteria we aim for with our vendors." Woodland has locations in Grande Prairie and Fairview AB, and Fort St. John, BC.

Dave Morton, formerly director of marketing for TIM-BR MARTS Ltd., has left the company. No replacement has been named as yet.

Home Depot's mediocre financial performance last year didn't prevent its chief executive, Frank Blake from getting a rise in his total compensation of 30.7%, to $8.28 million. In its definitive proxy statement filed with the U.S. Securities and Exchange Commission, the retailer said that Blake had received $1,007,692 in salary, a $500,000 bonus, stock valued at $4,345,701, options valued at $1,986,818 and $442,657 in other compensation.
Economic Indicators
Construction intentions in Canada cooled for a fourth consecutive month in February, dropping nationally by 0.1%. The decline was due mainly to much lower non-residential construction intentions in Ontario, which fell by 25.6% in Ontario. If that province were excluded, the total value of building permits nationally would have increased 9.8%. In the residential sector, the value of building permits increased 18.2% to $3.9 billion, fuelled by jumps in both multi- and single-family permits. (Stats Canada)