In This Issue
"There are no traffic jams when you go the extra mile." — Anonymous
Lowe's has Canadian sites for expansion in '08
TORONTO — Lowe's plans for expansion in Canada remain on course, with more than 20 "A" properties currently in development in Canada, says Don Stallings, president of Lowe's Canada. He spoke to a group of vendors at last week's AGM of the Canadian Hardware and Housewares Manufacturers Association.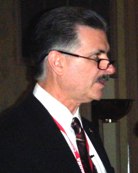 True to form, Lowe's took its time coming here, carefully gathering information about t

 

he Canadian market for almost two years before even opening a store. The entire process gave Lowe's the tools for understanding how to operate outside its own borders, with Canada as just the first stop. It already has an office in Mexico, and plans to open stores there in 2009.
"Any company that has ever grown internationally has not stopped at just one or two countries," said Stallings. "So goes Canada, so goes the rest of the international expansion."
Stallings, who took the helm of Lowe's first international expansion initiative in August 2007, following the abrupt departure of then-president Doug Robinson, expects four or five stores to open here this year. However, he does not expect them to open much before the end of the company's fiscal year, Jan. 31, 2009.
That expansion will eventually entail up to 100 stores and 20,000 staff, the majority of them Canadians, Stallings pointed out.
Securing good retail sites has always been considered one of the biggest challenges to Lowe's expansion in Canada. However, Stallings assured his audience that Lowe's has been able to do just that, offering praise for the company's real estate division here. Lowe's Canada has already purchased 31 sites, he said, and 20 of them are currently under development, all in the Greater Toronto Area and Southern Ontario.
"If you're patient, good sites can be acquired. If you have a good real estate team, then good sites can be acquired. If you work with the developers, then good sites can be acquired," he said.
(Hardlines has just learnt that two Lowe's sites have just been confirmed.
The first store will be located at Taunton Rd. and Garrard Rd. in Whitby, ON and will form part of a greenfield shopping centre development by RioCan. The second is at an existing RioCan property, Warden Centre in Toronto's east end (Scarborough), at Warden Ave. and Eglinton Ave. To accommodate Lowe's a former Wal-Mart will be demolished in late April 2008, with an anticipated 2009 opening date of the Lowe's store. And yes, two RONA big boxes are right near this second location. — Editor)
RONA opens first Atlantic big box
HALIFAX — RONA inc. officially unveiled its new store last week, the retailer's first big-box format in the Atlantic market. The 100,000-square-foot store, in Halifax's Bayers Lake business park, represents a $20 million investment and creates more than 150 new jobs. Both Home Depot and Kent have stores in the same complex.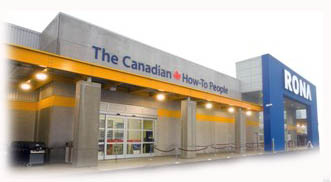 Despite the foggy morning, Haligonians appeared receptive to the new store, with about 1,200 people going through the doors within the first half hour. With the opening of this new store, RONA now operates seven stores in Nova Scotia and a total of 25 stores in Atlantic Canada.
Industry slowdown will affect big box growth
TORONTO — After a decade of unprecedented growth, the retail home improvement industry is slowing down, and that means new strategies for Canada's top players. Insights into those changing strategies were revealed by HARDLINES to a room full of hardlines vendors at last week's Spring Conference of the Canadian Hardware and Housewares Manufacturers Association.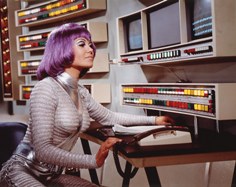 According to new findings from the HARDLINES Data Research Team (not exactly as shown), sales by the retail home improvement industry grew at a compound annual rate of 7.4% from 1997-2006. Growth in 2006 remained strong, increasing by 7.3%, but slowed to just over 6% growth in 2007. In the current year, the industry faces a slowdown in new housing construction (though still forecast to remain above 200,000 starts), and repairs and renovation spending has been slowed by a late start to spring. This slowdown will have the most profound impact on the country's largest players. According to HARDLINES, the loss of Home Depot Canada's HD Supply business last year accounted for a reduction of between $300 million and $400 million to the retailer's top line, securing RONA as Canada's largest home improvement retail group. Home Depot's plans for expansion this year are about half of what they were two years ago, and RONA's big-box expansion, while steady, appears to have taken a back seat to its pursuit of major acquisitions. In fact, 2007 was the first year that growth by the industry's top four players —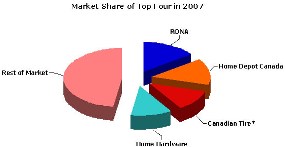 RONA, Home Depot, Canadian Tire, and Home Hardware Stores — fell below the industry average. Collectively, their sales grew by only 5.5%, while the industry grew by more than 6%. Those four still account for more than half the industry's sales overall, according to the HARDLINES findings. (The complete report on the size and growth of the industry, and the strategies of its key players, will be available next month in our Amazing 2008 Retail Report! – Michael)
BMR ready to start shipping to new hardware members
LONGUEUIL, QC — With 16 tractors and 70 trailers moving product to its dealers, Groupe BMR is positioned to start shipping hardware to dealers it recruits under its new BMR Hardware banner. A 350,000-square-foot hardware warehouse in Boucherville is already supplying to more than 120 building centre members of BMR, and the new hardware program, unveiled last week, already has nine dealers signed up, from Windsor ON to Lunenburg, NS.The new BMR Hardware members are: Dale Fawcett, Bobcaygeon Hardware, Bobcaygeon, ON; André Fradette, Albert Fradette & Fils, Saint-Raphaël, QC; Jean-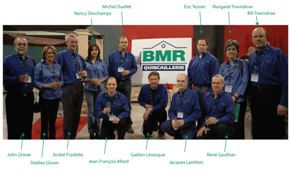 Paul Allard, Quincaillerie Prince Rupert, Terrebonne, QC; René Gauthier, Quincaillerie R. Gauthier, Ormstown, QC; Éric Tessier, Quincaillerie de l'Est, Montréal; Gaétan Lévesque, Calais / Pigeon, Montréal; Jacques Lambert, Quincaillerie Esquimau, Montréal; Bill Towndrow, Lunenburg Hardware, Lunenburg, NS; and John Glover , Redmond's Hardware and Bldg Supplies, Upper Tantallon, NS.
Newest Castle hire reflects groups' focus on dealer recruitment
MISSISSAUGA, ON — Castle Building Centres, the national LBM buying group based here, has hired a former CanWel rep, Les Gillespie, to develop its membership in British Columbia.Gillespie, who was most recently serving with CanWel, Hardware Division in B.C., begins with Castle on April 14 reporting to Alan Schoemperlen, western region business development manager. Dealer "development", another term for dealer recruitment among the retail groups, is heating up in Canada, as the buying groups continue to consolidate (IRLY Distributors allied itself with TIM-BR MARTS late last year, and Mutual Hardware closed its doors at the beginning of 2008). Meanwhile, RONA keeps seeking acquisitions and new members – its main target being the ranks of the buying groups. Castle's announcement comes just as Home Hardware Stores Ltd. is in the process of looking for a senior dealer development person of their own.
Classifieds
Product Manager (2)—GTA

Due to their growing list of successes, a well-established international company needs to add 2 marketing performers to their team. You'll manage and direct Canadian product marketing sales strategies for two premier product lines sold to mass merchants, home improvement and specialty retailers. Align functional experts in Engineering, Manufacturing, Development and Finance and interact closely with Sales, Graphics Design and the US team.

You can demonstrate successes in channel management, new product launches, speed-to-market turnaround and the ability to transform concepts into reality. Competitive salary, bonus, RSP. Toronto location. To explore this opportunity in complete confidence, please contact Wolf Gugler, quoting PM-GTA. Email: wolf@wolfgugler.com. Phone: 888-848-3006.
Review this and other opportunities at www.wolfgugler.com. Need to discuss your corporate recruitment needs? We'll be attending the National Hardware Show in Las Vegas…call to book a confidential appointment.
Account Representative - Alberta
American Standard, an industry leader in Bath and Kitchen products, is seeking an Account Representative ideally based out of Calgary, Alberta.
Basic Function:
As a member of the National Retail Sales Team this position will focus on all key retail account with emphasis on "big box" stores.
This individual must have the ability to develop and implement in-store promotions, develop training programs, process returns, be responsible for inventory management, react to any in-store issues and demonstrate strong problem solving skills.
This position requires a unique individual that is able to develop strong communications with both Store staff and Key management personnel.
Position Qualifications:
Post Secondary Education or equivalent sales/marketing experience.

Previous retail sales experience in a manufacturing environment would be an asset.

Computer experience in Microsoft Office - working with Excel, Word and PowerPoint is an asset.

Strong Communication skills.

Strong problem solving skills.
Qualified applicants should send their resume and salary requirements via email to hrmississauga@americanstandard.com. No phone calls please.
DIRECTOR, NATIONAL DEALER DEVELOPMENT
Home Hardware Stores Limited, Canada's largest independent hardware, lumber and building materials, and furniture retailer with more than 1,000 stores across Canada under the Home Hardware, Home Building Centre, Home Hardware Building Centre, and Home Furniture banners, with annual retail sales of $4.8 billion, is seeking an individual for the role of Director, National Dealer Development.
MAJOR TASKS AND LEVEL ACCOUNTABILITY
Reporting to the Vice-President, Operations, the successful candidate will be responsible for the implementation of Home Hardware's strategic growth plan, as well as, the recruitment and membership application.
A strong understanding of the Canadian Home Improvement Market is required, along with at least five years experience in sales force management.
SPECIFIC RESPONSIBILITIES
Establish and manage Home's Dealer Development organization.

Provide ongoing coaching and support to Dealer Development Managers to help them achieve growth targets.

Recruit and present Home Hardware to prospective new Dealers.

Maintain understanding of the market and develop strategies that will maximize Home's growth.
Manage the recruitment and membership application process.
IDEAL CANDIDATE
Results oriented individual with a strong understanding of retail operations and the strategy needed to succeed in a highly competitive market.

Strong leadership capabilities, including coaching, training and development of talent.

Ability to interpret financial statements and present budgets.

Excellent communication, oral and written, with strong planning, organizational and presentation skills.

Computer literate with strong knowledge of MS Office.

Strong negotiating and budget management skills.

Experience recruiting new members.

Must be able to multitask and complete priorities effectively.

Preference to a bilingual candidate.
This position includes extensive travel.
We offer a competitive salary and great working conditions. If you are interested in becoming part of Home Hardware, please forward your resume, quoting Director, National Dealer Development #1247, by Friday, April 4, 2008 to:
Human Resources Department
Home Hardware Stores Limited
34 Henry St. W. , St. Jacobs, ON N0B 2N0
E-mail: hr@homehardware.ca (Microsoft Products Only)
Fax: 519-664-4711
Sell your company - or buy one - with HARDLINES Classifieds! Do your executive search, find new lines or get new reps in the HARDLINES Marketplace. Only $2.75 per word for three weeks in the classifieds. To place your ad, call Brady Peever at 416-489-3396 or email: brady@hardlines.ca
To ensure you receive your HARDLINES newsletter each week, please add admin@HARDLINES.ca to your address book.

Did your email system make this newsletter unreadable? You can read it online instead . Publishing Details:

HARDLINES is published weekly (except monthly in December and August) by HARDLINES Inc. 360 Dupont Street Toronto, Ontario, Canada M5R 1V9

© 2008 by HARDLINES Inc. HARDLINES™ the electronic newsletter www.HARDLINES.ca ; Phone: 416.489.3396; Fax: 416.489.6154

Michael McLarney - President - mike@HARDLINES.ca Beverly Allen, Publisher - bev@HARDLINES.ca Brady Peever - Circulation Manager - brady@HARDLINES.ca Barb Hills - Sales Manager - barb@HARDLINES.ca

The HARDLINES "Fair Play" Policy:

Reproduction in whole or in part is very uncool and strictly forbidden and really and truly against the law. So please, play fair!

Call for information on multiple subscriptions or a site license for your company. We do want as many people as possible to read HARDLINES each week - but let us handle your internal routing from this end! Subscription:

$285 (Canadian subscribers add $14.25 GST = $299.25 per year/ GST #13987 0398 RT).

Secondary subscriptions at the same office are only $46 (Canadian subscribers add $2.30 GST = $48.30).

Ask about our reduced rate for branch offices.

You can pay online by VISA/MC/AMEX at our secure website or send us money. Please make cheque payable to HARDLINES.
COMPANIES IN THE NEWS
BOUCHERVILLE, QC — RONA inc. has finally unveiled the first in its RONA ECO line of eco-friendly household products (as first reported in our Nov. 19, 2007 edition – Editor). The move is part of RONA's effort to position itself as an eco-responsibility leader in the construction and renovation industry. The first RONA ECO items to be introduced are cleaning products and biodegradable bags for organic waste, available in RONA stores across Canada over the next few days. A total of 450 products were originally planned for the ECO line.

ATLANTA — Home Depot, which operates more than 60 stores in Mexico, is planning to build a 42,000-square-foot distribution center in the central city of Pachuca. The DC is expected to employ 240 workers and represent an investment of $28 million. It is expected to be operational by the end of this year. EDMONTON — Home Depot has been ordered to stop gathering driver's licenses of its customers. According to the Edmonton Journal, the order came from the privacy commissioner of Alberta, following a complaint laid in 2005 by a woman who refused to hand over her driver's license number as part of a data collection policy by Home Depot. The retailer says it actually stopped collecting the information shortly after the complaint was lodged. MONTREAL — Komet Manufacturers Inc. has announced supply agreements with Canada's two largest home improvement retailers. Komet has renewed its deal to sell its range of pre-assembled and ready-to-assemble bathroom products, sold under the Aquadis brand, to RONA and Réno-Dépôt stores. The company has also forged a partnership with Home Depot to supply more than 100 Home Depot branches across the country. ATLANTA ­ — This month, Home Depot stores across the United States will begin selling Freshaire Choice, a paint line developed by the supplier ICI, which is being touted as "the first, truly comprehensive and environmentally friendly paint." The coating is free of volatile organic compounds, or VOCs, and comes with a lifetime guarantee. It also claims to be the industry's first residential, tinted paint product to be Indoor Air Quality Certified by the Greenguard Environmental Institute, a nonprofit that establishes acceptable indoor air standards for indoor products, environments, and buildings. MISSISSAUGA, ON — Wal-Mart Canada is making the whole month of April "Earth Month", during which it plans to promote environmental awareness among its customers and focus on its environmentally friendly products.
People on the Move

Rob Hagborg has joined TruServ Canada Inc. as national distribution centre manager. Hagborg has more than 20 years experience in Logistics with Canada Safeway, most recently as director of distribution in Edmonton. There, he worked on implementing lean distribution methods, developing policies, and identifying areas to increase efficiency. He has worked in both automated and conventional warehouses with varying levels of technology. Hagborg also has a degree from the University of Manitoba. He will be based in the Winnipeg distribution centre.Wood Composite Technologies Inc., an Edmonton-based company focused on the development of alternative composite building materials, has appointed Dennis Collins as president for Wood Composite's operating subsidiaries, Millennium Decking Inc. and Millennium Decking (USA) Inc. He was previously vice-president sales of Millennium Decking and will continue to be based in the United States and focused on promoting sales growth there. At Kingfisher plc, Europe's leading home improvement retailer, Euan Sutherland has been named CEO of its U.K. Division, which comprises B&Q in the U.K. and Ireland, Screwfix and Trade Depot. Sutherland, 39, is currently chief executive of AS Watson Health and Beauty U.K., which owns the Superdrug and Savers retail businesses. He will take up his new role in the next few months.
Economic Indicators
Gross domestic product was up 0.6% in January, as the economy bounced back from the 0.7% decline registered in December 2007. Value added in the retail trade sector rose 1.2% in January. Significant increases in activities by clothing stores, furniture, home furnishings and electronics stores, convenience and specialty food stores, and new car dealers, propelled the sector. The construction sector edged up 0.1% in January. Both residential (+0.1%) and non-residential (+0.2%) building construction advanced, while engineering and repair work essentially stood still. (Stats Canada)
Noted...
New strategies for enhancing employee productivity and engagement will be the focus of the Retail Council of Canada's upcoming Retail Human Resources Conference, which will be held here on April 9. Called "Productivity, Performance and Customer-Focused HR" the Retail Human Resources Conference addresses the issues facing HR professionals working in the Retail industry. This year's conference will include such industry leaders as Gail Tanaka, manager, training and development for Shoppers Drug Mart, Stephen O'Keefe, vp loss prevention & risk management for Wal-Mart Canada, and Janice Antaya-Finlayson, vp, corporate HR services for Best Buy Canada. For the most up-to-date agenda, click here.