In This Issue
"Computers are useless. They can only give you answers." —Pablo Picasso
Orgill market features focus on Canada
CHICAGO — U.S. and Canadian retailers looking for new sources of hardlines supply were in Chicago last week for the Orgill fall market. Already a fixture in more than 60 countries worldwide, the giant hardlines wholesaler has made clear its intentions to enter Canada, and many Canuck hardware and building supply dealers wanted to see for themselves what thousands of U.S. dealers know already.
The show, at McCormick Place South, featured about 1,700 booths in more than 500,000 square feet of exhibition space. Ron Beal, president of Orgill, says dealer confidence varies from region to region – and according to store type. But a general attitude of optimism prevails. However, the devastated housing market in the U.S. is still taking its toll on dealers who rely heavily on that sector. "For the pro side, in general, things are still tough." For many pro dealers, that means turning again to retail — and the add-on sales that can provide to contractor customers. "We're really seeing an interest to get back in that business," says Beal. That interest is coming from both sides of the border. A number of independents from Canada were walking the show, keen to find out what products and pricing are available from this no-frills wholesaler that does not support any banners of its own, but prefers to supply independents who operate under their own identity. Most, however, were reluctant to go on record about their presence and jeopardize their existing supply relationships. But one buying group that's already been in discussions with Orgill was at the show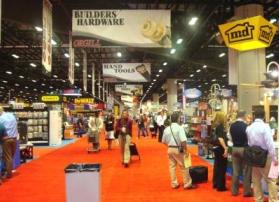 in force. Castle Building Centres had a team, led by James Jones, vice-president national marketing, that included Carmen Ruffolo, Castle's hardlines program manager, and Les Gillespie, business development manager for British Columbia. "We like Canada," says Beal frankly. "We like the people who are in the business there." He admits that Orgill has been supplying some Canadian dealers on a test basis for more than a year. "There are opportunities for Orgill, with our way of doing business, that would work in Canada." Beal says he is serious about expansion into Canada, and can support that expansion with Orgill's own distribution network. "We think that the opportunity to be unique in Canada, as we have been here in the U.S., is there."

Top.
Retail giants beat analysts' quarterly expectations
ATLANTA & MOORESVILLE, NC — Home Depot and Lowe's each reported declines in profit for their most recent quarters. Yet, each company's financial performance exceeded what analysts had projected. However, the companies themselves expressed caution about any sustained recoveries in their businesses until at least next year.For the eighth consecutive quarter, Home Depot recorded a decline in its profit, which for the three months ended August 3 fell 24.3% to $1.2 billion, on revenue of $20.99 billion that was off 5.4%. Home Depot's same-store sales for the quarter were off 7.9%. One ray of light could be found in the fact that its earnings per share, while down 12.3% to 71 cents, beat the 51-cents-per-share estimate analysts were anticipating. Home Depot's financial performance was also skewed because the same quarter a year ago had one more reporting week, which meant that its second quarter was negatively impacted by about $160 million. On nearly every store productivity measure, however, Home Depot was off last quarter: its customer transactions were down 4.2%; its average sales per customer were off 1.2%, and its weekly sales per store fell 8.4%. Through the first half of its fiscal year, revenue declined 4.5%, to $38.9 billion, and its net income plummeted 40.8% to $1.56 billion. Like Home Depot, Lowe's Cos. — the industry's second-largest home-improvement retailer — got a boost from the government's distribution of federal tax rebates that gave consumers some temporary spending power. Those rebates, along with strong sales of seasonal products, propelled Lowe's revenue to $14.51 billion for the three months ended August 1, a 2.4% increase over the same quarter a year ago. This was the first time in three quarters that Lowe's sales have grown over the same quarter the previous year. More significant was Lowe's net income during the quarter, which fell by 7.9% to $938 million. That decline, on an earnings per share basis, was less than what analysts — and, apparently, some company officials — had expected. Lowe's CEO, Robert Niblock, pointed specifically to the retailer's cost control as a factor in its profit performance, even though its selling and general administrative expenses, at 20.78% of revenue during the quarter, were slightly higher than the same period a year ago. Through the first six months of its fiscal year, Lowe's profit was down 12.1%, to $1.55 billion, on revenue of $26.52 billion, which was marginally better than the first half of 2007. Larry Stone, the retailer's COO, told analysts during a teleconference that his company had seen "stability" in its sale of maintenance and repair products, which could reflect market conditions where more people are fixing up their homes rather than moving. During its latest quarter, Lowe's opened 23 stores, bringing its total as of August 1 to 1,577 units in North America. This year, Lowe's expects to open a total of 120 stores (down from earlier projections of 140), but projects that its sales for stores opened at least a year would be down between 6 and 7%. (Lowe's same store sales for the latest quarter were off 5.3%.) Niblock told analysts that his company remains "cautious" about the future, particularly in light of the fact that Lowe's sales of bigger-ticket projects continue to lag, in line with the nagging housing downturn.
| | | |
| --- | --- | --- |
| | Home Depot | Lowe's |
| Revenue ($bil.) | $20.99 | $14.51 |
| % chg. vs. '07 | (5.4) | 2.4 |
| Same-store sales % chg. | (7.9) | (5.3) |
| Net income ($bil.) | $1.2 | $0.94 |
| % chg. vs. '07 | (24.3) | (7.9) |
BMR consortium buys Potvin & Bouchard
JONQUIERE, QC — A group of dealers within Le Groupe BMR has purchased Centres de renovation Potvin & Bouchard, a major independent in Quebec's Saguenay-Lac St-Jean region. The five-outlet chain, with estimated sales in excess of $50 million (according to the Amazing Hardlines Who's Who Directory—Editor) is a former member of Independent Lumber Dealers Co-operative. The deal is similar to one several years ago involving the acquisition of Matco Ravary, a Montreal area chain. Both chains retain their own banners, while existing within the BMR umbrella.BMR is a privately owned distributor with its own buying group of more than 170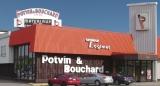 member dealers. This latest deal, which has been in the works at least since the beginning of the year, is an important addition to BMR's volumes through its distribution – and a valuable retail asset. "For the [Saguenay] region, it is something that is essential. The Potvin & Bouchard banner has great renown," says Jean Falardeau, spokesperson for BMR. Recognizing the reputation of the 76-year-old company means leaving the brand — and its operations — intact. "There are no significant changes and nobody will lose their job," Falardeau says.
RONA's 2Q results up on performance of acquisitions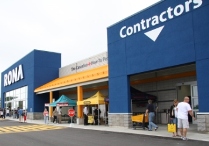 BOUCHERVILLE, QC — RONA, Canada's largest home improvement retailer, managed to squeeze out a slight increase in its second-quarter sales performance. The company's consolidated sales (sales through distribution plus sales from corporate ownership in retail outlets) were up about $4.3 million, or 0.3%, to $1.47 billion.Same-store sales, however, declined by 4.4%, reflecting the impact of decreasing consumer confidence, lower commodity prices, and bad weather. The Air Miles loyalty program and sales-boosting activities, combined with more focus on customer service, helped increase RONA's average shopping basket. However, sales declined in most product categories, indicating a general drop in consumer spending during the quarter. Sales of the RONA's private-brand products increased by more than 8%, though, with especially strong growth in Western Canada. RONA's growth continues to come from dealer recruitment. In the latest quarter, it added 12 more independent dealer-owners to its ranks, for an additional $50 million in annualized sales. The stores, all flying the RONA banner, are located mainly in Quebec and Ontario and range in size from 3,000 to 15,000 square feet. RONA has been able to recruit a total of 21 new dealer-owners so far this year, representing more than $100 million in retail sales. With these new dealers, RONA now has a network of 434 affiliate and 257 corporate and franchise stores across Canada.
Canadian presence grows at NRHA Convention
MONTEREY, CA — Independents from both sides of the border gathered here recently to share ideas and best practices at the annual convention of the North American Hardware Association. The event, which featured a series of seminars and workshops, also had a full social program for the many dealers who brought their families with them.While dealers came from all over the country, a small contingent of Canadians was also present. That group was represented mainly by Home Hardware dealers, as Home has a group membership with NRHA for all its members. But other independents, such as Preston Hardware from Ottawa, were there, as well, reflecting the growing presence of NRHA in this country (NRHA is represented in Canada by Hardlines—Editor). The Convention also played host to the annual Young Retailer of the Year Awards dinner. The awards (sponsored by the AHMA, Cooper Hand Tools, The Scotts Company and 3M), recognized seven young innovators for their commitment to independent retailing. Attendees had an opportunity to learn more about each of the honorees' business operations and hear from each individual during the presentation. One winner was a Canadian: Maurice Chevalier, owner of Morinville Home Hardware in Morinville, AB. The Convention was also the farewell for John Hammond, NRHA's managing director, who is retiring from the industry.
Shanghai hardware show offers gateway to Asia
COLOGNE, Germany – Whether it's Olympics or hardware, China has become the world focus of attention. That's why Koelnmesse, the giant trade show company based here, which owns and operates Practical World – The International Hardware Fair, has partnered with a Chinese show. The combined event, backed by Western expertise, the China International Hardware Show Powered by Practical World, will take place  September 17-19 in Shanghai. Featuring more than 100,000 square meters of gross exhibition space, this will be the biggest CIHS to date.As China's largest hardware trade show, CIHS has positioned itself as a gateway to the Asian market. Some 2,000 international and Chinese exhibitors are expected to showcase their products in four sections: Tools; Security Systems, Locks and Fittings; Home Improvement/DIY products; and Gardening products within nine halls of the Shanghai New International Expo Center. Spain, Italy, and Germany are among the Western countries represented in group stands, along with Taiwan. The event will include a comprehensive program of seminars for visitors and exhibitors featuring a series of industry updates and technology. Some of the topics include: "How buyers choose suppliers", "How to deal with unfair legal situations in export trade", "Kitchen and bathroom products and accessories", "Evolution of China's power tools market", and "India's hardware market". For more information, click here.
Classifieds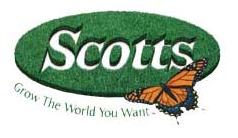 Need a change of scenery? Grow the world you want with Scotts.
The global leader and the world's largest marketer of consumer lawn and garden products, Scotts Canada Ltd. is committed to respecting the environment while helping consumers enjoy healthy lawns and beautiful gardens. If you are driven to grow and excel with the marketplace leader, join us now as a
Sales Merchandising Manager
Full time positions: Vancouver , Edmonton, Calgary, Ottawa, Barrie, Oshawa, London, Montreal, Greater Toronto Area, Hamilton/Burlington
Part time positions: Winnipeg , Montreal, Halifax

Traveling throughout your territory, you will maximize sales of our trusted brands (Miracle-Gro®, Scotts® EcoSense™, Ortho®, Roundup®, Scotts® Turf Builder®, and Morning Song®) and develop strong relationships with key retail partners. You will also be responsible for effectively hiring, training, and managing seasonal merchandisers.

We are looking for an energetic, customer-oriented, natural communicator who can manage relationships, resolve issues, and present our products with passion and skilled selling/marketing techniques. This position requires post secondary education, excellent PC skills, and a valid driver's license. Field sales experience is preferred, and supervisory experience is considered an asset. We offer an exceptional total rewards package that is superior to many companies. We also offer outstanding recognition along with the support and coaching that allow you to advance within the Scotts Family. Want to learn more about why Scotts Canada is a great place to work? Visit www.scotts.com .

Our Culture : GroExcellence

Scotts lives by six core attributes. If these are your values, we could have a match.
Passion
Innovation
Accountability
Flexibility
Collaboration
Ethics
Apply now! Please send your cover letter and resume by Friday, August 29, 2008 to careers.canada@scotts.com
We thank all applicants for their interest in us; however, only those considered for an interview will be contacted. No Agencies, please.

Sales Professionals Prime Source Building Products, Inc

Prime Source Building Products, Inc., one of North American's largest wholesale distributors of building supply products, is seeking experienced sales professionals to support their Canadian expansion

Territory Managers -Responsibilities include territory management, canvassing new opportunities, territory growth, customer service, and the ability to build relationships and develop new business through face-to-face interaction with our existing customer base as well as new customer prospects within a specific geographic region. Product Specialists - Responsibilities include providing sales assistance of GRIP-RITE branded products within a specific geographical region. Inside Sales- Mississauga - Responsibilities include developing a pipeline of prospective opportunities; via interaction with an existing customer base and a network of prospects, providing outstanding customer service and the ability to build relationships and close business over the telephone. Qualified candidates must be self-motivated, quota driven, and results oriented with a proven and documented history of success. We are looking for at least two years of outside sales experience and preferably experience in the building materials industry. If you are a proven leader who welcomes the opportunity to work in a challenging and financially rewarding environment, we want to meet you. PrimeSource offers attractive base salaries, aggressive commission incentives, and a competitive benefits package. Please send Resumes to Phil Brown General Manager PrimeSource Canada at brownp@primesourcebp.com
Sales Professional

We are a young and growing organization looking to expand our sales team.

Located in Mississauga, Ont. we are an importer of various goods mainly to the retail trade in Canada. Our plan to distribute domestic products has opened up an immediate position for: A motivated and results oriented, detailed Sales professional to call on national and regional accounts, as well as managing sales agents calling on dealers in the hardware and lumber industry This position will require sales/marketing experience along with excellent communication and proficient computer skills. The position will be based out of our head office. Please email your resume and salary expectations to barb@hardlines.ca with P.O. Box 222 in the subject line.
Sell your company - or buy one - with HARDLINES Classifieds! Do your executive search, find new lines or get new reps in the HARDLINES Marketplace. Only $2.75 per word for three weeks in the classifieds. To place your ad, call Barb Hills at 416-489-3396 or email: barb@hardlines.ca
To ensure you receive your HARDLINES newsletter each week, please add bev@HARDLINES.ca to your address book.

Did your email system make this newsletter unreadable? You can read it online instead. call us to find out how.

Publishing Details: HARDLINES is published weekly (except monthly in December and August) by HARDLINES Inc. 360 Dupont Street Toronto, Ontario, Canada M5R 1V 9 © 2008 by HARDLINES Inc. HARDLINES™ the electronic newsletter www.HARDLINES.ca ; Phone: 416.489.3396; Fax: 416.489.6154 Michael McLarney - President - mike@HARDLINES.ca Beverly Allen, Publisher - bev@HARDLINES.ca Brady Peever - Circulation Manager - brady@HARDLINES.ca Barb Hills - Sales Manager - barb@HARDLINES.ca The HARDLINES "Fair Play" Policy:Reproduction in whole or in part is very uncool and strictly forbidden and really and truly against the law. So please, play fair! Call for information on multiple subscriptions or a site license for your company. We do want as many people as possible to read HARDLINES each week - but let us handle your internal routing from this end! Subscription:$285 (Canadian subscribers add $14.25 GST = $299.25 per year/ GST #13987 0398 RT).Secondary subscriptions at the same office are only $46 (Canadian subscribers add $2.30 GST = $48.30).Ask about our reduced rate for branch offices.You can pay online by VISA/MC/AMEX at our secure website or send us money. Please make cheque payable to HARDLINES.
COMPANIES IN THE NEWS
BURNABY, BC — Taiga, the lumber products wholesaler, had net earnings for the first quarter ended June 30 of $4.2 million, compared with $3.9 million in the same period in 2007. Sales slipped 2% to $284.4 million, from $289.7 million in 2007. The drop was attributed to the continued weakness in lumber and panel prices over the comparative period.GATINEAU, QC — A Wal-Mart has finally been unionized. Eight staff in the store's auto shop here have successfully ratified a contract for collective bargaining with the giant retailer. The last time Wal-Mart workers were able to get a collective agreement was in 2005 in Jonquiere, QC, but Wal-Mart closed down the store before the contract could be imposed, calling the outlet "unprofitable". LAVAL, QC — Hart Stores Inc., the mid-sized department store chain, has completed the purchase of the assets of SAAN Stores Ltd., consisting of the leases and equipment relating to eight SAAN retail stores, of which seven are in Quebec and one in Ontario. The eight locations are scheduled to open this fall, and bring the total number of Hart stores to 89. HARTLAND, MI — Menards, the third-largest home improvement dealer in the U.S., will expand into the southeastern sector of Michigan. The Eau Claire, WI-based retailer, which already operates 20 stores in Michigan, reportedly has purchased 17 acres in Hartland Township, where it plans to build a 162,000-square-foot store, according to the Ann Arbor News and Livingston (Mich.) Daily. CHICAGO — True Value Company reported revenue of $571.3 million for the quarter ending June 28, 2008, a decrease of 3.9% or $23.1 million from $594.4 million for the same period a year ago. Same-store sales to core hardware store outlets were down 3.7% in the quarter. Revenue from new stores exceeded lost revenue from terminated stores by $2.4 million in the quarter. The co-operative posted a quarterly net margin of $18.5 million, a decrease of 31.5% from last year. For the six-month period, revenue fell 4.3% to $1.04 billion. FEDERAL WAY, WA — Some 1,500 jobs are being cut at the headquarters here of Weyerhaeuser, the giant timber company. The move reflects a focus on "core" businesses and a 2Q loss of $96 million.
PEOPLE ON THE MOVE
At Hudson's Bay Co., retail veteran Mark Foote has been appointed president and CEO of Zellers. He's best known for his extensive career at Canadian Tire Corp., where he worked for more than 20 years, including five years as president of Canadian Tire Retail … Bonnie Brooks has been named president and CEO of the Bay, the country's oldest department store. Brooks has more than 25 years of retail experience, working at companies such as Holt Renfrew, Lane Crawford, Harvey Nichols, and stores in Asia. She will start in early September.Pamela Forbes Lieberman has joined the Advisory Board of WHI Partners, a private equity firm. Lieberman's background includes executive stints at ShopTalk, a voice application software company; Martin-Brower, one of the largest distributors in the McDonalds system; and Fel-Pro, an automotive parts supplier. But she is best known for in this industry as CEO of True Value (then known as TruServ) from 2001-2004. Lieberman is currently vice-chair of the board at Winning Workplaces.
ECONOMIC INDICATORS
Consumer prices rose 3.4% in July compared with July 2007. Higher gasoline prices continued to exert the strongest upward pressure on consumer prices, due mainly to higher gasoline prices. (Stats Canada)Wholesale sales rose 2.0% to $45.2 billion in June, the fifth increase in six months. After removing the effect of price changes, sales in constant dollars increased 1.0% during the month, largely a result of higher demand for automotive products. Sales excluding the automotive sector rose 0.4%. (Stats Canada)
OVERHEARD
"Men think 'I love you' is like duct tape. It'll fix anything." — Comedian Buzz Sutherland, speaking at the NRHA's annual convention, held recently in Monterey, CA.
Highly effective relationship management skills with a track record of developing and executing programs effectively. Strong strategic thinking and management background. Solid propensity for team building, coaching, mentoring and developing others. A competitive manager with a proven sales, marketing, merchandising and, leadership record.
Hardlines Quarterly Report Hardlines Retail Report (Coming this month, place your order now!)Hardlines WebinarsHardlines Annual Conference (Webpage updated) Hardlines Hot Product Showcase Hardlines TV Free daily news updates
Did you know you can have this newsletter sent to someone else in your office for only $3.83 a month per person?
Click below to spread the news to your whole office!