In This Issue:
"There ain't no cure for the summertime blues." — Eddy Cochrane (American rock 'n roll musician, 1938-1960)
Top retail executives added to Conference lineup

WORLD HEADQUARTERS, TORONTO — Two key retail executives have been added to the speaker roster for the 14th Annual Hardlines Conference. Reg McLay, senior vice-president, marketing and sourcing services for Canadian Tire Retail, and Robert Sarner, director of communication and public affairs for Roots Canada, will share their insights and expertise on the current state of retail and the power of the retail brand. The Conference is being held Oct. 22-23 in Toronto.

These executives from two of Canada's best known retail brands join a weighty lineup of industry and economic experts. Susan Robinson, president and CEO of IRLY Distributors in British Columbia, has a background in logistics and supply chain management. She will combine the experience gleaned from a career in grocery and produce with insights gained from her time heading up IRLY, which operates as both an LBM buying group and a hardware wholesaler.

When Bob Simko took over Broadleaf Logistics, he did not inherit a well-known brand. Instead, he was charged with managing the direction of an existing company with a brand new name (the former Weyerhaeuser Canada was renamed Broadleaf on Jan. 1, 2008 after new owners took it over). In an industry where price competitiveness has hammered margins like never before, Simko will outline the changing role of two-step distribution.

The Hardlines Conference will feature two varied retail perspectives. Annette Verschuren, president, The Home Depot Canada and Asia, will make her first speaker appearance at the Hardlines Conference in almost a decade. Her global perspective will find a compelling counterpoint in the experiences of Brad Dick, an independent dealer from Portage La Prairie, Man., who joined RONA with two stores in 2004. Dick's experiences growing his business will provide important insights for retailers and suppliers alike. The 14th Annual Hardlines Conference will be held Oct. 22-23, 2009 at the Sheraton Toronto Airport Hotel and Conference Centre. For more information on speakers and registration, click here.

Top.
You want value for your money. More important, you want value for your time. The Hardlines Conference delivers both.
Today is the last day to register at the early bird rates.
Click here to register
Superior Trust acquires Specialty Drywall
CALGARY — Superior Plus Corp. has entered into a definitive agreement to acquire Specialty Products and Insulation Co. Based in East Petersburg, Penn., SPI is a U.S. distributor of insulation and architectural products for the commercial and industrial markets. With 70 outlets — including 11 fabrication facilities — SPI is a strong commercial dealer in 28 states along the Eastern Seaboard, in Florida, the Midwest, Texas and the Pacific Northwest.SPI has a diversified US customer base of approximately 12,000 customers serving numerous end-use markets including construction, energy, petrochemical, utility, healthcare, education and institutional. The deal adds to Superior's existing commercial building products business, Winroc, one of Superior's four divisions and a significant distributor of walls and ceilings construction products in North America representing an estimated $500 million in sales (according to our Who's Who Directory). Winroc has eight locations of its own in the U.S. Superior anticipates expanding the SPI architectural facilities to carry the full line of walls and ceilings products and services that Winroc currently provides at its locations. In addition, Superior expects to evaluate adding SPI's products and services to Winroc's existing markets and locations. The deal, valued at approximately $147.3 million, is subject to customary regulatory and commercial closing conditions, including the approval of the Toronto Stock Exchange. It's expected to close next month. The acquisition is expected to be completed by way of a plan of merger under Pennsylvania law involving Superior, newly created subsidiaries of Superior and SPI. SPI itself has grown over the past decade, both organically and through acquisitions. The company has completed 22 transactions since 1997.
IRLY implements new warehouse management system
SURREY, B.C. — IRLY Distributors Ltd. has completed the implementation of a new Warehouse Management System at its distribution centre here. IRLY chose the Latitude system from PathGuide as its new software suite.The Latitude software will automate warehousing and distribution to provide real-time online information about inventory. Latitude is designed to automate all operations, from receiving and order picking to manifesting and truck route management to serve IRLY's 42 independently owned dealers throughout British Columbia. According to Steve Cain, IRLY's information systems manager, "This solution has provided us with the tools to deliver products with greater accuracy, efficiency and speed to our rapidly expanding customer base." Currently, all of IRLY's hardware products are loaded on the new system, and the company will have its lumber and building materials added in the fall.
Edmonton
firm makes offer for Canadian Tire stock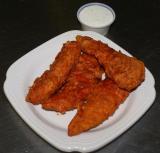 mini-tenders may not be exactly as shown

TORONTO — Canadian Tire Corp. has received an unsolicited "mini-tender" to buy up to one million of Canadian Tire's Class A non-voting shares. The letter comes from TRC Capital Corp., and the price offered, $54, is almost 5% below the closing price of the shares on the Toronto Stock Exchange on August 19, the day prior to the date of the offer. Canadian Tire has recommending strongly to its shareholders to decline the unsolicited mini-tender offer. The company has warned shareholders that these mini-tender offers "are widely-disseminated offers to purchase a small percentage of a company's shares at a price below the current market price which avoid most of the filing, disclosure and procedural requirements applicable to most bids under Canadian securities legislation." Shareholders are "strongly urged to exercise caution with respect to TRC's mini-tender offer," the company says. According to the U.S. Securities and Exchange Commission, tenders for less than 5% of a company's shares don't bring a requirement for the tendering company to disclose information about itself. Nor is it bound to procedures such as agreeing not to engage in fraud or deceptive practices, or to ensure prompt payment for the shares. Likewise, these mini-tenders don't typically include a premium on the value of the shares, as is the case with the Canadian Tire offer. TRC Capital is an Edmonton based company. According to its website, TRC is a mergers and acquisitions specialist that assists firms that wish to be sold.
Lowe's to enter Australia through joint venture
MOORESVILLE, N.C. — Lowe's Cos. has made its first foray outside of North America by entering into an agreement to start a new home-improvement chain in Australia with that country's largest retailer, Woolworths Ltd.The equivalent of about $20 billion in home improvement related products are sold in Australia annually. The deal with Woolworth's would include a US$73.6 million takeover of Dank's, Australia's second-largest hardware distributor. Lowe's and Woolworths have a target to secure more than 150 store sites, all greater than 100,000 square feet, over the next five years, with the first store expected to open in late 2011. Woolworths has already secured entitlement to 12 sites and is currently in final negotiations to secure a further 15 sites for greenfield development in that country. Woolworth's operates more than 3,000 stores — including supermarkets, consumer electronics outlets and liquor stores — that generated 49 billion Australian dollars in revenue last year.
Can-Save forges distribution deal with manufactured stone supplier
SAN MARCOS , Calif. — Eldorado Stone, a manufactured stone supplier, has established a partnership with Can-Save, the Barrie, Ont.-based wholesale distributor of specialty building products, kitchen & bath, and doors. Can-Save will now stock and provide a range of profiles of Eldorado Stone for its dealers throughout the province."By adding Eldorado Stone to our family of products, we are now able to offer a full category of manufactured stone options to our dealers," says Dan Clements, vice-president of marketing for Can-Save. "Our goal the first year is to identify at least 50 dealers among our eight sales territories to carry Eldorado Stone." Can-Save has an established dealer network of more than 1,600 lumber and building material retailers in Ontario and Atlantic Canada. "Manufactured stone is very popular in the Canadian marketplace," adds Clements.
Can-Save
Position: Sales Representative (Central Ontario – Highway 7- (North), Aurora, Barrie, Owen Sound, ) Location: Central Ontario, Start Date: Immediately Company Information: www.can-save.ca Can-Save, a progressive building materials distributor – specializing in specialty building products, doors, and kitchen and bath cabinets, has an immediate opening for an Outside Sales Representative for its Central Ontario territory The successful candidate will:
Have a proven successful sales call background in the building materials industry; Lumber yards, Big Box. etc.) (minimum 3 years experience)
A keen interest to analyze, develop and carry out sale's strategies so as to aid customers in growing their business.
Must have consultative, front-line experience working with customers in a sales capacity.
Ability to navigate and utilize Customer Relationship Management software
Excellent communication and business relationship skills.
Must be a team player able to work with a variety of disciplines and organizational functions.
Travel within the region and participation in trade show events will be required.
We offer a competitive remuneration and benefit package. If interested please forward, via e-mail, your resume and salary requirements to the attention the Human Resources manager at hr@can-save.ca

We thank all applicants, however only those chosen for an interview will be contacted.

Can-Save is an equal opportunity employer.

 

Prime Source Building Products, Inc., one of the North American's largest wholesale distributors of building supply products, is seeking experienced sales professionals to support their Canadian expansion. Inside Sales - Mississauga - Responsibilities include developing a pipeline of prospective opportunities; via interaction with an existing customer base and a network of prospects, providing outstanding customer service and the ability to build relationships and close business over the telephone. Qualified candidates must be self-motivated, quota driven, and results oriented with a proven and documented history of success. We are looking for at least two years of sales experience and preferably experience in the building materials industry. Preference given to Bilingual candidates. If you are a proven leader who welcomes the opportunity to work in a challenging and financially rewarding environment, we want to meet you. PrimeSource offers attractive base salaries, aggressive commission incentives, and a competitive benefits package. Please send Resumes to Phil Brown General Manager PrimeSource Canada at brownp@primesourcebp.com  
Account Manager - Ben-Mor Cables
Ben-Mor Cables, the leader in chain, cable and drying products for the hardware industry, is seeking for an account manager that will be based at its retail division offices in Saint-Hyacinthe, Quebec.  The main tasks for this position will be to find new customers in Canada and USA, maintain and increase sales of current key accounts, put in place sales and merchandising strategies, look at customer profitability and attend trade shows. For more details please visit our career section at www.ben-mor.com or send your resume at ccarriere@ben-mor.com.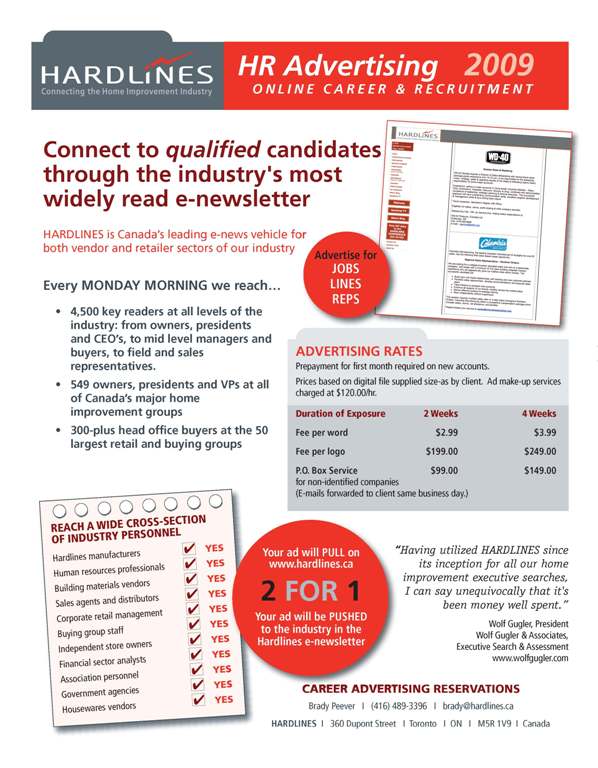 To place an ad in our classified section click here or call 416-489-3396
Results oriented sales professional with a strong record of achievement in strategic and tactical roles.
Seasoned Sales veteran. Experienced, dealing with established and new manufacturers introducing new products to key retailers in the Canadian market.
A marketing professional with a highly successful level of experience in all aspects of marketing consumer packaged goods at a national retail level.
Leadership, sales and communication skills, seeking a challenging and results-oriented environment.
A creative, strategic thinking and results oriented Sales Professional.
Know someone who is between jobs? We will send a complimentary subscription to anyone who is seeking a job. We also offer a free Online Resumé Service. Ask them to call or email us here at the World Headquarters. (And why not tell your HR department about this service!) Email Brady for more info. —Beverly
Marketplace
Sell your company - or buy one - with HARDLINES Classifieds! Do your executive search, find new lines or get new reps in the HARDLINES Marketplace. Only $2.75 per word for three weeks in the classifieds. To place your ad, call Brady Peever at 416-489-3396 or email: brady@hardlines.ca
To ensure you receive your HARDLINES newsletter each week, please add bev@HARDLINES.ca to your address book.

Did your email system make this newsletter unreadable? You can read it online instead. call us to find out how.

Publishing Details: HARDLINES is published weekly (except monthly in December and August) by HARDLINES Inc. 360 Dupont Street Toronto, Ontario, Canada M5R 1V 9 © 2009 by HARDLINES Inc. HARDLINES™ the electronic newsletter www.HARDLINES.ca Phone: 416.489.3396; Fax: 416.489.6154 Michael McLarney - Editor & President - mike@HARDLINES.ca Beverly Allen, Publisher - bev@HARDLINES.ca Brady Peever - Client Services Manager - brady@HARDLINES.ca Chiaki Nemoto - Accounting - chiaki@HARDLINES.ca The HARDLINES "Fair Play" Policy:Reproduction in whole or in part is very uncool and strictly forbidden and really and truly against the law. So please, play fair! Call for information on multiple subscriptions or a site license for your company. We do want as many people as possible to read HARDLINES each week - but let us handle your internal routing from this end! Subscription:$299 (Canadian subscribers add $14.86 GST = $315.21 per year/ GST #13987 0398 RT).Secondary subscriptions at the same office are only $48.75 (Canadian subscribers add $2.44 GST = $51.19).Ask about our reduced rate for branch offices.You can pay online by VISA/MC/AMEX at our secure website or send us money. Please make cheque payable to HARDLINES.
NEWS IN BRIEF
BOUCHERVILLE , Que. — The RONA Foundation raised a record $525,000 at its Annual Golf Day, held recently at the Hillsdale Golf Club near Montreal. The tournament brought together some 500 participants, most of them RONA suppliers.TORONTO — Sears Canada had second-quarter results revenues of $1.25 billion, down 12% from $1.42 billion a year earlier. Same-store sales decreased 10%. Net earnings for the second quarter were $49.1 million, down from $61.5 million last year. Total revenues for the 26-week period were $2.367 billion, down 11.5%. Same-store sales year-to-date decreased 10.2%. MONTREAL — Cobra Anchors Co. Ltd., a Canadian manufacturer of anchoring products, concrete screws, and plant and picture hooks, has announced a new partnership with Strome Sales Ltd., manufacturing sales representatives. Strome Sales, which has more than 35 years of experience managing national brands in the hardware and industrial channels, will provide sales support and program expansion for Cobra throughout Western Canada. Cobra distributes to more than 9,000 outlets throughout North America and Europe. BOUCHERVILLE , Que. — Advising that Canadian consumers remain cautious, RONA CFO Claude Guevin expects them nevertheless to start spending more before the year is out, as deadlines loom for government tax incentives, according to an interview with Bloomberg. OAK BROOK , Ill. — Ace Hardware Corp. is benefiting from homeowners taking on more home-maintenance projects during the U.S. recession. The dealer-owned co-op saw its profit for the three months ended July 4 jump 26.2% to $42.2 million. That gain came despite an 8.6% decline in revenue, to $973.1 million. During the quarter, Ace added 25 new stores and cancelled 53. Through the first six months of its fiscal year, Ace's sales to its member stores fell 5.7% to $1.8 billion, but its net income rose 28.1% to $56.6 million. SPECIAL REPORT — With back-to-school shopping underway and the Christmas season looming, more consumers are taking advantage of layaway programs, according to the Associated Press. The programs let shoppers pick out what they like, make regular payments then take their purchase home once the bill is paid off, a practice that many retailers had abandoned. But, a record number of Americans, shut off from credit and short on cash, are relying on Kmart's layaway program to pay for all of their kids' school needs, says Tom Aiello, a spokesman for Kmart's parent, Sears Holdings Corp. LIVERMORE, Calif. — Activant Solutions Inc., the retail software company, has made a three-year deal with Ace Hardware Corp. to be the exclusive provider of point-of-sale software for Ace's 4,600 stores. The companies have worked together since 2000, when Ace adopted Activant's Eagle system that automates sales, inventory and customer orders. "Activant's ongoing commitment to outstanding support, training and professional services sets us apart from the competition," says Paul Salsgiver, executive vice-president of Activant Solutions. MONROE , Ohio — Home Depot has opened a Rapid Deployment Center here to serve some 100 stores in the Midwest. The 657,600-square-foot building was built at a cost of almost $34 million.
PEOPLE ON THE MOVE
Ken Friedman, product manager, hand and power tools at Home Hardware Stores Ltd., has decided to pursue a degree in sports psychology at the University of Ottawa so he's leaving Home Hardware … Dave Martin is Friedman's replacement as new product manager in the hand and power tool portfolio. Martin has 25 years of sales and marketing experience and extensive familiarity with retail hardware, working most recently with Fusion Products Ltd. In Mississauga, as well as DYR/Boomerang, Maxtech, McCulloch Canada and Trademaster. He has the support of two product assistants, Leeanne Wilson and Sharon Huver. (519-664-2252)Strat Padazis has been appointed a full partner and vp of sales at Air Solutions Inc.

As sales representative for Southwestern Ontario and Niagara regions for the past 15 years, Strat was considered instrumental in the growth and development of Air Solutions as a sales agency, representing Selkirk products. (800-267-6830)
ECONOMIC INDICATORS
Retail sales rose in June by 1% to $34.4 billion. While most of the latest gain was driven by higher gasoline prices, retail sales have risen in five of the last six months. Retail sales were up in eight provinces in June, essentially flat in Ontario and down 0.2% in New Brunswick. (Stats Canada)Building permits in July decreased 1.8% from June and declined 39.4% from July, to 560,000, reports the Commerce Department. Housing starts continued to fall, as well, dropping 1.0% from the prior month. (Stats Canada)
NOTED…
According to a survey by Kilz, the paint company owned by Masterchem Industries, 85% of women would prefer a $5,000 room makeover over an equally pricey pair of diamond stud earrings. The survey also found that 88% of men would prefer a $5,000 deck or garage makeover to a watch with the same price tag. The report surveyed more than 1,000 U.S. and Canadian homeowners.
Hardlines Products
Hardlines Quarterly Report
Hardlines Retail Report
Hardlines Hot Product Showcase
Hardlines TV
Free daily news updates
Did you know you can have this newsletter sent to someone else in your office for less than a dollar an issue!