August 13 , 2012, Volume xviii, #32
"The enemy of conventional wisdom is not ideas but the march of events." —John Kenneth Galbraith (Canadian economist, 1908-2006
______________________________________________________________________

______________________________________________________________________
Summer Publishing Schedule:
HARDLINES is published just once in August. There will be no issues Aug 20, or 27. However, the World Headquarters will remain open during this time as we update our research reports, work on the next issue of HHIQ, and prepare for the 17th Annual Hardlines Conference! —Michael McLarney, Editor
______________________________________________________________________
SPECIAL UPDATE ON LOWE'S VS. RONA
______________________________________________________________________
Exclusive: Lowe's reveals small-store strategy for Canada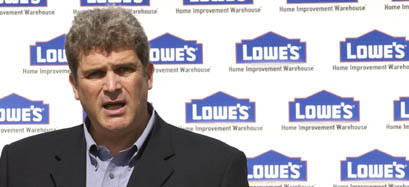 WORLD HQ, TORONTO — Doug Robinson, svp of international operations for Lowe's Cos., is blunt about his discussions with RONA following a "friendly" takeover bid by Lowe's last month, especially in light of the way his company is evolving its attitude to international expansion – including a new store format for Canada.

"We're disappointed with the response of the RONA board," he says. "We've made an offer that addresses the concerns and the stakeholders."

Lowe's is renowned for its process-driven business practices and its methodical approach to every decision. It went to RONA with what it believed was an offer that would address each and every one of the RONA board's concerns. What it didn't count on was the nationalistic and political outcry the offer ignited among Quebecers – and across Canada.

New store format

Regardless of the outcome of the RONA bid, says Robinson, Lowe's is introducing a new store format – and Canada will be the testing ground. "We're pretty close to launching our own version of a smaller format in Canada," he told HARDLINES. While he wouldn't put an exact date or location on the first of these new-style Lowe's stores, he said, "It will be close," adding that this "unequivocally" reflects Lowe's commitment to smaller stores.

Just how small will the new stores be? Lowe's was not willing to share that information, but the retailer has already tried out retail footprints as small as 80,000 square feet in the U.S. This new format for Canada, which the store planning division in Mooresville, NC, has been working on for some time, may constitute something even more radical than that.

Combined strengths

One thing that many observers have questioned about a possible takeover of RONA by Lowe's has been the range of stores, from small to big box, that are under the RONA umbrella. These stores are a mix of corporate and independently owned businesses. However, this is all part of Lowe's strategy, Robinson says. "We think that the right way to go to the marketplace is with multiple formats and multiple forms of ownership."

He refers to Lowe's expansion in Australia, where, in partnership with Aussie retail giant Woolworths, the company has both opened greenfields big boxes and purchased a hardware wholesaler called Banks, which serves both corporately owned and independent stores. "Our strategy has been to adopt ourselves to local needs."

To do that most successfully, however, Lowe's will need local expertise – something that comes most effectively from local dealer-owners such as RONA's independents­ – "that small, niche, local knowledge of how to go to market in all the mid-size and smaller communities." In return, Lowe's can bring its expertise in areas such as appliances to the RONA organization.

Commitment to Canadian vendors

Another area that Robinson wants to clarify is Lowe's relationship with its vendors, especially in light of concerns (shared by this publication) that a U.S. head office would mean the migration of more buying decisions to the U.S. – at the expense of Canadian suppliers.

That's just not the case, says Robinson, and looks to Lowe's track record so far in Canada. "Not a single buying decision has been made from Mooresville to go into the Canadian stores," he insists. "We're very committed to Canadian sourcing from Canadian companies. We've been doing that since we opened [in Canada]."
back to top



______________________________________________________________________
When RONA met Lowe's: a brief history
BOUCHERVILLE , QC — RONA inc. announced on July 31 that its board had turned down an offer by Lowe's Cos. to acquire all its shares, saying the offer is "not in the best interests of RONA and its stakeholders." Instead, RONA remains committed to its business, which includes looking for further growth opportunities of its own – including acquisitions.

RONA further requested that Lowe's confirm that it would back off if its offer was not supported by RONA's board. However, Lowe's says it's still interested in Canada's largest home improvement retailer.

Here's what happened…

June 5, 2005: The Globe and Mail reveals that Lowe's Cos. has plans to enter Canada in two years. Doug Robinson, an American who had formerly run Beaver Lumber for Molson Cos., is in charge of Lowe's Canadian foray. Holed up in a hotel in Markham, ON, he works from a rented office space to establish the business here. (It's the same office building used by Stephen Bebis more than a decade earlier when Molson brought him up to establish Canada's first big box, Aikenheads.) Rumours begin immediately that Lowe's invasion would affect RONA, and its shares, trading around $26, begin to slip.

September 2007: Robinson departs from Canada, returning to Lowe's head office in North Carolina to continue working in its international division. Don Stallings, a regional vp with a track record of opening a lot of stores in a short amount of time, takes over Lowe's Canada.

Dec. 10, 2007: Lowe's enters Canada with stores in Brampton, Brantford, and Hamilton, ON. A total of seven are planned for the first stage, with "another 15 in the pipeline." Lowe's also announces plans to open its first stores in Mexico.

Oct. 15, 2007: Robert Dutton speaks at the Hardlines Conference in Toronto, telling the audience in no uncertain terms, "Look at my eyes, every one of you: RONA is not [for] sale!" This has been a time of aggressive expansion for RONA. It purchases Matériaux Coupal in Quebec in 2006, and Curtis Lumber and Mountain Lumber in British Columbia. A year later, it buys Chester Dawe, the market leader with eight stores in Newfoundland. RONA begins expanding its commercial business, as well, including the acquisition of Noble Trade, also in 2007.

Sept. 9. 2009: Alan Huggins, who had been on the Lowe's Canada team from its inception as vp operations, takes over as president. Stallings moves to Australia to set up a partnership with that country's largest retailer, Woolworths, to establish a chain of big-box home improvement stores under the "Masters" banner.

July 27, 2011: At RONA's request (according to Lowe's), the chief executive officers of Lowe's and RONA meet for the first time in Montreal to discuss a potential relationship between the two companies. Dutton subsequently visits Lowe's at its head office in North Carolina to continue discussions. The nature of those conversations can not be confirmed by HARDLINES. (If you haven't seen it already, check out this special HARDLINES TV clip for more on this subject. ―Editor)

Dec. 15, 2011: Lowe's tenders its first offer to acquire RONA. That proposal is rejected by the RONA board .

April 3, 2012: A Lowe's vp says at an analysts' meeting in the U.S. that RONA would be "interesting" to Lowe's. Speculation begins anew about the fate of RONA and shares spike above $10.

April 7, 2012: HARDLINES contacts RONA CEO Robert Dutton directly. He reaffirms, emphatically, "RONA is not for sale."

July 8, 2012: RONA receives an unsolicited, non-binding proposal from Lowe's to acquire all of RONA's issued and outstanding shares at $14.50 per share. Following receipt of the non-binding proposal, RONA's Board of Directors and a special committee of independent directors, with the assistance of Scotiabank and BMO Capital Markets as their financial advisors, and Norton Rose Canada LLP and Davies Ward Phillips & Vineberg LLP as their legal advisors, begin reviewing the Lowe's proposal. (Click here to read the July 8 letter from Lowe's.)

July 9-25, 2012: RONA's board of directors and special committee meet with its financial and legal advisors on several occasions and carefully review Lowe's unsolicited expression of interest.

July 26, 2012: RONA informs Lowe's that board has unanimously voted the takeover bid down, as "not in the best interests of RONA and its stakeholders."

July 28, 2012: Lowe's says it would still like to proceed with a board-supported transaction. However, the giant U.S. home improvement retailer also indicated that it remained "very interested in pursuing a transaction with RONA and was going to consider all of its options," according to a release by RONA.

July 30, 2012: Quebec's minister of finance, Raymond Bachand, announces that the province would consider buying RONA shares to keep the iconic company in Canada, calling it "an important strategic investment."

Aug. 2, 2012: Doug Robinson, who has been instrumental in setting up the RONA offer, calls HARDLINES from his office in Mooresville, NC, and gives Editor Michael McLarney an exclusive insight into Lowe's plans for Canada, with or without RONA.
______________________________________________________________________
Lowe's says RONA would remain intact after acquisition

  MOORESVILLE, NC — While Lowe's is best known for its traditional large store formats, the company would be committed to preserving and developing RONA's multi-channel retail strategy, and to leaving its head office in Boucherville, QC.

That includes retail, commercial and distribution channels offered through large stores, smaller urban/proximity format stores and a well-developed online presence offered under a number of different brands.  RONA is a renowned Canadian brand and it is strategically and culturally desirable that RONA stores and distribution operations continue to operate under the RONA brand.

"We are disappointed that RONA's board of directors has rejected our friendly non-binding proposal, which is clearly attractive for RONA shareholders. We believe a combination of Lowe's and RONA makes enormous business sense," said Robert Niblock, chairman, president, and CEO of Lowe's.

He added that the Lowe's proposal includes commitments to RONA and its key stakeholders, including RONA's dealer-owners, employees, and suppliers.

Lowe's currently operates more than 1,745 stores in North America, including 31 stores in Canada, and an additional 16 stores as part of a joint venture in Australia under the "Masters" banner.

(Click here to hear this Editor's take on the Lowe's bid —Michael)
______________________________________________________________________
NEWS ROUNDUP
______________________________________________________________________
Earnings increase for RONA in second quarter

    BOUCHERVILLE, QC — RONA inc. had second-quarter consolidated sales of $1.4 billion, up 3.4%, stemming from an increase of 8.7% in distribution segment sales and a 1.8% rise in retail and commercial segment sales.

Net earnings – before unusual items of $43.6 million – were up 17.7%, thanks in part to a 23.5% decrease in financial costs.

Same-store sales increased by 1% for RONA's network as a whole, including retail, commercial and distribution, due to an increase of 11.4% in distribution sales to affiliate dealers, even though there was a 0.9% decrease in retail and commercial segment sales. (Note: RONA revised its same-store sales calculation during the quarter to include same-store distribution sales to RONA affiliate dealer-owners, who account for more than 25% of total sales.)

"The second quarter results again prove that RONA remains a preferred source for renovation and building contractors and specialists," said RONA CEO Robert Dutton in a release. "We have, for example, seen 10.5% growth in sales to plumbing specialists, while our affiliate dealers, who count a high percentage of building contractors among their clientele, have increased same-store sales by 11.4%."

The results came out a day after RONA held the grand opening in Edmonton of the first of 15 proximity stores that are slated to open by 2014.


______________________________________________________________________
Giant building centre is North America's largest

HARTVILLE, OH — Howard Miller and his brother Wayne have transformed a small, family-owned hardware store into the largest in America – a mammoth 305,000-square-foot, two-level retail unit that is only one of several dominant businesses he and his family own in this small town in Ohio.

Forty years after the original store opened, the new store, which held its grand opening earlier this month with sales and vendor demonstrations, is more than twice the size of the average Home Depot or Lowe's.

"We felt that if we wanted to be in the hardware business long-term, we needed to do something different," Hartville Hardware president Howard Miller said. It's "by far" the largest location served by Do it Best Corp. by "100,000 square feet," said Bob Taylor, president and CEO, who was at the store for opening festivities.

Hartville Hardware's customer mix is about 60% DIY and 40% contractors. The store contains nearly 70,000 SKUs, an in-store lumberyard, a furnished ranch-style home made mostly from Made in America items available in the store, and four facades of other house models.

It also features six entrances and an historic log cabin, which houses its library of product literature for the tool department.

The family also operates a huge flea market, which features more than 1,200 booths and lets entrepreneurs set up shop to sell used or overstock merchandise, as well as Hartville Kitchen, a home-style restaurant featuring more than 20 homemade pies daily. The restaurant seats 325, has a banquet facility with a 500-seat capacity, and hosts another business enterprise, Hartville Collectibles, a 15,000-square-foot gift shop.
_____________________________________________________________________ 
Canadian Tire enjoys increased 2Q revenue

TORONTO — Canadian Tire Corp. reported second-quarter consolidated revenue of $2.99 billion, a 16.4% increase, thanks largely to the inclusion of revenue from FGL Sports of $335.2 million. However, the company says it had solid sales growth across all retail businesses, including Financial Services. Consolidated net income increased 26.4% to $133.7 million from the same period in 2011.

Retail sales were up 1.0% and same store sales were up in the quarter 0.4%, reflecting "strong sales in key seasonal categories and continued growth in the Living, Fixing, and Playing categories," says the company in a release.
_____________________________________________________________________ 
The Home Depot will buy kitchen cabinet supplier

DALLAS & ATLANTA — The Home Depot has agreed to acquire U.S. Home Systems, Inc., a kitchen bath cabinet products company that sells exclusively to Home Depot. The company also supplies closet and garage organizational systems to Home Depot. Home Depot will acquire USHS for $12.50 per share in cash, which represents a premium of about 38% over USHS's closing price on Aug. 6. The deal is expected to close by the end of the calendar year.

USHS's product lines include kitchen cabinet refacing products used in kitchen remodeling, bathroom tub liners and wall surround products, and storage organization systems for closets and garages.
_____________________________________________________________________
Back-to-school spending to increase 2.5% in Canada: Ernst & Young

MONTREAL — Back-to-school spending is set to climb only 2.5% over last year in Canada – even though the shopping season is starting earlier than ever.

"Back-to-school sales started on July 1 south of the border, stimulating demand and forcing Canadian retailers to follow suit and get in step earlier than ever," says Daniel Baer, Ernst & Young partner and national retail industry leader. "Consumers' low confidence level means they are careful, looking for bargains despite brand loyalty, and aren't hesitant to compare prices before buying, whether shopping in stores or online from home or by mobile."

Back-to-school sales are not limited to traditional items like clothing, shoes and stationery. A growing number of increasingly younger students purchase electronic items and devices. Baer adds this sector will likely perform very well this year.

Aside from the growing trend to shop online for low U.S. retail prices, cross-border competition is also being stimulated by new traveller exemptions for Canadian residents who wish to hop across the border to buy. As of June 1, traveller tax exemption limits increased from $50 to $200 for visits of at least 24 hours, and from $400 to $800 for visits of at least 48 hours.

Losing ground to U.S. retailers isn't the only challenge facing Canadian consumer products companies. According to a recent global publication by Ernst & Young, " Disrupt or be disrupted: creating value in the consumer products brand new order," 74% of consumer products company leaders believe they need to make significant changes to sustain historic margins. The survey also shows that 68% of responders are under pressure to reappraise their operating models.

"Thanks to technology and new modes of communication, consumers are taking control of the conversation and demanding better value," Baer says.

______________________________________________________________________
PEOPLE ON THE MOVE
______________________________________________________________________
At Imperial Manufacturing Group, Mario Caissie has been appointed president. Caissie brings to this role a very strong knowledge of the company and the industry and was most recently vice president, operations (Canada and U.S.) for Imperial Manufacturing Group. IMG was started by its CEO, Normand Caissie, in 1979 and is an award-winning manufacturer of more than 7,000 heating, air conditioning, ventilation, and building products for residential and light commercial applications. Imperial Manufacturing Group is recognized as one of Canada's 50 Best Managed Companies.

Greg Hicks has left London, ON-based TSC Stores Ltd., where he'd served as COO and head of TSC's wholesale farm and hardware division, Country Pro Services. He has joined Lowe's Canada.

Murray Kush is the new buyer for plumbing and heating at Federated Co-operatives Ltd. He was formerly a category manager at Peavey Industries Ltd.

Tembec, the forest products producer, has appointed Linda Coates vice president, human resources and corporate affairs. Coates joined Tembec in May 2011 as corporate vice president, communications and public affairs. 

______________________________________________________________________
ECONOMIC INDICATORS
______________________________________________________________________
Housing starts reached 208,500 units seasonally adjusted in July, down from 222,100 in June. The bulk of the decrease was in the multiples segment in British Columbia. Urban starts seasonally adjusted decreased by 6.4 % to 187,300 units, with urban singles down 4.0 % and urban multiple starts down 7.6 %. (CMHC)

The total value of building permits fell 2.5% to $6.8 billion in June, following a 7.1% increase in May. The non-residential sector was down 12.3% nationally, while in the residential sector, the value of permits rose 4.2% to $4.4 billion in June, a second consecutive monthly increase. Construction intentions for single-family dwellings rose 4.2% to $2.4 billion. (Stats Canada)

Eighty metropolitan statistical areas across 32 states and the District of Columbia were listed as improving housing markets. The metropolitan areas were so identified based on showing improvement in housing permits, employment, and house prices for at least six consecutive months. Five new metropolitan areas were added to the list this month: Miami and Palm Bay, FL; Hinesville, GA; Terre Haute, IN; and Lubbock, TX . (National Association of Home Builders- First American Improving Markets Index )

Real gross domestic product (GDP) in the U.S. grew at an annual rate of 1.5% in the second quarter. This follows a growth rate of 2.0% in the first quarter of 2012. (U.S. Commerce Dept.)


______________________________________________________________________
Last Call For Outstanding Retailer Awards Entries
______________________________________________________________________

Dealers can still enter Hardware Merchandising's 2012 Outstanding Retailer Awards. The ORA program is dedicated to celebrating the achievements of hardware, home improvement, and building supply dealers in Canada. There is no fee to enter and nominations are not required. Dealers may submit entries directly, or chain/buying group head offices may choose to prepare and submit the entries for them. Complete information and entry forms available at hardwaremagazine.ca/ORA. The awards will be presented at a Gala Dinner during the Hardlines Conference, Oct. 25, 2012.

______________________________________________________________________

Resumés
Professional with over 25 years of experience in Sales, Marketing, Merchandising and Administration

view this

resumé

Marketing professional with over 10 years experience looking to secure a new full-time position.

view this

resumé

A Sales Professional with over twenty years of experience.view this

resumé

Experienced District Manager with a proven track record with several national chains. view this

resumé

A conscientious, highly motivated manager with a results-oriented track record in developing new business.

view this

resumé

An experienced merchandising executive possessing passion, vision, and a strategic approach to delivering bottom-line.

view this

resumé

Senior sales/marketing leader with experience in all classes of trade wishing new HARDLINES career. view this

resumé

Very Experienced Business Unit Manager, great passion for generating sales and building relastionships.view this

resumé

Worked through my career within the manfucaturer, wholesale and consumer goods industries. view this

resumé

Senior Sales Manager with vast experience in retail and wholesale sales growth in Canada. view this

resumé