QUEBEC CITY — BMR le Groupe honoured Connie and Jean-Guy Lasalle, owners of the centres de rénovation Matériaux JLS in Fort-Coulonge and in Bryson, by awarding them the "Prix Fierté 2009."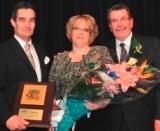 At BMR's recent dealer show here, Yves Gagnon, president of the wholesaler and buying group
(r)
, presented the couple with the award, recognizing their achievements and involvement within the group. Matériaux JLS joined BMR in 2001. The two home centres total some 12,000 square feet of retail space offering a welcoming shopping environment, well known to its customers for quality service and excellent advice — hence the award. MONTREAL — RDTS, the rep agency and instore detailing service, celebrated its 15th anniversary at the Hyatt Regency here during the recent RONA show.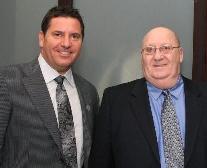 Almost 200 people were on hand to join RDTS head Robert Di Tomasso,
(shown here with his father and mentor, Richard)
, who has guided the company through a turbulent, dynamic decade and a half to become a national presence that has made technology advances, strategic alliances, and become the first company of its kind in North America to obtain ISO certification. VANCOUVER — Taymor, the builders' and decorative hardware supplier, was awarded a top prize of a Black  ribbon for the
Most Creative Tree
at the Festival of Trees at the Four Seasons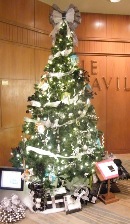 Hotel here. This was Taymor's first time at the event, a fundraiser for the B.C. Children's Hospital Foundation. The themed Tree featured the "12 days to refresh, redecorate or renovate your home" using decorations made with Taymor products such as a "Lever Lock Tress", Spring Stop Snowflakes and a Spring Stop Tree. The Festival of Trees provides corporate and individual sponsors an opportunity to showcase community leadership, creative flair and innovative themes while helping raise money for a very good cause. BERLIN — EDRA, the European DIY Retail Association, has become an independent body. In a meeting held here recently, the new association was officially formed. In the past, it had been administered by the DIY associations in France (FMB) and Germany (BHB).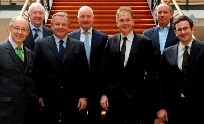 Our old friend, John Herbert
(centre)
, has been appointed general secretary of the Association, which has members from 18 countries that operate in 38 countries. It was also agreed at the inaugural meeting that EDRA will now open its doors to form a Global Home Improvement Network, allowing members outside Europe to become associate members and to benefit from the affiliation of the EDRA network. (For more info, contact:
morgan@edra-online.org
.) BOUCHERVILLE, Que. — RONA has been rewarded for its wood products procurement policy by the Canadian Boreal Initiative in Ottawa. RONA was one of six winners selected by a committee of the Boreal Leadership Council, which is made up of leading conservation groups, Aboriginal organizations, and businesses committed to taking action to preserve the boreal forest. RONA was recognized for its leadership in developing and implementing an ambitious procurement policy for the wood products sold in its stores. CHICAGO — Industrial supply distributor W.W. Grainger Inc. has purchased a 1 million-square-foot distribution centre in the Chicago suburb of Minooka, Ill. It will relocate an existing distribution facility in Niles, Ill., to the new site by 2012. TORONTO — RONA Inc., in partnership with Maple Leaf Sports & Entertainment and the MLSE Team Up Foundation, has fixed up another sports facility in the GTA. The newly refurbished Ramsden Park Rink is the 10th completed project as part of the MLSE Team Up Foundation Hockey Rink Legacy Program. ISSAQUAH, Wash. — Costco Wholesale Corp. had November net sales of $6.04 billion, an increase of 9% from $5.55 billion. The company reported year-to-date net sales of $18.57 billion, an increase of 6%. MONTREAL — Are we in the wrong business? Dollarama Inc. reported significant increases in sales and net earnings despite the economic downturn. Sales increased 14.8% in the third quarter and 15.0% year-to-date. Same-store sales grew 7.3% in both the third quarter and the year-to-date periods.