In This Issue
"Blessed is the season which engages the whole world in a conspiracy of love." —Hamilton Wright Mabie (American essayist, critic, and lecturer, 1846–1916)
The home improvement big box phenomenon is finally ending
WORLD HEADQUARTERS, TORONTO — Even as Lowe's prepares to open its eighth store in this country later this week, the sun is finally setting on the retail home improvement big-box phenomenon. After more than a decade of unprecedented growth, the format is reaching saturation, both in terms of market share and customer appeal.These are the conclusions of a new report in the latest issue of Hardlines Quarterly Report, which tracks and analyses the retail home improvement industry in Canada. Canada will have 274 big boxes by year's end — or one store for every 26,000 families in Canada. "We are seeing a gradual slowdown in the expansion of the big box," said Michael McLarney, editor of HARDLINES. "Reasons range from market saturation as new sites become harder and harder to find, to changing tastes of Canadian consumers." According to the HQR report, big box retailers are evolving to meet these changes, however. Home Depot Canada is building smaller stores, while RONA, with estimated sales of $2.5 billion from 80 big box stores (out of total estimated sales this year of $6.5 billion), is shifting its expansion plans to focus more than ever on traditional retail formats. At the same time, Lowe's Canada is opening four more stores over the next several weeks. (See our hardlines.ca mainpage for updates—MM) The latest issue of HQR also features results of the Hardlines 3Q Business Conditions Survey, plus Economic Indicators – invaluable info for anyone trying to navigate the economic downturn facing Canadians. The new Big Box Report is in the latest issue of Hardlines Quarterly Report, which is published four times a year by, who else — HARDLINES, the weekly newsletter for the retail home improvement industry in the U.S. and Canada. For more information click here.

Top.
McDiarmid and North American among TIM-BR MART dealers to add locations
CALGARY — TIM-BR MART's reach is extending further into communities in New Brunswick, Ontario, Saskatchewan, and Alberta with the addition of five more dealer locations and a new member of the national network.

By adding new operations in North Battleford and White City, Sask.; and St. Paul, Alta., McDiarmid Lumber brings their number of locations to 17. These three operations will focus on their "ready-to-move" manufactured homes market, which builds and delivers custom-made homes ready for hook-up.

With the addition of a new store in Unity, Sask.

(shown here)

, North American Lumber's total location count is now 20. The recently acquired Unity Building Supplies offers customers a 1,500-sq.ft. retail store and two drive-through LBM warehouses. Established in 1906, North American Lumber will continue its growth pattern with rebuilds planned for 2009. TNT Insulation and Building Supplies is now serving contractors and retail DIY customers of Jacksonville, N.B., with a second location. This store has recently completed renovations and merchandising to be fully branded under the TIM-BR MART banner. Gibson Roofing Supplies of Markham, Ont., is the newest industrial dealer of the group, specializing in roofing products. This strong dealer in the Greater Toronto Area has a large roofing division and a strong contractor customer base, including large homebuilding companies.
German Sourcing Show will bring Asian suppliers to Western buyers
COLOGNE, Germany — Scheduled to make its third appearance here, Asia-Pacific Sourcing will bring together some 600 exhibitors from the Far East to showcase a vast range of goods and services, March 1-3, 2009. Claiming to be Europe's number-one sourcing fair, it will feature products ranging from tools, locks and fittings, do-it-yourself supplies, ironmongery, fastening and fixing systems, to garden furniture and tools, barbecue equipment, camping articles and white goods — all from suppliers from the Asia-Pacific region.Although the trade fair is being held in Germany, the profile of the event is highly international, with 99% of exhibitors and 55% of visitors coming from abroad. This is because the big players in the trade sectors involved — especially those from the large-volume trade — all use Asia-Pacific Sourcing as a business and information platform for their activities in the Far East. The concept of the show is to replace a trip to Asia (which may permit only a few visits to suppliers) with a one-stop shopping experience that lets buyers and sourcing vendors line up many meetings with a host of potential new business partners in a very short period of time. Admission is now available for the show and registration is possible online, which enables visitors to attend for free, instead of paying €40 for a day ticket or €70 for a season ticket. For more information and to register, click here.
Resum

és
Know someone who is between jobs? We will send a complimentary subscription to anyone who is seeking a job. We also offer a free Online Resumé Service. Ask them to call or email us here at the World Headquarters. (And why not tell your HR department about this service!) Email Brady for more info. —Beverly

IRLY Distributors Ltd. is the distribution center to IRLY Building Centre stores. We are experiencing tremendous growth and have the following career opportunity in Kelowna, BC.
Outside Sales Representative, Okanagan Region We are looking for an experienced Sales Representative to sell our products and programs to existing IRLY Building Centers, as well as build relationships with other dealers. This position will be based in Kelowna and will also service the East and West Kootenays.
The ideal candidate will have a strong understanding of the hardware and building materials industry, excellent customer service skills, and an aptitude for building relationships.
We offer a full benefit plan and compensation package. Please send your resume, cover letter and salary expectations to careers@irly.ca
CAN-SAVE SALES REPRESENTATIVE

Position: Sales Representative Location: Ontario, Near-North ( Orillia to North Bay) Start: Immediately Can-Save, a progressive building materials distributor specializing in specialty building products, doors, and kitchen and bath, has an immediate opening for an Outside Sales Representative for the Ontario, Near-North territory. The successful candidate will:
Have a successful sales background in the building materials industry with a minimum 3 years experience.
Possess the ability to analyze, develop and carry out sales strategies to aid customers in growing their businesses.
Have a proven ability in identifying and following through on new opportunities.
Have consultative, front-line experience working with customers in a sales capacity.
Have the ability to utilize Customer Relationship Management software
Possess excellent communication and business skills.
Be a team player able to work with a variety of disciplines and organizational functions.
Travel within the region and participate in trade show events as required.
Can-Save offers a competitive pay, bonus, and benefits package. Please forward your resume to hr@can-save.ca or fax to 705-722-1124 (Attention: Human Resources).

Castle Building Centres Group Limited.

Directeur, développement des affaires – Région du Québec

Castle Building Centres Group Ltd. est un leader parmi les groupes d'achats de l'industrie du bois et des matériaux de construction au Canada. Vous êtes un individu très motivé, possédant des qualités exceptionnelles en relations personnelles et en communication. Ces atouts vous permettront de renforcer et d'accroître notre présence sur le marché québécois. Pour remplir ce mandat, vous devez connaître parfaitement l'industrie québécoise du bois et des matériaux de construction. Vous êtes prêt à voyager régulièrement, tout en étant à l'aise de travailler éloigner de la maison mère. Bien entendu, la maîtrise parfaite des deux langues officielles est indispensable pour ce poste. Vous rapportant directement au Président, voici une occasion unique de travailler avec un groupe dynamique de marchands indépendants et de participer activement à notre croissance. En lien direct et constant avec nos membres du Québec, votre succès repose sur une compréhension profonde de leurs besoins. Administrateur aguerri, vous devez posséder de bonnes connaissances en informatique et être apte à préparer des présentations étoffées. Castle Building Centres Group Ltd. offre un généreux régime de rémunération et une gamme complète d'avantages sociaux. Toutes les offres de service seront traitées avec la plus grande confidentialité. Veuillez envoyer votre curriculum vitæ à: Yvonne Patton Castle Building Centres Group Ltd. 6375 Dixie Road, Suite 400 Mississauga, Ontario L5T-2S1 Courriel: ypatton@castle.ca
Sell your company - or buy one - with HARDLINES Classifieds! Do your executive search, find new lines or get new reps in the HARDLINES Marketplace. Only $2.75 per word for three weeks in the classifieds. To place your ad, call Brady Peever at 416-489-3396 or email: brady@hardlines.ca
To ensure you receive your HARDLINES newsletter each week, please add bev@HARDLINES.ca to your address book.

Did your email system make this newsletter unreadable? You can read it online instead. call us to find out how.

Publishing Details: HARDLINES is published weekly (except monthly in December and August) by HARDLINES Inc. 360 Dupont Street Toronto, Ontario, Canada M5R 1V 9 © 2008 by HARDLINES Inc. HARDLINES™ the electronic newsletter www.HARDLINES.ca ; Phone: 416.489.3396; Fax: 416.489.6154 Michael McLarney - Editor & President - mike@HARDLINES.ca Beverly Allen, Publisher - bev@HARDLINES.ca Brady Peever - Circulation Manager - brady@HARDLINES.ca The HARDLINES "Fair Play" Policy:Reproduction in whole or in part is very uncool and strictly forbidden and really and truly against the law. So please, play fair! Call for information on multiple subscriptions or a site license for your company. We do want as many people as possible to read HARDLINES each week - but let us handle your internal routing from this end! Subscription:$285 (Canadian subscribers add $14.25 GST = $299.25 per year/ GST #13987 0398 RT).Secondary subscriptions at the same office are only $46 (Canadian subscribers add $2.30 GST = $48.30).Ask about our reduced rate for branch offices.You can pay online by VISA/MC/AMEX at our secure website or send us money. Please make cheque payable to HARDLINES.
COMPANIES IN THE NEWS
TORONTO — The 20th edition of Canada's largest annual show on building design, interior design, construction, housing, renovation and property management is over for 2008 with many highlights including: 23,695 attendees, 1,100 exhibits, 450 speakers making 200 presentations, and the introduction of some 200 new and green products. The focus was on green and environmentally viable products and systems.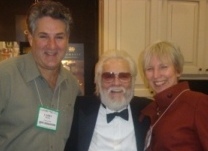 The event also attracted some of our favourite people, including Larry Koza of Barrie, Ont.-based Can-Save, rock and roll legend Rompin' Ronnie Hawkins (on behalf of Cambria), and HARDLINES' own publishing diva, Beverly Allen.

MONTREAL — The Canadian Hardware and Housewares Manufacturers Association held its annual cocktail reception for its Quebec members recently. The event, both entertaining and edifying, was held at the Montréal Museum of Archaeology and History.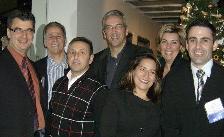 CALGARY — UFA Co-operative Limited has moved to new corporate offices, effective today: 4838 Richard Rd S.W., Suite 700, Calgary, Alta. T3E 6L1. The new main reception number is: 403-570-4500.

OAK BROOK, Ill. — For the holiday season, Ace Hardware has launched "Ace Your Face," a viral campaign that provides consumers a fun and entertaining way to send holiday greetings to family, friends and coworkers. Check it out at http://aceyourface.acehardware.com. The online tool allows individuals to upload photos of themselves and their loved ones in order to create customized holiday scenes. The eight settings feature kitschy group shots with matching snowman sweaters, winter sports adventures, and Santa visits.  "Ace Your Face" is a fun distraction that can easily be shared via e-mail, social media sites and blog links. The marketing and advertising promotions for the campaign include direct e-mails to corporate employees and to members of Ace Rewards, Ace's one-to-one customer loyalty program; banner ads on social media sites, such as Facebook, and popular sites like AOL and Yahoo!; and paid search initiatives. To date, the "Ace Your Face" site has attracted nearly 60,000 visitors. ATLANTA — Home Depot is going to erect a 465,000-sq.ft. distribution centre in Topeka, Kan. Construction is expected to begin in 2009, and employ 150 people initially.
ECONOMIC INDICATORS
The New Housing Price Index increased, year-over-year by 1.5% in October, a slower pace than the 2.1% advance recorded in September and the smallest annual increase since October 1999.Prices decreased 0.4% between September and October 2008, resulting in a New Housing Price Index of 158.1 (1997=100). This was the first monthly decrease at the Canada level since September 1998. The largest year-over-year increases were in Regina (+22.8%) and St. John's (+22.3%). (Stats Canada)
Just Posted Entrepreneurially focused, front-line retail marketing professional with organizational and strategic marketing talents; combines a unique blend of product and market knowledge with solid business development abilities.
Just Posted Achievement-oriented, entrepreneurial and creative. Ability to motivate and lead others. Extensive experience in marketing, sales and retail operations.. Full computer literacy, Cad, Coral, Windows etc.
Posted last week
Seasoned Territory Manager - skilled in building and maintaining customer relationships in the retail building supply channel and industrial tooling & consumables sector. Looking for an exciting new challenge with progressive, growth oriented company calling on all sectors from distribution to end users.
Posted last week Well respected Sales Professional, established relationships in Mid West and South West Ontario. An excellent team player who achieves ongoing success with peers and customers by building morale, maintaining teams' self-confidence and encouraging them to build the sale by improving their people skills, communication skills and Product Knowledge.
Posted last week "Strategic Sales and Marketing Executive available to achieve your top line and bottom line results during these challenging economic times…..If it is leadership, entrepreneurial spirit and passion you seek, look no further….."
Achievement-oriented, entrepreneurial and creative. Ability to motivate and lead others. Extensive experience in marketing, sales and retail operations..
A highly qualified sales/marketing and senior buyer with over 25 years experience and a proven track record is seeking a senior management position with a growth-oriented corporation where leadership and strong communication skills will have an impact on profitability, productivity and market share.
Sales professional - established relationships with key clients in the hardware, building materials, and paint industries, team player, superior business development skills, competitive, enjoys challenges.
Hardlines Quarterly Report
Hardlines Retail Report
Hardlines Hot Product Showcase
Hardlines TV
Free daily news updates
Did you know you can have this newsletter sent to someone else in your office for only $3.83 a month per person?
Click the link below to spread the news to your whole office!