In This Issue
"God is in the roses, and the thorns."—Roseanne Cash (American singer and songwriter, daughter of Johnny Cash, 1955 -. From her excellent album," Pink Cadillac")
RONA show highlights sustainable products, practices

TORONTO — RONA's latest dealer show, held in this city for the first time in the company's 69-year history, was the forum for unveiling the latest step in the retailer's sustainability initiative, one that will include sourcing standards for forest products that will have certification from three major certifications. The program has won the company rare accolades from Greenpeace and Dr. David Suzuki, renowned environmental activist. (Click here to see Dr. Suzuki talk about RONA—Michael)."In 2008, we fixed on our goal to be the industry leader in sustainability," said RONA president and CEO Robert Dutton in a presentation during the show. "The market is ripe for change." He also pointed out the desire of homeowners to rely increasingly on professionals as their time becomes tighter and projects become more sophisticated and costly. He noted that 85% of houses in Canada are more than 10 years old. With the market heading toward more of these types of projects, sustainable development will become more top of mind with consumers, and will be a "key priority" for RONA. RONA's new sustainability policy addresses sourcing for forest products. Normand Dumont, executive vice-president merchandising for RONA, explained in greater detail the scope of the policy. Phase one will include wood products – both the use and sale of wood products. His team will be working with vendors and giving preference to those who meet specific criteria for sustainability. Those criteria are inclusive, and embrace all three major certification programs — Forest Stewardship Council, the forest products marking program of Canadian Standards Association, and Sustainable Forestry Initiative. (In fact, the only way RONA can achieve its goals of 90% sustainability in 2009 and 100% by 2012 is to accommodate all of these programs.) FSC is considered most rigorous, especially as regards biodiversity and aboriginal issues. RONA wants to have all its stores 25% FSC compliant by 2013. The company will also eliminate chemical fertilizers from its shelves by July 1, 2009. Dealers, managers and staff from across the country were able to see many of these initiatives first-hand at the show, which featured some 2,000 new products, including 500 new private-label items.

Top.
RONA introduces proprietary brands
TORONTO — The RONA Spring Market, held here last week, featured products that reflect RONA's aggressive push to expand its private-label offerings. Currently, 17% of the company's SKUs are house brands, with the goal to push that to 20% near-term and 25% longer-term.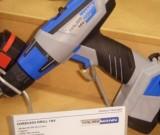 Most notable among the new offerings was a completely new table-top power-tool line. Branded under the "Haussmann" name, this proprietary, or "controlled", brand will replace the RONA Expert table-top line.

A total of 25 Haussmann products will be introduced in 2009, and another 10 will debut under the "Haussmann Expert" brand.

This brand will be available to all RONA banners, including regional banners such as Totem and Chester Dawe. A line of pneumatic compressors was introduced, as well, branded under the Michelin name. A first for the tire company, this line will be proprietary for RONA under a three-year agreement, featuring three corded and three cordless models for 2009. RONA's private-label paint line also featured a new "eco" paint line that is VOC (solvent)-free. (Click here to get a Hardlines TV tour of the RONA Show)
Home Depot Canada cuts jobs, realigns
TORONTO — Home Depot Canada, in response to declining consumer spending, has cut 180 jobs across the country, including 39 from its head-office store support centre. However, of the total people being realigned, 26 have been offered other positions."It's a reflection of what we're seeing with the customer," says Tiziana Baccega, spokesperson for Home Depot Canada. "They're tightening their grip on spending." As a result, the company is focusing on what the customer appears to want — more affordable expenditures. "We're also seeing a real push by customers on small projects," Says Baccega Home Depot's advertising and promotional efforts have reflected that shift, most recently with the announced reduction on the prices of almost 1,000 items on its shelves. "We're educating our customers on how to do those smaller projects. For example, they aren't as likely to replace a kitchen now, so they'll change their lighting fixtures and cabinet hardware, instead." Home Depot employs more than 30,000 associates in this country.
UFA to purchase U.S. sporting goods chain
CALGARY — UFA Co-operative Ltd. is poised to acquire a majority interest in Sportsman's Warehouse, increasing the co-operative's annual revenue by $800 million. Sportsman's Warehouse is a privately-owned U.S.-based outdoor outfitter with annual revenue topping $800 million and 67 stores in 38 American states. The acquisition aligns with UFA's strategy to diversify beyond its traditional businesses to pursue its loyal rural and agro customer in Western Canada. It already has 36 hardware and ranch stores, and acquired another sporting goods chain, Calgary-based Wholesale Sports, in July 2008."UFA is a co-operative serving the people who live, work and play in rural communities," says Dallas Thorsteinson, president and CEO of UFA. "Acquiring Sportsman's Warehouse fits perfectly with our strategy to create sustained valued for our owners by expanding to become a well-rounded rural marketer." UFA will acquire a majority interest in Sportsman's Warehouse, subject to successful completion of negotiations and a comprehensive due diligence process. UFA has already made what it calls "a significant cash injection" into the U.S. retailer to ensure it's well stocked for the holiday retail season. UFA is driving a controlled diversification strategy that includes construction and outdoor-lifestyle businesses. As a rural marketer, outdoor recreational products and services are a logical extension of UFA's existing relationship with customers and members. With the addition of Wholesale Sports and Sportsman's Warehouse, UFA is a major North American force in the outdoor adventure industry. UFA's 2007 revenues were more than $1.8 billion, ranking it among the 40 largest Alberta companies in terms of revenue, according to PricewaterhouseCoopers and Alberta Venture magazine. In 2008, UFA revenues will top $2 billion for the first time, having surpassed the $1 billion mark just four years ago. Sales through its Farm and Ranch Supply outlets and retail building supply business are estimated to reach $400 million this year (source: HARDLINES Who Directory).
Resum

és
Know someone who is between jobs? We will send a complimentary subscription to anyone who is seeking a job. We also offer a free Online Resumé Service. Ask them to call or email us here at the World Headquarters. (And why not tell your HR department about this service!) Email Brady for more info. —Beverly
CAN-SAVE SALES REPRESENTATIVE

Position: Sales Representative Location: Ontario, Near-North ( Orillia to North Bay) Start: Immediately Can-Save, a progressive building materials distributor specializing in specialty building products, doors, and kitchen and bath, has an immediate opening for an Outside Sales Representative for the Ontario, Near-North territory. The successful candidate will:
Have a successful sales background in the building materials industry with a minimum 3 years experience.
Possess the ability to analyze, develop and carry out sales strategies to aid customers in growing their businesses.
Have a proven ability in identifying and following through on new opportunities.
Have consultative, front-line experience working with customers in a sales capacity.
Have the ability to utilize Customer Relationship Management software
Possess excellent communication and business skills.
Be a team player able to work with a variety of disciplines and organizational functions.
Travel within the region and participate in trade show events as required.
Can-Save offers a competitive pay, bonus, and benefits package. Please forward your resume to hr@can-save.ca or fax to 705-722-1124 (Attention: Human Resources).
Intermediate Graphic Designer

We are a Canadian wholesale company related to a renowned international manufacturer of premium woodworking tools. This dynamic, career building opportunity consists of marketing activities related to the creation and implementation of product packaging, sales and POP materials, company literature and presentations, advertisements and publicity, tradeshow materials and in-store signage. The job involves daily interaction with the market/customers and sales staff. Occasional traveling and show participation is required. Organization and meeting tight deadlines in a fast-paced environment is a must. Manditory skills: • Proficient with: Photoshop, Illustrator, InDesign – all on Mac platform. • Knowledge of pre-press/print-ready file preparation. • Knowledge of English/French bilingual requiremnts. • Multi-tasking and time management. Further qualifying assets: • College diploma in marketing, graphic design or related field or equivalent in related work experience in a corporate/marketing environment – possibly in the hardware or retail industry. • Web experience an asset (GoLive and Flash). • Experience meeting with printers, quote process and attending press-approvals. • Bilingual skills an asset. Please send your resume by email. No telephone inquiries please. Only suitable candidates will be contacted further. sales@freudcanada.com

Castle Building Centres Group Limited.

Directeur, développement des affaires – Région du Québec

Castle Building Centres Group Ltd. est un leader parmi les groupes d'achats de l'industrie du bois et des matériaux de construction au Canada. Vous êtes un individu très motivé, possédant des qualités exceptionnelles en relations personnelles et en communication. Ces atouts vous permettront de renforcer et d'accroître notre présence sur le marché québécois. Pour remplir ce mandat, vous devez connaître parfaitement l'industrie québécoise du bois et des matériaux de construction. Vous êtes prêt à voyager régulièrement, tout en étant à l'aise de travailler éloigner de la maison mère. Bien entendu, la maîtrise parfaite des deux langues officielles est indispensable pour ce poste. Vous rapportant directement au Président, voici une occasion unique de travailler avec un groupe dynamique de marchands indépendants et de participer activement à notre croissance. En lien direct et constant avec nos membres du Québec, votre succès repose sur une compréhension profonde de leurs besoins. Administrateur aguerri, vous devez posséder de bonnes connaissances en informatique et être apte à préparer des présentations étoffées. Castle Building Centres Group Ltd. offre un généreux régime de rémunération et une gamme complète d'avantages sociaux. Toutes les offres de service seront traitées avec la plus grande confidentialité. Veuillez envoyer votre curriculum vitæ à: Yvonne Patton Castle Building Centres Group Ltd. 6375 Dixie Road, Suite 400 Mississauga, Ontario L5T-2S1 Courriel: ypatton@castle.ca
National Account Manager

Here we grow again!

Graham & Brown Limited supplies some of the largest and most well known retailers around the world with innovative home enhancement products designed to meet our consumers' needs. In Canada, the company sells its' Wallpaper and Art products through well recognized retailers like Home Depot, Wal-Mart, Canadian Tire, Home Outfitters, Lowe's and Kent.

Rapid growth in Canada requires us to seek a candidate to fill the position of National Account Manager to manage and grow several of these key National customers. This senior role is an excellent opportunity for a highly motivated, experienced and enthusiastic individual looking for career advancement in a fast paced, entrepreneurial environment.

Key Responsibilities

- Exceed sales & profit targets by growing current products & introducing new products. - Develop & implement a Business Plan for target accounts. Present to retail buyers. - Achieve results through strategic Category Management with assigned accounts. - Work & communicate effectively with all support functions - Monitor & report on sales & profit by account as well as forecasts & inventory. - Manage account expenses to ensure that activities are carried out on Budget. - Analyze & report on POS with customers utilizing their in-house reporting systems.

Qualifications

- 10+ years experience as a National Account Manager selling consumer goods to National accounts in the Hardware/Home Improvement/DIY segment

- Experience working in the Canadian DIY market

- University or College graduate - A proven track record of partnering with retail buying teams to drive sales - Experience working with retailers & their POS reporting systems (i.e. Retail Link, Dart) This is a senior sales role within Graham & Brown. We offer a generous compensation package commensurate with this senior position that consists of a base salary, bonus program, car allowance and comprehensive benefit plan. The company is located in Oakville just off the QEW at Trafalgar Rd. Interested applicants should submit their resumes along with compensation expectations to gary.gill@grahambrowncdn.ca. No phone calls please.
Sell your company - or buy one - with HARDLINES Classifieds! Do your executive search, find new lines or get new reps in the HARDLINES Marketplace. Only $2.75 per word for three weeks in the classifieds. To place your ad, call Brady Peever at 416-489-3396 or email: brady@hardlines.ca
To ensure you receive your HARDLINES newsletter each week, please add bev@HARDLINES.ca to your address book.

Did your email system make this newsletter unreadable? You can read it online instead. call us to find out how.

Publishing Details: HARDLINES is published weekly (except monthly in December and August) by HARDLINES Inc. 360 Dupont Street Toronto, Ontario, Canada M5R 1V 9 © 2008 by HARDLINES Inc. HARDLINES™ the electronic newsletter www.HARDLINES.ca ; Phone: 416.489.3396; Fax: 416.489.6154 Michael McLarney - Editor & President - mike@HARDLINES.ca Beverly Allen, Publisher - bev@HARDLINES.ca Brady Peever - Circulation Manager - brady@HARDLINES.ca The HARDLINES "Fair Play" Policy:Reproduction in whole or in part is very uncool and strictly forbidden and really and truly against the law. So please, play fair! Call for information on multiple subscriptions or a site license for your company. We do want as many people as possible to read HARDLINES each week - but let us handle your internal routing from this end! Subscription:$285 (Canadian subscribers add $14.25 GST = $299.25 per year/ GST #13987 0398 RT).Secondary subscriptions at the same office are only $46 (Canadian subscribers add $2.30 GST = $48.30).Ask about our reduced rate for branch offices.You can pay online by VISA/MC/AMEX at our secure website or send us money. Please make cheque payable to HARDLINES.
COMPANIES IN THE NEWS
TORONTO — At its annual meeting with vendors last week, Home Depot Canada laid out plans for 2009. Those plans will focus on productivity improvement as the company utilizes its SAP systems to develop electronic planogramming for stores. The new system will enable Home Depot merchants to planogram stores according to local market needs, rather than being based solely on national programs. The company also expressed its desire to increase its "pro" or contractor business in Canada.TORONTO — Sears Canada's sales for the third quarter increased 5.5% to $1.44 billion, from $1.37 billion, while net earnings for the quarter, excluding unusual items, increased 47.4% to $67.8 million, or 63 cents per share, from $46.0 million, or 44 cents per share, in the same quarter last year. Unusual items were related to the sale of the company's headquarters building, and as a result, net earnings decreased 33.8% to $68.9 million or 64 cents. MONTREAL — Shops in Downtown Montreal will be able to stay open past five p.m. on weekends. Stores in tourist areas of Old Montreal, Chinatown, and the Old Port, have been able to stay open later for years. The move recognizes the 20,000 tourists that come to Montreal each weekend (and likely responds to tightening spending by consumers). The program is a trial for 18 months.

EDMONTON — Home Depot opened another store here last week, its seventh in Edmonton. It's located in the city's oldest mall, Westmount Centre. The store employs about 100 staff. Another store, in the city's toney Windmere district, will open Dec. 11.

LONDON — For its third quarter, Kingfisher plc, whose retail divisions include B&Q, Castorama, Screwfix, and Hornbach, reported that retail sales were flat, at £2.6 billion, while retail profit was down 4.0% to £176 million. Same-store sales were down 5.1%. In the flat French market, sales and retail profit both grew. In the weak U.K. market, retail profit was £36 million, down £9 million, with margin and cost initiatives helping to offset the impact of lower sales. While its businesses in Eastern Europe delivered strong sales and profit growth, market conditions in China continued to deteriorate, impacting trading. "Consumer confidence has clearly been shaken over the last few months by international economic events and this has impacted demand in all our markets," said Ian Cheshire, Group CEO. "However, we enter this period of slowdown in a strong position with a robust balance sheet, international market leadership, retail brands with a strong value positioning, and significant buying scale." He added, "There are clearly more challenging times ahead and we are concentrating on trading effectively in difficult markets by managing our working capital, cash and costs tightly." CALGARY, — RenoWorks Software, based here, has been recognized, along with its client, Home Hardware Stores Ltd., by the International Academy of the Visual Arts with a Silver Davey Award for HomeWorks Software, a state-of-the-art visualization software created for Home Hardware by RenoWorks to allow homeowners to try Home Hardware building products on images of their own home — before they buy. HomeWorks users have access to more than 2,500 Home Hardware products from more than 30 major building materials manufacturers. In addition to the software, the awards recognized a nationally run contest that saw thousands of design ideas submitted by homeowners and over $10,000 in prizes. "HomeWorks is a unique product that partners homeowner creativity with Home Hardware products through technology," said Doug Vickerson, RenoWorks CEO. "The recognition of a Davey Award confirms that we are providing an innovative solution for Home Hardware". MISSISSAUGA, Ont. — Wal-Mart Canada will operate 192 of its 310 stores nationwide around the clock in December. The stores will open their doors on December 1 and leave them open until closing time on Christmas Eve, 576 hours later.
PEOPLE ON THE MOVE

Philippe La Roche has been appointed by TIM-BR MART as commercial division manager, effective Dec. 1. Based out of the TIM-BR MART Toronto (Mississauga) office, he will work closely with commercial dealers coast-to-coast, as well as vendor partners, and report to Tim Urquhart, president and CEO of TIM-BR MART. La Roche has spent the last 17 years with Beauchesne Group, one of TIM-BR MART's larger GSDs. For much of that time he was directly involved in supplier negotiations as their director, finance & business development, and later as general manager. He has been a member of the TIM-BR MART Commercial Division negotiations committee for the last two years to further represent dealer interests with vendors. He also has experience as a manufacturer: Beauchesne Group is one of Quebec's largest producers of steel studs, selling to the network of TIM-BR MART commercial dealers. A designated CMA, La Roche has also worked in the medical device and consumer packaged-goods industries.Wal-Mart Stores has elected Mike Duke, who formerly led the retailer's logistics division and was most recently head of Wal-Mart's International Division, to succeed Lee Scott as president

and CEO, effective Feb. 1, 2009. He was also elected to the company's board of directors, effective immediately. Scott, who led the company for nine years, will continue serving as chairman of the executive committee of the board.
ECONOMIC INDICATORS
Retail sales totalled $36.3 billion in September, up 1.1% from August and the strongest rise in sales in eight months. Sales by new car dealers were up for the first time since January, by 2.2%, accounting for most of this growth. Factoring in price changes, sales rose by 0.7%.
OVERHEARD…
"We have to show the market that, no matter what the economic conditions, we have the best model for growth." —Robert Dutton, president and CEO of RONA inc. Speaking last week to investors and media, he explained why RONA's dealer development team now reports directly to him. This new role will find him getting back on the road to meet with dealers personally over the coming year. RONA has recruited 26 new dealers so far in 2008, representing $125 million in annualized sales. Another 50 dealers from other banners attended the show.
Just Posted Achievement-oriented, entrepreneurial and creative. Ability to motivate and lead others. Extensive experience in marketing, sales and retail operations..
Posted last week A highly qualified sales/marketing and senior buyer with over 25 years experience and a proven track record is seeking a senior management position with a growth-oriented corporation where leadership and strong communication skills will have an impact on profitability, productivity and market share.
Sales professional - established relationships with key clients in the hardware, building materials, and paint industries, team player, superior business development skills, competitive, enjoys challenges.
Hardlines Quarterly Report (New Report out now!) Hardlines Retail Report (Just released!)
Hardlines Hot Product Showcase
Hardlines TV
Free daily news updates
Did you know you can have this newsletter sent to someone else in your office for only $3.83 a month per person?
Click the link below to spread the news to your whole office!