Next Issue of Hardlines: January 4, 2010 Here are some of the things we're working on for 2010 to help you:
Johns Manville Hardlines Dealer Conference at LBMAO Show
The Second Annual Johns Manville Hardlines Dealer Conference will be held in association with the Canadian Home Improvement Show FEBRUARY 11 & 12, 2010. The purpose is to help dealers sell smarter: two information-packed mornings that will help dealers build their business and increase their profits.Dynamic keynote speakers and targeted breakout sessions will cover a range of topics vital to the growth of the retail home improvement dealer:
understanding the business climate of today's tough economy,
the latest technology to run your business better,
staff training and retention,
and inventory and financial management.
At the Toronto Congress Centre. Click here to register.

Top.
Annual Big Box Report gives the lowdown on Home Depot and Lowe's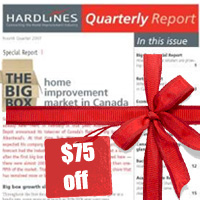 The next issue of our sister publication, Hardlines Quarterly Report, features our annual update on Lowe's, Home Depot and RONA's big box operations. Plan your year with the latest intelligence on everybody's biggest customers – and competitors!
Access to Must-Attend shows for 2010 — Cologne in February, Vegas in May
Hardlines is involved in two very important international trade shows: our renowned Canadian International Reception at the International Hardware Fair in Cologne, Germany, Feb. 28-March 3 and our presence at the National Hardware Show in Las Vegas, May 4-6, 2010
Helping you understand the market better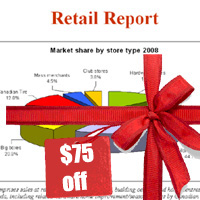 The Hardlines Research Department has been working overtime this year to bring you this amazing report: The Retail Home Improvement Report, the Annual Report on Canada's Retail Hardware/Home Improvement Industry", 2009-2010 Edition. This in-depth Report is a comprehensive study of the growth and trends driving Canada's retail home improvement industry. This will give you the detailed information on the size and growth of the industry, the winning retailers and winning sectors. Click here for more info.
Detailed market share information now available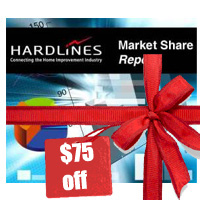 For the first time ever in Canada, an in-depth Market Share Report on Home Improvement Retailing of unprecedented depth and detail. Never before released information, only available from Hardlines. Featuring:
Full provincial breakdowns of sales
Market share and store counts of all the key hardware/home improvement retailers in Canada
Breakdown by province of sales and store counts of each hardware, building supply and big box retailer
This Report is our hottest seller of 2009. Click here for more info
Who's Who Directory of key customers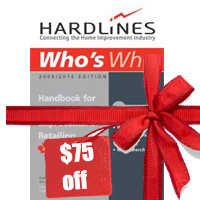 The Annual Who's Who Directory of Retailers, Buying Groups, Co-ops, Wholesalers and Mass Merchants is our handbook for every salesperson, agent, rep and marketer on or off the road: thePages and pages filled with:
Full contact information: address, phone and fax, emails and websites
Key buyers and their categories
Key executives and management teams
Number of stores owned or served and buying group affiliations
Annual sales with breakdowns by key categories
Breakdown of customers by type
Click here to order today
Sales and Marketing Coordinator

Wells Lamont Retail, Inc is a leading distributor of quality work and garden gloves to the retail environment. Corporate headquarters are located in the Chicago, Illinois area, though this position will be home based in the Canadian GTA.

Reporting to the Vice-President of Sales and Marketing (Canada), the Sales/Marketing Coordinator is responsible for supporting a broad range of sales and marketing activities and creating goodwill for WLR's products and services in the Canadian marketplace. Responsibilities include: review, analyze and update market data (spec sheets-price lists, collateral material, etc); liaison between customers, prospects, suppliers, sales and other internal personnel; create customer/product presentations and forecasts; communicates creation of new items and product info. to sales (product images, pricing, UPC's, carton dimensions, etc.); prepare monthly reports, charts, internal systems documents; and coordinate trade shows.
Ideal candidates will have solid self-management skills, excellent verbal (phone) and written communication skills, ability to multi-task-organize- prioritize to meet deadlines, customer service oriented and proficient problem solver. At least 3-5 years in a sales/or marketing support role (bachelors degree preferred). Exposure to retail products in a mfr or distribution environment helpful. Computer literacy using PowerPoint, Excel and Word software programs.
We offer a competitive salary and benefits package. For consideration, please send resume (with salary history) to dwaltmire@wellslamontretail.com. Only local candidates will be considered. Telephone calls will not be accepted.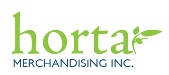 COMPANY IS SEEKING NEW LINES IN ONTARIO

Horta has over 8 years of in-store experience delivering full-service vendor managed inventory programs for several live goods vendors selling to a major home improvement retailer. Team of seasoned reps able to drive sales and execute retail merchandising programs tailored to your needs. Year-round market coverage or special project focus for gardening lines or any other category. Contact Deb Ondejko at debbieo@horta.ca to explore how this team of professionals can assist your company with its in-store presence.
To place an ad in our classified section click here or call 416—489—3396
Sales Professional Power Tools / Consumer Products with extensive big box retail experience
Senior sales/marketing leader with experience in all classes of trade wishing new hardlines career.
Very Experienced Business Unit Manager, great passion for generating sales and building relastionships.
Worked through my career within the manfucaturer, wholesale and consumer goods industries.
Senior Sales Manager with vast experience in retail and wholesale sales growth in Canada.
A seasoned buyer/manager looking for new role in sales management or buying.
National sales or Accounts Manager in the packaged goods retail industry.
Results oriented sales professional with a strong record of achievement in strategic and tactical roles.
Seasoned Sales veteran. Experienced, dealing with established and new manufacturers introducing new products to key retailers in the Canadian market.
Leadership, sales and communication skills, seeking a challenging and results—oriented environment.
A creative, strategic thinking and results oriented Sales Professional.
Know someone who is between jobs? We will send a complimentary subscription to anyone who is seeking a job. We also offer a free Online Resumé Service. Ask them to call or email us here at the World Headquarters. (And why not tell your HR department about this service!) Email Brady for more info. —Beverly
Marketplace
Sell your company — or buy one — with HARDLINES Classifieds! Do your executive search, find new lines or get new reps in the HARDLINES Marketplace. Only $2.75 per word for three weeks in the classifieds. To place your ad, call Brady Peever at 416-489-3396 or email: brady@hardlines.ca
To ensure you receive your HARDLINES newsletter each week, please add bev@HARDLINES.ca to your address book.

Did your email system make this newsletter unreadable? You can read it online instead. call us to find out how.

Publishing Details: HARDLINES is published weekly (except monthly in December and August) by HARDLINES Inc. 360 Dupont Street Toronto, Ontario, Canada M5R 1V 9 © 2009 by HARDLINES Inc. HARDLINES™ the electronic newsletter www.HARDLINES.ca Phone: 416.489.3396; Fax: 416.489.6154 Michael McLarney — Editor & President — mike@HARDLINES.ca Beverly Allen, Publisher — bev@HARDLINES.ca Brady Peever — Client Services Manager — brady@HARDLINES.ca Chiaki Nemoto — Accounting — chiaki@HARDLINES.ca The HARDLINES "Fair Play" Policy:Reproduction in whole or in part is very uncool and strictly forbidden and really and truly against the law. So please, play fair! Call for information on multiple subscriptions or a site license for your company. We do want as many people as possible to read HARDLINES each week — but let us handle your internal routing from this end! Subscription:$299 (Canadian subscribers add $14.86 GST = $315.21 per year/ GST #13987 0398 RT).Secondary subscriptions at the same office are only $48.75 (Canadian subscribers add $2.44 GST = $51.19).Ask about our reduced rate for branch offices.You can pay online by VISA/MC/AMEX at our secure website or send us money. Please make cheque payable to HARDLINES.