December 3 , 2012, Volume xviii, #46
"I start with the premise that the function of leadership is
to produce more leaders, not more followers."
—Ralph Nader (American political activist, lawyer, and author, 1934- )
______________________________________________________________________
LBMAO show looks to reinvent following low attendance
      TORONTO ― Just eight years after its inception, the Canadian Home Improvement Show, the buying show owned by the Lumber and Building Materials Association of Ontario, is facing serious challenges.

Held at the Toronto's Congress Centre, the show has faced declining dealer attendance until this year, when participation reached a new low.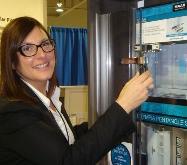 Exhibiting at the Canadian Home Improvement Show as part of a group stand from Quebec, Christine Joannu of Maax shows off a new shower door with adjustable hinge. It's one of the recent innovations that has earned Maax Vendor of the Year status from both BMR and Home Depot Canada.
While Ontario accounts for fully one-third of the entire Canadian home improvement market, the show does not attract dealers the way association shows in the Prairies and Atlantic Canada do. "It's a very concentrated market," says Dave Campbell, president of the LBMAO. "And dealers here are extremely well served by the vendor base. So they don't have the same need to get in front of those vendors at a show."

But the dealers who have shown up have been finding value, Campbell insists. "Some of the dealers I'm talking to say they are really blown away by the products they are seeing. Even they're wondering why more of their fellow dealers aren't in attendance."

The show faces other challenges, however. It must compete with a growing number of shows by wholesalers and groups, including Home Hardware twice a year, the TIM-BR MART show in the spring, and the Chalifour buying show at the end of October. Now even U.S. by Memphis-based hardware wholesaler Orgill is attracting more and more Canadian independents to its shows in the U.S.

This year's event did have its high points, however. Product knowledge training and demos were introduced this year, attracting some attention from dealers. And the Johns Manville Dealer Hardlines Conference, historically held over breakfast on the first morning of the show, offered an expanded program that lasted until noon. "We had great pickup on the attendance at the Dealer Conference. There are certainly opportunities for more training and education, so I see looking at combining a conference and show again next time," says Campbell.

He adds that he and his board will take a hard look at what can be done in 2013. "We're certainly looking at changing the format and looking at how to re-invent the show to meet the needs of our members."
back to top


______________________________________________________________________
Nearing 50th, Castle says recruitment paying dividends
MISSISSAUGA , ON — Castle Building Centres has been on an aggressive recruitment campaign to attract dealers that align with the group's mandate — to support independents and their own banners rather than a national brand.

The campaign, launched in the third quarter of this year, has been paying dividends, says the group, which reports that online traffic to Castle's recruitment site has increased 300% as a result of promotional and advertising efforts. The campaign has touted Castle's three tenets: transparency, freedom, and profits.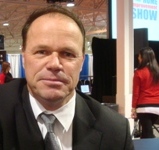 As it prepares to celebrate 50 years in existence in 2013, Castle is also reaching record numbers. Where historically its membership hovered around 225, its ranks have swelled to almost 300. "I think 2013 will be our most successful year," says Ken Jenkins, president of Castle Building Centres. That success, he notes, will be measured "in terms of new member traction, purchase volume increases, total member growth, and rebate payments."

Those purchases, by the way, are expected to be up by 14% over 2011. "Despite a flattening of the industry mid-year, Castle kept growing thanks to dealer recruitment."

The latest member to join was Heritage Hardware and Farm Supply Ltd., which operates a Pro Hardware store in Cardston AB.
______________________________________________________________________
New format, new ideas spell success for Dealer Conference
TORONTO ― What's in store for Canada's housing market and how will it affect Canadian dealers? How did a re-branding exercise help a century-old company return to its roots? And what do you do if you don't have an army of marketers in your store to manage your social media?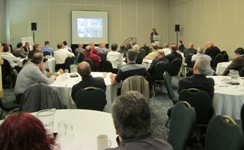 These were the issues addressed by the speakers at the Fifth Annual Johns Manville Hardlines Dealer Conference, held last week in conjunction with the Canadian Home Improvement Show (CHIS), put on by the Lumber and Building Materials Association of Ontario.

The LBMAO partnered with HARDLINES five years ago to help boost the appeal of its show through education; the conference this year enjoyed record attendance from both dealers and vendors.

According to Sacha Chua, a Toronto-based social media coach, "People resist new technology, not because they're 'old fogies' who resist change, but because they have existing techniques that work well for them." So a dealer has to evaluate whether a new technique, such as social media, is worth the time and investment to undertake.

But the odds are, she noted, your customers will want to check you out online first, so it's important to have an online strategy to deal with that. It doesn't have to be fancy, just consistent. And make sure your store's website has the basics, including store hours, location, and your specialization.

Martha Konantz, president of North American Lumber, told the story of her company's 100-year legacy, and how a search to re-brand the company in modern times ended up drawing the company even more closely to its roots as a chain of small-town stores whose successes are built on offering strong customer service.
______________________________________________________________________
Home Depot's first RDC planned for early 2014
TORONTO ― Home Depot Canada is building its first "Rapid Deployment Centre." These RDCs, as they're called for short, already play an integral part of the retailer's supply chain in the U.S. There, they've been replacing smaller distribution centres, but with a twist ― they don't warehouse product.

The purpose of Home Depot's RDCs is to provide what it calls a "fast-flowing facility where products from our suppliers are received and quickly sorted so they can be immediately distributed to various stores." Unlike traditional distribution centres, RDCs act as flow-through facilities to get product sorted and forwarded directly to the stores.

Faced with competitive pricing, especially from online merchants like Amazon and Walmart.com, Home Depot Canada sees the new structure as an important way to reduce the costs of getting products from suppliers to store shelves.

Home Depot has 18 RDCs in the U.S. and the two planned for Canada would complete the network. The first will open in Vaughan, north of Toronto, on the southeast corner of Highway 50 and Rutherford Rd. The company says the location was chosen because it is close to a large number of stores in Southern Ontario and because of its proximity to the CP rail lines that run across the top of the city.

A second site is being planned for Western Canada.

The new Vaughan location will replace a temporary facility nearby in Concord, ON. Home Depot expects the operations to be transferred to the new Vaughan location by January 2014. It will be 657,600 square feet in size, the equivalent of about 12 football fields. It will house more than 200 shipping and receiving doors and process 400,000 cartons per week.

The warehouse will operate 24 hours a day year round and employ 350 staff, 130 of whom will come from the Concord facility.
______________________________________________________________________
Hickey's third store features prototype display
ST. JOHN 'S, NF ― Hickey's TIM-BR MART opened its third location last week, this one at 426 Torbay Rd. Besides being the third store owned by the Hickey family (the other two are in Conception Bay South and Harbour Main), the outlet features a number of merchandising and renovation concepts developed by TIM-BR MART's retail services division that will act as a model for other TIM-BR MART retailers.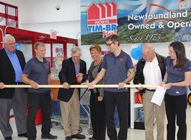 Those innovations, designed by Halifax based Revolve, include a fully integrated LBM display showcasing windows, doors, siding, roofing, and mouldings. The display, which will be rolled out to TIM-BR MART retailers across the country in 2013, was developed in partnership with TIM-BR MART and key vendors.

Manager Brad Hickey says of the 40-year-old operation, "This truly is a family business as mom, dad, and all three children work at Hickey's, which employs over 100 people."
______________________________________________________________________
Classifieds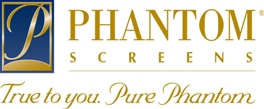 VICE PRESIDENT, SALES - TORONTO OR VANCOUVER
Black Eagle Executive Search, Oakville, ON, is conducting this search on behalf of its client, Phantom Screens www.phantomscreens.com. With head office in Abbotsford, BC, Phantom Screens has rapidly grown to become North America's leading provider of retractable screen solutions, expanding from a small local operation to a multi-national company with an extensive network of Authorized Distributors throughout North America, and also rapidly expanding in the UK, Australia, Mexico, and other international locations.
The company is looking for a VP Sales located in either Toronto, ON or Vancouver, BC to develop, plan and implement the overall sales direction and associated strategies throughout the organization. Attractive compensation package including salary, performance bonus, and benefits. Reports directly to the CEO.
POSITION RESPONSIBILITIES:
Create, recommend and implement annual and long-range strategic plans that support business development and the achievement of the organization's long-term goals.
Increase sales to deliver profitable growth
Develop and manage revenue goals for all Sales Channels - Distributor network, National accounts including Big Box, International, and OEM.
Manage key customer relationships and be actively involved in the closing of strategic opportunities.  
Develop the annual sales revenue budget
Develop and manage sales expense budgets
Work closely with the Marketing Services team to establish successful channel and partner programs. Communicate market trends, competitor activity, distributor and end-user needs.
Coach, mentor and inspire internal and external sales teams.
Define and coordinate sales training programs  
Define and oversee incentive programs that motivate the sales team. 
Ensure the Customer Relationship Management program is implemented and fully utilized.
Work closely with the CEO, the Management Team and other senior managers
KEY COMPETENCIES
Dedication to championing the organization's values, vision and mission in the marketplace.
Highly developed analytical skills
Superior interpersonal and communication skills
Ability to effectively lead, coach, and motivate employees
Equally comfortable working independently or as a contributor in a team environment.
Extensive experience in sales contract negotiations.
Proficient in the use of the Microsoft Office Suite of programs
KEY QUALIFICATIONS
Bachelor's degree with a business concentration. An equivalent combination of education and experience may be considered.
Minimum of 10 years sales experience, at least 5 of which must have been in a senior management position controlling multiple sales channels and working with C-level executives
Knowledge and experience in the consumer packaged goods industry. Experience in the home improvement industry is an asset.
Detailed knowledge of distribution networks
Experience in selling internationally outside North America
Bilingual (English/French) not required, but would be an asset.
Ability to travel extensively
Please submit résumé via email to: Black Eagle Executive Search
c/o Richard Simms at rsimms@blackeagle.ca
Only candidates of interest with be contacted

______________________________________________________________________

Resumés
Professional with over 25 years of experience in Sales, Marketing, Merchandising and Administration

view this

resumé

Marketing professional with over 10 years experience looking to secure a new full-time position.

view this

resumé

A Sales Professional with over twenty years of experience.view this

resumé

Experienced District Manager with a proven track record with several national chains. view this

resumé

A conscientious, highly motivated manager with a results-oriented track record in developing new business.

view this

resumé

An experienced merchandising executive possessing passion, vision, and a strategic approach to delivering bottom-line.

view this

resumé

Senior sales/marketing leader with experience in all classes of trade wishing new HARDLINES career. view this

resumé

Very Experienced Business Unit Manager, great passion for generating sales and building relastionships.view this

resumé

Worked through my career within the manfucaturer, wholesale and consumer goods industries. view this

resumé

Senior Sales Manager with vast experience in retail and wholesale sales growth in Canada. view this

resumé