December 5, 2011, Volume xvii, #46
"The colour of springtime is in the flowers, the colour of winter is in the imagination." — Terri Guillemets (American anthologist, 1973- )
______________________________________________________________________

______________________________________________________________________
HOLIDAY PRINTING SCHEDULE: Please note, Faithful Reader, that we will publish HARDLINES just once more this month. There will be no issue on the 26th. We are in the office up to Christmas, working on the Annual Market Share Report and the next issue of HHIQ. Back to our regular weekly schedule on Jan. 2, 2012. —Michael
______________________________________________________________________
New products, new services at RONA show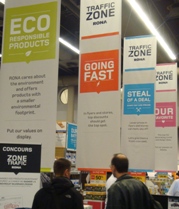 MONTREAL — The diversity of services available to RONA dealers and managers was evident at the latest RONA show, held here last week.

Those services started as soon as one entered the show itself. Front and centre was a model home showcasing a new pre-fab house program for dealers. Called "Fabrica," it's been developed in partnership with Canadian modular home builders (more on this in next week's issue —Michael).

A range of new products was also being shown, in the distinctive way that RONA conducts its shows, whereby vendors don't present products from their own booths, but in "departments" that mimic the interior of a store, complete with a fully merchandised department.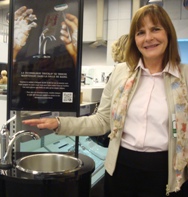 (Click here for a video tour of the RONA show at Hardlines TV!)

RONA used the show as a forum for promoting its newly announced initiatives in sustainability. Two new policies, one on paper products use and the other on sustainable packaging, are, says the company, another way in which "RONA is taking concrete and significant steps toward the environment." Show here (left) Lyn Jauncey, key account manager at Masco, shows off a new touchless faucet at the RONA show.
back to top



______________________________________________________________________
TruServ introduces UNIQ banner at RONA show
MONTREAL — TruServ Canada, the Winnipeg-based wholesaler acquired by RONA a year ago, had a full team on hand at the latest RONA show to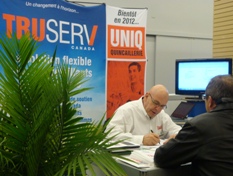 present options for dealers interested in other banners besides RONA. TruServ had already launched the TRU banner to replace True Value for its hardware and building centre dealers in the spring. UNIQ got its official coming out at this RONA show. The banner is a French-language version of the new banner launched by TruServ last spring at its own show in Winnipeg.

Bill Morrison, president of TruServ Canada, and his team from Winnipeg (Include Serge Vézine, shown here) were on hand talking about the TRU program, which requires a smaller financial commitment than the full RONA bannered affiliation. According to Morrison, the most interest is coming from existing RONA dealers who want to expand in their local markets where there may be no room for another RONA. It also has appeal, he added, for new recruits who are switching banners or are considering entering the business from the ground up.

"This is a much simpler package," Morrison said, one that is suitable for smaller communities. "Really, what RONA has recognized is that one size does not fit all. The TRU-UNIQ package can really serve smaller and niche dealers."
______________________________________________________________________
RONA Show moves in 2012
MONTREAL — The future of the RONA show itself was also a topic of discussion on the floor of the Palais de congrès last month. RONA will hold next year's event in Toronto at the Metro Convention Centre, Sept. 20-22.

However, this will be the last time the show will move outside of Montreal. Last year, it was held in Calgary, and there were plans, at one point, to hold it in Vancouver, then rotate the show annually from Montreal to Toronto to a city in the West. Those plans have been scrapped due to the high costs of moving so many people from head office to a different province to operate the show.

The timing of the 2012 show will pose a challenge for many vendors, as it overlaps with the pre-market conference that precedes the Home Hardware Fall Market in St. Jacobs, ON. For many vendors, this would be setup day for the Home Hardware event.
______________________________________________________________________
Loblaws digs into history with Maple Leaf Gardens store
TORONTO — Anticipation around the opening of the new Loblaws store in the historic Maple Leaf Gardens was indeed intense in this city. People began lining up at 11:15 the night before to see what has become of the legendary Gardens, now remade into an urban grocery store with a rink on the top floor that is part of Ryerson University.

HARDLINES was there and got a tour from Mario Fatica, vice-president, planning development and approvals at Loblaw.

"The intent was to restore the building to its former glory," Fatica says. That includes using a number of elements from the original Gardens. A collage made of blue chairs from the arena sits high on the wall as one enters, and illumination there and elsewhere in the building comes from the Gardens' actual light fixtures.

The coolest part of the tour was a spot in grocery aisle 25: a nine-inch red dot on the floor marks the location of what was once centre ice.

(Click here for an exclusive HARDLINES photo tour of the new Loblaws at Maple Leaf Gardens.)
______________________________________________________________________
Classifieds
______________________________________________________________________
A Sales Professional is required WITH PROVEN SALES ABILITY selling hardware, home improvement and seasonal lawn and garden products to retailers and wholesale distributors in the province of Quebec.

As a member of our team you will conduct presentations to key retail and wholesale accounts. You are bilingual, have related sales experience and have above average computer skills.

Please forward your resume to: grantbros1@rogers.com
_______________________________________________________________________
Resumés
Experienced District Manager with a proven track record with several national chains.

view this

resumé

A conscientious, highly motivated manager with a results-oriented track record in developing new business.

view this

resumé

A goal oriented sales director that has superior management skills, customer oriented, with in depth knowledge of the industry and the ability to achieve results.

view this

resumé

An experienced merchandising executive possessing passion, vision, and a strategic approach to delivering bottom-line.

view this

resumé

Senior sales/marketing leader with experience in all classes of trade wishing new HARDLINES career. view this

resumé

Very Experienced Business Unit Manager, great passion for generating sales and building relastionships.view this

resumé

Worked through my career within the manfucaturer, wholesale and consumer goods industries. view this

resumé

Senior Sales Manager with vast experience in retail and wholesale sales growth in Canada. view this

resumé
Connect with us!