February 18, 2013, Volume xix, #6
"A good hockey player plays where the puck is. A great hockey player plays where the puck is going to be." — Wayne Gretzky (Canadian former hockey player and coach, 1961- )
______________________________________________________________________
Kent's store expansion continues
            SAINT JOHN , NB — Recent expansion efforts by Kent Building Supplies have reached new heights. The giant retailer, privately owned by the Irving family in New Brunswick, is aggressively opening new stores—and rumours abound that it is making plays for some of Atlantic Canada's other large independent chains.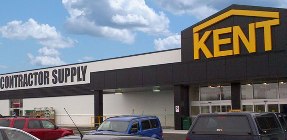 A store being erected in Charlottetown will replace a former 50,000-square-foot Schurman outlet (part of Kent's acquisition of the Schurman chain in Prince Edward Island in 2004). The new store, in the Royalty Power Centre, will weigh in at 100,000 square feet, the first big box from Kent in almost a decade.

A new store being built in Dieppe, NB, across the river from Moncton, will add a big footprint to the Dieppe area, in a retail development beside the Greater Moncton International Airport. Also in New Brunswick, an acquisition of two existing 6,000-square-foot locations, one in Shediac and the other in Pointe à Landry, re-opened with the Kent banner recently.

Moncton will also be the site of a new distribution centre. The facility is reportedly 368,000 square feet in size, with plans to make it expandable to allow for a second phase of expansion soon after the opening in the spring. It replaces an existing DC that has been deemed too small to handle the retailer's growing needs in the region. Phase one of the new DC will handle commodities, mainly building materials and heavy industrial hardware. More traditional hardware lines will reportedly be added over time.

Kent erected its first Kent Contractor Supply outlet in the St. John's area, in Conception Bay, NL, before Christmas. The performance of this store will likely be evaluated before any wider rollout of these specialty contractor yards is considered.

Kent now has 40 retail outlets throughout Atlantic Canada, with estimated sales approaching $500 million (source: Hardlines Who's Who Directory of Retailers, Buying Groups and Co-ops ) .
back to top
______________________________________________________________________
Byco buying group working for members
  CALGARY ― With the latest round of vendor negotiations just about over, Canada's newest buying group is, according to its members, working out just fine, thank you.



Byco was formed last summer when Sexton Group and Delroc Industries left Independent Lumber Dealers Co-operative (ILDC), and, with Allroc Building Products, got together to pool their commodities purchases. According to Paul Vandenberg, president of Allroc, the union makes sense.

"It's about increasing our purchasing power," he says, "but it's also about putting together relationships with the manufacturers that make sense." So far, the focus of the new group has been on insulation, drywall, roofing, and steel studs. "We may get into other product categories as we go along, but 2013 is a setup year."
______________________________________________________________________
Home Hardware pays attention to pros
  ST. JACOBS, ON — Contractors are important to Home Hardware's dealers. How important? According to Jack Baillie, Home Hardware's director of marketing, half the banner's stores are building centre dealers—but they account for about two-thirds of Home's overall retail sales.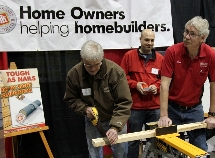 "The contractor is more important to the building centre dealer than to the hardware dealer, although many hardware stores do good contractor business, as well." On average, anywhere from 50-60% of total sales by Home's LBM stores go to renovation contractors and custom builders.

Baillie points out that Home has three major areas in which it promotes to contractors. The first is its "Tough as Nails" program. That includes a series of contractor appreciation events each spring, as well as other ways to communicate to the trades, such as a newsletter of their own. The "Top Notch" loyalty program offers points to contractors based on paying their bills quickly and on time. Third, Home works with the Canadian Homebuilders Association and encourages individual dealers to align themselves locally with their own homebuilders' associations.

"These all help the dealer develop a closer relationship with their contractor customers," he adds.
______________________________________________________________________
TSC Stores' expansion to focus on Ontario
LONDON , ON — Farm and hardware retailer TSC Stores sees an opportunity for up to 70 full size stores in Ontario. Although the company has made forays into Manitoba's agro market, continued expansion for the near term will focus on its home province.

"There are still great opportunities out West, but we can best leverage our operations, distribution, and marketing capabilities by first growing in Ontario," says David Roussy, president and CEO of TSC Stores. "The two stores in Manitoba are doing really well, but the priority now is filling in Ontario."

TSC Stores has already signed leases for three new Ontario locations that will open this year and intends to build a strong pipeline for future years (see story in our February 4 edition —Editor).

Roussy also says that the company's distribution business, Country Pro, has lots of opportunities for growth, especially in Ontario. "We are particularly interested in using the distribution business to build relationships with the over 150 feed store operators in Ontario, as this can open the doors for future acquisitions."
back to top

______________________________________________________________________


Classified Ads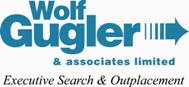 Retail National Accounts Manager, Toronto based
 A brand champion selling to home improvement retailers and mass merchants, this Canadian subsidiary is pursuing additional business and would be the perfect home for a sales driven, customer-intimate leader who wants responsibility for the strategic management of key Canadian national accounts. Specific duties will include:
Development and management of senior level relationships with key retailer personnel including merchants, directors and buyers;
Development and execution of a comprehensive plan to drive sales and profitability, including detailed tactics required to meet strategic objectives;
Field analysis and recommendations on key trends, competitive activity, and general marketplace activity;
Overcoming problems and finding satisfactory customer resolution;
Assisting in the facilitation of corporate projects and initiatives including, but not limited to, new products, pricing, promotions, and training programs.  
Requirements:
Key Account management: the ability to provide input into new category ideas or solutions. Also able to solicit and understand Customer feedback and make appropriate recommendations to further increase penetration, sales and profitability.
Current or past successes in a retail national accounts role.
Possess the skill set to analyze product category for competitive positioning and marketing or promotional opportunities.
Resourceful; innovative, can find information when the answer is not known.
Self-driven, competitive, team oriented, wants to be the "Category Captain".
This is an excellent career opportunity with a market leader in a collaborative, cohesive environment. Interested? Please forward your resume quoting NAM-Toronto to resumes@wolfgugler.com. Please note all responses will be forwarded directly to our client for their review and action. If there are any companies that you do not wish your resume forwarded to, please indicate those in your email and we will exclude your application.
Wolf Gugler Confidential Recruitment Advertising, a division of Wolf Gugler & Associates Limited. www.wolfgugler.com. 888-848-3006. Offices in Canada and the U.S.
______________________________________________________________________

NATIONAL ACCOUNTS MANAGER, TORONTO , ONTARIO 
A leading North American building materials manufacturer located in the Greater Toronto Area is seeking a seasoned National Accounts Manager with national and regional account experience across Canada in the building materials/hardware industry.

The company requires a National Accounts Manager who will be the day-to-day sales contact with major national accounts, key contact with major regional accounts across Canada, and manage agency sales representatives. Reports directly to the Director of Sales & Marketing. Competitive salary + bonus, benefit package.
KEY COMPETENCIES
Excellent communication skills both written and verbal
Disciplined self-starter
Proven negotiation skills
Team player
Strategic thinker
Excellent analytical, forecasting abilities
Organizational and planning ability
KEY QUALIFICATIONS
Post-secondary business degree/diploma
7 - 10 years of national/regional account sales, supervisory experience in the building materials/hardware industry across Canada required
Proven track record with demonstrable accomplishments
Experience with multi-SKU product lines; program/assortment/plan-o-gram selling; in-store and trade show set-ups, tear downs
Bilingual (English/French) not required, but would be an asset.
Proficiency with Microsoft Office Applications including: Excel, Word, PowerPoint
Ability to travel regularly across Canada  
Please submit résumé via email to Black Eagle Executive Search
c/o Richard Simms at rsimms@blackeagle.ca
Only candidates of interest with be contacted
back to top

______________________________________________________________________
Resumés
Professional with over 25 years of experience in Sales, Marketing, Merchandising and Administration

view this

resumé

Marketing professional with over 10 years experience looking to secure a new full-time position.

view this

resumé

A Sales Professional with over twenty years of experience.view this

resumé

Experienced District Manager with a proven track record with several national chains. view this

resumé

A conscientious, highly motivated manager with a results-oriented track record in developing new business.

view this

resumé

An experienced merchandising executive possessing passion, vision, and a strategic approach to delivering bottom-line.

view this

resumé

Senior sales/marketing leader with experience in all classes of trade wishing new HARDLINES career. view this

resumé

Very Experienced Business Unit Manager, great passion for generating sales and building relastionships.view this

resumé

Worked through my career within the manfucaturer, wholesale and consumer goods industries. view this

resumé

Senior Sales Manager with vast experience in retail and wholesale sales growth in Canada. view this

resumé