February 25, 2013, Volume xix, #8
"A good hockey player plays where the puck is. A great hockey player plays where the puck is going to be." — Wayne Gretzky (Canadian former hockey player and coach, 1961- )
______________________________________________________________________
RONA year-end reflect results of first strategic steps
            BOUCHERVILLE, QC — With big changes at the executive level, an unwanted takeover bid, and a sluggish economy, RONA inc. faced numerous challenges in 2012. However, the company was still able to report a sales increase of 1.7% for the year, with total sales of $4.9 billion for fiscal 2012. Comparable sales ticked up 0.7% overall: same-store retail sales edged down 0.3% but comparable distribution sales rose 6.4%.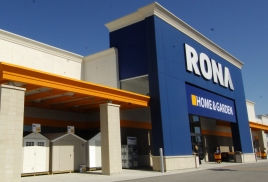 Inflation contributed to lower net income, but changes to the mix of product offerings also took their toll. At the same time, the implementation of RONA's "New Realities, New Solutions" plan helped to modify that downward trend, while a new "Tranformational Strategy" will guide the company as it tightens its belt this year, cutting some 200 administrative jobs to focus on its core businesses.

Part of the streamlining will be seen in RONA's ongoing transition to proximity and satellite stores, at the expense of many of its big boxes. Many have already been shuttered, but other closures have been delayed to coincide with new openings.

Sales of lumber and building materials in corporate stores and to RONA dealers were particularly strong this year. However, changes in the product mix impacted margins. In fact, lumber and building products generated a gross margin of about 30% less than the margin generated on hardware products and the growth in sales of these products and the increase in sales to contractors negatively impacted the overall profitability of RONA over the year.

In the fourth quarter of 2012, RONA posted sales of $1.2 billion, a 2.2% increase over 2011. This growth is mainly attributable to the recording of an extra week in the calendar vs. the previous year, double digit growth in sales of the Commercial and Professional Market division and the opening of new proximity and satellite stores. Comparable sales across the RONA network were up 2.9% and up 0.2% when excluding the extra week.

For the retail and commercial segment alone, same-store sales were up 2.4% (down 0.7% excluding the extra week), while comparable distribution sales to all RONA dealers grew 5.9% (up 5.2% excluding the extra week).
back to top
______________________________________________________________________
New board unveils "Transformational Strategy" for RONA
  BOUCHERVILLE, QC — On the heels of its 2012 annual results, RONA inc. has issued a plan to transform the company and "accelerate value creation for its stakeholders."

With the overhaul of its board and the appointment of a new chairman, RONA has been focusing on nothing less than redefining its business model with a plan that it intends to roll out over the next 12 months. The goal? To increase profitability, with full benefits expected by the end of 2015. That contribution to profitability is expected to come from efficiency improvements and from freeing up capital from "non-core assets," which will be re-invested in store renovations, assortment reviews and the positioning of its private label, regionalizing its pricing strategy, and better service to both RONA dealers and customers.

In the short term, the strategy is expected to result in $35-$45 million in EBITDA improvement.

Highlights of the plan include a 15% reduction in administrative staff (about 200 full-time positions) across the country and an expected restructuring charge of $25 million. The company will also close or sell off non-core and underperforming assets—or even find a partner to work with to manage them. These assets would include RONA's Commercial and Professional Market division, as well as its big-box network outside Quebec.

RONA says it will focus growth on core markets, especially in Quebec, where profitability is already strong, and among RONA's network of dealers across Canada. This includes continuing the changeover of the Totem banner into RONA's new proximity model and the redefinition of the Réno-Dépôt banner in Quebec.

"The board will monitor closely the execution of the transformation plan and further examine strategic initiatives to deliver value for our stakeholders," says RONA's new chairman, Robert Chevrier. He adds that the search continues for a new president and CEO, saying that "the evaluation of potential candidates is well underway and a decision should be announced shortly."
______________________________________________________________________
U.S. wholesaler Orgill to open Canadian distribution centre
  ORLANDO, FL — Dealers from Canada made this city their destination last week as they attended the latest buying show of Memphis-based hardware wholesaler Orgill. Orgill has made its mark north of the border with aggressive expansion of its distribution network across the country in recent years.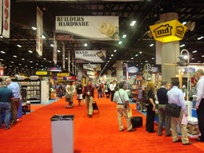 That growth has now reached a point whereby Orgill is establishing its first distribution centre in Canada. Located in Mississauga, ON, just west of Toronto, it will be up and running by May 1. The new DC will assist the giant wholesaler in servicing the network of independents now using Orgill to supply hardware assortments for their front ends.

According to Ron Beal, president of Orgill, the new facility will be stocked with Canadian-specific products. "We've been very successful in getting traditional suppliers to be compliant and filling in Canadian compliant products," he says. But, he adds, some products, including chemicals, don't cross borders as well as others.

The new DC will operate as part of a "branch system," marrying local product with shipments from Orgill's larger U.S. DCs. It will be a flow-through facility with very little product actually warehoused there. "This solves our issues of rounding out our assortment," Beal adds.

Orgill's entry into Canada was greatly facilitated by a close partnership with Castle Building Centres Group Ltd. In fact, Orgill's dealer development team is run from Castle's offices, also in Mississauga. And the bulk of Orgill's customers so far in Canada are Castle members. Likewise, most of the Canadian dealers attending the Orgill show were Castle dealers, as well.

"Just over 100 Castle dealers are at this show. "It's a good show for us," says James Jones, vice president, national marketing for Castle. "There are better deals here than [at the show] in 2012 and the members are going to drive better sales and margins. We're going to have a record year, with Orgill, in 2013."
______________________________________________________________________
Key categories lift Canadian Tire's results
TORONTO — Canadian Tire Corp. turned in positive results on both its fourth-quarter and annual results, with the hardlines mass merchant holding steady in 2012. Costs associated with the company's budget-trimming restructuring plan, which included a scaled-back executive team, along with the acquisition of FGL Sports, took a bite out of net income, but that was offset by strong sales.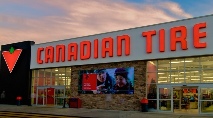 Canadian Tire Retail had "a solid year," according to a release, thanks to margins, new product introductions, and the retrofitting of 70 more stores to its Smart Sstore format.

Consolidated retail sales rose 1.4% in the fourth quarter, and consolidated revenue was up by 1.0% to $3.2 billion.

For the full year, consolidated retail sales increased 10.1% to $12.9 billion, reflecting the full-year impact of FGL Sports retail sales (compared with just 19 weeks in 2011). Canadian Tire Retail achieved strong sales performance in the quarter in key categories such as kitchen and outdoor recreation. However, these gains were offset by the impact of the late arrival of winter weather in Ontario and Quebec and by attempts to improve gross margin by more selectively promoting certain merchandise categories. The result was a 0.5% decrease in sales at CTR.
back to top

______________________________________________________________________


Classified Ads

NATIONAL ACCOUNTS MANAGER, TORONTO , ONTARIO 
A leading North American building materials manufacturer located in the Greater Toronto Area is seeking a seasoned National Accounts Manager with national and regional account experience across Canada in the building materials/hardware industry.

The company requires a National Accounts Manager who will be the day-to-day sales contact with major national accounts, key contact with major regional accounts across Canada, and manage agency sales representatives. Reports directly to the Director of Sales & Marketing. Competitive salary + bonus, benefit package.
KEY COMPETENCIES
Excellent communication skills both written and verbal
Disciplined self-starter
Proven negotiation skills
Team player
Strategic thinker
Excellent analytical, forecasting abilities
Organizational and planning ability
KEY QUALIFICATIONS
Post-secondary business degree/diploma
7 - 10 years of national/regional account sales, supervisory experience in the building materials/hardware industry across Canada required
Proven track record with demonstrable accomplishments
Experience with multi-SKU product lines; program/assortment/plan-o-gram selling; in-store and trade show set-ups, tear downs
Bilingual (English/French) not required, but would be an asset.
Proficiency with Microsoft Office Applications including: Excel, Word, PowerPoint
Ability to travel regularly across Canada  
Please submit résumé via email to Black Eagle Executive Search
c/o Richard Simms at rsimms@blackeagle.ca
Only candidates of interest with be contacted
back to top

______________________________________________________________________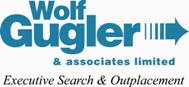 Retail National Accounts Manager, Toronto based
 A brand champion selling to home improvement retailers and mass merchants, this Canadian subsidiary is pursuing additional business and would be the perfect home for a sales driven, customer-intimate leader who wants responsibility for the strategic management of key Canadian national accounts. Specific duties will include:
Development and management of senior level relationships with key retailer personnel including merchants, directors and buyers;
Development and execution of a comprehensive plan to drive sales and profitability, including detailed tactics required to meet strategic objectives;
Field analysis and recommendations on key trends, competitive activity, and general marketplace activity;
Overcoming problems and finding satisfactory customer resolution;
Assisting in the facilitation of corporate projects and initiatives including, but not limited to, new products, pricing, promotions, and training programs.  
Requirements:
Key Account management: the ability to provide input into new category ideas or solutions. Also able to solicit and understand Customer feedback and make appropriate recommendations to further increase penetration, sales and profitability.
Current or past successes in a retail national accounts role.
Possess the skill set to analyze product category for competitive positioning and marketing or promotional opportunities.
Resourceful; innovative, can find information when the answer is not known.
Self-driven, competitive, team oriented, wants to be the "Category Captain".
This is an excellent career opportunity with a market leader in a collaborative, cohesive environment. Interested? Please forward your resume quoting NAM-Toronto to resumes@wolfgugler.com. Please note all responses will be forwarded directly to our client for their review and action. If there are any companies that you do not wish your resume forwarded to, please indicate those in your email and we will exclude your application.
Wolf Gugler Confidential Recruitment Advertising, a division of Wolf Gugler & Associates Limited. www.wolfgugler.com. 888-848-3006. Offices in Canada and the U.S.
______________________________________________________________________
Resumés
Professional with over 25 years of experience in Sales, Marketing, Merchandising and Administration

view this

resumé

Marketing professional with over 10 years experience looking to secure a new full-time position.

view this

resumé

A Sales Professional with over twenty years of experience.view this

resumé

Experienced District Manager with a proven track record with several national chains. view this

resumé

A conscientious, highly motivated manager with a results-oriented track record in developing new business.

view this

resumé

An experienced merchandising executive possessing passion, vision, and a strategic approach to delivering bottom-line.

view this

resumé

Senior sales/marketing leader with experience in all classes of trade wishing new HARDLINES career. view this

resumé

Very Experienced Business Unit Manager, great passion for generating sales and building relastionships.view this

resumé

Worked through my career within the manfucaturer, wholesale and consumer goods industries. view this

resumé

Senior Sales Manager with vast experience in retail and wholesale sales growth in Canada. view this

resumé