February 4, 2013, Volume xix, #4
"The price of greatness is responsibility." —Winston Churchill (British statesman and prime minister, 1874-1965)
______________________________________________________________________
TIM-BR MART makes management changes, Slegg resigns as chair
          CALGARY — Ron Slegg, longtime chairman of TIM-BR MARTS Ltd., has resigned his post. Michael Westrum of Westrum Lumber Ltd. has replaced Slegg as the new chair of the recently renamed TIM-BR MART Group. Westrum had previously served as board secretary since 2001 and represents the group's LBM/OEM shareholders in Northwestern Ontario, Manitoba, and Saskatchewan.

Slegg, who spent 11 years as chair, has lots on the go, including a new store (the company's 10th), which opened just last month. "TIM-BR MART is a great group," he says. "I think there's going to be more consolidation in this industry down the road. There will be a few big players in this market, and I expect buying groups to be among them."

Dave Toth of Challenger Building Supplies Ltd. has joined the national board as director for LBM/OEM for Alberta.

TIM-BR MART has also made some changes to its senior management. Bret Walters has been appointed general manager of Chalifour Canada, the hardware distribution business of TIM-BR MART. A supply chain, logistics, and operations specialist, he has full P&L responsibility for Chalifour Canada, and is responsible for category management, inventory management, and operations of Chalifour's five distribution centres nationally. Walters is based in Chalifour's London, ON, facility and reports to COO Barbara Hopper.

Also reporting to Hopper is Randy Martin, VP of merchandise, who has relocated to TIM-BR MART's Calgary head office. In addition to negotiating Spancan contracts for Chalifour and TIM-BR MART, he will be responsible for building material programs, specifically for Western Canada, working alongside John Morrissey, VP building materials.

As previously announced (see our January 3 edition —Editor), Andrew Pantelides has been promoted to the role of procurement and merchandising manager. Working out of the London office, he has all of Chalifour Canada's hardware category managers reporting to him.

Finally, Kurt Norlen has joined Chalifour Canada as building materials trader. In this role, he will focus on truckload buys for non-wood commodity building materials for TIM-BR MART's Western dealers.
back to top


______________________________________________________________________
Modest growth forecast for industry: exclusive report
  SPECIAL REPORT — In 2011, four retailers led the Canadian hardware/home improvement industry and their sales accounted for more than half the industry's sales. RONA inc., Home Depot Canada, Home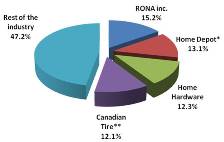 Hardware, and Canadian Tire together generated over 50% of sales made in this industry.

These are just some of the findings in the Hardlines Annual Retail Report, which takes an in-depth look at how the industry is changing and what we can expect in the future.

By format, club stores (in this country, just Costco) are the only format that showed growth exceeding the industry average. Traditional hardware stores showed the smallest growth, but growth at all is a large improvement from the 9.4% drop that hardware stores experienced in 2010. The Annual Retail Report further reveals that sales in building centres and big boxes were in step with the industry average, showing a 2.1% increase. Big boxes account for 20.5% of the industry and building centres are the largest segment accounting for 46.4%.

The provinces experienced positive but relatively slow growth throughout the year. Ontario saw sales shrink for the fourth consecutive year, whereas British Columbia, Alberta, Saskatchewan, and Manitoba all experienced slight growth. The Atlantic provinces also showed increases in market share. Quebec's share remained unchanged after falling the previous year. These results mirror the Retail Report's predictions for provincial growth, with the West and East gaining market share and Ontario and Quebec stagnant or in decline.

Since 2009, the industry size has continued to grow moderately, with sales up 2.4% in 2011 and forecasted to have increased 2.0% in 2012. HARDLINES has forecast continued moderate growth through 2013 and into 2014.

(For a free sample of the Hardlines Annual Retail Report, click here! )
______________________________________________________________________
TSC Stores pursues growth in 2013
  LONDON , ON — TSC Stores is looking to accelerate its growth agenda in 2013 after delivering "solid results" in 2012. According to David Roussy, president and CEO of TSC Stores, the company enjoyed 4.5% same-store sales growth in 2012, pushing total sales above $210 million and delivering "mid-teens percentage growth in EBITDA."

"Edible and consumable categories such as animal feed, pet food, gardening supplies, and bulk oils," says Roussy, "are driving our growth in both footsteps and comp-store sales. Our floor plans have been gradually shifting to reflect the positive trends in our business toward these categories."

As TSC zeroes in more on what Roussy calls "the country lifestyle," the hardware side of the business is becoming more focused on hardlines that specifically meet the needs of its target customers, which include small farms, hobby farmers and rural home owners, with assortments that are differentiated from its large-format competitors.

TSC considers store expansion to be central to its strategy. It currently has 44 stores in Ontario and two in Manitoba, and has already signed leases with 2013 openings for three other Ontario locations—Mount Forest, Bradford, and St. Catharines. Roussy sees an opportunity for up to 70 full-sized TSC Stores in Ontario and expects to open three to five locations per year.

The company is also streamlining its distribution business, Country Pro. The assortment being offered, says Roussy, focuses on "country lifestyle and farm categories and targets independent farm supply stores, feed store operators, and hardware stores looking to expand their hardlines offerings in farm."

The Country Pro distribution business also includes members of Castle Building Centres Group who are looking to integrate farm supply into their assortments, leveraging the preferred supplier relationship TSC has with Castle.

Roussy notes that an important part of TSC's growth strategy is to use the distribution business to build solid relationships with the over 150 feed store operators in Ontario. The first feed store acquisition was in Embro, ON, in 2012. "These acquisition opportunities," he says, "are as a way to expand TSC's footprint in smaller markets that can't currently support a full size store." This, he adds, can open the doors for future acquisitions.

These smaller format feed stores would be managed corporately, as TSC has abandoned its tests of a franchise model.
______________________________________________________________________
Canadian Tire previews spring-summer lines
    TORONTO – The weather may still be wintery but Canadian Tire is already looking ahead to sunny spring days. At a recent media event, the company showcased summer-related products ranging from cleaning up the garage to pitching a tent.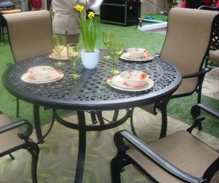 Canadian Tire's Mandi Paquin-Johnson, category business manager for auto, started out the tour with a look at some of the newest car-care products, including Autoglym waxing kit (exclusive to Canadian Tire) and Tub O' Towels wipes. Products under the newly re-invented and re-launched Mastercraft brand featured tools she said were tougher and stronger than before, and feature interchangeable batteries. Michael Bache, a buyer for the Fixing category, pointed out that interchangeable batteries are an important cost-lowering addition, because the purchase of additional tools won't require a new battery for each tool.

Storage and organization for the garage was another line being featured, with space-saving ideas for home and workshop.

The trend to affordable price points was one that figured with all the products featured. Much of the lawn furniture on display has been upgraded to compete with higher-end outdoor sets—but reportedly at a more affordable price point. And for the first time this spring, Canadian Tire will carry a line of live plants developed exclusively for the retailer.

Another new addition is that many of the product categories will offer home installation and delivery starting this spring. There is also a new line of Gardena products coming out in candy-colours. Lindsay Parsons, the buyer for patios and accessories, claimed that Canadian Tire features the largest selection of Gardena products of any retailer.
back to top

______________________________________________________________________ 

Shoppers research online but buy in-store

  TORONTO — The physical store remains the centerpiece of the purchase journey for many shoppers. According to a new study by PwC, "Demystifying the online shopper: 10 myths of multi-channel retailing," in nine out of 11 product categories surveyed, the majority of consumers use physical stores for both researching and purchasing.

In addition, the survey found that:
23% of respondents research consumer electronics online and then go to a store to buy the product, compared to only 2% who do it the other way around;
over the next 12 months, consumers surveyed say they expect to shop in-store far more than they expect to ship online;
even in a category in which respondents prefer to research and buy online, such as consumer electronics, 26% still prefer to research and then shop in-store;
when asked to rank the most important factors that attract them to shopping in a physical store, 73% of respondents chose "Ability to see, touch, and try merchandise."
And that is an attribute that an online store will never be able to match, the report points out. (For more information on "Demystifying the online shopper: 10 myths of multi-channel retailing" from PwC, click here . —Michael)
Learn more about e-Retailing at The Hardlines e-Retailing Conference on March 20th in Toronto. The morning conference will feature Robert Scott, National leader, Consumer, Industrial Products and Services, PwC, Andrea Stair, Country Manager for eBay Canada, and Drew Green, Founder and CEO, shop.ca. Click here for more information.
back to top

______________________________________________________________________


Classifieds

  Home Hardware Stores Limited is 100% Canadian owned and operated and has a presence in every Canadian province and territory as the country's largest independent, Dealer-owned hardware, lumber, building materials and furniture cooperative. Founded on January 1, 1964 by 122 independent hardware Dealers, the cooperative now includes close to 1,100 stores, under the Home Hardware, Home Building Centre, Home Hardware Building Centre and Home Furniture banners, with annual collective retail sales of more than $5 billion. Home Hardware's independent Dealer-Owners, recognized by the North American Retail Hardware Association as Canada's best-trained Dealer group, have access to 100,000 quality brand name and private label products, a world-class distribution system and draw upon the power of Home Hardware's network to provide their local communities with top quality products and services at competitive prices. Our St. Jacobs Head Office currently has the following opportunity...
Product Manager
Full-time
You will be responsible to the Director, Merchandise-Hardlines, for executing the plan to buy and sell for the Major Appliances portfolio and for developing and maintaining a well-rounded wholesale assortment in the distribution centres, as well as products on a direct basis. You will travel to stores and shows, both domestically and internationally, as required, supervise/mentor direct reports, and engage in vendor negotiations to support corporate and marketing initiatives and build strong vendor relationships

You have experience and knowledge of the major appliances industry, a
high energy, entrepreneurial attitude and are willing to work ongoing
extended hours. You are a team-player with excellent communication,
computer, planning, organizational and negotiating skills and are able to
multi-task, complete priorities and meet deadlines. Retail experience with
related products is an asset.

We offer a competitive salary and great working conditions. If you are
interested in becoming part of Home Hardware, please forward your
resume, quoting Product Manager-Hardlines #702MA, by Friday, February 8, 2013 to: Human Resources Department, Home Hardware Stores Limited, 34 Henry St. W., St. Jacobs, ON N0B 2N0 E-mail: hr@homehardware.ca Fax: 519-664-4711 (Microsoft Products Only)
back to top

______________________________________________________________________ 

  Better Living Products International is a world-leading designer, manufacturer and distributor of unique, high quality bath and shower organization products to retailers around the world. Better Living continues to be best recognized for its Award-Winning consumer product, 'The Dispenser'. We are seeking energetic, self-motivated and results driven sales professionals to join our team and looking to fill the following positions:
National Sales Manager, Canada to manage the day-to-day sales activity within the Canadian market. Primary focus will be on the maintenance of current accounts and programs across all channels and the search for and development of new accounts, new market segments and new business opportunities. The successful candidate will possess a minimum of 5 years sales management experience and demonstrate exceptional interpersonal, communication and leadership skills.
National Account Manager to assist us in achieving our aggressive growth plans by managing specific key accounts and channels within the USA. The successful candidate will possess 3-5 years account management experience and demonstrate exceptional interpersonal, communication and analytical skills. Experience with Mass Merchant retailers is preferred. This is an intermediate position.
Account Manager  to grow our business by calling on accounts within our secondary channels of distribution and markets. The successful candidate will possess a minimum of 2 years account management experience.
All positions will be based at our world-wide corporate headquarters in Vaughan, Ontario. We offer competitive wages, benefits and a fun working environment. Please submit your resumé and salary expectations to Camillo Caperchione, Executive Vice President, Better Living Products, Email: camillo@dispenser.com.
back to top

______________________________________________________________________

Resumés
Professional with over 25 years of experience in Sales, Marketing, Merchandising and Administration

view this

resumé

Marketing professional with over 10 years experience looking to secure a new full-time position.

view this

resumé

A Sales Professional with over twenty years of experience.view this

resumé

Experienced District Manager with a proven track record with several national chains. view this

resumé

A conscientious, highly motivated manager with a results-oriented track record in developing new business.

view this

resumé

An experienced merchandising executive possessing passion, vision, and a strategic approach to delivering bottom-line.

view this

resumé

Senior sales/marketing leader with experience in all classes of trade wishing new HARDLINES career. view this

resumé

Very Experienced Business Unit Manager, great passion for generating sales and building relastionships.view this

resumé

Worked through my career within the manfucaturer, wholesale and consumer goods industries. view this

resumé

Senior Sales Manager with vast experience in retail and wholesale sales growth in Canada. view this

resumé