February 1, 2010, Volume xvi, #5

"If all economists were laid end to end, they would not reach a conclusion." —George Bernard Shaw (Irish playwright, 1856-1950)
Optimism pervades Saskatoon show
SASKATOON, Sask. — The latest edition of the WRLA's Prairie Showcase, held here last week, hosted almost 3,000 delegates from across the country, most of whom shared a long-awaited sense of optimism.


The show is the first of the 2010 "show season," to be followed in quick succession by regional shows by the WRLA's sister associations, the LBMAO (Feb. 11-12), and the ABSDA's Moncton, N.B., show (Feb. 25-26). In between, a number of Canadian vendors and buyers will hie over to Cologne, Germany, for the International Hardware Fair.

If these shows can be half as upbeat as the Saskatoon event, then the industry turnaround may be closer than we could hoped.

Western dealers were largely pleased with the return of orders and the rebound of business in their markets. Projects that had been put on hold over the past 18 months or had been stalled due to lack of financing are, said a number of dealers with whom Hardlines spoke, starting to materialize. The result was strong orders for product, giving many vendors one of the most successful shows in recent years.

Companies with show specials or something new to show were
especially well poised to benefit from the dealer optimism. "We were so busy that it's been absolutely nuts," said Jim Roach, regional sales manager for Can-Cell. The Edmonton based distributor was on hand with a number of new lines, including price pfister faucets, new toilets, a line of stainless steel sinks and a new RTA kitchen cabinet program. "This was probably the busiest show we've had in — I don't know how long," Roach said enthusiastically.

He was not alone in his enthusiasm. "This show was the best show I've ever been to for buying," said Tom Lee, vice-president sales and marketing for Roxul, the insulation maker.
back to top

Beauti-Tone partnership part of Home's shift to higher style
ST. JACOBS, Ont. — Home Hardware Stores Ltd. has formed a partnership with Style at Home magazine to develop Style at Home colours, which will be a Beauti-Tone paint exclusive. The announcement was made at last week's Interior Design Show at the Metro Convention Centre in Toronto.

"We are excited by this partnership with Style at Home and Beauti-Tone paint to bring Canada 50 of the most gorgeous new colours," says Darrin Noble, general manager of Home Hardware's Beauti-Tone Paint and Home Products. The colours are arranged in 10 palettes.

The tie-in is a natural as Home, through its Home Furniture division, is making moves to a more stylish image. Like Beauti-Tone, Home Furniture was also at the Interior Design Show. "We want to make a statement that we're in that business, too," says Noble.

"Going forward, there'll be ever increasing cross-pollination of ideas," says Ryan Van Stralen, marketing manager for Home Furniture Stores.

More offerings, he adds are being tried out in a few Home Furniture stores, including décor accessories such as lighting, and even Beauti-Tone colour chips. "It's a way to make the square footage work harder in this offering."
back to top

Jon Eakes, OGC round out JM Hardlines Dealer Conference

TORONTO — The Second Annual Johns Manville Dealer Conference will again co-locate with the LBMAO's Canadian Home improvement Show at the Congress Centre in this city, Feb.11-12.

And once again the event will offer a powerful series of information sessions to help dealers build their sales and run their operations better.

Two important keynotes have been added to the program. The first is "Take Your Management Information System to the Next Level" by Al Holton, regional sales manager for OGC. Holton has decades of experience on the dealer side, having worked for a who's who of home improvement retailing, starting with Beaver Lumber and including Castle Building Centres, RONA and Moffatt & Powell.

"With over 95% of the independent dealers currently having a POS/Management system in their business, their competitive edge now relies in the way to use it as a profitable asset to improve their bottom line," says Holton.



Jon Eakes is a familiar face — and voice — on TV and radio, with decades of experience advising both DIYers and contractors on the ins and outs of repairs, renovations and home building. He'll provide the keynote on Friday, Feb. 12, with "Increase Your Contractor Sales in the New Economy."

These events are part of a larger program at the upcoming Canadian Home Improvement Show, Feb. 11-12, designed to help dealers manage their business profitably as an economic recovery looms. For more information, click here.
back to top

Kent will host product knowledge day
Saint John , N.B. — Kent Building Supplies will host its third annual product knowledge day for managers and senior staff. About 400 Kent employees are expected to come from all 34 of its stores throughout Atlantic Canada. They'll meet vendors in a six-hour marathon of product seminars.

The session will take place Feb. 2.

Unlike a buying show (Kent's buying is done centrally), the event will focus on delivering practical knowledge about products in the stores from participating vendors, who will pay upwards of $5,000 for the opportunity to present to staffers.
back to top

RONA plans aggressive recruitment in 2010
TORONTO — RONA inc. unveiled phase two of its 2008-2011 strategic plan, as well as its financial objectives for the next two years, at RONA's 2010 Investor Day here last week.

The strategy calls for a renewed focus on growth as the economy begins to show signs of recovery. The company will focus primarily on strengthening its position in Ontario and the West through targeted renovation, expansion, relocation and consolidation of existing stores, while continuing to develop markets in Quebec and Atlantic Canada. It says it will open two stores in Ontario in 2010.

RONA also continues to seek acquisitions. Potential targets include Canadian retailers and commercial and professional specialists, as well as distributors or buying groups — all of which would have to meet, says the company, "stringent criteria." Development of the professional and commercial market, worth an estimated $70 billion, is another priority.

RONA also intends to launch an aggressive cross-country campaign targeting hardware and lumber-and-building-supplies dealers to either acquire them or help them plan their succession through RONA's unique new succession planning program.

In this second phase of its strategic plan, which it is calling the New World program, RONA will seek growth through the four methods it has relied on historically: new store construction, development of its affiliate network, acquisitions and same-store growth. This latter track will get renewed emphasis, and is being renamed "customer growth." RONA wants to increase its share of the Canadian retail home improvement market by 2.5%. (More on the latter in next week's edition—Editor)
back to top

Home Depot gets ready for Chinese New Year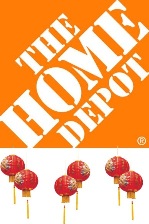 RICHMOND , B.C. — Home Depot Canada has launched its first-ever Chinese specific marketing with a campaign here that caters to the community's large Asian population. A series of advertising and in-store events in Cantonese for the Chinese New Year will run until Feb. 14.

"By reaching out to a group of consumers that we haven't directly communicated with before, and doing so in their native language, we hope to build strong relationships with the local Cantonese-speaking community while giving them the confidence to invest in their most important asset — their homes," said Peg Hunter, Home Depot's vice-president of marketing and communications in a release.

The New Year activities include DIY workshops, personalized Fei Chun banners with good luck messages that are hung in the home for the Chinese New Year, and free packets of Lai See — traditional money envelopes that are given to family and friends. The in-store promotions will be supported by radio, television and newspaper advertisements.

The campaign was developed in partnership with Home Depot's media partner, Publicis Diversitē.
back to top

Classifieds

Looking for that perfect candidate?
Save time and money using online adveritsing
It's cheaper than print and you connect directly with qualified candidates.
Only $2.99 per word for 2 weeks.

Have your ad right here this time next week!

Click here or call 416-489-3396 to place a classified ad

back to top

Resumés
Click here to post your resumé

Featured Product: Hardlines Retail Report
This important research is a marketer's best friend. 157 powerpoint slides and it's not available anywhere else.

How did Canada's top home improvement retailers weather the economic storm of 2009?
And more important, what's in store for 2010?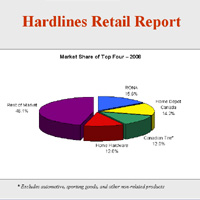 Find out in our latest "Retail Home Improvement Report": The Annual Report on Canada's Retail Hardware/Home Improvement Industry", 2009-2010 Edition. This in-depth Report is a comprehensive study of the growth and trends driving Canada's retail home improvement industry.
What you'll learn in the new Retail Report:
How independent dealers are regaining market share

Which single store format is on the rebound

How buying groups are changing their marketing strategies
Use Hardlines research to plan your growth in 2010.
Click here for more information or to purchase this product

back to top

Connect with us!