February 13, 2012, Volume xviii, #7
"The telephone is a good way to talk to people
without having to offer them a drink." 
—Fran Lebowitz (American author and humorist, 1950- )
______________________________________________________________________


______________________________________________________________________
Orgill show features "Canadian" model store
ORLANDO — At 700,000 square feet, the latest dealer market by Orgill was the U.S. hardware wholesaler's biggest to date. But the section of the show that garnered the most attention from the Canadian dealers who attended was a 4,000-square-foot Canadian model store right on the show floor.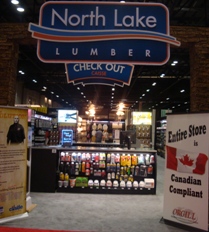 "North Lake Lumber" featured about 12,000 SKUs, all of them, according to Orgill president Ron Beal, Canadian compliant. Those products featured trilingual (English, French, and Spanish) packaging, while the store signage and fixtures were in both English and French. "This is for a lumber and hardware-type dealer. All the categories are covered," said Beal.

Orgill has spent the last three years testing, and expanding, its sales to Canadian dealers. A landmark partnership with Castle Building Centres has proved pivotal to establishing both credibility and critical mass for Orgill's efforts here. (Of the 150 dealers from Canada attending the show in Orlando, at least 125 of them were Castle dealers.)

Beal was especially proud of the way the Canadian assortments have been rounded out and filled in with specialty items that are typical of, or distinct to, Canadian store shelves. He pointed out the addition of Rust-Oleum and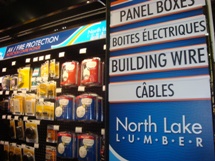 TremClad to Orgill's Valspar paint line, calling it "a microcosm of what we are doing in every category through the store. And it shows our commitment," he added.

Orgill claims to now have 50,000 SKUs that are Canadian compliant.

For Castle president Ken Jenkins, this evolution of Orgill's commitment to Canada fits well with the needs of his dealers – and of independents in general up here. "This is without a doubt an important step for Orgill. And this is a home run for Canadian independents," he said.
back to top



______________________________________________________________________
Kent is on the expansion track
SAINT JOHN, NB — Kent continues to add stores in Atlantic Canada, with both new sites and acquisitions.

Its latest takeover target was a yard in St. André, NB that has been, in recent years, both a Home Hardware and a BMR. It's typical of the smaller stores that Kent has been focusing on of late, after years focusing on locations ranging from 45,000-65,000 square feet. (The acquisition last year of Nauss in Bridgewater, NB is just 7,000 square feet).

Kent is reportedly on the acquisition trail, looking for going concerns that can maintain sales through a banner conversion. However, it continues to build new stores of its own, as well. Another store in New Brunswick, in Riverview, as well as a store being built in a new power centre in Conception Bay South, NL, are both expected to open around April 1.

Kent now has 35 stores in Atlantic Canada, including seven big boxes.
______________________________________________________________________
Contractors going mobile to make purchases
Contractors and other trade professionals are relying on mobile technology, like smartphones, tablets, and laptops, to make more purchase decisions, according to research released by Eric Mower + Associates Group B2B.



Fifty percent of contractors use a smartphone to help with their decision-making, while 49% use a laptop to access the web. Another 21% used an iPad or other tablet while on the job site. This suggests that more product research is being conducted online from the jobsite rather than behind a desk or in a store.

"With so many professional contractors accessing the web from the jobsite, brands need to be sure their websites are mobile-, video- and app-ready," says John O'Hara, partner and leader of EMA's Contractor Insight specialty. "Brands need to think beyond search—even if prospective customers find a manufacturer's website, will they be able to see it on their phones or watch videos to see how the products work?"

The survey found that 91% of contractors use websites to assist in purchase decisions and the majority (88%) said manufacturer websites are the best sources for brand and product information. Another 70% said that product demonstration videos are important.
______________________________________________________________________
Social media and your retail business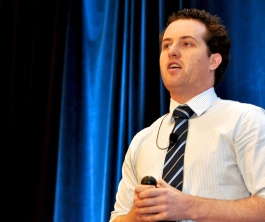 Neil Bearse, social media expert from the Queen's University School of Business, addressed the pros and cons of social media marketing during the Hardlines Conference, held last fall in Toronto. He talked about the extent to which big corporations are monitoring those Twitter conversations with dedicated staff, or, in some cases, specialized "web reputation" agencies.

Bearse offered some real-life Twitter examples. A student tweeted to his friends that he had just dropped their collective Friday night case of beer on the ground, trying to put it in his trunk, and they were going to have to buy some more. "Hey, I just read about your broken case," replied an eager Twitter monitor working for the Moosehead beer custom service department.

The company rep was able to arrange a replacement case of beer, at no charge, within minutes. The reputation of the Moosehead brand got a Twitter-sphere jolt of love with a key target audience.

(The full article appears in our latest edition of HHIQ magazine, which has just been mailed to independent dealers across the country! —Editor)
______________________________________________________________________
Retailers face online price shoppers
NEW YORK — Retailers are facing tougher competition from online sites, as customers come into their stores to investigate a product, then look it up online on the spot. They often end up buying it cheaper from Amazon.ca or Overstock.com. The phenomenon has been coined "showrooming," and even the big boxes and mass merchants are having trouble competing with online retail sites, according to an MSNBC report.

In an attempt to ward off online price shoppers, Target has asked its vendors to create Target-exclusive products. However, experts say that there really isn't much that even big retailers can do to counteract this new trend.

"The bottom line is that the more commoditized the product is, the more people are going to look for the cheapest price," Morningstar analyst Michael Keara says in the report. "If there's a significant price difference [among retailers] and you're using it on a regular basis, you're going to go to Amazon."

Analysts say that other mass merchants will likely follow suit and work to increase the number of exclusive products in their stores and ramp up their shopper loyalty programs.

During November and December of last year, consumers spent $37.2 billion online, up 15% over the same time a year ago.
______________________________________________________________________
Increased U.S. competition for Canadians: Ernst & Young
TORONTO — Canadian retailers will have no time to enjoy the post-holiday season, as 2011 challenges spill into 2012. Retailers face numerous challenges, including an influx of foreign competitors, weak consumer sentiment, and decreased consumer buying power, says Ernst & Young.

Retailers will also need to contend with the ripple effects of new U.S. competition in the Canadian market. As Canadian retailers continue to reel from the entrance of numerous U.S. companies in 2010 and 2011, they'll need to focus on differentiating themselves. We're likely to see more patriotic "buy Canadian" marketing in the year ahead.

"In 2011, Black Friday and Cyber Monday events were much more common among Canadian retailers, demonstrating the impact of US marketing in Canada," says Daniel Baer, Ernst & Young Partner and National Retail Industry Leader.

"Expect Canadian retailers to emulate their U.S. brethren in 2012, particularly through the adoption of social media, more aggressive online strategies, and international expansion."

What's more, many Canadian retailers will look beyond the country for growth opportunities. Baer explains: "a number of Canadian retailers have been very successful in the US and in other countries around the world, and these success stories will be examples to other Canadian retailers looking for a competitive advantage."
______________________________________________________________________
Classifieds
______________________________________________________________________
Hitachi Power Tools is seeking an Account Executive for the Maritimes provinces.
The successful candidate will possess:
at least 3 years experience in a territory sales role

 

strong organizational skills with ability to plan and manage a territory

  

strong communication and presentation skills
ability to work both independently and as part of a team, be a self-starter
knowledge of trades (ie. Construction, electrical, woodworking, etc.) an asset

 

ability to lift product weighing max 65lbs
a clean driving record and a valid driver's license
Please visit our website at www.hitachipowertools.ca/en/CompProfile/Careers for more details. If interested please forward your resume and cover letter to melissaf@hitachi-powertools.com. No phone calls please.
We thank all applicants, however only those selected for an interview will be contacted.
______________________________________________________________________
SPG International Ltd, part of the Geelong Sales Company, is a manufacturer of metal toolboxes and industrial storage systems.  Located in Drummondville, QC we have been manufacturing tool storage solutions since 1960.  We have an immediate opening for a:
USA NATIONAL SALES MANAGER
POSITION SUMMARY:
Reporting directly to our Vice President of Sales & Marketing your main tasks will be to:
Grow sales in the US market, specifically the Automotive, Industrial and Tier 2 retail sectors;
Focus resources and energy into opening up new markets and accounts.
Be responsible for achieving sales objectives, and profit objectives for your assigned accounts
Contact and service your customers on a regular basis and effectively assess and understand their needs;
Maintain and improve our customer satisfaction levels;
Develop and coordinate a network of manufacturer agents throughout the US
Regular sales analysis of account base, providing clear and decisive plans for account and market growth

Participate in solution development and follow-up;
Participate in sales budgeting and marketing planning;

Identify market trends and implement sales initiatives;
Provide sales support which includes sales calls, sales & marketing planning;
Organize and attend industry trade shows and conferences;
You will work from a home office; candidate must have a designated area to conduct business – file records, etc.
QUALIFICATIONS:
Relevant academic training. Minimum of College degree;
5 years experience performing similar duties;
Proven track record in the aforementioned market sectors
Possess strong presentation and communication skills;
Must be available to travel up to 50% of the time;
Strong practical knowledge of Office software;
Self motivated and energetic, people oriented and a team player;
Be able to set sales goals and objectives;
If you're interested please send us your résumé with reference number: 01-012:
SPG International Ltd
Human Resources department
4275, St-Joseph blvd, Drummondville (Québec) J2B 1T8
Fax : (819) 477-0705, Email : rh@spg-toolbox.com
_______________________________________________________________________
Resumés
Experienced District Manager with a proven track record with several national chains.

view this

resumé

A conscientious, highly motivated manager with a results-oriented track record in developing new business.

view this

resumé

A goal oriented sales director that has superior management skills, customer oriented, with in depth knowledge of the industry and the ability to achieve results.

view this

resumé

An experienced merchandising executive possessing passion, vision, and a strategic approach to delivering bottom-line.

view this

resumé

Senior sales/marketing leader with experience in all classes of trade wishing new HARDLINES career. view this

resumé

Very Experienced Business Unit Manager, great passion for generating sales and building relastionships.view this

resumé

Worked through my career within the manfucaturer, wholesale and consumer goods industries. view this

resumé

Senior Sales Manager with vast experience in retail and wholesale sales growth in Canada. view this

resumé
Connect with us!