February 15, 2010, Volume xvi, #7
"About the time we can make the ends meet, somebody moves the ends."
—Herbert Hoover (31st President of the United States, 1874–1964)
Business conditions improve in third quarter
WORLD HEADQUARTERS, Toronto — Despite the slowdown in the economy last year, this industry showed positive signs that it's recovering by the fourth quarter of 2009.

According to our 4Q Business Conditions Survey, which polls dealers, vendors, wholesalers and reps, 42.0% of respondents said business in the fourth quarter was up over the same period a year earlier, while 40.1% said business was down. Another 17.9% indicated that business remained the same.
The latest responses show a significant improvement from conditions in the third quarter. Then, only 31.0% of respondents indicated business was up, vs. 44.0% said it was down. One-quarter of respondents in 3Q said business conditions remained the same over the previous year.
back to top

Castle ends year on profitable note
MISSISSAUGA , Ont. — Castle Building Centres has ended what was a tough year for many independents on an overall positive note, says James Jones, vice-president national marketing. "We expect that our overall volume [of orders by dealers] was down about 1% from 2008, but 2009 was our most profitable year ever for our membership."

The increase to the bottom line, despite the flat top line, was, he says because Castle's members "are managing their business well."

The overall performance of Castle has reflected well on its appeal as a destination for new dealers. "That's why we're having such an increase with our membership," he notes. The enthusiasm of the dealers for the Castle group is further reflected, he adds, in the registered attendance for the next annual Castle trip, which will be held in Orlando, Fla., March 3-6.

Castle had a net gain in members in 2009, with its ranks now numbering 270, up from about 235 last year.
back to top

As Sexton celebrates 25 years, members
well positioned
WINNIPEG — Battling a slowed economy, depressed commodity prices and a stalled housing market has not deterred dealers in the Sexton Group buying group.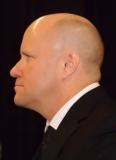 According to Steve Buckle, vice-president of the group, which comprises some 270 dealers across the country, sales were off last year by as much as 15%, due to lowered prices of gypsum, roofing and other products — which were down by as much as 8% — and by the performance of member dealers in urban centres, "particularly in the first six months of last year."

Those dealers were especially vulnerable to the vagaries of the economy and high unemployment rates.

But all his dealers met the downturn head on, and by the third quarter they were seeing "a real difference," he says. "I was impressed by how quickly they re-positioned."

Sexton, which is celebrating its 25th anniversary this year, was founded in 1985 by Ken Sexton, who had founded Kenroc, a specialty gypsum dealership in Regina, almost two decades earlier.

At the beginning of this year, the group joined Independent Lumber Dealers Co-operative, and through that group enjoys membership in the hardware buying group Spancan. Access to Spancan has increased the availability and pricing for a range of hardware products.

"We're seeing our group grow their hardlines side," he says.
back to top

Gibson retirement triggers reorg at North American Lumber
WINNIPEG — Dan Gibson, general manager of North American Lumber, is retiring at the end of February.

Gibson moved from Beaver Lumber to join North American Lumber in June 1993 as sales and marketing manager, a role he continued to handle even after he was promoted to gm in 1999. During his tenure, the company has grown from 17 stores to 20, including three new ones in the past two years, plus numerous store upgrades and replacements. Over the decade, the company's sales have doubled, reaching about $35 million.

His duties will be split among three people: sales and marketing will be taken over by Mark Kennedy; Scott Andrus will handle operations, including lands, building and equipment, in the company's construction division. Martha Peever, owner of the company, will take on some gm duties in addition to her position as president.

Although he grew up on the Prairies, Gibson says he already has plans to move to a new home in Nova Scotia, where he has children and grandchildren.
back to top

Canadian vendor prepares to meet international buyers in Cologne
VANCOUVER — Next month The Vancouver Tool Corporation, will make the 22-hour journey to Cologne, Germany to take part in the world's largest trade show dedicated to the home improvement industry: The International Hardware Fair, Feb. 28-March 3.

"We are one of only a hand full of Canadian firms who take part," says Jayne Seagrave, marketing director for Vancouver Tool, which manufactures a range of patented tools for the application and removal of caulks and sealants. "It's amazing as we generate a lot of our international business as a direct result of exhibiting at the show and I would have thought other companies with products for the home improvement market would also make the trip."

Seagrave found that her company's involvement in Cologne facilitates contacts with both European and North American buyers, as large retail organizations such as Home Depot, Lowe's and Canadian Tire dispatch a number of key decision makers to the Fair to source new products and to ascertain the innovations that are occurring in the industry.

In fact, her company received an invitation to present at the Lowe's head office in North Carolina following a meeting at the last Cologne show. (Many of these buyers will be at the Hardlines International Reception in Cologne on Feb. 28. Contact us for more details! —Michael)
back to top

Classifieds

Commodities & Building Materials Buyer
IRLY Distributors
Commodities & Building Materials Buyer Surrey, BC This position will be responsible for the procurement and negotiations of short and long term agreements, including pricing, quality, lead time and shipment of commodities, lumber, building materials and related products. Interested applicants will have working knowledge and experience within the industry and have a strong business sense of future trends and opportunities.

At IRLY Distributors, we offer a full benefit plan and compensation package. If you are interested in joining this fast paced and growth oriented team, send your resumé and cover letter, along with salary expectations to careers@irly.ca.
Maxtech Consumer Products Limited, in Waterloo, ON is a leading supplier of Hand Tools & Power Tool Accessories to major retailers in Canada, USA & Europe. The company has a reputation for designing new & innovative products & has nearly 100 patents. Maxtech has offices in USA, Germany, India & China. We are searching for a talented, energetic individual with drive, passion, and a proven track record, to join our growing organization as:
Manager Product Development & Quality
A strong strategic thinker with proven Project Management & leadership abilities.
Responsible for all techno-aesthetic & quality activities of the company including development of new products to meet functional & quality aspects.
Establish quality systems to meet Maxtech & customer requirements.
Must be well versed with Maxtech's patent portfolio to incorporate them in development of new products.
Lead a team of engineers, designers & Quality personnel.
Travel within North America, Europe & Asia.
Product development & quality experience preferably in hardware products /retail industry.
Past experience working with vendor's facilities in Asia would be an asset.
Must possess at least 3 years Management experience in a similar role

Please apply by submitting your resume to hr@maxtechconsumers.com
Looking for that perfect candidate?
Save time and money using online adveritsing
It's cheaper than print and you connect directly with qualified candidates.
Only $2.99 per word for 2 weeks.

Have your ad right here this time next week!

Click here or call 416-489-3396 to place a classified ad

back to top

Resumés
Click here to post your resumé

Featured Product: Hardlines Retail Report
This important research is a marketer's best friend. 157 powerpoint slides and it's not available anywhere else.

How did Canada's top home improvement retailers weather the economic storm of 2009?
And more important, what's in store for 2010?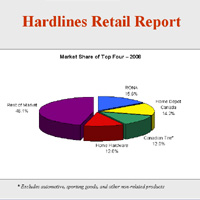 Find out in our latest "Retail Home Improvement Report": The Annual Report on Canada's Retail Hardware/Home Improvement Industry", 2009-2010 Edition. This in-depth Report is a comprehensive study of the growth and trends driving Canada's retail home improvement industry.
What you'll learn in the new Retail Report:
How independent dealers are regaining market share

Which single store format is on the rebound

How buying groups are changing their marketing strategies
Use Hardlines research to plan your growth in 2010.
Click here for more information or to purchase this product

back to top

Connect with us!