February 27, 2012, Volume xviii, #9
"We have too many people who live without working, and we have altogether too many people who work without living." —Charles R. Brown (American clergyman and orator, 1862-1950)
______________________________________________________________________


______________________________________________________________________
RONA's year-end beats analysts' estimates
BOUCHERVILLE, QC — Following a year that was not kind overall to the dealers, RONA released results last week that reflected that year.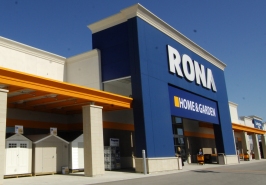 While pockets of Alberta saw a rebound in 2011 and Newfoundland continued to be strong, that was not enough to lift RONA's year-end, especially as many other parts of the country, such as Ontario and parts of Quebec, remained soft. The end of the year saw good sales throughout the industry, thanks largely to unseasonably warm weather. That was reflected in RONA's sales for the fourth quarter, which were up 2.4% on gross profits that fell 2.0%. Same-store sales were down 2.3% in the fourth quarter and down 3.8% in the second half.

For the year, RONA's revenues fell by only 0.3% to $4.805 billion and gross profits were down by 1.6%.

RONA used the year-end to announce its latest initiatives for growth. They include a newly rebuilt website, designed to "help orient each different type of consumer with their renovation projects and support all our retail activities," according to a release.

RONA continues to invest in smaller stores, as well, with no big-box expansion planned for 2012. Instead, the company has launched a new proximity store concept with an average area of 35,000 square feet, considerably smaller than the 45,000-65,000 square feet the proximity model formerly utilized. RONA expects to roll the concept out to 20% of its corporate store network. This part of RONA's updated strategic plan is intended "to bring us closer to consumers, which means being either just a click away, or no more than 10 minutes distance from a RONA store that perfectly meets their needs," said RONA CEO Robert Dutton in a release.

The company says it will also sell off "non-strategic assets" to the tune of $70 million for future investment purposes. These will include almost two dozen big boxes, mainly in Ontario and Western Canada, which will be either sold off or downsized to fit with the new proximity model.

That will include a reduction in size of 13 big-box stores to remake them as proximity stores, says Luc Rodier, vp retail for RONA. The remaining space in those buildings will be sub-leased, he adds. RONA will reinvent its presence in another 10 markets across the country, replacing the big-box stores there with 15 proximity stores. "But we're not exiting any markets," Rodier stresses.

The company also has plans to build even smaller stores. "The final step in the plan is to deploy 10 satellite stores, ranging from five to 15,000 square feet, especially in urban markets. They are all going to be existing buildings converted into hardware stores.

"It's all about getting closer to the Canadian consumer," Rodier says.
back to top



______________________________________________________________________
Home Depot reports positive year-end results
ATLANTA — The Home Depot reported sales of $16.0 billion for the fourth quarter of fiscal 2011, a 5.9% increase from the fourth quarter of fiscal 2010. Same-store sales for the quarter were up 5.7%, with same-store sales for U.S. stores positive 6.1%.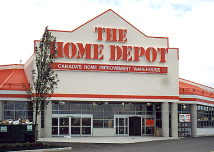 Net earnings for the fourth quarter climbed to $774 million, or $0.50 per diluted share, compared with net earnings of $587 million, or $0.36 per diluted share, in the same period of fiscal 2010. For the fourth quarter, diluted earnings per share increased 38.9% from the prior year.

Sales for the year grew 3.5% to $70.4 billion, with same-store sales for the year up 3.4%, and same-store sales for U.S. stores positive 3.0%. Earnings per diluted share in fiscal 2011 were $2.47, compared with $2.01 per diluted share in fiscal 2010, an increase of 22.9%.

In a conference call to analysts, Home Depot executives noted that president and CEO Frank Blake said that Home Depot is forecasting 4% growth enterprise-wide in fiscal 2012. The year will have a 53rd week and can typically account for a full 1% of that increase.
______________________________________________________________________
Target Canada will bring strong branding, online sales
TORONTO — "Probably, if there's one thing that's different about Target compared with Walmart, it's that Target is about fashion marketing. They are very much about creating a market for the products they sell."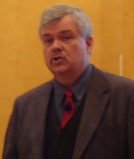 This was just one of many insights into the inner workings of the next big competitor to enter Canada's heated retail arena provided by David Marcotte, senior vice-president of retail insights, Americas at Kantar Retail. He spoke Feb. 15 at a "Target Preparedness Workshop" put on by HARDLINES. The room was filled with vendors and retailers keen to learn more about the giant Minneapolis-based mass merchant that will open as many as 135 stores in 2013 alone.

Unlike Walmart, against which Canuck retailers have been battling for 17 years, Target, said Marcotte, looks for unique products that provide it with room for more margin vs. competing retail assortments. But it also provides Target with something different to promote and create demand around, making it proactive in taking its products to market.

It creates that demand by carefully tracking the buying habits and demographics of its customers ("guests") in order to better anticipate which products to attract them with.

The Workshop opened with insights from Ed Strapagiel, executive evp at Kubas Primedia. "What does Target sell?" he asked rhetorically. "Almost everything." Like Marcotte, Strapagiel emphasized the growing importance of Target's online sales, even if Target's site still lacks the sophistication and user-friendliness of many other sites. "I know many people think that, if it's online only, it doesn't count. But just wait about five years. I expect that 20% of retail sales will be online," said Strapagiel.
______________________________________________________________________
RDTS takes store service model to Europe
LAVAL, QC — RDTS, the merchandising service and in-store support company based here, has created a partnership with the Bricomarché group in France. RDTS will supervise the implementation of its "Imagine" merchandising service program for the Bricomarché home improvement stores in October 2012.



RDTS's Imagine business model offers a dedicated service team to execute marketing directives and standardize programs through the store network for large retail chain stores and their suppliers. RDTS is already the service provider of choice for RONA in more than 600 of its locations across Canada. The success of the program allows the company now to export its merchandising service concept to France. From there, says RDTS president Robert Di Tomasso, he expects the company's services to spread eventually to other countries within the European Union.

Bricomarché is a chain of stores specialized in distribution of DIY materials, decoration, and gardening. It has 530 outlets across France as well as stores throughout Europe.
______________________________________________________________________
True Value outlines 2012 strategy
ORLANDO, FL — At the opening session of the True Value Spring Buying Market, held Feb. 17-22 in., president and CEO Lyle Heidemann made it clear the True Value Company was optimistic about the future and offered members several ways to help grow their businesses in the coming year.

The show came just days before the co-op released its annual results, which reported revenue of $1.87 billion, an increase of 3.4% over 2010. Same-store sales were up 4.7%. Earnings, however, fell 0.7% to $60.3 million.

Much of the growth will come from the company's Destination True Value (DTV) store format.

"We now have over three million square feet of DTV completed and anticipate another million square feet this year. We plan on completing between 70 and 80 DTV remodels this year, and we're already well on our way to achieving that goal," said Heidemann.

He also noted that the company has made an increased effort to make the DTV format accessible to smaller stores, which will help increase the number of retailer stores using the DTV format.

Heidemann says he also lamented the fact that there seem to be fewer independent hardware stores in the market today. To help reverse that trend and to build the company's market share, he announced a new initiative to aid both new business owners who want to open a hardware store and existing True Value members who want to add an additional location.

"We will now offer a 10-year equity loan at our interest rate and a 100% free opening stock order, based on our DTV planogram assortments and recommended inventory levels. This would cut the cost of opening a new store by as much as 60%, he added.
back to top





______________________________________________________________________
Classifieds
______________________________________________________________________
Retail Support Specialist
ON, AB, MB
Positions Summary
The new created position of Retail Support Specialist is responsible for the visual merchandising of product assortments for retailers such as lumberyards, hardware stores, home centres etc., within the assigned region. The incumbent is also responsible for the implementation of new retail programs and strategies, targeting the enhancement and the strengthening of the retailer's business model.
Qualifications
Post-Secondary Education in Marketing or Business Administration
1- 3 years of retail experience preferable with a solid knowledge of merchandising
Ability to travel within Canada up to 80% of the time is required
Additional notes:
TIM-BR MART/Chalifour Canada is an equal opportunity employer. Please take note that only the applicants selected to be offered an interview will be contacted.

Contact
Please apply by sending your current resume and, if you desire so, your particularized motivation letter to:
HR.RH@chalifourcanada.com
C/o: Human Resources Department
Please note the job title in the subject line
This posting will close on March 06, 2012, no application received after that time will be considered
_______________________________________________________________________
Resumés
Experienced District Manager with a proven track record with several national chains.

view this

resumé

A conscientious, highly motivated manager with a results-oriented track record in developing new business.

view this

resumé

A goal oriented sales director that has superior management skills, customer oriented, with in depth knowledge of the industry and the ability to achieve results.

view this

resumé

An experienced merchandising executive possessing passion, vision, and a strategic approach to delivering bottom-line.

view this

resumé

Senior sales/marketing leader with experience in all classes of trade wishing new HARDLINES career. view this

resumé

Very Experienced Business Unit Manager, great passion for generating sales and building relastionships.view this

resumé

Worked through my career within the manfucaturer, wholesale and consumer goods industries. view this

resumé

Senior Sales Manager with vast experience in retail and wholesale sales growth in Canada. view this

resumé
Want more reading?