February 8, 2010, Volume xvi, #6
"If you haven't got anything nice to say about anybody, come sit next to me."
—Alice Roosevelt Longworth (American socialite and eldest daughter of President Theodore Roosevelt, 1884-1980)
CanWel completes Broadleaf acquisition,
corporate conversion
VANCOUVER — CanWel Building Materials Income Fund has completed its acquisition of Broadleaf Logistics Company. At the same time, it successfully completed its conversion from an income trust into CanWel Holdings Corporation.

As part of the conversion, all of the outstanding units of the fund and Class B exchangeable limited partnership interests of CanWel Holding Partnership were exchanged for common shares of the "New CanWel" on a one-for-one basis.

In its new incarnation as a corporation, CanWel has acquired all of the outstanding shares of Broadleaf from Rudy Holding II S.Ã  r.l, which is affiliated with Platinum Holdings. The $81 million acquisition was in the form of $20 million in cash, 10.25 million common shares of CanWel and a secured subordinated promissory note in the principal amount of US$18,500,000.

"The completion of these transactions marks a very significant event in CanWel's evolution, of which we are all very proud," said Amar Doman, CanWel's chairman and CEO, in a release. Approximately 23.8% of shares are directly or indirectly owned by Doman and about 20% by Rudy Holding.

The new CanWel will change its name to "CanWel Building Materials Group Ltd." following its annual shareholders meeting in May 2010. Until then, it will carry on business under the name "CanWel Building Materials."
back to top

Latest Castle signups reflect increased rivalry for independents
MISSISSAUGA, Ont. — The latest announcement from Castle about its newest member is as significant for the way the message is positioned as for the stores themselves.

Castle, a dealer-owned group that prides itself on leaving dealers to run their businesses as best suits them for their respective markets, has signed Lise Godin, a dealer with three stores in francophone Canada, where the group is working to build its presence. The hiring last fall of a bilingual dealer development manager, Robert Legault, is evidently proving fruitful.

Godin has two stores in Quebec: Quincaillerie Godin in Namur and Matériaux Godin & Fils in Grenville; and a third store, Groupe Matériaux Godin, in Hawkesbury, Ont. She founded the company in 1979.

She is also a former RONA dealer, a fact that Castle has been very clear about in its announcement — a distinct departure from the tone of Castle's messages in the past. But RONA itself has been well known for years for making the provenance of its new members a matter of public record. Now, it looks like some of its competitors are prepared to use the same tactics, as the battle to recruit strong independent dealers gets ever more competitive.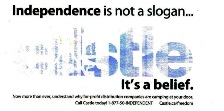 In fact, a new trade ad from Castle reads, "Independence is not a slogan … It's a belief," which reaffirms the group's commitment to independent dealers while subtly responding to a recent ad from Home Hardware Stores, which promotes the slogan, "Declaration of Independents."
back to top

IRLY to host own show in fall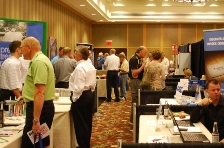 SURREY, B.C. — IRLY Distributors, the West Coast buying group and wholesaler, has decided to go ahead with a show of its own in the fall of this year. The show, which will play host to IRLY's 43 dealer members, is tentatively scheduled for October. For the first time this year, IRLY will also invite its distribution customers, independents representing a range of banners and affiliations, mainly in British Columbia.

The show will be held at IRLY's Surrey, B.C., distribution centre. It will be very much a local show, where more than 100 vendors will be invited to participate, says IRLY president Susan Robinson. She adds that the fall is the best time in the buying cycle for her dealers.

"We've done a show in our warehouse a couple of times over the years," says Catherine Brownlow, advertising & communications manager for IRLY. "Last year we combined it with our AGM and did the show at Whistler. We're doing it by itself this year because we're combining our AGM with the BSIA show." That event, the Westcoast Building and Hardware Show, is being put on by the B.C. building supply association, the Building Supply Industry Association, is being held in Penticton May 6-7, 2010.

While regional shows continue to work hard to make their events true buying shows, other groups are taking a hard look at their own offerings to members. Castle hosts a series of one-day shows throughout the country in the summer; TIM-BR MARTS Ltd. continues to evaluate a proposed show of its own announced for 2011.

However, Robinson is adamant the IRLY show makes sense. "Our dealers are screaming for it," she says. "And our vendors are asking for it, too."
back to top

DeWALT announces sponsorship of Leaf players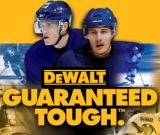 RICHMOND HILL , Ont. — DeWALT, the industrial power tools and accessories maker, has forged a partnership with Dion Phaneuf and Luke Schenn of the Toronto Maple Leafs for 2010.

The announcement comes on the heels of the announced trade of both players to the Leafs, with Phaneuf coming over from the Calgary Flames and Schenn moving up from the Rookie ranks.

Phaneuf is a two-time NHL All-Star and was a finalist in 2008 for the Norris Trophy, a prize awarded to the league's top defenceman. He has represented Canada internationally three times in his career, winning silver and gold medals at the World Junior Hockey Championship in 2004 and 2005 respectively while being named to the first all-star team both times.

An avid woodworker, Phaneuf says he uses DeWALT tools in his workshop.

Schenn, who was named to the NHL's 2009 All-Rookie Team, has represented Canada in the 2007 Super Series against Russia, as a member of the gold-medal team for Canada at the 2008 World Junior Hockey Championships and at the silver-medal team at the 2009 World Championships.
back to top

TΔSK Tools introduces new branding and packaging
DELTA, B.C. — TΔSK Tools was unveiling more than new products at the recent Prairie Showcase in Saskatoon. The company, founded in 1968, has had a makeover, replacing its former trademark grey packaging with all-new branding, including a logo and package design that reflect the company's efforts to increase brand projection, provide key product information and environmental stewardship.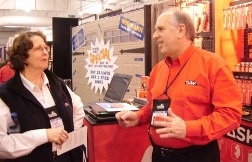 "We're very excited and everybody's coming by and saying 'wow'," said Gerald Spier, vice-president of TΔSK, (shown here with IRLY president Susan Robinson).

TΔSK is a family owned and operated business that sells power tool accessories, hand tools, abrasives, worksite accessories, and cargo security under the TΔSK and Tuf-E-Nuf brands. At the center of the brand launch is a new tag line: "Trade Proven. TΔSK Tough." that takes aim at TΔSK's professional contractor end users.

"From distribution, to sales, to marketing — in every area of our business — TΔSK's new branding demonstrates our singular commitment to building excellence in everything we do," said TΔSK president and CEO Craig Caplan.

While the new red packaging stands out on the shelf, it also features a number of practical improvements. The recyclable packaging features multilingual instructions and pictograms, plus perforations for ease of opening and reclosing, and has been reduced in size wherever possible, reducing waste and freeing up shelf space for the retailer.

Following the launch at the WRLA show, TΔSK Tools will be at CHIS in Toronto, Feb 11-12 and at the Atlantic Building Materials Show in Moncton, Feb. 25-26.
back to top

Cologne show offers online matchmaking for trade visitors
COLOGNE, Germany — International buyers and agents preparing for the International Hardware Fair here, Feb. 28-March 3, now have the opportunity to contact any of the 2,700 exhibitors before the start of the fair by using an online matchmaking service. Beginning February 15, the online matchmaking service will be available at www.hardwarefair.com.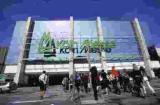 The service lets visitors to the show inquire about the product lines that will be presented and what terms vendors are expecting — anonymously and free of charge. Thanks to this Internet-based exchange, one can effectively prepare for the show and set up meetings with potential business partners before the start of the fair.

The system enables trade visitors to automatically reach several exhibitors from the requested product group at once when submitting a query (e.g., concerning the type and availability of a certain product). Exhibitors receive only the queries that fit their specific product group. If an exhibitor wishes to reply, he or she will send an e-mail to the visitor, allowing them to make personal appointments in a targeted manner in advance.

Admission tickets for the Cologne International Hardware Fair can now be purchased at www.hardwarefair.com at an advanced sale price. The admission tickets also serve as free travel tickets on all local public transport systems in the region.
back to top

Walmart reorg creates new divisions, slashes jobs
BENTONVILLE, Ark. — In an effort to manage the merchandising strategies of its 3,700 U.S. stores more efficiently, Walmart is reorganizing into three divisions: Walmart North, Walmart South and Walmart West. Raul Vazquez, former head of Walmart.com in the United States, is now president of Walmart West. Hank Mullany is in charge of Walmart North; Walmart South will be run by Rosalind Brewer.

Andy Barron will be in charge of store merchandising execution for all three divisions, which will attempt to develop assortments that are more reflective of regional differences among Walmart customers.

A new division, Global.com, has been created, as well, to manage the retailer's global e-commerce business. Wan Ling Martello has been named its COO. She was formerly CFO of Walmart International. Store operations, real estate and logistics will be consolidated nationally, however, under Bill Simon, COO for the United States.

The reorg is designed to eliminate some overlap in duties, and will result in the cutting of about 300 jobs at head office.
back to top

Classifieds

Maxtech Consumer Products Limited, in Waterloo, ON is a leading supplier of Hand Tools & Power Tool Accessories to major retailers in Canada, USA & Europe. The company has a reputation for designing new & innovative products & has nearly 100 patents. Maxtech has offices in USA, Germany, India & China. We are searching for a talented, energetic individual with drive, passion, and a proven track record, to join our growing organization as:
Manager Product Development & Quality
A strong strategic thinker with proven Project Management & leadership abilities.
Responsible for all techno-aesthetic & quality activities of the company including development of new products to meet functional & quality aspects.
Establish quality systems to meet Maxtech & customer requirements.
Must be well versed with Maxtech's patent portfolio to incorporate them in development of new products.
Lead a team of engineers, designers & Quality personnel.
Travel within North America, Europe & Asia.
Product development & quality experience preferably in hardware products /retail industry.
Past experience working with vendor's facilities in Asia would be an asset.
Must possess at least 3 years Management experience in a similar role

Please apply by submitting your resume to hr@maxtechconsumers.com
Looking for that perfect candidate?
Save time and money using online adveritsing
It's cheaper than print and you connect directly with qualified candidates.
Only $2.99 per word for 2 weeks.

Have your ad right here this time next week!

Click here or call 416-489-3396 to place a classified ad

back to top

Resumés
Click here to post your resumé

Featured Product: Hardlines Retail Report
This important research is a marketer's best friend. 157 powerpoint slides and it's not available anywhere else.

How did Canada's top home improvement retailers weather the economic storm of 2009?
And more important, what's in store for 2010?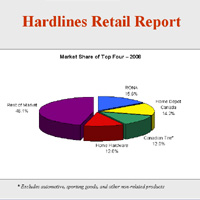 Find out in our latest "Retail Home Improvement Report": The Annual Report on Canada's Retail Hardware/Home Improvement Industry", 2009-2010 Edition. This in-depth Report is a comprehensive study of the growth and trends driving Canada's retail home improvement industry.
What you'll learn in the new Retail Report:
How independent dealers are regaining market share

Which single store format is on the rebound

How buying groups are changing their marketing strategies
Use Hardlines research to plan your growth in 2010.
Click here for more information or to purchase this product

back to top

Connect with us!