January 14 , 2013, Volume xix, #2
"The more relaxed you are, the better you are at everything: the better you are with your loved ones, the better you are with your enemies, the better you are at your job, the better you are with yourself." —Bill Murray (American actor and comedian, quoted in the New York Times, Dec. 2/2012)
______________________________________________________________________
Lowe's opens latest Canadian store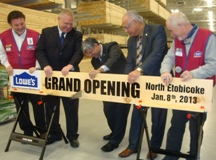 ETOBICOKE, ON — The 33rd Lowe's store in Canada has opened in the north end of Etobicoke, in Toronto's west end. The store, which features 117,000 square feet of retail plus an exterior garden centre, is the result of five  years of planning, and was apparently a pet project of then-city councillor Rob Ford, now mayor of Toronto.

 According to store manager Ken Wilson, who spoke at the opening, Ford had expressed a keen interest in seeing the store development realized from the very start. Ford's brother, Etobicoke city councillor Doug Ford, was one of the dignitaries on hand for the ceremonial board cutting.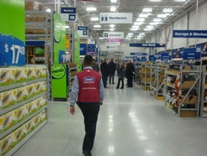 The store, which represents a $25 million investment and 150 staff, is the first in the latest wave of openings by Lowe's Canada. Two more are planned in quick succession: Nepean, in the Ottawa area, will open at the end of this  month, while store number 35 will open in Edmonton a month after that.

 In addition, Lowe's Canada is very close to opening its new regional distribution centre in Milton, ON. The 625,000-square-foot facility is expected to have a grand opening on or around February 8.

Lowe's Canada had estimated sales in 2011 of more than $500 million, according to the Hardlines Who's Who Directory of Retailers and Wholesalers .
back to top


______________________________________________________________________
Castle signs five new members
MISSISSAUGA, ON — Castle Building Centres, the national LBM buying group, has begun the year by announcing five new members to its ranks. The first dealer of the year to join is Brian Maclean, who owns the Castle Building Centre in Wasaga Beach, ON.

The other new member is in Quebec, Quincaillerie du Centre in Melocheville. Located on Montreal's south shore, the hardware store specializes in residential and industrial hardware. The owner is Claude Coulombe. This Quebec member is joined by a new location for one of Castle's original members in that province: O. Coderre et Fils Ltée. Owner Hugo Coderre has purchased a second store in Crabtree.

In addition, two new members have joined Castle's Commercial Builders Supplies (CBS) division. Calgary-based Pro Drywall Supplies, owned by Rod Macintosh, is a brand new commercial business supplying the residential and commercial building market in his region.

Costa Building Supplies Ltd, operating in the Greater Toronto Area, was established in 1983 by the Fior family. Besides drywall, the company supplies a wide range of building materials to residential, industrial, and commercial housing markets in and around the GTA.

As it enters its 50th year in existence, Castle's membership now tops 290 dealers across the country, with annual combined sales of almost $1.2 billion, according to the Hardlines Who's Who Directory of Retailers and Wholesalers .
______________________________________________________________________
Chalifour Canada integrates warehouse systems
  LONDON, ON — Customers of Chalifour Vancouver now have the ability to order product in the Chalifour London warehouse through the same ordering systems used when ordering from Chalifour Vancouver.

Chalifour Canada serves independent dealers across Canada from a network of five warehouses and offices in British Columbia, Ontario, and Quebec. Its London hardware distribution centre is supported regionally in the west by the Chalifour Vancouver DC (formerly IRLY Distributors).

In the past, Chalifour Canada customers had to place orders for the Vancouver and London warehouses separately. Now, the two systems can "talk to each other," matching product numbers to simplify the order process. Dealers can build their orders using either London item numbers or Vancouver item numbers and order them together.

Chalifour Vancouver customers can order using Vancouver or London item numbers, with the order being filled in Vancouver whenever possible. If the product is not available in Vancouver, the order will automatically be passed on to the London warehouse for fulfillment.
______________________________________________________________________
Home Hardware rolls out annual contractor events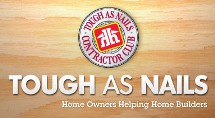 ST. JACOB'S, ON — Home Hardware Stores kicked off its annual series of "Tough as Nails" contractor trade shows last week, beginning in London, ON. More than 5,500 contractors are expected to attend the series of seven shows.

This year's trade shows take place in London, Ottawa, and Barrie, ON; Calgary; Winnipeg; Kelowna, BC; and Halifax. Contractors are invited from surrounding communities, with the Home dealers providing free transportation into each city.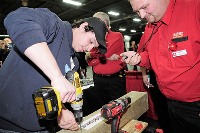 Each show features more than 75 hardware and building materials suppliers. There, contractors can ask questions, learn about new products and trends, and get hands-on demonstrations. The events also host "Contractor Skills Competitions." In addition, attendees from all seven shows are entered for a chance to win a 2013 Toyota Tundra pickup truck.
back to top

______________________________________________________________________ 

CanwelBroadleaf gets name change

  VANCOUVER ― Building materials wholesaler CanWelBroadleaf has changed its name to CanWel Building Materials Division. The change, which took effect January 1, reflects the acquisition two years earlier by CanWel of rival Broadleaf Logistics.

The company used the portmanteau name to maintain the recognition and goodwill of Broadleaf during its integration with CanWel.

According to a letter to the industry signed by CanWel Building Materials Division president Marc Seguin, "As we move forward, it's time to refocus our efforts on a united identity…."

back to top

______________________________________________________________________ 

Valspar acquires Ace's paint production

  OAK BROOK, IL — Ace Hardware Corporation has announced a long-term strategic supply relationship with Valspar. Valspar has acquired Ace's paint manufacturing assets, including two manufacturing facilities located near Chicago. The national paint company will in turn manufacture and supply Ace-branded paint products and make a comprehensive line of Valspar-branded paints available to U.S. Ace retailers.

Valspar will immediately begin manufacturing and distributing Ace's existing portfolio of Ace-branded paint products. Over the next year, Ace and Valspar will collaborate with retailers to enhance paint departments. Introduction of Valspar paint products is expected to begin in the fall of 2013.

"We have ambitious goals for our paint category, and this step puts Ace on the path to growing market share in liquid paint and increasing revenue opportunities for all Ace retailers," said Ace CEO Ray Griffith.

The recent deal has many retailers questioning how the relationship will affect the Benjamin Moore and Clark+Kensington lines of paints, both of which have been highly promoted by the co-op in recent years. According to a release, Ace will retain ownership of Clark+Kensington and Ace Paint, but Valspar will manufacture Ace's product lines exclusively for the retailer. Ace chose not to comment on the future of the Benjamin Moore line.

back to top

______________________________________________________________________ 

Lowe's introduces next step for Iris

  MOORESVILLE, NC — Last week's Consumer Electronics Show in Las Vegas saw the unveiling by Lowe's of the "next generation" of its cloud computing system called Iris. The "smart house" system allows customers to track their homes from their mobile or PC device. Among the new offerings are 15 devices and services to make homes safer and more efficient, while providing convenience features for homeowners.

Additionally, to help support the growing needs of today's connected homes, Lowe's is announcing a new product line for the connected home. The new product line will offer an assortment of routers and switches, as well as wi-fi range extenders to help expand network coverage for homeowners by leveraging existing home broadband wiring.

Lowe's plans to roll out the new home area network products to as many as 100 stores in the U.S. in the first half of 2013, with the full roll out later in the year.

back to top

______________________________________________________________________

Resumés
Professional with over 25 years of experience in Sales, Marketing, Merchandising and Administration

view this

resumé

Marketing professional with over 10 years experience looking to secure a new full-time position.

view this

resumé

A Sales Professional with over twenty years of experience.view this

resumé

Experienced District Manager with a proven track record with several national chains. view this

resumé

A conscientious, highly motivated manager with a results-oriented track record in developing new business.

view this

resumé

An experienced merchandising executive possessing passion, vision, and a strategic approach to delivering bottom-line.

view this

resumé

Senior sales/marketing leader with experience in all classes of trade wishing new HARDLINES career. view this

resumé

Very Experienced Business Unit Manager, great passion for generating sales and building relastionships.view this

resumé

Worked through my career within the manfucaturer, wholesale and consumer goods industries. view this

resumé

Senior Sales Manager with vast experience in retail and wholesale sales growth in Canada. view this

resumé