January 28 , 2013, Volume xix, 4
"Friends should always tell you the truth. But please don't." —Louis C.K. (American comedian, writer, and director, quoted in Vanity Fair, 1967- )
______________________________________________________________________
Board shuffle keeps the peace with RONA shareholders
         BOUCHERVILLE, QC — At the urging of two of RONA's largest shareholders, Caisse de dépôt et placement du Qubec and Invesco Canada Ltd., the giant retailer has made drastic changes to its board of directors.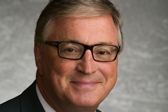 Robert Chevrier, who is chairman and director of UniSelect, was also chairman of Richelieu Hardware until agreeing to join RONA's board as executive chairman. He replaces Robert Paré, who continues to serve as a board member.

In addition, a number of other new faces have joined RONA's board. They are: Bernard Dorval, former group head of Insurance & Global Development at TD Bank Financial Group and deputy chair at TD Canada Trust; Wesley Voorheis, partner at Voorheis & Co. and managing director, VC & Co.; Guy Dufresne, corporate director and former president and CEO of ArcelorMittal Mines Canada Inc.; and Barry Gilbertson, principal with Barry Gilbertson Consultancy.

Alain Michel and Patrick Palerme have resigned from the board, while two other board members, Steven Richardson and an additional nominee, will be up for election at RONA's next annual general meeting, replacing two current directors. The new CEO will also join the board and replace a current director. As a result of the changes, the number of RONA directors will increase from 12 to 14, eight of whom will be new directors.

With these changes in place, Caisse de dépôt and Invesco have given their assurances to RONA that they will support the election of the new directors at the next annual general meeting on May 14, 2013.
back to top


______________________________________________________________________
Prairie Showcase draws dealers despite cold snap

Mary-Anne Dalkowski, VP of marketing for Timber Specialties Co., shows off a new technology that leaves treated wood with a natural brown colour. Called MicroPro Sienna, it uses micronized copper azole to provide wood treatment.
SASKATOON — As trade shows of all stripes face flagging attendance and increased competition for dealers' time (see next story —Editor), Prairie Showcase, the buying show of the Western Retail Lumber Association, held at Saskatoon's Prairieland Park last week, managed to attract dealers from across the West. The show served as an effective venue for diverse wholesalers to showcase their services while many vendors were on hand to present new products and lines.

Vendors generally reported favourable results from the two-day event, while dealers appeared to be out in force. The show also managed to line up some top Canadian talent to provide entertainment during the event: Maritime fiddler Natalie MacMaster appeared at the industry gala and rock legend Burton Cummings performed on the closing night.
______________________________________________________________________
LBMAO decides to terminate buying show
 MISSISSAUGA, ON — The Lumber and Building Materials Association of Ontario has announced that it will end its Canadian Home Improvement Show. The buying show, which has been held in Toronto for the past several years, was the victim of a number of factors. These include a plethora of other shows, especially those mounted by the retail groups and wholesalers themselves. In addition, Ontario dealers find themselves well served by suppliers on a year-round basis, which reduces the need for them to come out to the show.

In a release, LBMAO president David Campbell said, "With the 2012 Canadian Home Improvement Show now past us, the board of directors has assessed the viability of the show and the future of this event. Overall, the show looked good and it offered a variety of subjects and conferences that were directed toward the business and compliance management skills needed today to run efficient, safe, and profitable retail businesses. The topics were timely and relevant to today's environment. However, the turnout of retailers was disappointing."

In an effort to find a niche in the busy show market, the LBMAO moved the show to November from early February, and partnered with HARDLINES to feature a dealer conference at the same time. These moves alone, however, were not enough to attract more dealers as hoped.

Campbell said further that the association is "challenged by competing private shows from our member franchise and buying groups, as well as a retail sector that is running lean on staff and time availability to attend trade shows."

Long term, said Campbell, a new event committee will be created that will consider a conference-and-trade show "that will be smaller, focused on networking and social interaction which could be possibly held in conjunction with a current event such as a golf tournament or our AGM."
______________________________________________________________________
WRLA partnership adds education, services for members
   SASKATOON, SK — Independent dealers in Western Canada now have easier access than ever before to a wide range of training and business services. The Western Retail Lumber Association has added product knowledge training, courses on loss prevention, project sales modules and more. All of these courses are available online for employees to take according to their own schedules. Test results for the courses are also generated online.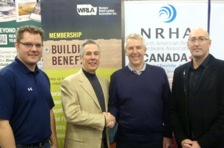 WRLA announced its partnership with NRHA Canada at the 2013 Prairie Showcase in Saskatoon on January 24. Representatives from two leading Western dealers, McMunn & Yates and North American Lumber, were on hand to renew their WRLA membership and add NRHA training and services for their employees. From l-r: Mark Kennedy, North American Lumber; Michael McLarney, NRHA Canada; Gary Hamilton, WRLA; and Jason Yates, McMunn & Yates.
The new services have been made available to WRLA members through a landmark alliance with the North American Retail Hardware Association Canada. "We were looking for ways to meet the needs of our independent dealer members, who need easy access to more services to run their businesses," said Gary Hamilton, president of the WRLA. "NRHA has a full range of program for independents. Rather than re-invent the wheel, we have made a partnership with NRHA Canada to make these services available to our members at an affordable rate."

"NRHA Canada already makes its programs available to Canadian dealers, but this partnership with the WRLA is the best way to get these programs in front of dealers," said Michael McLarney, managing director of NRHA Canada. "This partnership is the ideal way to get the full range of services into the hands of Canadian dealers."

The Western Retail Lumber Association is committed to serving the needs and promoting the common interests of the Canadian Lumber, building materials and hard goods industry in Western Canada. It has nearly 1,200 members in Western and Northern Canada.

The North American Retail Hardware Association has been serving the needs of independent hardware retailers in Canada and the United States for more than 110 years. Its purpose is to help independent home improvement retailers become better and more profitable merchants by providing members with a wide array of educational and training programs, financial management resources, and human resource tools that are all available online with unlimited access. (Click here for more information about NRHA training.)
back to top

______________________________________________________________________ 

Canadian Tire announces extensive sports sponsorships

 TORONTO — Canadian Tire Corporation has announced that its Canadian Tire, Sport Chek, and Sports Experts banners have entered into an eight-year agreement as a Premier National Partner of the Canadian Olympic Team, in addition to six major amateur sport partnerships: the Canadian Paralympic Committee, the Canadian Soccer Association, Skate Canada, Hockey Canada, Alpine Canada Alpin, and Canada.

Canadian Tire and Canadian Tire Jumpstart Charities also plan to work with Own the Podium and the Canadian Olympic Foundation to help more kids get in the game. Canadian Tire has existing partnerships with Canada Games, Canada's Sports Hall of Fame, the National Hockey League, NASCAR, and athlete partnerships with Sidney Crosby, Jonathan Toews, and Brett Lawrie.

To further support Canada's elite athletes, Canadian Tire announced a new national employment program at its stores and corporate offices that will offer employment with flexible work schedules to athletes to accommodate training obligations.

 

back to top

______________________________________________________________________ 

Vicwest buys majority of All Weather Panels

 OAKVILLE, ON — Vicwest Inc. has executed its rights under a previously-announced convertible debenture investment and acquired 56% of the common shares of All Weather Insulated Panels, an American manufacturer of insulated metal panels for industrial, commercial and cold storage applications.

Vicwest is a manufacturer and distributor of engineered storage and handling systems for grain, fertilizer, and liquid storage, as well as building construction products for agricultural, institutional, commercial, industrial, and residential markets.

The company's original investment in 2010 in All Weather was in the form of a debenture, convertible to common shares, and includes rights to intellectual property and patents and a five-year call option to purchase the remaining minority.

The founders of All Weather, Bill and Michael Lowery, will remain in key leadership positions with the company's North American IMP Group.

back to top

______________________________________________________________________


Classifieds

 Home Hardware Stores Limited is 100% Canadian owned and operated and has a presence in every Canadian province and territory as the country's largest independent, Dealer-owned hardware, lumber, building materials and furniture cooperative. Founded on January 1, 1964 by 122 independent hardware Dealers, the cooperative now includes close to 1,100 stores, under the Home Hardware, Home Building Centre, Home Hardware Building Centre and Home Furniture banners, with annual collective retail sales of more than $5 billion. Home Hardware's independent Dealer-Owners, recognized by the North American Retail Hardware Association as Canada's best-trained Dealer group, have access to 100,000 quality brand name and private label products, a world-class distribution system and draw upon the power of Home Hardware's network to provide their local communities with top quality products and services at competitive prices. Our St. Jacobs Head Office currently has the following opportunity...
Product Manager
Full-time
You will be responsible to the Director, Merchandise-Hardlines, for executing the plan to buy and sell for the Major Appliances portfolio and for developing and maintaining a well-rounded wholesale assortment in the distribution centres, as well as products on a direct basis. You will travel to stores and shows, both domestically and internationally, as required, supervise/mentor direct reports, and engage in vendor negotiations to support corporate and marketing initiatives and build strong vendor relationships

You have experience and knowledge of the major appliances industry, a
high energy, entrepreneurial attitude and are willing to work ongoing
extended hours. You are a team-player with excellent communication,
computer, planning, organizational and negotiating skills and are able to
multi-task, complete priorities and meet deadlines. Retail experience with
related products is an asset.

We offer a competitive salary and great working conditions. If you are
interested in becoming part of Home Hardware, please forward your
resume, quoting Product Manager-Hardlines #702MA, by Friday, February 8, 2013 to: Human Resources Department, Home Hardware Stores Limited, 34 Henry St. W., St. Jacobs, ON N0B 2N0 E-mail: hr@homehardware.ca Fax: 519-664-4711 (Microsoft Products Only)

  Better Living Products International is a world-leading designer, manufacturer and distributor of unique, high quality bath and shower organization products to retailers around the world. Better Living continues to be best recognized for its Award-Winning consumer product, 'The Dispenser'. We are seeking energetic, self-motivated and results driven sales professionals to join our team and looking to fill the following positions:
National Sales Manager, Canada to manage the day-to-day sales activity within the Canadian market. Primary focus will be on the maintenance of current accounts and programs across all channels and the search for and development of new accounts, new market segments and new business opportunities. The successful candidate will possess a minimum of 5 years sales management experience and demonstrate exceptional interpersonal, communication and leadership skills.
National Account Manager to assist us in achieving our aggressive growth plans by managing specific key accounts and channels within the USA. The successful candidate will possess 3-5 years account management experience and demonstrate exceptional interpersonal, communication and analytical skills. Experience with Mass Merchant retailers is preferred. This is an intermediate position.
Account Manager  to grow our business by calling on accounts within our secondary channels of distribution and markets. The successful candidate will possess a minimum of 2 years account management experience.
All positions will be based at our world-wide corporate headquarters in Vaughan, Ontario. We offer competitive wages, benefits and a fun working environment. Please submit your resumé and salary expectations to Camillo Caperchione, Executive Vice President, Better Living Products, Email: camillo@dispenser.com.
back to top

______________________________________________________________________

Resumés
Professional with over 25 years of experience in Sales, Marketing, Merchandising and Administration

view this

resumé

Marketing professional with over 10 years experience looking to secure a new full-time position.

view this

resumé

A Sales Professional with over twenty years of experience.view this

resumé

Experienced District Manager with a proven track record with several national chains. view this

resumé

A conscientious, highly motivated manager with a results-oriented track record in developing new business.

view this

resumé

An experienced merchandising executive possessing passion, vision, and a strategic approach to delivering bottom-line.

view this

resumé

Senior sales/marketing leader with experience in all classes of trade wishing new HARDLINES career. view this

resumé

Very Experienced Business Unit Manager, great passion for generating sales and building relastionships.view this

resumé

Worked through my career within the manfucaturer, wholesale and consumer goods industries. view this

resumé

Senior Sales Manager with vast experience in retail and wholesale sales growth in Canada. view this

resumé