In This Issue
"The limits of my language mean the limits of my world." —Ludwig Wittgenstein (German philosopher, 1889-1951)
Home Hardware CEO to speak at industry Breakfast
TORONTO — Insights from economic and industry leaders is the theme of a new program from HARDLINES and NRHA Canada to help retailers and suppliers alike battle the economic downturn. The Hardlines Quarterly Report Executive Breakfast Series kicks off with Paul Straus, vice-president and CEO of Home Hardware Stores Limited, and Derek Holt, vice-president, Scotia Capital Economics

The event, one of a series slated for the coming year, is designed to share information and insights from industry leaders with the wider retail home improvement sector, while tying in with the latest research and analysis from our sister publication, Hardlines Quarterly Report. The first Executive Breakfast, on Feb. 24 in Toronto at the Hilton Toronto Airport Hotel, will address such important issues as:
Where the economy is headed
How jobs and housing are being affected
The state of consumer confidence
How the retail home improvement industry will be affected
What opportunities and challenges confront the independent dealer
The speakers who have agreed to join us have the credentials to deliver on those insights. Paul Straus has been with Home Hardware since its inception, working in the accounting department of Hollinger Hardware in 1963, prior to the emergence of the Home brand. He was responsible for designing, installing, and programming the company's first computer system. In 1978, Straus was appointed vice-president controller and in 1985 he became vice-president finance and administration. After four years, he was promoted to evp and general manager and became vp and CEO of the $4.8 billion corporation in 1998. Derek Holt is vice-president of Scotia Capital Economics. He has broad responsibilities for applying economic and capital market forecasts and

research to fixed income and equity markets. He joined Scotia Capital's trading floor from a senior role with another Canadian financial institution, where he held broad responsibilities for macroeconomic, regional, fiscal, and financial industry research and forecasts. His educational background includes an Honours B.A. (Economics) from York University, an M.A. in Economics from the University of Toronto, and an MBA in Finance from York University. (We recommend that any sales executives who want to stay ahead of their customers' needs and concerns, or marketing managers trying to understand the marketplace, attend this event. Retail owners, managers and buyers who wish to make their business as recession-proof as possible in this economic downturn should also consider this a must-attend. For more info, click here. See you there! —Michael)

Top.
RONA launches first web-only flyer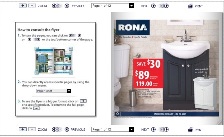 BOUCHERVILLE , Que. — RONA, Canada's largest home improvement retailer, has unveiled its first web-only flyer. The first in a series of 12 planned for 2009, the web flyer has been designed to offer an environmentally friendly and economical way to communicate with Canadian consumers."We are always looking for new ways to reach our customers and we are also looking to innovate in order to meet the constantly changing needs of Canadian consumers," says Claude Bernier, executive vice-president, marketing and customer innovations for RONA. "In the current economic situation, with retailers multiplying promotional offensives, we knew we wanted to increase our number of flyers. We could have simply added print flyers to our annual production, but instead we selected a marketing tool that is both eco-responsible and profitable." RONA has already been printing most of its flyers on recycled paper in recent years. The new online initiative also addresses the rising popularity of the Internet for shopping, making price comparisons, and gathering product information. Electronic versions of RONA's print flyers will continue to be available online. See the first one for yourself at: www.flyers.rona.ca.
Western show will feature buying, Burton Cummings
WINNIPEG — The Prairie Showcase, the buying show for building supply dealers in the West, will be held Jan. 23-24 in Saskatoon, featuring an array of show specials mixed with networking and entertainment. The show, held at Prairieland Park, is put on annually by the Western Retail Lumber Association and draws dealers from across the West.The Prairie Showcase will host 264 companies in 610 booths. They, in turn, will draw close to 1,200 dealers, managers and staff who represent about 460 retail outlets. Those numbers, says Gary Hamilton, executive director of the WRLA, "is about on track with last year. And every buying group is represented." Last year, the show was changed to allow only member dealers to attend, a move which, according to Hamilton, helped swell the association's ranks by 47 members since then. On the vendor side, 41 new companies are exhibiting this year and the show has been sold out since early October. "We have a waiting list of people already for next year," he says. Despite the economic downturn in Canada, Western dealers remain upbeat, says Hamilton. "We haven't seen any backing off from the show as a result of the economy, because the economy still remains strong out here on the Prairies."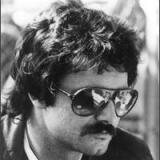 The show kicks off on Jan. 22 with an opening night reception that features a casino buffet dinner, and entertainment by comedian Big Daddy TAZ. Matt Dusk is the featured performer at the gala on Friday night. Then, on Saturday, Jan. 24, the show wraps up with a closing night party featuring Canadian rock 'n roll legend Burton Cummings, former singer and songwriter with the Guess Who. The show will also feature a full ladies' program. For more info about the Prairie Showcase, click here.
Home Furniture unveils spring collection
ST. JACOBS, Ont. — Home Hardware's Furniture division featured a showcase of styles and trends for the spring 2009 season last week. The event attracted representatives from most of the 78 Home Furniture stores across the country.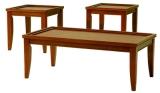 The "Live and In Colour" Home Furniture Show showcases furniture and trends for 2009 through 20,000 sq.ft. of space right in Home Hardware's St. Jacobs warehouse. It's designed to provide a forum for dealer-owners to preview and purchase furniture for the spring catalogue, and to network, share information, and obtain training on a variety of topics. New, environmentally conscious furniture produced by Canadian manufacturers was one of the highlights this year.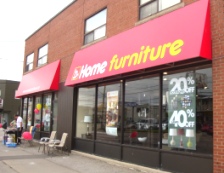 Home Furniture is Home's only "boutique" banner outside the hardware/home improvement industry, one that offers a range of designer home furnishings, appliances and décor items, which Home's buyers source both locally and globally. Home Furniture's extensive selection of brand-name furnishings and accessories ranges from traditional to modern and from urban to country. The Home Furniture division has been growing rapidly in recent years, with eight new dealers signed last year alone. Many are start ups, while others are new business ventures, often erected alongside an existing Home Hardware store.
DIY Council will host store tour at NHS
CHANDLER, Ariz. — Buyers who plan to attend the 2009 National Hardware Show in Las Vegas this spring, will be able to visit and evaluate some of the world's most successful retailers by signing up for a store tour being conducted by the Worldwide DIY Council.The show is being held May 5-7 at the Las Vegas Convention Center and the Council's tour will be held on the last day of the show, May 7. This is the second year the Council is sponsoring a store tour. Last year's tour, followed by a reception where participants met with American manufacturers to discuss retailing trends, attracted visitors from all parts of the world and was judged a "great success." Stores to be visited will include Wal-Mart, the world's largest retailer, Home Depot, the world's largest DIY chain, and Lowe's, its major competitor and the world's second largest home improvement chain. Other stores will include some independent retailers competing with these retail giants. The store tour will begin at the Las Vegas Convention Center at 11 a.m. and conclude at 4:30 p.m. The reception will last until 6 p.m. Participants will be provided with a profile of each store to be visited, which will include operational statistics such as sales per store, sales per employee, gross margin and other data, so comparisons can be made with one's own operation or national statistics. The cost for the tour, including the reception, is US$100. Reservations can be made by e-mail to Don Droesch, executive secretary of the Worldwide DIY Council: ddroesch@cox.net
NATIONAL ACCOUNTS MANAGER

We are an established manufacturer/distributor seeking an experienced sales professional to join our organization. The person that we are looking for must have a minimum of 3 years selling experience in the retail home improvement industry coupled with strong relationships/contacts at the major accounts. The individual hired will be based out of our GTA office with Canada wide responsibility, working closely with our sales agents and customer support team to manage and grow our business. Please email your resume and salary expectations to: admin@hardlines.ca with P.O. Box 42 in the subject line
Resum

és
Know someone who is between jobs? We will send a complimentary subscription to anyone who is seeking a job. We also offer a free Online Resumé Service. Ask them to call or email us here at the World Headquarters. (And why not tell your HR department about this service!) Email Brady for more info. —Beverly
Sell your company - or buy one - with HARDLINES Classifieds! Do your executive search, find new lines or get new reps in the HARDLINES Marketplace. Only $2.75 per word for three weeks in the classifieds. To place your ad, call Brady Peever at 416-489-3396 or email: brady@hardlines.ca
To ensure you receive your HARDLINES newsletter each week, please add bev@HARDLINES.ca to your address book.

Did your email system make this newsletter unreadable? You can read it online instead. call us to find out how.

Publishing Details: HARDLINES is published weekly (except monthly in December and August) by HARDLINES Inc. 360 Dupont Street Toronto, Ontario, Canada M5R 1V 9 © 2009 by HARDLINES Inc. HARDLINES™ the electronic newsletter www.HARDLINES.ca ; Phone: 416.489.3396; Fax: 416.489.6154 Michael McLarney - Editor & President - mike@HARDLINES.ca Beverly Allen, Publisher - bev@HARDLINES.ca Brady Peever - Circulation Manager - brady@HARDLINES.ca The HARDLINES "Fair Play" Policy:Reproduction in whole or in part is very uncool and strictly forbidden and really and truly against the law. So please, play fair! Call for information on multiple subscriptions or a site license for your company. We do want as many people as possible to read HARDLINES each week - but let us handle your internal routing from this end! Subscription:$285 (Canadian subscribers add $14.25 GST = $299.25 per year/ GST #13987 0398 RT).Secondary subscriptions at the same office are only $46 (Canadian subscribers add $2.30 GST = $48.30).Ask about our reduced rate for branch offices.You can pay online by VISA/MC/AMEX at our secure website or send us money. Please make cheque payable to HARDLINES.
COMPANIES IN THE NEWS
MOORESVILLE, N.C. — As Lowe's Cos. pulls back on its expansion efforts, the giant home improvement retailer will cut 31 staff in real estate related positions across the country, reports the Charlotte Observer. These include 17 real estate and accounting positions at its Wilkesboro, N.C., operation. Lowe's has said it will open between 75 and 85 stores this year, down from 120 opened in 2008 and 153 in 2007. As the company focuses on maintaining existing stores, it will hire 11 new people in Wilkesboro in the facility maintenance department.TORONTO — Landscape Ontario, the association representing the province's garden and landscape industry, hosted its annual Congress last week. Professionals from the horticulture, lawn and garden, and landscape industries gathered for three days at the Toronto Congress Centre, where the event was highlighted by more than 600 exhibitors and a variety of workshops and networking opportunities. A range of green products and a comprehensive speaker line-up rounded out the event. Congress 2010 will be held Jan. 12-14. WINNIPEG — Weiser Lock, a business unit of Black & Decker, has donated 400 deadbolt locksets, worth an estimated $15,000, to Age & Opportunity, a social service agency that provides programs and services to enhance the lives of older adults in Winnipeg. The donation was made in partnership with CC Craig, Weiser Lock's distributor in Winnipeg. Age & Opportunity's SafetyAid coordinators will install the locks in the homes of Age & Opportunity clients as part of a home safety audit. NISKU, Alta. — Wood Composite Technologies Inc. has made the list of Alberta Venture magazine's "The Fast Growth 50" for 2009, a list of Alberta's fastest growing businesses based on growth in revenues, assets, profits, head count, and other criteria over the past three years. Wood Composite Technologies, which manufactures and markets a composite decking system through its wholly-owned subsidiary, Millennium Decking Inc., was ranked 19th fastest growing business in the under $20 million category. NEW YORK — DHP Holdings II Corp. has filed for Chapter 11 bankruptcy protection. DHP, which owns Desa Heating, which makes heaters and fireplaces, was unable to get necessary financing to continue operations. The company says it will wind down its operations in an orderly fashion. L'ISLET, Que. — Les Industries Amisco Ltée, a maker of composite painted tubular and steel sheet residential furniture, has entered into an acquisition agreement with Acquisitionco, a wholly-owned subsidiary of Gestion Martin Poitras Inc. Under the terms of the agreement, Amisco will amalgamate with Acquisitionco and the shareholders of Amisco will receive, upon completion of the amalgamation, $1.75 in cash for each Amisco share, representing a 110% premium over the trading price. The transaction, which will take Amisco private, has been approved by the company's board of directors TORONTO — Grocery giant Loblaw has introduced a five-cent charge for plastic bags at its checkouts across the city, in an effort to encourage shoppers to bring their own (reusable) sacks. The policy also anticipates a law that goes into effect in June 2009 that will oblige all retailers to charge for their bags. LONDON — Barely a week after Home Depot announced it would drop its sponsorship of the Olympics (see last week's issue —your helpful Editor ), retail home improvement giant B&Q has revealed it would pull out of its support of the British Olympic Association, citing reduced profits and slower consumer spending. OAK BROOK , Ill. — Ace Hardware has moved up six places — from 12th to sixth — on Entrepreneur's Franchise 500 list, an annual ranking of the best small-business franchise opportunities for individual entrepreneurs and potential investors. Ace is the only home improvement retailer in the top 50 on the 2009 list, which was published online and in the January 2009 issue of the magazine. The company has continued to climb in Entrepreneur's rankings, moving from 18th in 2007 to 12th in 2008. LONDON — As the U.K. economy continues to get hammered, DIY retailer Homebase has reported a 10.2% drop in same-store sales to £479 million in the 18 weeks to January 3, reflecting a sharp drop in consumer spending. Home Retail, the parent company that also owns Argos, reported a sales decline at both its Homebase stores and its catalogue stores. Homebase's gross margin fell 50 basis points in the period, due to increased promotional activity and the impact of clearance sales on seasonal stock. TOWSON , Md. — Power tool maker Black & Decker has announced it will cut 125 jobs, most of them sales positions in the field, and not positions at head office. DAYTON , Ohio — Wal-Mart, the world's largest retailer, also wields the brand that shoppers find most compelling, according to a first-ever ranking of retailers by the amount of sales their respective brands are expected to generate annually. That listing was released last week by Interbrand Design Forum, which since 2001 has been analyzing the brand value of products and now expands its methodology to include retailers. Interbrand also ranks retail brands in Canada, where Canadian Tire and RONA placed second and third, respectively, behind Shopper's Drug Mart. The full listing can be found here

 

Meet hardware sourcing partners from

 

the Far East at Asia-Pacific Sourcing 2009

Cologne, Germany 1-3 March, 2009 www.asia-pacificsourcing.com 

PEOPLE ON THE MOVE

Colleen Kelly has been appointed national account manager for Graham & Brown Canada. She comes over from OSRAM Sylvania Canada, where she worked in a number of different roles, most recently as director of sales. In the past 12 months, GBC has expanded into several key retailers in Canada and Kelly will take over these accounts in 2009 to manage them for continued growth.

Boake Paugh, President of Key-Bak, Div. West Coast Chain Manufacturing Co., is the 2009 chairman of the Worldwide DIY Council. The association is made up of U.S. and Canadian manufacturers who are active exporters to more than 140 countries around the world. Paugh had been vice-chair during 2008 and replaces Sandra Pierce of Mr. LongArm, Inc. as 2009 chair … Other board members elected for 2009 are our very own Jayne Seagrave of Vancouver Tool Co.; Jim Burton, Master Lock Co.; Rod Walck, Protective Coatings Co.; Patrick Murphy, Reid Industries; Phillip Ali, Ali Industries; Bill Marshek, DAP; and John Sullivan, Arrow Fastener Co.
In memoriam:
Don McTavish, a long-time industry icon, passed away on Jan. 8. He worked for Weldwood of Canada for many years and then moved to CanWel as sales manager when Canfor and Weldwood merged to form CanWel. He was very well known and equally well regarded for his business acumen and his tremendous sense of humor. Mr. McTavish's daughter Lori will hold an open house for his industry friends on Jan. 31, in lieu of a funeral.

ECONOMIC INDICATORS

The New Housing Price Index increased year-over-year by 0.7% in November, a slower pace than the 1.5% advance recorded in October. Prices decreased 0.3% between October and November, resulting in a New Housing Price Index of 157.6. This was the second consecutive monthly decrease at the Canada level. The largest year-over-year increase was registered in St. John's (+25.6%). This city also registered the largest monthly increase (+3.4%) as builders reported higher costs for materials and labour. (Stats Canada)Investment in non-residential construction reached $11.0 billion in current dollars in the fourth quarter of 2008, up 1.7% from the third quarter. In 2002 constant dollars, however, investment was down 1.2% from the third quarter. Investors spent $6.8 billion on commercial projects, up 1.5% from the third quarter, while in the institutional component, investment rose 3.7% to $2.8 billion. Spending in the industrial component declined 1.0% to $1.4 billion. All provinces and two territories recorded advances in the fourth quarter, with the fastest increases in Ontario, Quebec, Newfoundland and Labrador and Alberta, mainly as a result of higher spending on institutional and commercial buildings. (Stats Canada)
Noted
The impact of the economic recession in the United States is deep and wide, and has had a negative impact on 47% of businesses, according to a survey of companies in 700 industries conducted by IBISWorld, a leading source of business information. In its report "Recession Insight," IBISWorld makes a number of forecasts, the most harrowing of which, for home improvement and pro dealers, is that residential investment and housing starts will not return to 2008 levels until 2011. All retail sales will fall by 2.2% in 2009, with the majority of pressure in the first half of the year.

I am a goal-oriented, project driven, sales and marketing professional looking to join your sales team. I have fifteen years experience in the hardware industry, encompassing retail sales, account management, and brand marketing. My experience working with regional and national accounts, combined with my marketing experience, allows me to drive sales and meet budgets cost effectively.

I am an accomplished sales professional and solution-oriented person who thrives in challenging, fast paced environments where my performance directly impacts the bottom line. In addition, I have solid organizational leadership and decision-making skills that can make an immediate contribution to your operations and business development. Currently, I am seeking a position where I can continue to uphold strong sales and performance standards.
Experienced Sales Accounts Manager - Senior Buyer with 20 years of knowledge and contacts in the building supply industry. Excellent organizational and analytical skills complimented by my outgoing and positive attitude will make me a great asset to your companies team
Enthusiastic, versatile buyer/category manager with experience in sourcing a wide assortment of goods and services. Offers experience in negotiations, brand development, merchandising, vendor management, competitive analysis, inventory management and business development.
Entrepreneurially focused, front-line retail marketing professional with organizational and strategic marketing talents; combines a unique blend of product and market knowledge with solid business development abilities.

Achievement-oriented, entrepreneurial and creative. Ability to motivate and lead others. Extensive experience in marketing, sales and retail operations.. Full computer literacy, Cad, Coral, Windows etc.

Seasoned Territory Manager - skilled in building and maintaining customer relationships in the retail building supply channel and industrial tooling & consumables sector. Looking for an exciting new challenge with progressive, growth oriented company calling on all sectors from distribution to end users.

Well respected Sales Professional, established relationships in Mid West and South West Ontario. An excellent team player who achieves ongoing success with peers and customers by building morale, maintaining teams' self-confidence and encouraging them to build the sale by improving their people skills, communication skills and Product Knowledge.

"Strategic Sales and Marketing Executive available to achieve your top line and bottom line results during these challenging economic times…..If it is leadership, entrepreneurial spirit and passion you seek, look no further….."

Achievement-oriented, entrepreneurial and creative. Ability to motivate and lead others. Extensive experience in marketing, sales and retail operations..

A highly qualified sales/marketing and senior buyer with over 25 years experience and a proven track record is seeking a senior management position with a growth-oriented corporation where leadership and strong communication skills will have an impact on profitability, productivity and market share.

Sales professional - established relationships with key clients in the hardware, building materials, and paint industries, team player, superior business development skills, competitive, enjoys challenges.
Hardlines Quarterly Report Hardlines Retail ReportHardlines Hot Product ShowcaseHardlines TV Free daily news updates

Did you know you can have this newsletter sent to someone else in your office for only $4.06 a month per person?

Click the link below to spread the news to your whole office!