January 11, 2010, Volume xvi, #2

"What is success? It's a toy balloon among children armed with pins."


—Gene Fowler (American journalist and biographer, 1890-1960)
Alpa Lumber goes on the block

MISSISSAUGA, Ont. — Alpa Lumber Group, the giant independently owned building supply dealer, is up for sale — but it may already have a buyer. A well-known pro dealer business, with 19 yards, plus truss and millwork plants, Alpa's sales are primarily to tract builders, especially in the low-rise residential housing market throughout the Greater Toronto Area. However, its businesses, which operate under names such as Central Fairbank, Argo and Home Lumber, stretch from Cambridge to Ottawa.

Alpa has sales of more than $300 million annually, making it one of the country's top ten home improvement retailers, according to the latest Hardlines Retail Report.

Alpa is closely held, primarily by members of the DiPoce family, although it is structured as a corporation. John DiPoce is president and chairman and Mark DiPoce is general manager. The sale is being held due to "repetitive management/ownership succession disputes" among the company's three surviving owners.

The offer for sale, as advertised in the Jan. 5 edition of the Globe and Mail, sets out a "Mandatory Buy-Sell Timing Schedule," which requires purchaser qualification by Jan. 10, and signed letter of intent by Feb. 12. With such a tight deadline, a buyer may already be waiting in the wings.
back to top

ILDC adds Quebec member
AJAX, Ont. — Independent Lumber Dealers Co-operative, the country's largest building materials buying group, has added a new member to its ranks. Lefebvre & Benoit, an independent, family-owned dealer in Laval, Que., joined ILDC effective Jan. 1, 2010.

Founded in 1958, the company has grown over the years to include two locations in Laval. The second was acquired in 1985 when L&B took over a major competitor, Marcel Benoit. That outlet still operates under its original name.

Now in the hands of the second generation of the Lefebvre family, supported by about 250 staff and 75 delivery trucks, the company does a strong business with contractors and builders.

ILDC has a mandate to accept a maximum of 25 members that are not direct competitors regionally. L&B effectively replaces Potvin & Bouchard, which left ILDC in August 2008 when that company was acquired by a syndicate of dealers within Le Groupe BMR. ILDC's other members include two farm co-ops, Federated Co-op out of Saskatoon and La Coop fédérée, based in Trois Rivières, Que.

Two other members are buying groups in their own right: Sexton Group and Delroc. In total, ILDC now represents more than 1,000 outlets and in excess of $4 billion in sales.
back to top

Johns Manville Hardlines Dealer Conference will ready dealers for recovery
TORONTO — Hardlines has joined with global building products manufacturer Johns Manville (JM) to mount the second annual Johns Manville Hardlines Dealer Conference. Keynotes and workshops will be offered on a range of topics aimed at helping independent building supply dealers maximize their business in the face of a slow economic recovery.

The JM Hardlines Dealer Conference will be presented in conjunction with the Canadian Home Improvement Show, a must-attend buying event for dealers from across Ontario and beyond. The combined event will be held Feb. 11-12, 2010 at the Toronto Congress Centre. The show is held by the Lumber and Building Materials Dealers Association of Ontario.

The following seminars will be featured:
"Where's the Economy Headed?" with Derek Holt, Vice-President Economics, Scotia Capital. Will the housing market go up or down? How will interest rates and consumer confidence be affected? Learn what's ahead for the Canadian economy and what that means for your business.
"Merchandising Trends that will Drive Sales and Margins" with Rob Wilbrink, President of BMF Merchandising.
"Inventory and Financial Management" with Bill Wilson, NRHA Retail Advisor.
"Increase Your Contractor Sales in the New Economy" tba. As housing sales slow, so does contractor spending. In this hands-on session, you will learn how to maintain a strong relationship with your pro and contractor customers, while keeping a close rein on your own business.
"Build Your Dream Team to Drive Sales" with Dan Tratensek, Director of Publishing, North American Retail Hardware Association.
"Taking Your Management Information System to the Next Level" with Al Holton, Regional Sales Manager, OGC.
For more information or to register, click here.
back to top

WRLA Show to host retail leaders' panel
WINNIPEG — The Western Retail Lumber Association has confirmed speakers for its Leaders Forum Breakfast at the 2010 Prairie Showcase Buying Show and Convention. The panel has been devised as a way to offer delegates and exhibitors insights from some of the industry's top retail and buying group executives.

Speakers for the Leaders Forum Breakfast are:
Susan Robinson of IRLY,
Robert Dutton of RONA,
Ken Jenkins of Castle Building Centres,
Steve Buckle of the Sexton Group,
Lance Shipley of Home Hardware and
Tim Urquhart of TIM-BR Marts Ltd.
The panel will be moderated by Richard Simms, owner of Black Eagle Executive Search.

"One of our main goals at the Leaders Forum Breakfast during the Prairie Showcase is to educate attendees with current information that is integral to their professional development within the industry," says Gary Hamilton, executive director of the WRLA. "Due to the current economic situation, I think it is important that our show focuses on helping attendees to build their business."

The Breakfast is open to all registered delegates at the Prairie Showcase and will take place on Friday, Jan. 22 from 7 a.m. to 8:30 a.m., at Prairieland Park, Hall B. For more info, click here www.wrla.org.
back to top

Castle starts new year with expanded membership
MISSISSAUGA, Ont. — Castle Building Centres Group, the national building materials buying group, is starting off the new year with new members to both its core Castle group and the group's commercial arm, CBS.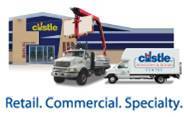 The new Castle members are: Meetah Building Supplies, Onion Lake, Sask.; a new operation consisting of a retail showroom, a 12,000-sq.ft. enclosed warehouse, and a two-acre lumberyard; Superior Seamless Exteriors, a 30-year-old business with three locations, in Altona, Winkler and Winnipeg, Man., which manufactures steel and steel log siding, and exterior building envelope products; and Boulons L.P.G. in Sept Iles, Que., which has grown over 20 years with a focus on specialized hardware, tools for the area mines and has a strong contractor base.

On the CBS side, new members are: London Panel Corp, Mount Bridges (London), Ont., which specializes in factory panelized wall and floor units for commercial and institutional buildings; and Fairway Building Supplies, Ancaster, Ont., supplies gypsum board, insulation, steel, ceilings, stucco and landscaping products to the commercial and residential construction industry, primarily in Southern Ontario's Golden Horseshoe region.

Castle represents about 230 independent dealers in 12 provinces and territories across the country, with combined sales in excess of $1 billion, according to the Hardlines Who's Who Directory.
back to top

Classifieds

OPERATIONS MANAGER – ADMINISTRATION
LOXCREEN FLOORING GROUP, CANADA 
Loxcreen Flooring Group is the leading supplier of residential/commercial floor mouldings in North America, see http://www.loxcreen.com , head office in Mississauga. The company is seeking an "Operations Manager - Administration" responsible for managing customer service, purchasing, cost accounting, and administrative staff of Loxcreen's Canadian division.
Key competencies required: customer service oriented, self-starter, excellent analytical skills, team player.
This position requires: minimum of 10 years experience in management roles including customer service supervision priority; purchasing and inventory control knowledge; thorough understanding of budgeting, financial statements, general financial/accounting concepts; post secondary education (business preferred); excellent knowledge Microsoft Office applications; advanced skills in Excel and " Crystal" reports. Bilingual (English/French) would be an asset.
Competitive salary plus bonus, benefit package.
Please submit résumé via email to:
Black Eagle Executive Search
c/o Richard Simms at rsimms@blackeagle.ca
Click here to place a classified ad

back to top

Resumés
Click here to post your resumé

Featured Product: Hardlines Retail Report
How did Canada's top home improvement retailers weather the economic storm of 2009?
And more important, what's in store for 2010?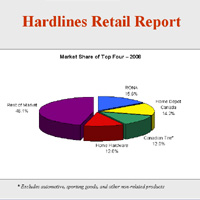 Find out in our latest "Retail Home Improvement Report": The Annual Report on Canada's Retail Hardware/Home Improvement Industry", 2009-2010 Edition. This in-depth Report is a comprehensive study of the growth and trends driving Canada's retail home improvement industry.
What you'll learn in the new Retail Report:
What's happening to the big box format in Canada

How independent dealers are regaining market share

Which single store format is on the rebound

Why just four retailers account for more than half the industry

How buying groups are changing their marketing strategies
This important research is a marketer's best friend. And it's not available anywhere else.
Click here for more information or to purchase this product

back to top

Connect with us!