January 18, 2010, Volume xvi, #3

"He has half the deed done, who has made a beginning."
—Horace (Roman poet, 65 B.C.–8 B.C.)
Alpa not for sale as partners in dispute
"Hardlines wishes to correct a report in its Jan. 11, 2010 edition in which it reported that Alpa Lumber Group is for sale. Alpa has confirmed to Hardlines that it is not for sale and has not placed any advertisements relating to any offer to sell."
That's the correction we agreed to run after getting a call from Orest Matkowsky, CFO of Alpa Lumber, to clarify the circumstances surrounding a mysterious ad that has been running in the Globe and Mail and National Post newspapers for the past two weeks.
The large, half-page ads offer a "Rare Opportunity: Business Available, Alpa Lumber Group (Basis 100%)". Donald MacIvor, listed as one of the contacts at the bottom of the ad, is a minority partner who's been given a shotgun buy-sell offer. MacIvor's contact company in the ad is Western Larch Ltd., a building contracting company that is, according to Internet listings, a division of Alpa Lumber.
According to Alpa's Matkowsky, the partners at Alpa are having a dispute and "the [minority] partner has taken the dispute public against our wishes," he said. "You can quote me, it is not for sale."
back to top

Improve margins at Johns Manville Hardlines Dealer Conference
TORONTO — A series of seminars have been developed to help dealers boost margins and trim the flab from their balance sheets, and train their staff to increase service levels. The education program comprises the Johns Manville Hardlines Dealer Conference, which is part of the LBMAO's Canadian Home Improvement Show, Feb. 11-12 at the Toronto Congress Centre.

Here are just two of the incredible seminars that will be featured:
Inventory and Financial Management for Owners: What can you do to operate smarter and leaner in today's economic climate? Learn how you can manage your business, your staff — and your customers — more effectively and profitably. Presented by Bill Wilson, Retail Advisor, NRHA Canada, and former vice-president at TSC stores and Sodisco-Howden Group.
Train your staff to better margins: The latest product knowledge training is now available to Canadian dealers, and the North American Retail Hardware Association's Dan Tratensek will explain how it can work in your store. Tratensek will also make a presentation of techniques being used by U.S. dealers to weather the severe downturn that has stricken the economy there. "Best practices: top guns share their secrets" will offer a wealth of useful — and practical — tips for Canadian dealers.
For more information or to register, click here.
back to top

Can-Cell beats recession with new programs
CALGARY — Although 2009 was a tough year, and especially tough for dealers in the West, building materials wholesaler Can-Cell Industries Inc. has managed to weather the economic storm.

"It's been an interesting year for us," admits Jim Roach, regional sales manager for Can-Cell. "The economy obviously had an impact on us, as anything related to new home construction was down quite a bit."

But new business generated during 2009 helped to offset the decline. He cites, as an example, Can-Cell's expanded import business. "We've always done it, but last year we really grew that side, especially in the kitchen and bath area. We now offer more kitchen sinks, bathroom sinks and toilets." Another program that's been added is "eco" pavers — rubberized patio squares, along with roofing felts and black paper.

"We added a number of lines that impacted our business and we'll continue to do so," says Roach. Most of the import products come directly from China.

Can-Cell has also expanded its kitchen cabinet program, with both ready-to-assemble and fully assembled products. Other new lines include the Price Pfister faucet line. Roach says another six or eight programs will be introduced at the upcoming WRLA Prairie Showcase, Jan. 20-22 in Saskatoon.
back to top

Home Hardware vp carries Olympic Torch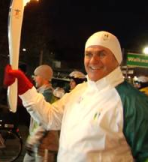 ST. JACOBS, Ont. — The Olympic relay that's steadily making its way across Canada has been helped by one of the industry's own. Bruce White, Home Hardware's vice-president, merchandise & marketing – lumber and building materials, became one of 12,000 Canadians to carry the Olympic Torch on Dec. 18. White, cheered on by a number of members of the retail home improvement industry, carried the torch down Parliament St. in Toronto as the country and hundreds of spectators looked on. 

"It's amazing to watch the Olympic Torch Relay bring Canadians together in communities large and small," said Paul Straus, vice-president and CEO, Home Hardware Stores Limited. "On behalf of more than 1,000 Home Hardware Dealers from coast-to-coast, I would like to congratulate Bruce on his run with the torch."

White was nominated to be a torchbearer by Sam Yee of Dow, a long-standing Home Hardware vendor-partner. Following his selection, White was assigned a route and day, information about the Relay and even his torchbearer uniform (so that's why he wasn't wearing a red parka!—Editor).

"It was the thrill of a lifetime to hold the Olympic Torch in my hands," said White.
back to top

Western dealers ready for Vegas NASCAR trip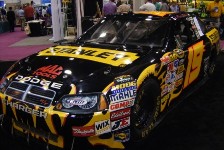 WINNIPEG — The Western Retail Lumber Association is taking its members on a "Sprint Cup Race weekend" in Las Vegas, Feb. 26-28. The event, which will include a number of NASCAR races at the Las Vegas Motor Speedway, features VIP seats for attending WRLA members in the Richard Petty Terrace.

Members will stay at the Paris Las Vegas, which is featuring a reduced price thanks to the current dollar exchange rate. For more info, call WRLA at 800-661-0253 or visit www.wrla.org/events/.
back to top

Canadian Tire pushes storage expertise with new website
TORONTO — Long identified as a hot category for its dealers, Canadian Tire Corp. is boosting its presence in storage and organization with a new interactive web presence. Available here, the site offers customers a variety of products and organization tips "to make de-cluttering and maintaining a beautiful space this year easy and affordable."

The website features storage systems for the kitchen, garage, closet, laundry and basement. It features options for customers to zoom in and view storage solutions in close detail.

A special addition to the site will allow customers to submit questions on managing clutter from now until February 4 in an "Ask the Expert" section at this site. Clare Kumar, a professional organizer who has appeared as an expert on a variety of shows and in home décor magazines, will personally post a response to questions submitted during this time and provide advice.
back to top

Classifieds

OPERATIONS MANAGER – ADMINISTRATION
LOXCREEN FLOORING GROUP, CANADA 
Loxcreen Flooring Group is the leading supplier of residential/commercial floor mouldings in North America, see http://www.loxcreen.com , head office in Mississauga. The company is seeking an "Operations Manager - Administration" responsible for managing customer service, purchasing, cost accounting, and administrative staff of Loxcreen's Canadian division.
Key competencies required: customer service oriented, self-starter, excellent analytical skills, team player.
This position requires: minimum of 10 years experience in management roles including customer service supervision priority; purchasing and inventory control knowledge; thorough understanding of budgeting, financial statements, general financial/accounting concepts; post secondary education (business preferred); excellent knowledge Microsoft Office applications; advanced skills in Excel and " Crystal" reports. Bilingual (English/French) would be an asset.
Competitive salary plus bonus, benefit package.
Please submit resume via email to:
Black Eagle Executive Search
c/o Richard Simms at rsimms@blackeagle.ca
Click here to place a classified ad

back to top

Resumés
Click here to post your resumé

Featured Product: Hardlines Retail Report
How did Canada's top home improvement retailers weather the economic storm of 2009?
And more important, what's in store for 2010?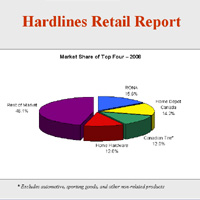 Find out in our latest "Retail Home Improvement Report": The Annual Report on Canada's Retail Hardware/Home Improvement Industry", 2009-2010 Edition. This in-depth Report is a comprehensive study of the growth and trends driving Canada's retail home improvement industry.
What you'll learn in the new Retail Report:
What's happening to the big box format in Canada

How independent dealers are regaining market share

Which single store format is on the rebound

Why just four retailers account for more than half the industry

How buying groups are changing their marketing strategies
This important research is a marketer's best friend. And it's not available anywhere else.
Click here for more information or to purchase this product

back to top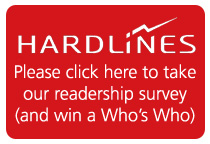 Connect with us!