January 25, 2010, Volume xvi, #4

"Action should not be confused with haste."
—Lee Iacocca (American businessman and
former CEO of Chrysler Corp., 1924- )
Orgill increases logistics support for Canada
MEMPHIS, Tenn. — Orgill, the giant U.S. hardware distributor, continues to test out the market in Canada, shipping a range of hardware and building materials to select dealers across the country.

Those customers, including Castle and TIM-BR MART dealers and other independents, are part of Orgill's experiment to gauge the viability of the Canadian market for its range of products. Already shipping successfully to 60 other countries, Orgill is working with local service providers to work out the bugs in cross-border shipments, dealing with logistics and tariff arrangements.

Derringer is one such provider. The Maine-based logistics provider is handling Orgill's brokerage needs into Canada. According to Jerry Cardwell, vice-president corporate development for Orgill, delivering into a market is more than just category, price and product. "We work with customers to manage the landed cost," he says.

"It took a couple of years to get our arms around that," Cardwell admits. "It's all about taking the burden off our customers, so those customers can spend their time marketing and selling the products," he says.

Orgill didn't make a move in Canada until it had filled in its distribution network in the U.S. Now able to serve all of the United States through a network of DCs, the company has the infrastructure to service Canada, as well, says Cardwell. For example, Orgill's facility in Inwood, West Va., ships product to Eastern Canada. "Many Canadian customers are closer to this distribution centre than even some U.S. customers that are served by that facility," he says. Orgill's DC in Saxon, Mo., handles Central/Western Canada.

"We are starting to see the Canadian border fade," says Cardwell. "The political borders are becoming less and less of a challenge."
back to top

Home Furniture collection features high-end furniture, appliances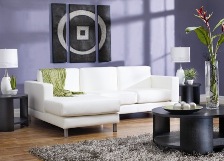 ST. JACOBS, Ont. — Home Furniture, the specialty retail division of Home Hardware, held its dealer show here recently, unveiling for its 80-plus Home Furniture dealers the latest highlights of its spring collection.

The showcase, taking up 18,000 sq.ft. of space in Home's one million-sq.ft. warehouse, featured an array of furniture and appliances, as well as a growing selection of furnishings and accessories, such as pictures frames, lamps and even artwork.

Trends identified in the new collection include higher end outdoor furniture sets, as consumers continue to set up casual spaces in yards and on patios to match the luxury of indoors. Another trend reflects Home's desire to cater to condo and inner-city lifestyles with a range of smaller furniture in the "Urban Spaces" collection.

According to Morgan McCabe, Home's merchant for furniture and appliances, this year's lines feature more colours of what were once referred to as "white goods." Refrigerators, stoves and washing machines are now available in fire engine red, royal blue and deep gray. "The stores are trying on more and more higher priced special appliances," McCabe says. He notes that customers coming into a Home Furniture store are already prepared to spend more than they would expect to spend in a traditional Home Hardware outlet, making the appliance lines a good tie-in.

This year's collections will be supported by a 100-page catalogue that will be distributed to more than 800,000 Canadian homes, and by a 12-time flyer program. All the products are warehoused right in Home's own distribution centre.
back to top

Dealer Conference offers insights into economy, merchandising
TORONTO — The second annual Johns Manville Hardlines Dealer Conference is fast approaching, to run concurrent with the LBMAO's Canadian Home Improvement Show, Feb. 11-12 at the Toronto Congress Centre. The conference will be an important educational adjunct to the show specials on the exhibition floor.

One presenter, Bill Wilson, retail advisor for the North American Retail Hardware Association, says dealers he's spoken with in recent months report that sales were up or down by about 1% or 2% last year. "Any decline in sales can put big pressure on margins," he points out. "That's why it's more important than ever for dealers to understand how to manage their balance sheet."

Wilson will be one of the presenters at the conference, explaining just that very topic. Other seminars at the conference include:

"Where's the economy headed?" Dealers will also get a handle on where the state of the economy in Canada, with Derek Holt, vice-president economics for Scotia Capital. Will the housing market go up or down? How will interest rates and consumer confidence e affected? Learn what's ahead for the Canadian economy and what that means for your business.

"Merchandising Trends that will Drive Sales and Margins." Rob Wilbrink, president of BMF Merchandising will give valuable insights into what's working and what's not working in hardware and building centres today.

The Johns Manville Hardlines Dealer Conference runs in tandem with the Canadian Home Improvement Show at the Congress Centre near Toronto International Airport. For more information or to register, click here.
back to top

National Hardware Show will highlight historic legacy
NORWALK, Conn. — The National Hardware Show will be held May 4-6, 2010 at the Las Vegas Convention Center and this year celebrates a rich history spanning 65 years of service to the home improvement marketplace.

From its early beginnings in New York during the post-World War II housing boom and eventual move to Chicago in the 1970s to today's current location in Las Vegas, the National Hardware Show has continually evolved to reflect the industry.

Today, NHS is well established as a destination for global manufacturers, associations and the media to unveil their new products, ideas and insights to a broad spectrum of home improvement resellers. The show is organized into seven product areas: Hardware & Tools; Homewares; Lawn, Garden & Outdoor Living; Paint & Accessories; Plumbing & Electrical; Storage & Organization and an international sourcing area.

Contributing associations and partners include:
North American Retail Hardware Association hosting their second annual Industry Summit & Village;
Paint & Decorating Retailers Association Show at the National Hardware Show presenting "Future Fair" and "Top of the Line" Retailer Awards;
Home Channel News's 26th Golden Hammer Awards;
The Worldwide DIY Council, comprised of some 130 exporting manufacturers from the U.S. and Canada, will hold its annual meetings, seminars and a reception sponsored by the NRHA.
For more information, visit www.nationalhardwareshow.com.
back to top

Walmart Canada hosts suppliers, competitors for Green Business Summit
VANCOUVER — Walmart Canada is holding a convention here to encourage more green practices within the industry. The Green Business Summit here will bring together almost 300 CEOs, business executives, government officials and NGOs on Feb. 10, 2010, including suppliers, service providers — and even competitors.

The list of delegates is already impressive: Leaders from 3M, Alcan Packaging, BC Hydro, Bullfrog Power, Busby Perkins + Will Architects, Cadbury, Canadian Business for Social Responsibility, Canaccord Capital, Canadian Tire, CN Rail, Coca-Cola, Domtar, Ernst & Young LLP, JWT Canada, Kellogg Canada, Kraft, Loblaw Companies, L'ORÉAL Canada, Maple Leaf Foods, Maersk, McDonald's, Methanex, Mountain Equipment Co-op, PepsiCo Beverages Canada, SC Johnson, Ryerson University, SFU, Shoppers Drug Mart, Sony, TELUS, Unilever, UBC, Vancity, VANOC and GM Canada are among those who will participate.

Dr. David Suzuki, award-winning environmentalist, scientist, author and broadcaster, will provide the keynote address.

"We are bringing some of Canada's top business leaders together to accelerate change for a better environment," said David Cheesewright, President and CEO of Walmart Canada in a prepared release. "These business leaders can make significant transformations in their own organizations and, by working in collaboration with other businesses, can literally change the way business is done across Canada."

Many of the participants have submitted case studies that demonstrate sustainable business initiatives. These will be shared during the full-day Summit, which will be held at the Pan Pacific Hotel Vancouver.
back to top

Classifieds

OPERATIONS MANAGER – ADMINISTRATION
LOXCREEN FLOORING GROUP, CANADA 
Loxcreen Flooring Group is the leading supplier of residential/commercial floor mouldings in North America, see http://www.loxcreen.com , head office in Mississauga. The company is seeking an "Operations Manager - Administration" responsible for managing customer service, purchasing, cost accounting, and administrative staff of Loxcreen's Canadian division.
Key competencies required: customer service oriented, self-starter, excellent analytical skills, team player.
This position requires: minimum of 10 years experience in management roles including customer service supervision priority; purchasing and inventory control knowledge; thorough understanding of budgeting, financial statements, general financial/accounting concepts; post secondary education (business preferred); excellent knowledge Microsoft Office applications; advanced skills in Excel and " Crystal" reports. Bilingual (English/French) would be an asset.
Competitive salary plus bonus, benefit package.
Please submit resume via email to:
Black Eagle Executive Search
c/o Richard Simms at rsimms@blackeagle.ca
Click here to place a classified ad

back to top

Resumés
Click here to post your resumé

Featured Product: Hardlines Retail Report
How did Canada's top home improvement retailers weather the economic storm of 2009?
And more important, what's in store for 2010?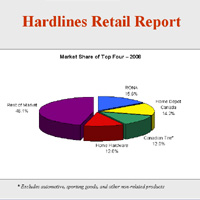 Find out in our latest "Retail Home Improvement Report": The Annual Report on Canada's Retail Hardware/Home Improvement Industry", 2009-2010 Edition. This in-depth Report is a comprehensive study of the growth and trends driving Canada's retail home improvement industry.
What you'll learn in the new Retail Report:
What's happening to the big box format in Canada

How independent dealers are regaining market share

Which single store format is on the rebound

Why just four retailers account for more than half the industry

How buying groups are changing their marketing strategies
This important research is a marketer's best friend. And it's not available anywhere else.
Click here for more information or to purchase this product

back to top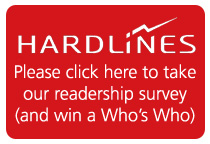 Connect with us!