January 9, 2011, Volume xviii, #2
"The only way to keep your health is to eat what you don't want,
drink what you don't like, and do what you'd rather not." 
—Mark Twain (American author and humourist, 1835-1910)
______________________________________________________________________


______________________________________________________________________
New Unimat store features more LBM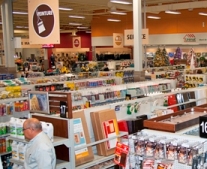 THETFORD MINES, QC — La Coop fédérée, Quebec's farm cooperative, has unveiled the largest retail outlet in its network. The state-of-the-art Unimat home improvement store measures 32,000 square feet.

The Thetford Mines store is the first Unimat to bring together a complete range of home improvement products under one roof. In addition to the farm and garden SKUs that have been Unimat's main strength since the banner was launched by La Coop in 2004, this new store includes expanded selections of plumbing, electrical, hardware, and building materials, as well as a large decoration centre. It features a wide-open, accessible look and boasts good sightlines. This also is the first Unimat store to offer a complete range of LBM, presented inside the store on cantilevered racking.

"This store has a real 'wow' effect," says René Labrecque, Unimat's executive director. "Consumers want everything under one roof, and, above all, to be guided towards what will best fill their needs."

He emphasizes that the new location will combine the best of both large and small footprints. "The customer will enjoy the feel of a neighbourhood hardware store, even in a large warehouse, due to our superior, personalized service and warm welcome."
back to top



______________________________________________________________________
Target president talks to Canucks
TORONTO ― Canadians can expect the same from Target stores here as customers south of the border already experience: clean stores and signature national brands – plus a good mix of Canadian brands.



This was just one of the insights Tony Fisher, president of Target Canada, shared at a meeting hosted recently by the Retail Council of Canada. Stores will be similar, he said, because Canadian customers – he calls them "guests" – "will be similar to U.S. guests." However, the Target Canada team is also learning about provincial and regional differences in customer preferences.

To get a handle on the competitive landscape here, Fisher says he's had to be a good consumer and shop the competition. "And I've learned a lot."

The company is on track to open stores in the spring of 2013 (see next article). "We have two years to prepare for our entry and our competitors have two years to prepare," he said. He noted, too, that the great store designs Target is known for already will be taken to the next level in Canada. "Being here will push our competitors to do better and the customers will benefit."

He said it's important to attract customers in the door and keep them. Customer loyalty is a big factor – and he ties that to the selection of products Target offers. "We have a fantastic credit card program in the U.S., but our brands are also our loyalty program."

Fisher is confident that Target can establish – and differentiate – itself successfully here. "I don't think Canada is over-stored. There is absolutely room for Target."
______________________________________________________________________
Target announces first Canadian locations
MINNEAPOLIS , MN — Target Corporation has identified its first 24 stores in Canada. As previously announced, Target purchased the leasehold interests of 189 sites currently operated by Zellers Inc., and plans to open 125-135 stores in Canada, the majority of which will open in 2013.

Target plans to open stores, all in Ontario, in the following locations in March or early April 2013:
London Westmount, Westmount Shopping Centre
Kawartha Lakes, Lindsay Square Mall
Newmarket, Upper Canada Mall
Milton, Milton Mall Shopping Centre
Cambridge, Cambridge Centre
Toronto, Centrepoint Mall
Mississauga, Square One Shopping Centre
Ajax, Durham Centre
Orillia, Orillia Square Mall
Brampton, Shoppers World Brampton
London, Masonville Place
Windsor, Devonshire Mall
Toronto, Cloverdale Mall
Toronto, Shoppers World Danforth
Burlington, Burlington Mall
Toronto, East York Town Centre
Aurora, Aurora Shopping Centre
Fergus, Gates of Fergus
Hamilton, Centre Mall
Guelph, Stone Road Mall
Burlington, Millcroft Centre
Waterdown, Flamborough Power Centre
Whitby, Taunton Road Power Centre
Brampton, Trinity Common
______________________________________________________________________
RONA's extended credit will help it keep consolidating
BOUCHERVILLE , QC — RONA Inc. has renewed its existing credit facility for a period of five years. Maturing in 2012, the credit facility was renewed until 2016, with the total available amount increased from $650 million to $950 million. The refinancing was carried out with a syndicate 12 banks led by National Bank Financial, BMO Capital Markets, Desjardins Capital Markets, and Scotia Capital.

According to Stéphane Milot, senior director, invaestor relations for RONA, it's just business as usual for the giant wholesaler and retailer. "At this point in time, there is nothing new with what we've discussed before." The $650 million, he says, is simply being renewed, while another $300 million represents money that will be used to refinance a portion of the company's recently redeemed debentures and some common shares. RONA still has another $200 million in cash reserves as of the end of its third quarter, he adds.

With the ability to buy back shares and keep cash on hand, RONA stays ready for any further acquisition opportunities, while investing in the existing store base. "So it's to get the flexibility in place to continue to consolidate this market. For us, the play is more about our dealers – and supporting them in their regions," says Milot.
______________________________________________________________________
Canadian Tire counts on social media
TORONTO — Retailers are always looking for new ways to connect online with their customers and Canada's largest hardlines retailer is no exception. Canadian Tire Corp. says it is constantly finding ways to improve engagement with its customers, without losing sight of a 90-year tradition of helping them with everyday jobs and everyday living.

And while the company backed off last year from full online sales, it has re-established its online presence with a site that sells tires. "Social media will be one of the avenues we use to drive our customers to our Tires.com site, CanadianTire.ca site, and to our stores," says Jennifer Hills, communications advisor for Canadian Tire. She points out that her company has a "full social media strategy" to connect with customers. "The social channels do create awareness," she says, "and we're going to test how they drive sales online and in stores."

Hills says that the initiative selling tires online has been a great way for Canadian Tire to get back into e-commerce – and a great testing ground for best practices. "We can build a best-in-class user experience based solely on learnings from the tires site for online and in-store."

So far, online tire sales and traffic have exceeded expectations, with help from email, external media, and TV ads.
______________________________________________________________________
Classifieds
______________________________________________________________________

Loxcreen Flooring Group is the leading supplier of residential and commercial floor mouldings and related products in North America - see http://www.loxcreen.com with head office in Mississauga, Ontario. The company is seeking a Marketing Manager with advanced technical skills responsible for managing the Marketing Department/Product Development of Loxcreen's Canadian division with major brands "Bengard", "Dura-Trim" and "Shur-Trim". Competitive salary plus bonus, benefit package.

The Company requires a professional marketing manager with skills in strategic business development; an analytical and innovative problem solver in an engineering/technical product environment.

A major orientation of this position is new product development including product sourcing, costing, and vendor management. However, marketing skills and proficiency in product/brand/channel management, pricing, packaging, merchandising, advertising, and website development are also required.

KEY COMPETENCIES
Technical background in new product development required
Customer service oriented
Team player
Detail oriented, organized and disciplined, attention to accuracy
Excellent analytical ability
Able to work to deadlines and schedules
Self starter - able to work with little supervision
KEY QUALIFICATIONS
Post secondary degree/diploma in business and/or in manufacturing/engineering technology - e.g. industrial/ manufacturing/ mechanical engineering degree or Certified Engineering Technologist diploma.
Minimum of 5-7 years of experience in marketing/product development roles in a manufacturing environment.
Knowledge and experience in the building products industry with retail and commercial channels would be an asset.
Retail sales experience in effective presentations would also be an asset.
Advanced User of Microsoft Office Suite including Word, Excel, PowerPoint and Access.
Background in graphic artwork/MAC experience would be beneficial.
Ability to travel in Canada and USA for client visits, trade shows. Must have valid passport/driver's license.
Please submit résumé via email to Black Eagle Executive Search c/o Richard Simms at rsimms@blackeagle.ca
_______________________________________________________________________

Sales Manager - Canada
Liberty Hardware
Liberty Hardware, a leader in high-quality decorative and functional hardware products and a division of Masco, seeks a creative, dynamic and customer-focused Sales Manager looking to do big things in a big territory -Canada.

We will count on you to increase customer base and grow our market share based on your business plan. Additionally, you will provide input regarding customer priorities and product needs to help drive new product development and launch. We also expect you to be a creative thinker, possess unequalled
presentation skills in any setting and have an uncanny ability to accurately predict future trends. You must have a bachelor's degree and at least five years of national sales experience specifically related to The Home Depot or Wal-Mart. Experience should include three years of direct account management responsibility; and have the ability to travel 30 percent of the time.

In an effort to provide personal growth for our associates and a world-class service for our customers, Liberty Hardware offers an associate friendly and team oriented work environment focused on constant im provement. Please visit us online for full details or to apply: www.libertyhardware.com.
_______________________________________________________________________
DISSTON TOOLS, makers of Blu-Mol hole saws, Recip Blades, Jigsaw Blades, Hacksaw Blades & Drill Bits requires agents across Canada. Please email your resume to either jms@eagleindustrial.ca or lpl@eagleindustrial.ca
_______________________________________________________________________
A Sales Professional is required WITH PROVEN SALES ABILITY selling hardware, home improvement and seasonal lawn and garden products to retailers and wholesale distributors in the province of Quebec.

As a member of our team you will conduct presentations to key retail and wholesale accounts. You are bilingual, have related sales experience and have above average computer skills.

Please forward your resume to: grantbros1@rogers.com
_______________________________________________________________________
Resumés
Experienced District Manager with a proven track record with several national chains.

view this

resumé

A conscientious, highly motivated manager with a results-oriented track record in developing new business.

view this

resumé

A goal oriented sales director that has superior management skills, customer oriented, with in depth knowledge of the industry and the ability to achieve results.

view this

resumé

An experienced merchandising executive possessing passion, vision, and a strategic approach to delivering bottom-line.

view this

resumé

Senior sales/marketing leader with experience in all classes of trade wishing new HARDLINES career. view this

resumé

Very Experienced Business Unit Manager, great passion for generating sales and building relastionships.view this

resumé

Worked through my career within the manfucaturer, wholesale and consumer goods industries. view this

resumé

Senior Sales Manager with vast experience in retail and wholesale sales growth in Canada. view this

resumé
Connect with us!