July 1, 2013, Volume xix, #26
"There is probably no more obnoxious class of citizen, taken end for end, than the returning vacationist."—Robert Benchley (American humorist and newspaper columnist, 1889-1945)
______________________________________________________________________
RONA announces latest round of closures

BOUCHERVILLE, QC — RONA inc. has announced the latest round of restructuring and reorganization measures in its efforts to turn the company around and improve profitability. These new measures are expected to generate annualized cost savings of $70 million, in addition to $40 million in savings announced when RONA released its year-end results in February 2013.

The measures include the closure, by the end of 2013, of 11 non-profitable stores: eight in Ontario—including six big boxes— and three in British Columbia, of which one is a big box. In addition, 125 jobs will be cut in the four administrative centres in Canada, announced to employees last week (in addition to the elimination of 200 administrative positions announced in February). The company will seek to reduce its administrative, marketing, merchandising, and distribution expenses.

RONA is aiming for annualized savings of $110 million; the plan is to reinvest some of this amount to improve the positioning of its banners across the country and to put in place an energetic recovery plan for underperforming stores.

British Columbia closings: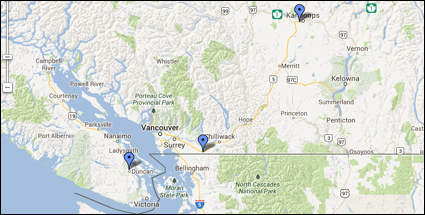 2945 Green Road, Duncan: closing on October 6
1555 Versatile Drive, Kamloops: closing on October 6
34 530 McConnell Road, Abbotsford: closing on October 20
Ontario closings: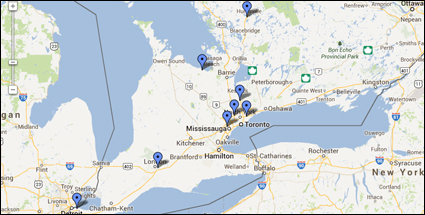 800 Boyer Street, Mississauga Heartland: closing on October 13
7350 Catherine Windsor Street, Windsor: closing on October 13
67 Colossus Drive, Woodbridge: closing on October 13
1305 Commissioners Road East, London: closing on October 13
369 Old Ferguson Road, Huntsville: closing on October 13
104 High Street, Collingwood: closing on October 13
8 William Kitchen Road, Scarborough: closing on December 8
140 First Commerce Drive, Aurora: closing on December 8
According to Robert Sawyer, president and CEO of RONA, "The stores have been losing money for a while," so the company saw no reason to include them in the company's turnaround strategy. The stores being closed represent about $130 million in retail sales.

This latest round of changes comes just one week after RONA entered an agreement to sell its Commercial and Professional Market division for an approximate total of $215 million. The company expects the sale to allow RONA "to focus on its core retail and distribution business in the construction and renovation market." In the short term, the proceeds from the disposal of this division will be used to reduce RONA's debt.
back to top
______________________________________________________________________
Retailers step up for Alberta flood victims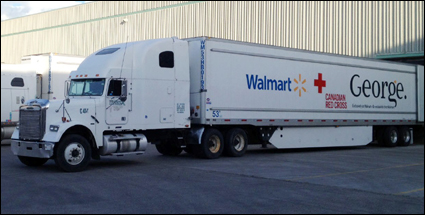 CALGARY — Big retailers are shelling out in support of Albertans affected by dramatic flooding that has devastated the region over the past two weeks. Sears Canada has launched a fundraising campaign and set up a toll-free line for donors, as well as accepting donations in-store by cash and credit card.

Also chipping in is the Home Depot Canada, which kicked in $125,000 in cash to the Canadian Red Cross. The donation hasn't given the Home Depot a pass on controversy, though. Receipts posted on the web sparked allegations that the retailer was price-gouging for bottled water, a criminal offence during a civil emergency. The company, however, insisted that the unusually high prices were the result of an error that has been rectified—and says it has also reached out to the affected customers directly.

Old-timers and newcomers alike are among the corporate donors. The Hudson's Bay Company, which predates confederation by two centuries, is offering customers the opportunity to divert points from their HBC Rewards Cards to the Red Cross, or to make a direct donation online at HBCrewards.com. The company will also make its own $50,000 donation, as will Canada's newest retailer, Target.

Now, with cleanup under way, Walmart Canada has mobilized its distribution network to support the Red Cross's Alberta Floods Appeal. The retailer has donated the use of its trucks and volunteers skilled in logistics and supply chain management to move a variety of supplies, including cots and rescue blankets for the Red Cross.

Home improvement firms aren't the only ones turning an eye to Alberta either. Canadian institution Tim Horton's has rolled out a new "Alberta Rose" doughnut, with the proceeds of one dollar apiece going to relief.
back to top
______________________________________________________________________

RONA discloses strategy for smaller stores, big boxes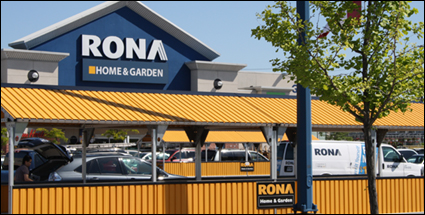 BOUCHERVILLE, QC — With its announcement to close another 11 stores, of which seven are big boxes, RONA is also working on fine-tuning the performance of many of its other points of sale. According to Robert Sawyer, president and CEO of RONA, another 50 stores need attention in order to be more profitable.

"We have a strong action plan to ensure they get a lift," to help the locations—mostly smaller stores—to return to profitability. "That work," he added, "has already been started this year." He did not, however, reveal the details of that strategy, but did note that the big boxes will benefit from current refurbishing of the Réno-Dépôt chain in Quebec.

Those stores have been reclassified as "discount" outlets, with a focus on serving contractors with more focused assortments and higher service levels for pros and heavy DIYers. Up to 75% of the Réno-Dépôt stores will be re-tooled, said Sawyer. Then, the concept will be rolled out to some of the big boxes outside Quebec, although, he adds, they will continue to be bannered as RONA stores.
back to top
______________________________________________________________________

Analysis: U.S. housing market recovery

Existing-home sales improved in May and remain solidly above a year ago, while the median price continued to rise by double-digit rates from a year earlier, according to the National Association of Realtors.

Total existing-home sales rose 4.2% to a seasonally adjusted annual rate of 5.18 million in May from 4.97 million in April, 12.9% above the 4.59 million-unit pace in May 2012.

According to the NAR, the recovery may limit housing supplies for the balance of the year in much of the country, as the number of available homes is unlikely to grow, despite the gain in May, unless new home construction ramps up quickly by an additional 50%.

Existing-home sales are at the highest level since November 2009, when the market jumped to 5.44 million as buyers took advantage of tax stimulus. Sales have stayed above year-ago levels for 23 months, while the national median price shows 15 consecutive months of year-over-year increases.

The national median existing-home price for all housing types was $208,000 in May, up 15.4% from May 2012. This marks six straight months of double-digit increases and is the strongest price gain since October 2005, which jumped a record 16.6% from a year earlier. The last time there were 15 consecutive months of year-over-year price increases was from March 2005 to May 2006.

Total housing inventory at the end of May rose 3.3% to 2.22 million existing homes available for sale, which represents a 5.1-month supply at the current sales pace, down from 5.2 months in April. Listed inventory is 10.1% below a year ago, when there was a 6.5-month supply.

This is on top of strong numbers reported for new housing in May, as well. Housing starts rose 6.8% to a seasonally adjusted annual rate of 914,000 units in May, due primarily to increased production of multi-family homes, according to released data from the U.S. Department of Housing and Urban Development and the U.S. Census Bureau.

While single-family housing starts held at a solid but virtually unchanged pace of 599,000 units in May, multi-family production bounced back from an over-correction in the previous month with a 21.6% gain to 315,000 units.

Builder confidence in the market for newly-built single-family homes surged eight points in June to a reading of 52 on the National Association of Home Builders/Wells Fargo Housing Market Index. (Any reading higher than 50 indicates more builders view sales conditions as good than poor.)

______________________________________________________________________

New Resumés
Experienced Outside Sales Account Manager with a proven track record for achieving or exceeding forecasts view this

resumé

Creative, ambitious sales engineer and leader with over 10 years of National Account management experience view this

resumé

Experienced Territory Manager Seeks position in Eastern Ontario based in Kingston. view this

resumé

A customer focused Business Management Professional with an innovative and diverse background. view this

resumé

am interested in territory/district manager job in the home improvement industry. view this

resumé

Award-winning sales professional skilled in relationship-building in order to continually enlarge sales territories view this

resumé

Professional with over 25 years of experience in Sales, Marketing, Merchandising and Administration

view this

resumé

Marketing professional with over 10 years experience looking to secure a new full-time position.

view this

resumé

A Sales Professional with over twenty years of experience.view this

resumé

Experienced District Manager with a proven track record with several national chains. view this

resumé