July 15, 2013, Volume xix, #28
"Those who make the worst use of their time are the first to complain of its brevity."—Jean de La Bruyère (French philosopher and novelist, 1645-1696)
______________________________________________________________________
Canadian Tire gives sneak preview of Christmas collection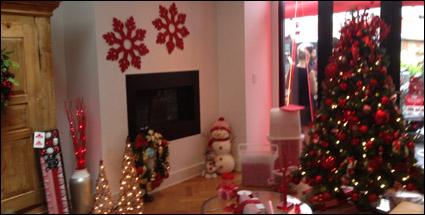 TORONTO — Canadian Tire took over a house on a quiet residential street last week to showcase its annual "Christmas in July" event. While the weather outside was hot and sunny—and not at all like Christmas, inside the home had been transformed with seasonal and housewares products. Buyers walked observers through the house to see the various lights and ornaments organized in six "colour stories," including the trend colour for the 2013 holiday season, "Berry Pink."

New this year will be the addition of seven DIY cards in stores that will guide customers on what to buy to make their own seasonal centrepieces, bringing the DIY trend to holiday decorating. In addition, affordability in ornaments was highlighted with half of the 600 ornaments available retailing for under two dollars each.

Ginny Hicks, buyer for the kitchen division, announced that Canadian Tire has teamed up with TLC's program "Cake Boss" to launch a line of kitchen tools to make professional looking cakes possible at home. The event even had one of the bakers from Cake Boss's Hoboken, NJ, bakery there to demonstrate the new kitchen tools. Also in kitchen, Canadian Tire is launching a line of white cookware, following trends in Europe.

David DeMalo, category business manager for tools, showed a few of the tools that Canadian Tire is introducing for the holiday season, including a Mastercraft self-leveling laser level, a Stanley ratcheting tool with a 4:1 ratio in torque power, and a Black & Decker drill that has a touch-pad trigger.
back to top
______________________________________________________________________
TIM-BR MART sponsors Justin Hines' "Vehicle of Change Tour"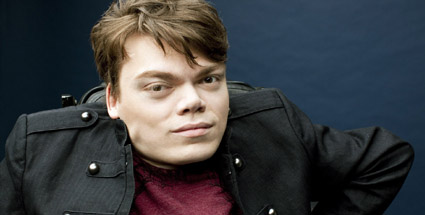 CALGARY — Canadian singer-songwriter Justin Hines is going on a North American concert tour to raise money for local charities and national buying group TIM-BR MART is a major sponsor.

In each town on the tour, Hines will partner with a different charity or non-profit in a local event. He will provide the entertainment at no cost and 100% of the funds raised at each show will go to the local charity. The tour will be funded through PledgeMusic, a crowd-funding site that offers exclusive merchandise packages in exchange for donations—and TIM-BR MART has signed on as a key sponsor.

Hines, whose career began when he won a vocal competition at the age of 14 to sing the Canadian and American national anthems at a Raptors basketball game, has a rare condition called Larsen Syndrome, which results in dislocation of the major joints. As a result, he is confined to a wheelchair.

A large number of tour events are planned in communities throughout Canada where there are TIMBER MART locations. The new TIMBER MART logo will be displayed prominently on Hines' RV as it tours through North America, and will also be displayed on signs during his concerts. This week, the tour swings through Southwestern Ontario, with a show in London today and Kitchener-Waterloo tomorrow.
back to top
______________________________________________________________________

Dealers transform their businesses in imaginative ways

  SPECIAL REPORT — Progressive home improvement retailers are constantly looking for ways to reinvent and recharge themselves to attract more customers. Sometimes, switching buying groups can influence the image that a dealer projects to its shoppers. Other times, the introduction of a hot new product line or unique service will do the trick.

Opening a new store can create a lot of buzz for both the store's associates and its customers. That certainly was the case five years ago when RONA Turner Valley in Black Diamond, AB, which had been in business for 25 years, moved out of its 3,000-square-foot location into a 12,500-square-foot showroom with a 1,600-square-foot greenhouse on three acres.

Offering a unique service can also be a market differentiator. For decades, RoadStar Transport in British Columbia has handled pool deliveries for IRLY and TIM-BR MART dealers within the TIM-BR MART buying group. And when, in 2010 and 2011, it re-entered retail with the acquisition of two lumberyards in rural Ladner and Princeton, BC, (now called Fletcher Building Supplies), RoadStar decided to leverage its trucking business to become "the deliverer of choice" for dealers in Western Canada, says Susan Robinson, a principal at RoadStar.

(Learn how independents across the country are transforming their businesses in the latest edition of our sister publication, Hardlines Home Improvement Quarterly, which is in the mail right now. Dealers and managers get HHIQ for free. Click here to get your own copy ! —Michael)

back to top ______________________________________________________________________

Cologne Hardware Fair ramps up for spring 2014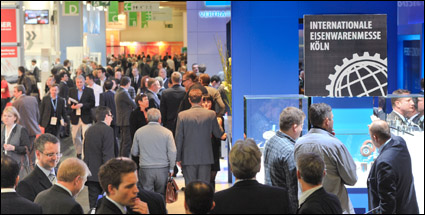 COLOGNE, Germany — Koelnmesse, the organization that owns and operates Eisenwarenmesse, the International Hardware Fair, is promoting the show in earnest as the biennial event approaches, March 9-12 2014. That includes opportunities for Canadian companies to participate in a group stand.

Although the show is still eight months out, organizers say registrations are already coming in "fast and furious," with 80% of the exhibition space already sold during the early booking phase, which ended June 30. The fair prides itself on being a truly international event, and based on the fact that 85% of the exhibitors in 2012 came from outside Germany, organizers are confident that trend will continue in 2014.

So far, the tools area is shaping up to be the biggest exhibition zone in the show. In 2012 over 1,500 companies presented a comprehensive range of hand and power tools as well as power tool accessories. However, the show is also counting on a strong presence by exhibitors in Industrial Supply, Fasteners and Fixings, and Home Improvement.

Eisenwarenmesse, the International Hardware Fair is being held in Cologne, Germany from March 9-12, 2014. Canadian companies wishing to develop new customers in Europe can be part of a Canadian group stand, which includes a turnkey booth and support services such as a translator. For more information about either exhibiting or attending, contact Darrin Stern at 773-326-9925 ; or click here.

______________________________________________________________________

Classified Ads

Senior Account Manager – Retail
Taymor is a successful nationally recognized custom manufacturer of doorware, bathware, faucets and commercial hardware serving the home improvement and builder markets across North America. We design and deliver products for the home that are Functional, Fashionable and Affordable. Our customers include Fortune 100 companies, national and regional retail brands, specialty retail stores and major commercial, single family and multi-unit home builders. This position will operate out of our Mississauga office.

We are positioning for our next level of growth and require an experienced Senior Account Manager - Retail to drive our growth in this sales channel. The primary function of this role is to develop and implement strategic and tactical selling plans, while building strong relationships with Canada's largest home improvement retailers. Please visit www.taymor.ca/careers for complete details and to apply.
______________________________________________________________________

Business Development Manager
RDTS is a Laval-based service company, specialized in merchandising and representation. RDTS is a leader in the hardware and building supply retail industry in Canada.
RDTS is seeking a Business Development Manager in Toronto. The successful candidate must have 5-8 years experience in related jobs, be bilingual and have completed a Bachelor degree in a business related field. He/she must have strong connexions in the retail industry, show great written and verbal communication skills and be an independent self-starter. Travels may be frequent and he/she is expected to achieve expansion objectives, accomplish management related duties, make strategic decisions and create new partnerships to support the company's growth.

For more details or to apply, visit: blog.rdts.ca/TorontoDevelopmentManager
______________________________________________________________________

Resumés
Experienced Outside Sales Account Manager with a proven track record for achieving or exceeding forecasts view this

resumé

Creative, ambitious sales engineer and leader with over 10 years of National Account management experience view this

resumé

Experienced Territory Manager Seeks position in Eastern Ontario based in Kingston. view this

resumé

A customer focused Business Management Professional with an innovative and diverse background. view this

resumé

am interested in territory/district manager job in the home improvement industry. view this

resumé

Award-winning sales professional skilled in relationship-building in order to continually enlarge sales territories view this

resumé

Professional with over 25 years of experience in Sales, Marketing, Merchandising and Administration

view this

resumé

Marketing professional with over 10 years experience looking to secure a new full-time position.

view this

resumé

A Sales Professional with over twenty years of experience.view this

resumé

Experienced District Manager with a proven track record with several national chains. view this

resumé