July 22, 2013, Volume xix, #29
"I have only one burning desire, let me stand next to your fire."
—James Marshall Hendrix, aka Jimi Hendrix
(American musician and songwriter, 1942-1970)
______________________________________________________________________
SUMMER PUBLISHING SCHEDULE:
HARDLINES publishes monthly in August, on August 19, and then we return to our weekly schedule on September 2. As always, we shall continue to send our Free Daily News Updates (sign up here!) and Breaking News as it happens. Please note that the World Headquarters will remain open throughout the month. —Michael McLarney, Editor
______________________________________________________________________
Mid-year, business remains "solid, steady" but largely unspectacular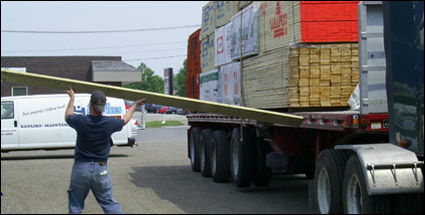 NATIONAL REPORT — "We're not hearing much from the members. It's been relatively quiet here because everyone is so busy." That's the report from Gary Hamilton, president of the Western Retail Lumber Association, on the state of the marketplace as it heads into mid-summer.

And while that healthy level of activity appears to be something that is shared by dealers through most of the country, it may not be enough to put most dealers ahead in sales over last year.

In Central Canada, where things aren't quite as buoyant, many dealers finished the first quarter down by as much as 15%, says Dave Campbell, president of the Lumber and Building Materials Association of Ontario. He notes that the consensus among his dealers is that if the year stays strong enough for them to meet last year's numbers, most of them would be happy. "It's a soft year," he adds frankly. "Some of it's the weather; some of it's the economy."

Down east, conditions may be even more moderate, not including Newfoundland, which is "still going strong," says Don Sherwood, president of the Atlantic Building Supply Dealers Association. "The potential there remains good." But not so elsewhere in the Maritimes. "This year, flat is good," he says. "But most of the groups are saying, 'we haven't seen the good yet.' A large number of them are not getting there."

However, he remains optimistic that his dealers' year-over-year sales will be able to catch up in the back half of the year, given that the back half of 2012 was soft through most of the Maritimes.

Meanwhile, the greatest strength still appears to be out West. Hamilton at the WRLA reports that the weather "is co-operating," and things are returning to normal after the severe flooding in Alberta, despite pockets such as High River, which remains devastated. "But overall, it's very good, helped further by the migration back into Manitoba and Saskatchewan."

Yet even with the strong level of building activity in cities like Winnipeg, Hamilton remains "cautiously optimistic," echoing the sentiments of his colleagues across the country. "There are no great records being broken out there; just solid, steady business."
______________________________________________________________________
Dealers see business growing slowly in the months ahead
SPECIAL REPORT — A slow first half of the year has left dealers and vendors alike across the country playing catch-up, as a frigid start to the year and a late spring impacted sales across the country.

According the latest HARDLINES Quarterly Business Conditions Survey, done in conjunction with NRHA Canada, 62.5% of retailers surveyed in the first quarter of 2012 answered that business was up, as 2012 experienced a very mild start to the year. But in the first quarter of this year, just 41% answered that business was up.

The outlook for the next two quarters was also less optimistic this year, compared with dealers' forecasts after the first quarter in 2012. In 1Q 2013, 69.1% expected sales to increase in the next six months versus 74.7% in 1Q 2012.

(Learn how both dealers and vendors fared in the first quarter, and their outlook for the rest of the year, in the latest edition of our sister publication, Hardlines Home Improvement Quarterly, which is in the mail right now. Dealers and managers get HHIQ for free. Click here to get your own copy ! —Michael)
back to top
______________________________________________________________________

Wal-Mart in D.C. showdown over living-wage

  WASHINGTON — Wal-Mart is calling off three projected stores and warning that the three stores currently under construction in the U.S. capital will be in jeopardy if a wages bill passed by D.C. council becomes law.

Local activists began sounding the alarm about the Bentonville, AK-based retailer's bleak track record as an employer when it started moving into the area two and a half years ago. In response, councillors approved a measure requiring certain large businesses to pay their workers higher than the minimum wage.

The Large Retail Accountability Act, which passed by a margin of 8-5, only applies to businesses with $1 billion in global sales, operating in the district on premises larger than 75,000 square feet, and without a collective bargaining agreement. Such companies would now have to pay workers at least $12.50 an hour, over the district's general $8.25 minimum.

Wal-Mart balked at the vote, countering that requiring it to pay a living wage while other employers are exempt will put it at a competitive disadvantage. Existing D.C. businesses such as Target have four years to comply under the terms of the bill; earlier drafts addressed Wal-Mart exclusively. Now, some of these retailers are joining Wal-Mart in calling for its veto.

Councillors are now trying to get a read on the seriousness of Wal-Mart's threats. According a study reported in the Washington Post, the retailer could afford to comply with the law while raising consumer prices only 1.1%. That doesn't mean it will do so, however, and Washington's compact size means it may be more profitable for Wal-Mart to stick to doing business in the still-accessible suburbs of Maryland and Virginia.

Wal-Mart's response isn't the only unknown quantity. Not only does the bill need to be approved by Washington's Mayor, it could also die at the congressional level. As a federal district outside of any state, D.C. is under the direct control of Congress.

back to top ______________________________________________________________________

Retail accessibility: a $25 billion (untapped) market

TORONTO, ON —Making your business accessible to people with disabilities is a massive opportunity. According to Stats Canada, one in seven Canadians has a disability of some sort. That's a lot of people—and they're big buyers. Studies have pegged the spending power of this cohort at $25 billion each year—and that will only grow as the population ages. In Ontario alone, people with disabilities are expected to comprise 40% of the consumer base in the next 20 years.

However, according to a mystery shopping survey conducted by Competitactics, most businesses are not equipped to accommodate the needs of people with disabilities. That includes everything from stores that are only accessible by stairs to staff who don't know how to deal with a disabled person.

Jim Davidson and Andrena Lockley-Brown, the authors of the report, which first appeared in Profit, give some suggestions of how to be more accommodating of customers with disabilities—starting with not being afraid to ask questions. The best way to find out a customer's needs is to ask them, and that, they stress, goes for people with disabilities. Also, be open to suggestions when someone lets you know how your store or business could be more accommodating for people with disabilities.

Finally, a little goes a long way, from moving the soap dispenser in the washroom to a height that can be reached from a seated position to making sure that electronic door opener buttons are easy to access.

Making your business more accessible may seem like an overwhelming proposition but when more people can access your business more easily, that is more money coming through the door, says the report.

______________________________________________________________________

Classified Ads

Sales Representative for Maritimes
(New Brunswick and Prince Edward Island)

Manufactured by Soprema, Resisto products are the benchmark in residential waterproofing. Resisto membranes, sealants and sealers are the next generation in high performing, quality waterproofing products.

Soprema is an international company specializing in the manufacturing of waterproofing membranes. The candidates for these positions will oversee the sales and representation of our organization and products to the retail sector. The field sales representative will be responsible for growing our current business in his/her territory.

Visit our website at: www.soprema.ca for more information on this job opening.

______________________________________________________________________

Senior Account Manager – Retail
Taymor is a successful nationally recognized custom manufacturer of doorware, bathware, faucets and commercial hardware serving the home improvement and builder markets across North America. We design and deliver products for the home that are Functional, Fashionable and Affordable. Our customers include Fortune 100 companies, national and regional retail brands, specialty retail stores and major commercial, single family and multi-unit home builders. This position will operate out of our Mississauga office.

We are positioning for our next level of growth and require an experienced Senior Account Manager - Restail to drive our growth in this sales channel. The primary function of this role is to develop and implement strategic and tactical selling plans, while building strong relationships with Canada's largest home improvement retailers. Please visit www.taymor.ca/careers for complete details and to apply.
______________________________________________________________________

Business Development Manager
RDTS is a Laval-based service company, specialized in merchandising and representation. RDTS is a leader in the hardware and building supply retail industry in Canada.
RDTS is seeking a Business Development Manager in Toronto. The successful candidate must have 5-8 years experience in related jobs, be bilingual and have completed a Bachelor degree in a business related field. He/she must have strong connexions in the retail industry, show great written and verbal communication skills and be an independent self-starter. Travels may be frequent and he/she is expected to achieve expansion objectives, accomplish management related duties, make strategic decisions and create new partnerships to support the company's growth.

For more details or to apply, visit: http://blog.rdts.ca/TorontoDevelopmentManager
______________________________________________________________________

Resumés
Experienced Outside Sales Account Manager with a proven track record for achieving or exceeding forecasts view this

resumé

Creative, ambitious sales engineer and leader with over 10 years of National Account management experience view this

resumé

Experienced Territory Manager Seeks position in Eastern Ontario based in Kingston. view this

resumé

A customer focused Business Management Professional with an innovative and diverse background. view this

resumé

am interested in territory/district manager job in the home improvement industry. view this

resumé

Award-winning sales professional skilled in relationship-building in order to continually enlarge sales territories view this

resumé

Professional with over 25 years of experience in Sales, Marketing, Merchandising and Administration

view this

resumé

Marketing professional with over 10 years experience looking to secure a new full-time position.

view this

resumé

A Sales Professional with over twenty years of experience.view this

resumé

Experienced District Manager with a proven track record with several national chains. view this

resumé