July 29, 2013, Volume xix, #30
"Summertime, and the livin' is easy."— George Gershwin & Heyward DuBose (from the opera, "Porgy and Bess," 1935)
______________________________________________________________________
SUMMER PUBLISHING SCHEDULE
NO ISSUE NEXT WEEK:
HARDLINES publishes monthly in August, so our next issue will come out on August 19, and then we return to our weekly schedule on September 2. As always, we shall continue to send our Free Daily News Updates (sign up here!) and Breaking News as it happens. Please note that the World Headquarters will remain open throughout the month. —Michael McLarney, Editor
______________________________________________________________________
TIM-BR MART's top execs take leave of absence
SPECIAL REPORT — The board of directors of TIM-BR MART Group has asked its two top executives, CEO Tim Urquhart and executive vice president and COO Barb Hopper, to step aside from the day-to-day running of the company.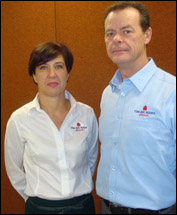 TIM-BR MART dealers learned in a letter sent out last week that Urquhart and Hopper "have accepted a paid leave of absence." The letter was signed by TIM-BR MART chair Michael Westrum, of Westrum Lumber in Saskatchewan.

The letter goes on to note that "the leave was requested to allow the Board to evaluate the company's direction. In their absence, there will be no change to TIM-BR MART's day-to-day operations. The TIM-BR MART Group's senior leadership team is overseeing operations." Westrum adds that, "I, in my capacity as Chair of the TIM-BR MART Group Board of Directors, will provide strategic direction and have operational involvement as necessary."

The announcement came as a surprise to the TIM-BR MART dealers, many of whom expressed shock and confusion over the news. Urquhart, considered the face of TIM-BR MART's retail business, has established a strong sense of loyalty among his dealers.

Urquhart took the helm of TIM-BR MART in 2003, replacing founding CEO Barrie Sali. Over the past decade, TIM-BR MART grew under Urquhart's leadership to more than 750 dealers. Under his tenure, TIM-BR MARTS Ltd. also got into the hardware distribution business with the acquisition of CanWel Hardware (now Chalifour Canada), and the acquisition of IRLY Distributors.

Hopper, who was formerly VP finance at iconic apparel manufacturer Canada Goose, joined TIM-BR MARTS Ltd. in July 2011 as chief strategy officer. Just over a year ago, she was promoted to the role of Urquhart's first lieutenant.

Urquhart is reportedly meeting with the TIM-BR MART board today.
______________________________________________________________________
Quebec dealers face toughest season "in a decade"
NATIONAL REPORT — While the West and Newfoundland remain relatively strong, dealers in other parts of the country are working hard through the summer to try and make up their year. (See "Mid-year, business remains 'solid, steady' but largely unspectacular" in last week's edition. —Michael)

Quebec is no exception. Richard Darveau, president of Quebec's home improvement industry association, AQMAT, is blunt in his assessment. "Quebec is doing badly."

He blames a combination of factors that made the spring and early summer what he calls "the worst in a decade." Unrelenting rains in the spring were followed by a hot, dry spell. Second, the mood of people in the province has been dampened by the ongoing revelations of corruption and payoffs within the municipal governments of cities like Montreal and Laval. Third, a protracted construction strike couldn't come at a worse time, says Darveau. "This conflict in the industry literally paralyzed the business in the residential sector at a time of the year when it is normally at its peak."

Darveau doesn't expect dealers to make it up easily in the back half of the year. "What is lost will stay lost. But we are optimistic for the fall." He adds, somewhat philosophically, that these business challenges can be put in perspective in light of the train disaster in Lac-Mégantic that took the lives of almost 50 people and devastated the town.
back to top
______________________________________________________________________

Canadian Tire to open first small stores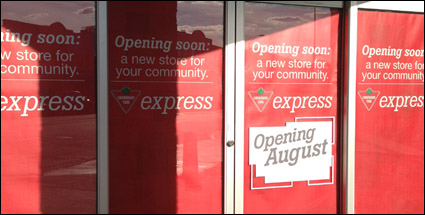 TORONTO — This storefront on Danforth Avenue, in Toronto's Greektown, was a Mark's until it closed some months ago. This new store, slated to open in a few weeks, is on the vanguard of Canadian Tire's small-store strategy, which intends to penetrate urban markets that would not typically support a conventional Canadian Tire store.

The stores, part of Canadian Tire's strategic plan for 2013, will be about 10,000 square feet, with assortments modified to suit an urban neighbourhood. In addition to storefronts like this one, the format is intended to suit shopping malls.

The stores will rely on online sales and serve as pick-up locations for Canadian Tire's digital catalogue.
back to top ______________________________________________________________________
Lowe's Canada takes pop-up kitchen on tour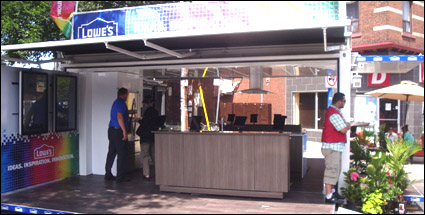 TORONTO — A summer street festival in the west end of Toronto featured the usual array of vendors selling ethnic foods, straw hats, and vintage clothing. But amidst the makeshift booths that reflect the neighborhood's Portuguese, Korean, and Italian populations, Lowe's Canada stood out with a sophisticated fold-out trailer featuring the latest kitchen fixtures and appliances.

The trailer was surrounded by Lowe's staffers, including a representative from LG appliances, to talk about Lowe's products and its installed sales service. Representatives from Lowe's marketing company endured the hot sun to hand out $10 discount coupons to passersby.

Besides the Bloor Street West festival, the booth had made an appearance at the Toronto Indy race a week earlier, and had reportedly been at events in other cities like Montreal. (Lowe's Canada did not respond to requests for more information.)

back to top ______________________________________________________________________

One-quarter of Quebecers will spend holidays at home

MONTREAL — A recent Canadian Tire study shows that, while other Quebecers will travel in the province, across Canada or internationally, 24% choose to have a "staycation," with the hopes of relaxing or tackling some jobs around the house.

According to Canadian Tire's survey, popular activities amongst staycationers include barbecuing (66%), biking (31%), and golfing (14%), leaving any jobs and chores for the weekend. However, fully one-third of Quebecers plan to undertake outdoor home improvement projects during their weekends this summer.

The most popular weekend and long-weekend activities amongst Quebecers this summer are outdoor activities, including yard work (57%), outdoor entertaining and barbecuing with friends (54%), and outdoor family dinners (50%).

Amongst those travelling within the country, camping is a popular vacation activity, cited by  35% of those travelling within Quebec and 39% of those travelling to other provinces. Quebecers living in rural areas are most likely to engage in car maintenance (38%) and garage/shed organization (33%) during their summer weekends.

back to top ______________________________________________________________________

Kingfisher rebounds, in step with European conditions

LONDON & COLOGNE — Following a tough first quarter that drove sales down by 4.2%, Kingfisher plc saw its second-quarter sales, for the period ended July 13, increase by 5.2%. Same-store sales were up 2.5%. Sales in the UK, where it operates B&Q and Screwfix stores, were up 3.6%, while its Brico Dépôt and Castorama stores in France were up 3.2%. Sales elsewhere (Poland, China, Spain, Russia, and Romania) were up 11.2%.

"Following a tough Q1, I am pleased to report that we have been able to capitalize on the better weather conditions in Q2, particularly in the UK, which has helped us to deliver growth," said Kingfisher Group chief executive Ian Cheshire.

The news coincides with a report from the European Association of DIY Retailers, EDRA, which notes that European dealers suffered from one of the worst first quarters ever recorded. Following a very cold and long winter, the situation improved somewhat in the second quarter, although, like in Canada, almost all countries had lower sales in the first half of the year compared to 2012.

EDRA's broad estimate of European DIY sales at the end of the first quarter indicates they were down approximately 10% and down about 5% at the end of the first half of the year. The situation is expected to improve although it is highly unlikely that most countries in Europe will show same-store sales increases in 2013 compared to 2012.

Cheshire at Kingfisher concurred with this outlook, saying "underlying consumer confidence remains weak in our major markets, so we continue to focus hard on our self-help margin and cost initiatives."

______________________________________________________________________

Classified Ads

Sales Representative for Maritimes
(New Brunswick and Prince Edward Island)

Manufactured by Soprema, Resisto products are the benchmark in residential waterproofing. Resisto membranes, sealants and sealers are the next generation in high performing, quality waterproofing products.

Soprema is an international company specializing in the manufacturing of waterproofing membranes. The candidates for these positions will oversee the sales and representation of our organization and products to the retail sector. The field sales representative will be responsible for growing our current business in his/her territory.

Visit our website at: www.soprema.ca for more information on this job opening.

______________________________________________________________________

Senior Account Manager – Retail
Taymor is a successful nationally recognized custom manufacturer of doorware, bathware, faucets and commercial hardware serving the home improvement and builder markets across North America. We design and deliver products for the home that are Functional, Fashionable and Affordable. Our customers include Fortune 100 companies, national and regional retail brands, specialty retail stores and major commercial, single family and multi-unit home builders. This position will operate out of our Mississauga office.

We are positioning for our next level of growth and require an experienced Senior Account Manager - Retail to drive our growth in this sales channel. The primary function of this role is to develop and implement strategic and tactical selling plans, while building strong relationships with Canada's largest home improvement retailers. Please visit www.taymor.ca/careers for complete details and to apply.
______________________________________________________________________

Business Development Manager
RDTS is a Laval-based service company, specialized in merchandising and representation. RDTS is a leader in the hardware and building supply retail industry in Canada.
RDTS is seeking a Business Development Manager in Toronto. The successful candidate must have 5-8 years experience in related jobs, be bilingual and have completed a Bachelor degree in a business related field. He/she must have strong connections in the retail industry, show great written and verbal communication skills and be an independent self-starter. Travels may be frequent and he/she is expected to achieve expansion objectives, accomplish management related duties, make strategic decisions and create new partnerships to support the company's growth.

For more details or to apply, visit: http://blog.rdts.ca/TorontoDevelopmentManager
______________________________________________________________________

Resumés
Experienced Outside Sales Account Manager with a proven track record for achieving or exceeding forecasts view this

resumé

Creative, ambitious sales engineer and leader with over 10 years of National Account management experience view this

resumé

Experienced Territory Manager Seeks position in Eastern Ontario based in Kingston. view this

resumé

A customer focused Business Management Professional with an innovative and diverse background. view this

resumé

am interested in territory/district manager job in the home improvement industry. view this

resumé

Award-winning sales professional skilled in relationship-building in order to continually enlarge sales territories view this

resumé

Professional with over 25 years of experience in Sales, Marketing, Merchandising and Administration

view this

resumé

Marketing professional with over 10 years experience looking to secure a new full-time position.

view this

resumé

A Sales Professional with over twenty years of experience.view this

resumé

Experienced District Manager with a proven track record with several national chains. view this

resumé